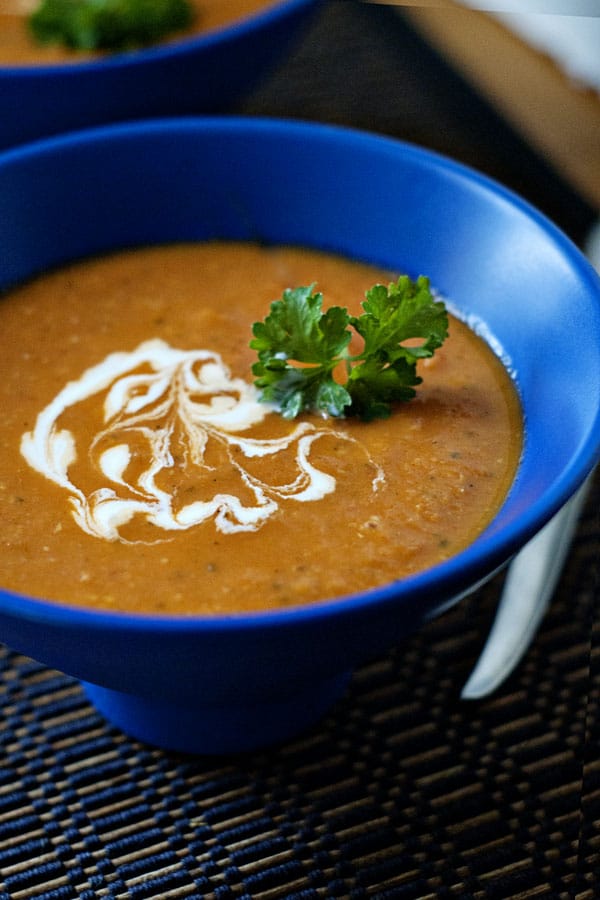 While the rest of the blogging world is wrapping triangular shaped things with twine to turn them into Christmas trees and baking copious amounts of cookies, I'm just here. More specifically, I'm just here trying to chisel away at the stack of dishes that last week left me, take a shower every so often, and keep my kids alive. I'm hoping to crack open the bin of Christmas decorations tomorrow, but we'll see. Usually I'm jumping at the bit to bake, decorate, and generally holiday-ify my life but so far I'm lacking steam. Where's my steam?! Give it to me, baby!

So hopefully you'll forgive me for posting another soup recipe when I just gave you one on Monday. I was planning on waiting to share this with you until next week but it's the only recipe I have pictures for so it's what you get, ha!
You can make Monday's cheesy-carby-cream-o-ram-a blissfulness and then make this soup the next night and I'm pretty sure the calories you consumed the night before will be cancelled out. Sure, there's a measly 1/4 C of cream in this but when it's split up into bowls it's practically not there. It's pretty much salad in soup form –practically.
You'll be roasting the veggies in the oven so go ahead and turn that sucker on to 425 degrees. Spread the drained canned tomatoes, corn (I used frozen, but in the summer months fresh would be great), and diced zucchini out on a baking sheet and drizzle with olive oil and a sprinkle of kosher salt. Roast for about 45 minutes to an hour until the tomatoes start to lose their shape and the corn and zucchini caramelize a bit.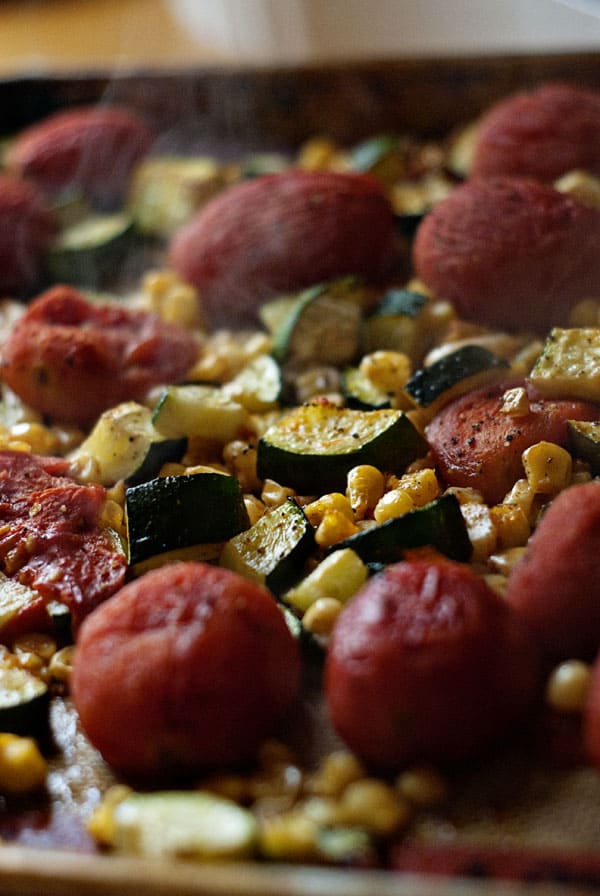 Take those delicious little gems off of the baking sheet and place directly into the blender.
You're going to blend this until smooth, but please remember to hold the lid on very tightly so you don't end up with soup all over your kitchen. The steam and pressure will push on the lid but you're stronger than steam. You can do it.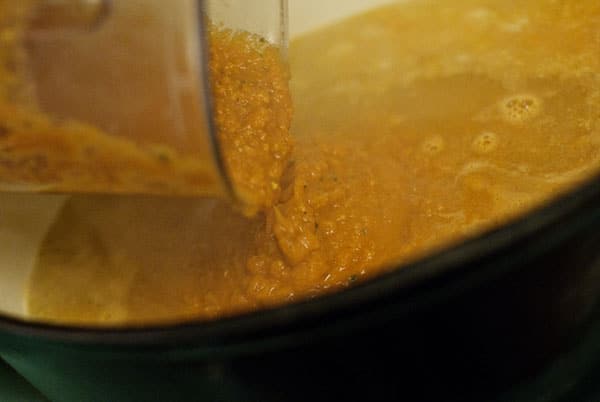 Pour the pureed soup into a pot and stir in the chicken broth and remaining spices. Bring to a simmer and remove from the heat. Stir in a little bit of cream to give it a velvety touch and you're in business!
Roasted tomato, corn, and zucchini soup anyone? Yes, please!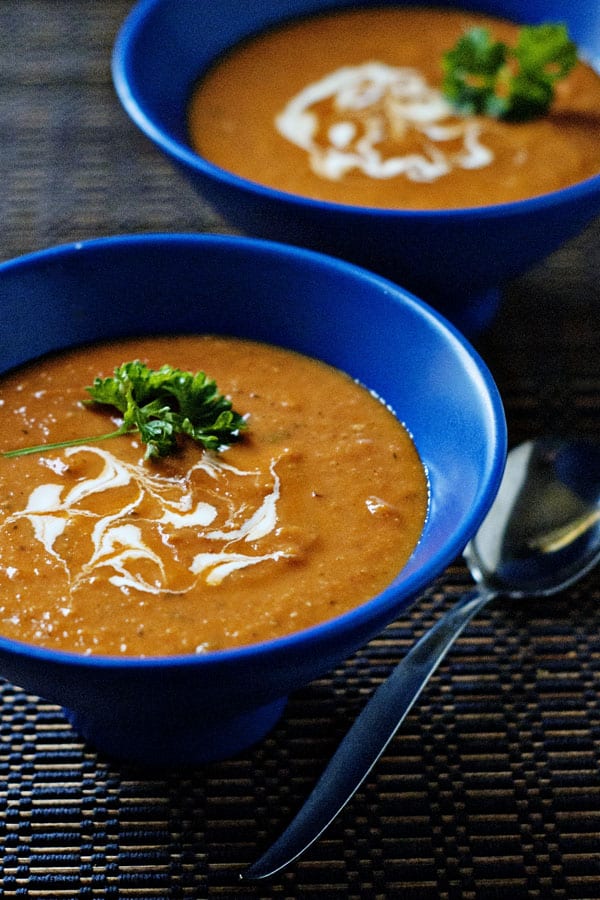 Ingredients
2

(28 oz) cans whole tomatoes, drained

2

medium zucchini, diced

2

C frozen corn kernels

2

tbsp olive oil

1/2

tsp kosher salt

4

C chicken or vegetable broth

1

tsp onion powder

1/4

tsp chipotle chili powder

1/4

tsp kosher salt

1

pinch all spice

1/4

C heavy cream
Instructions
Preheat oven to 425 degrees.
Spread tomatoes, zucchini, and corn on a baking sheet in an even layer. Drizzle with olive oil and season with ½ tsp salt.
Roast in the oven for 45 minutes to an hour or until the tomatoes start to lose their shape and the corn and zucchini start to caramelize.
Remove veggies from baking sheet and place into blender. Blend until smooth and pour into a soup pot.
Stir chicken broth into the pureed vegetables along with the remaining spices. Season with salt and bring to a simmer.
Remove from heat and stir in cream. Serve hot.

Made this recipe?
I'd love to see how you rocked it! Share your photo on Instagram with the hashtag
#heatherlikesfood  --
It will totally make my day to see it!