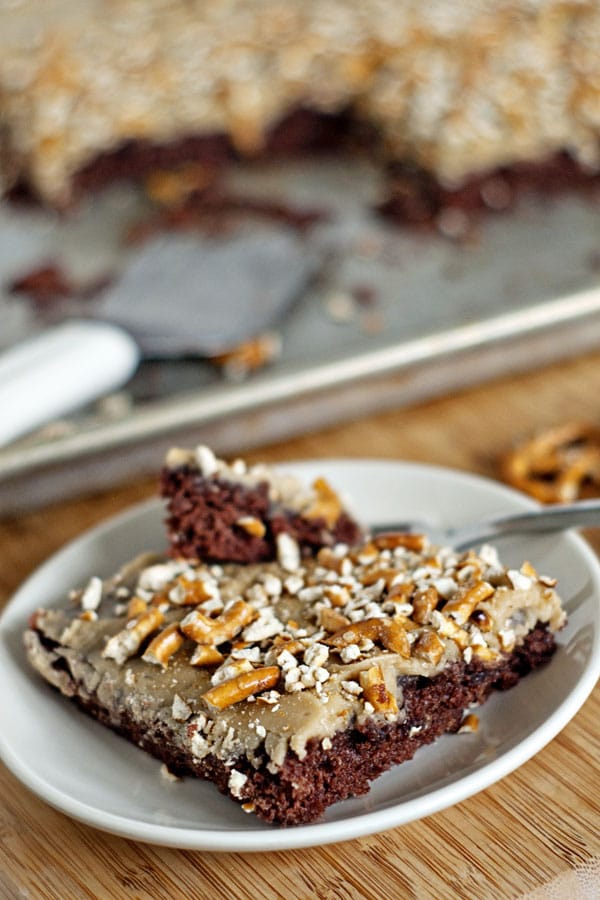 Friday nights are usually family movie night in our home. We cuddle up in the couch, pop popcorn, and watch a fun movie together while indulging in some treat we baked up after school. A few weeks back we had a Friday that just needed to be a cake day– a chocolate cake day. Ever have one of those?
As my 6 yr old and I set off to make a traditional Texas sheet cake, I searched my cupboards for walnuts and instead found a lonesome bag of pretzels nestled behind some granola bars. Then before I knew it, I had ditched the chocolate frosting for salted caramel and had a ziplock baggie full of crushed pretzel that my little miss had skillfully crushed with a rolling pin.
It was all very serendipitous, really. Not only did we get to have our chocolate cake we desperately needed, we got to top it off with one of the most sinful pleasures in the world of food, salted caramel.
Our ho-hum day turned out pretty okay thanks to this cake. Well, until I think about the movie the kids picked to watch that night. I'll just say that no matter how fabulous her adventure, Sharpay should never get her own movie. Ever.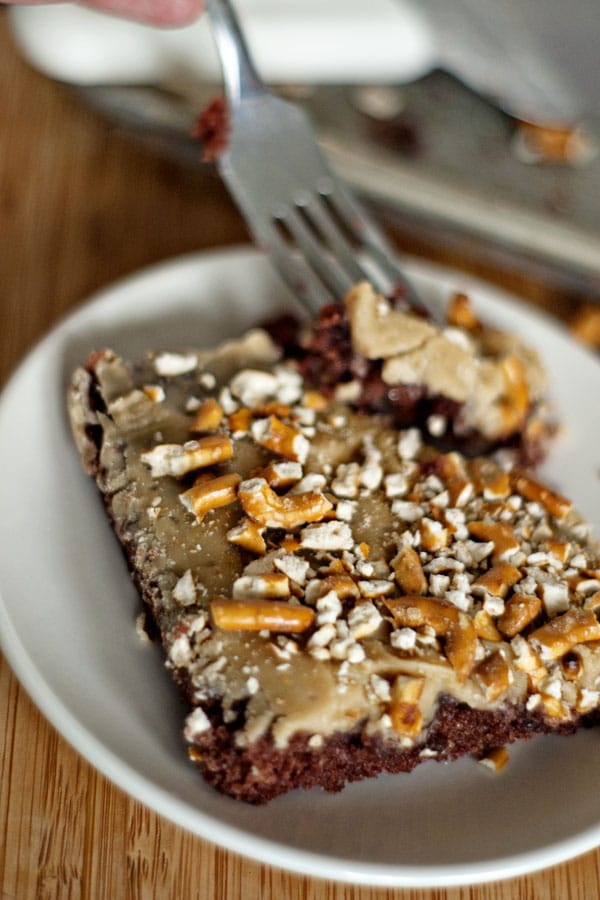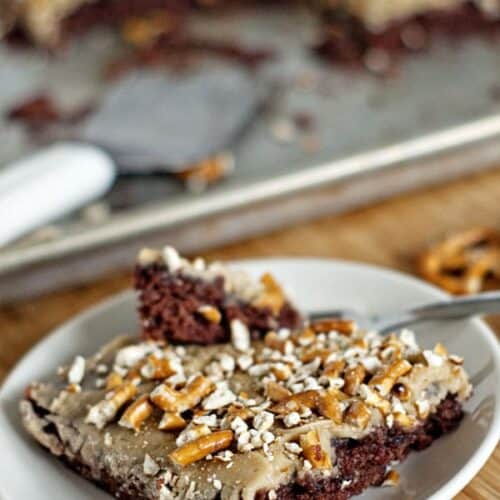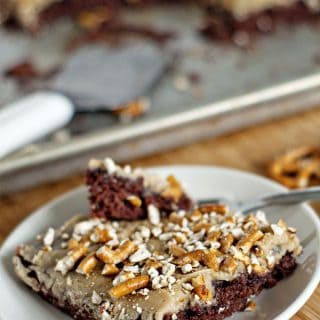 Ingredients
Instructions
Preheat oven to 350 and prepare a 12½ x 17½ baking pan (standard cookie sheet) by greasing it.

Combine butter, water, and cocoa in a medium-sized sauce pan. Stir and heat until the butter is completely melted and the mixture comes together.

Remove pan from the heat and stir in sugar, vanilla, salt and sour cream; mix until well combined. Stir in eggs and continue to mix until combined.

In a small bowl, combine flour and baking soda. Gently fold the flour mixture into the batter and mix just until no dry spots remain. Try not to over-mix as this will cause the cake to be rubbery.

Pour the batter into the prepared baking sheet, spread evenly and bake for about 17-20 minutes or until a toothpick inserted into the center comes out clean or with just a few moist crumbs.

While the cake is baking, combine butter and brown sugar in a sauce pan and bring to a simmer. Let cook for about 1½-2 minutes, stirring constantly and remove from heat.

Using a whisk, stir in cream or milk, vanilla, salt, and powdered sugar, mixing until smooth.

Spread over the WARM cake and top with crushed pretzels. The pretzels are best when put on the same day you eat it or they lose their crunch. I usually just put pretzels on the pieces we're immediately eating.
Are We Friends On Pinterest?
Follow Me For More Great Recipes @hlikesfood