Skinny Fried Chicken – So after yesterday's festival of all things filled with carbs, butter, and heaven, I thought I'd lighten today's recipe up a bit and give your gall bladder a break for a few days. We're making Skinny Fried Chicken, and it's a good change of pace from the normal, heavy, deep fried version but keeps all the flavor. But first, let me tell you where I got it.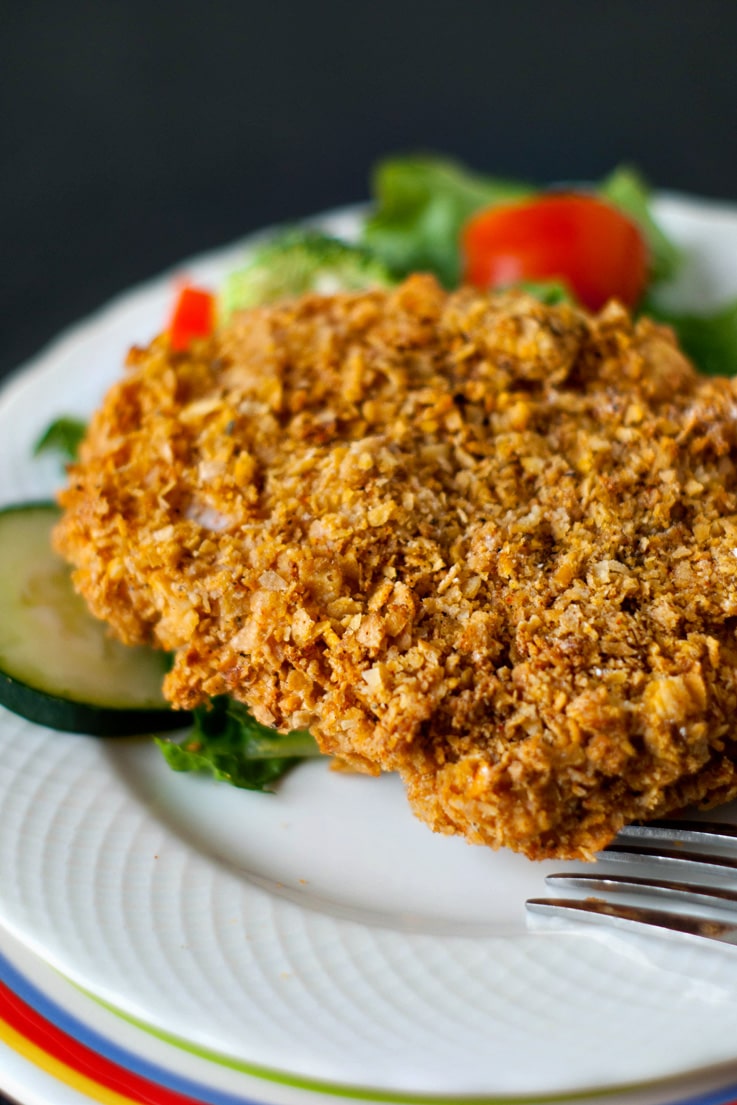 A few weeks back I was sent David Venable's newest cookbook to check out, Back Around the Table: An "In the Kitchen with David" Cookbook from QVC's Resident Foodie. If you're not familiar, David has a wildly popular cooking show on QVC which focuses mostly on comfort foods which, of course, speaks to my heart. #macandcheeseforever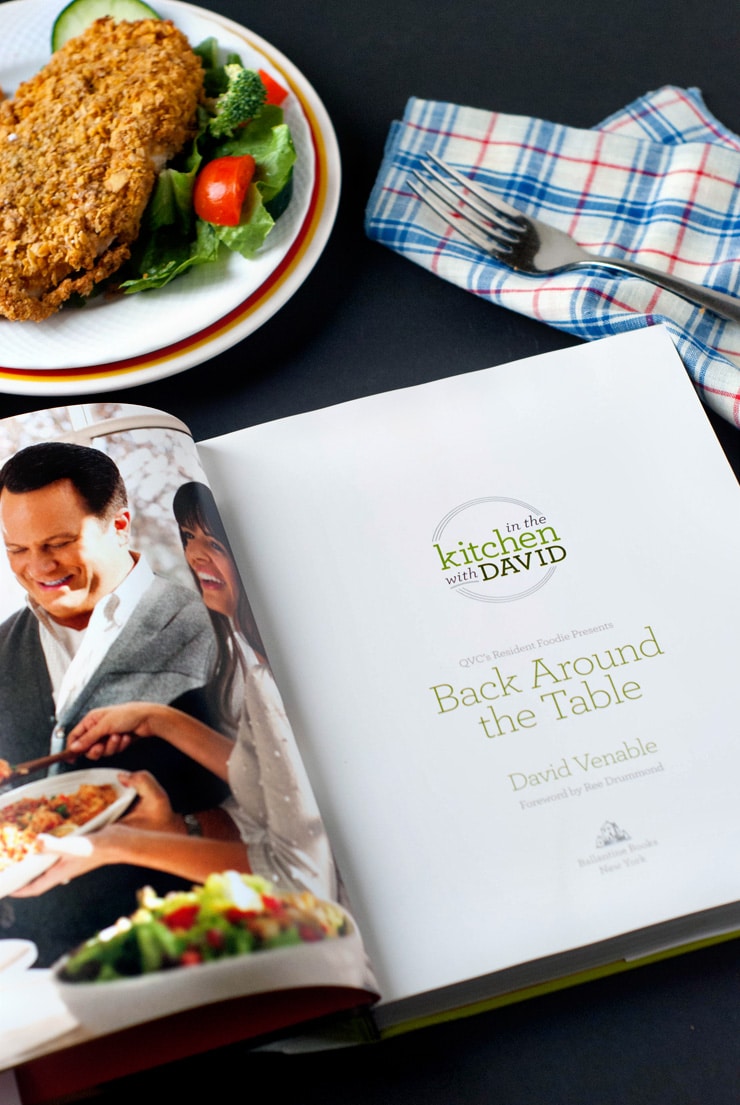 The cookbook itself is filled with lots of comfort food classics, some are just full-fledged comfort, and others– like this Skinny Fried Chicken — are lightened up a bit which I love.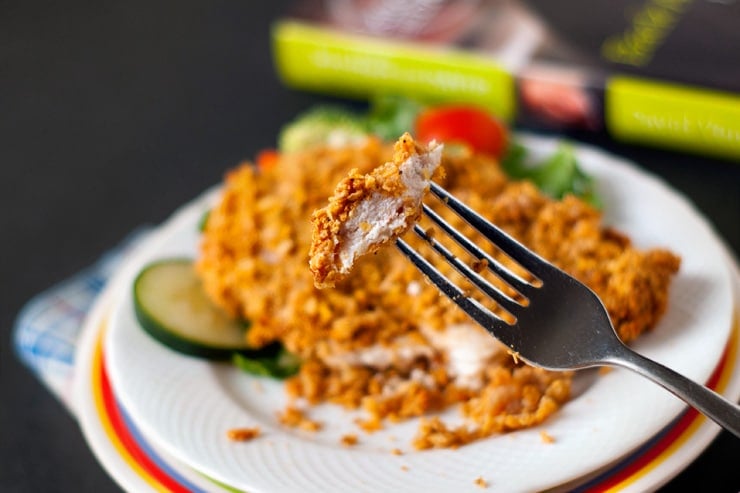 Skinny Fried Chicken
As you know, we recently moved, and upon moving in, I realized that my kitchen has the lighting of a prehistoric cave. Not that time period has anything to do with light (unless it does), but it's dark. So until I figure out a way to light my step-by-step photos, we're going to have to say goodbye to those. So I'll just tell you that this chicken gets marinated in buttermilk, dipped in a super flavorful breading made of cornflake crumbs, and then baked to crispy, moist, delicious perfection. My family loved this Skinny Fried Chicken, and I'm super excited to start cooking through the rest of David's book.

Ingredients
12 boneless, skinless chicken breasts, pounded to 1/2 inch thick
2 cups buttermilk
1 tablespoon hot sauce
Vegetable oil spray
1/2 cup all-purpose flour
3 cups cornflake crumbs
1 teaspoon paprika
1 teaspoon kosher salt
1/2 teaspoon freshly ground black pepper
1/2 teaspoon cayenne
1/2 teaspoon garlic powder
1/2 teaspoon onion powder
1 teaspoon poultry seasoning
Directions
Rinse the chicken breasts in cold water, then place them in a resealable plastic bag with the buttermilk and hot sauce. Close the bag, shake until the chicken pieces are fully coated, and refrigerate for at least 2 hours or overnight.
Position a rack in the center of the oven. Preheat the oven to 400°F. Spray a wire rack with vegetable oil spray and place it in a roasting pan or on a baking sheet.
Place the flour on a plate. Mix the cornflake crumbs, paprika, salt, black pepper, cayenne, garlic powder, onion powder, and poultry seasoning in a bowl until the ingredients are evenly distributed. Remove the chicken breasts from the bag and place them on a plate. Pour the marinade into a medium bowl. Dredge each breast with the flour until fully coated, shaking off any excess. Then coat the chicken in the marinade, followed by a dredging in the cornflake mixture.
Arrange the chicken pieces on the prepared wire rack. Bake for 15 minutes. Reduce the oven temperature to 350°F and bake until cooked through and crispy, 15 to 20 minutes.
Recipe Notes

Made this recipe?
I'd love to see how you rocked it! Share your photo on Instagram with the hashtag
#heatherlikesfood  --
It will totally make my day to see it!
This is a sponsored conversation written by me on behalf of QVC. The opinions and text are all mine.
Check Out These Other Chicken Recipes:
Skillet Honey Dijon Chicken Thighs
Sheet Pan Chicken Pesto and Veggies