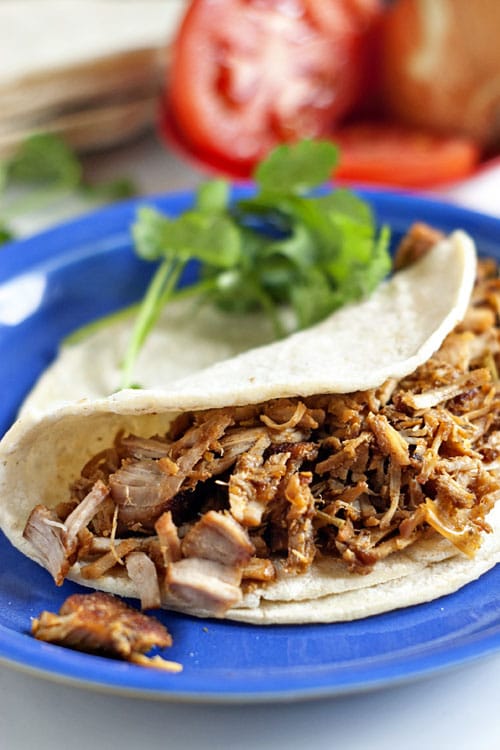 I think it's clear by now that I'm on a Mexican food kick lately. Heck, it's not just lately it's always been that way. But, as much as I love Latin-based foods, I don't always love all the calories that generally accompany it. Pork carnitas is one of my favorite dishes and is traditionally made with heavily marbled pork butt roast. The high fat ratio in the meat makes for marvelously tender, flavorful meat while simultaneously enlarging my derriere in an exponential fashion. <– So not cool.
So I decided to use a leaner cut of meat, add tons flavor and try to make a skinny version of my favorite. The result? Tender, savory meat that won't leave it's mark on your thighs if you have an extra taco. There will always be a place in my heart and diet for traditional carnitas but these do just fine for satisfying my cravings when I'm trying to watch what I eat.
You'll start by cutting a top pork loin roast into 1-2 inch chunks, seasoning with salt and browning them in a couple of tablespoons of oil until nicely browned and caramelized on most sides. You might have to cook the meat in batches to get a nice color on them.
Once all the meat is browned you'll be left with a pan that has delicious carmelized bits all over the bottom and this is where your flavor is at. Stir in a cup and a half of chicken broth, bring to a simmer, and scrape the bottom of the pan until it's clean.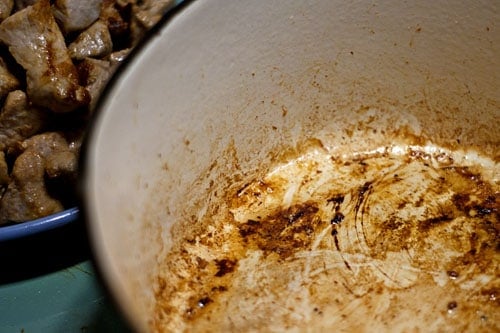 Return the meat to the pan and season with ground cumin, smoked paprika, a chopped onion, and 1/2 C of salsa verde.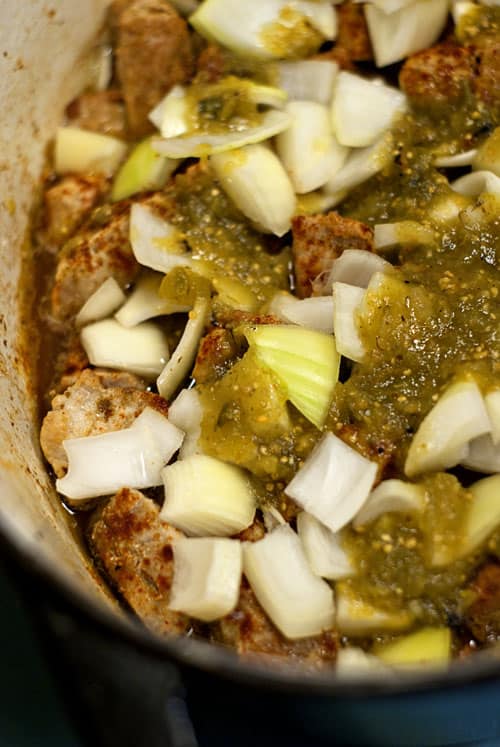 I use salsa verde alot and La Costena is my favorite. It's one of the few that is not too spicy for my girls and it comes in a jar or a small can so I can have as much or little as I need. If you use a different brand be aware that some are burn-your-face-off-hot (at least to me and my weak little mouth).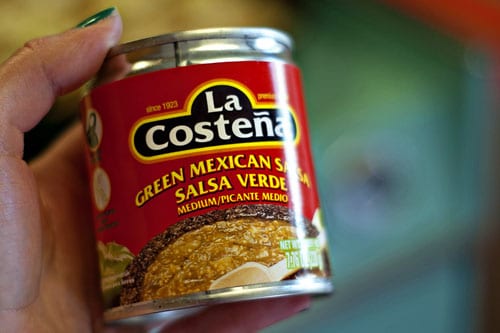 Place the pan of meat covered in a 325 degree oven for about 2 hours until the pork shreds easily with a fork.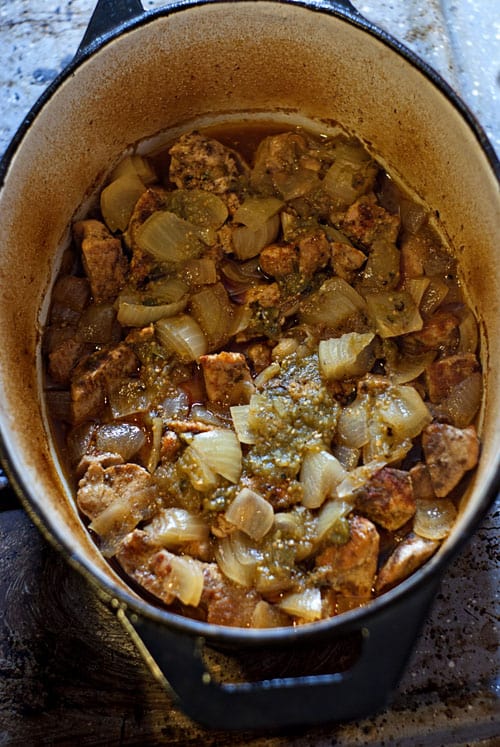 At this point, remove the cover turn up the heat to 400 and let cook for an additional 20-30 minutes or until the sauce has reduced to a syrupy consistency and the pork is browned on top.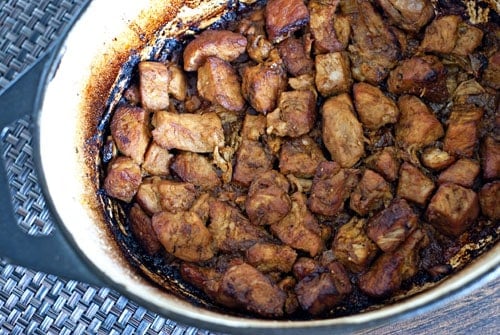 Shred the pork and stir into the cooking liquid. Serve with tortillas and rice and beans.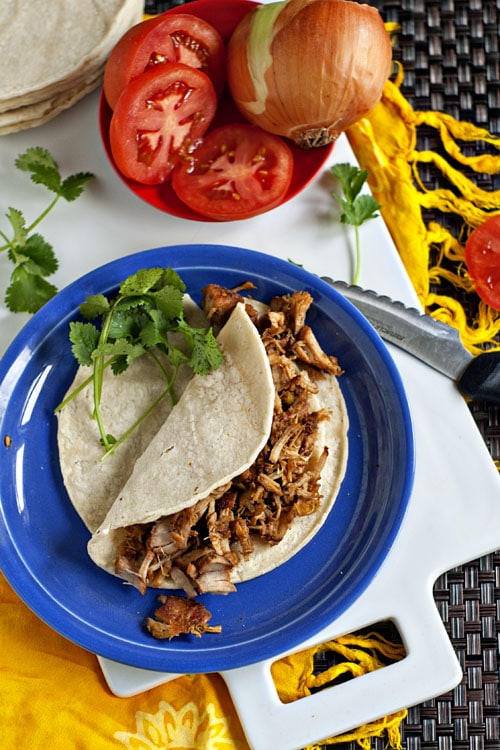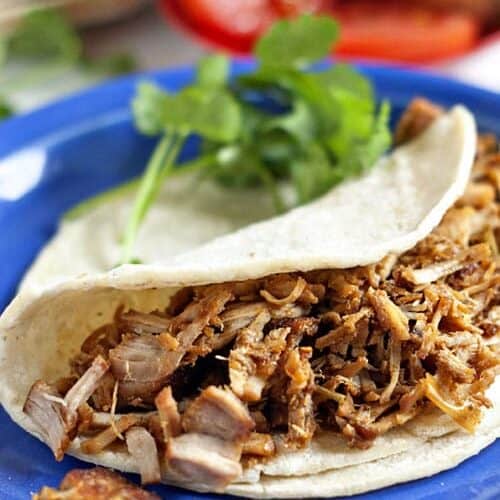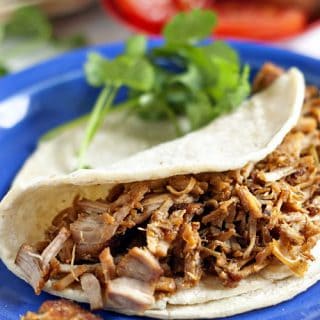 Ingredients
2

lbs

pork loin

cut into 1-2 " pieces

2

tbsp

canola oil

1

tsp

kosher salt

1 1/2

C

chicken broth

1

tsp

ground cumin

1

tsp

smoked paprika

1

medium onion

chopped

1/2

C

salsa verde
Instructions
Heat oil over med-high heat in a heavy bottomed, oven safe pot. Season pork with salt and brown in batches until brown on most sides. Remove meat from pot.

Pour chicken broth into pot, scraping the brown bits from the bottom and bring to a simmer.

Return the meat to the pot and season with paprika and cumin. Top with the salsa verde and onions.

Cover pot and bake at 325 degrees for about 2 hours or until the meat shreds easily with a fork.

Turn the oven up to 400 degrees and return pot to the oven, UNCOVERED for about 20-30 minutes or until the cooking liquid has reduced to a syrupy consistency and the pork is browned. Remove from oven, shred and stir into the cooking liquid to serve.
Are We Friends On Pinterest?
Follow Me For More Great Recipes @hlikesfood
Other Mexican Inspired Recipes You Might Like