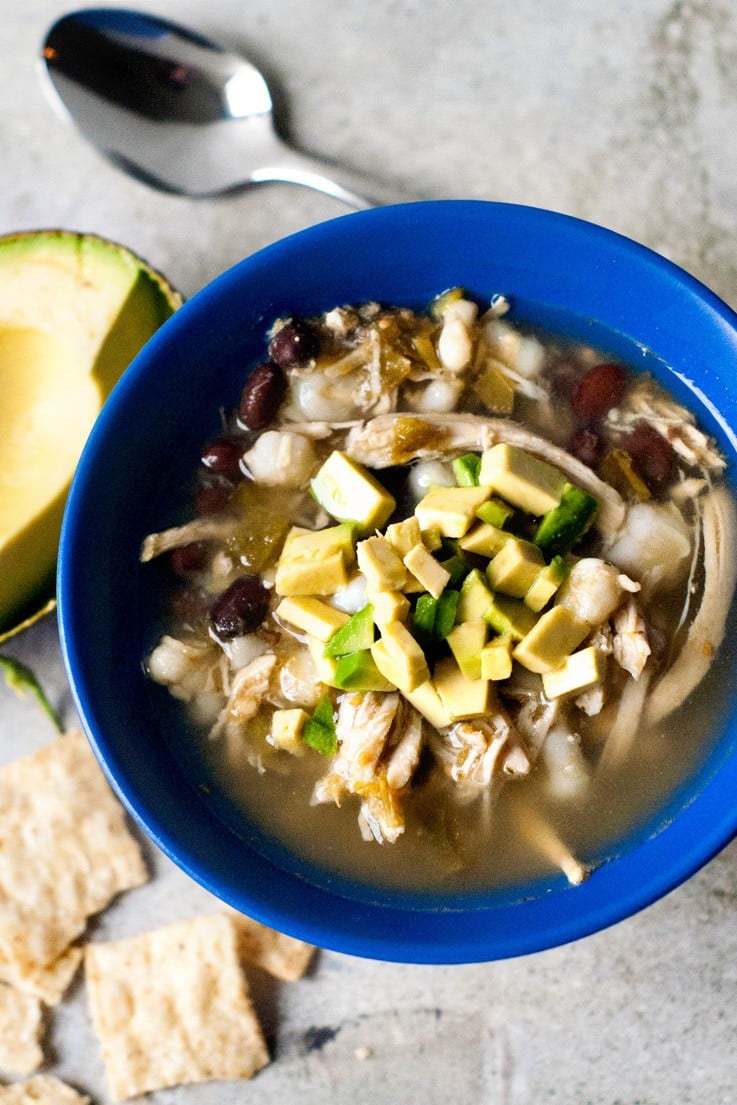 I remember using the slow cooker for the first time when I was living on my own and realizing what an amazing thing it was. I loved putting a chicken breast and some salsa in it in the morning, being able to go to class/work/whatever and come home to something I could throw into a tortilla that was 100x better than the pasta-roni everyone else around me was eating.
Things haven't changed much for me and as you're probably well aware, I use my slow-cooker a lot. This chicken soup is something I've probably made 3 times in the past month and I'm not sick of it yet. It only takes 5 ingredients and all you do is throw it in the pot and walk away!
Hominy
There's an ingredient in it that I LOVE but a lot of people aren't familiar with it and even if they are, they don't really know what it is– It's hominy!  Have you had it? You can find it in the latin foods section at all grocery stores and you've probably walked past cans of it a million times. Also, if you've ever had the popular mexican stew, pozole, you've eaten it too. Pozole actually means Hominy and it's a main ingredient in the stew. 
Hominy is basically dried corn that has been soaked in a lime bath that softens the kernels and makes them double in size and become tender. It's this tender corn that is used to make Masa for corn tortillas and tamales. When you buy it in a can it looks kind of like big, soggy kernels of corn but don't let that deter you! It's so flavorful and adds nice texture to soups and stews.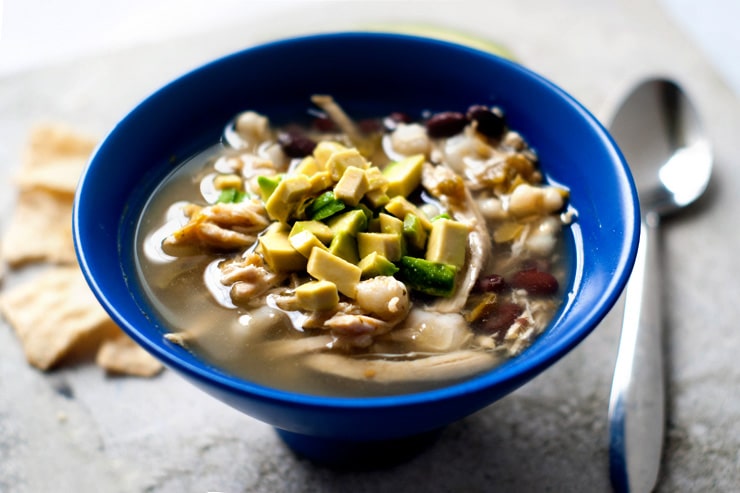 My favorite way to top this soup is with avocado and fresh cilantro. It's fresh and filling and low in calories too! Enjoy!
Ingredients
2 large boneless skinless chicken breast halves
4 C chicken broth
1 (16 oz) jar salsa verde
1 can hominy or 2 c frozen corn kernels
1 can (14.5 oz) beans, any variety
Directions
Place chicken, broth, salsa, hominy or corn, and beans in the slow cooker. Give a quick stir and let cook on HIGH for 4 hour or LOW for 6 hours or until the chicken easily shreds.
Shred chicken and stir it back into the broth. Serve with avocado, sour cream, tortilla strips and cilantro if desired.

Made this recipe?
I'd love to see how you rocked it! Share your photo on Instagram with the hashtag
#heatherlikesfood  --
It will totally make my day to see it!