Slow Cooker Split Pea Soup – I'm kind of a ham bone hoarder.
On any given day you'll likely be able to open my freezer and find at least one giant bone taking up WAY too much real estate in my freezer. It's not because we eat a lot of ham either.  Most of the bones I accumulate come from dinners that I don't even cook but I just can't stand to let a good bone get thrown away. Especially when I know that I can turn it into this soup!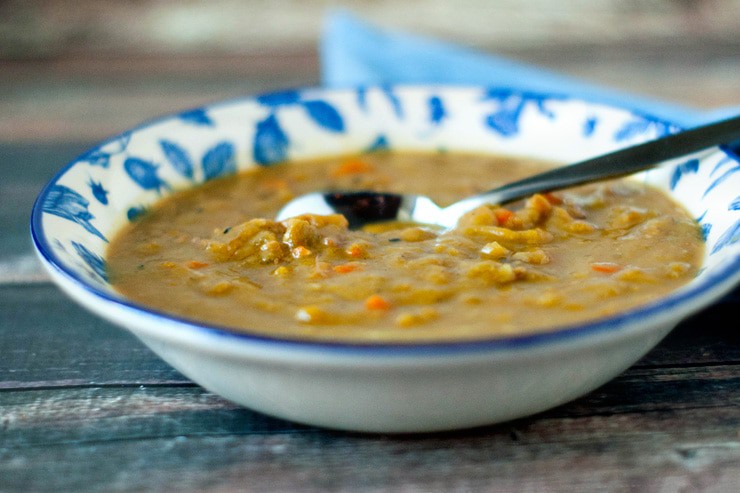 Slow Cooker Split Pea Soup
Now don't go leaving this page if you don't have a ham bone or don't think you'll ever acquire one– all is not lost! Most butchers have a few to purchase and if you have a Honey Baked Ham nearby, I know you can buy bones from them as well. But, you can also use smoked ham hocks that are readily available at most grocery stores and still get the great, smoky flavor of the bone (which is PERFECT for our Slow Cooker Split Pea Soup!).
"Dear, wonderful Heather? Can't we just use some chopped ham?"
I hear you, and yes you can. But the home bone or hocks themselves give such excellent flavor that just the ham can't give the Slow Cooker Split Pea Soup. So take that for what it's worth.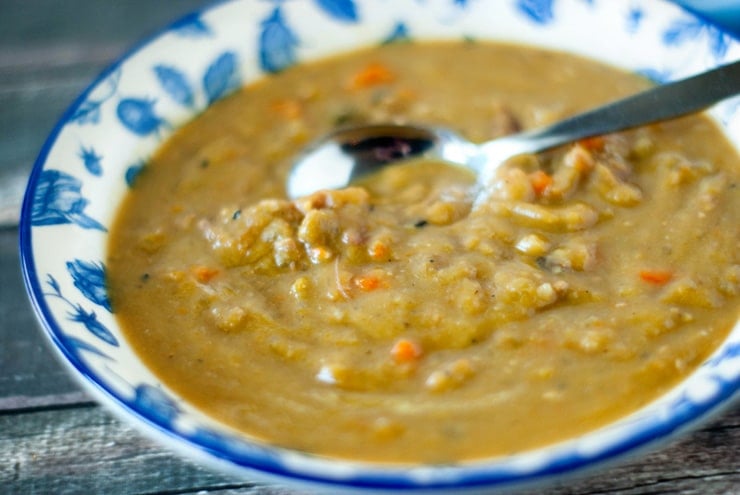 The other part of this Slow Cooker Split Pea Soup that I love is that you literally put everything into the slow-cooker in the morning and come back 8 hours later to rich and creamy soup. All you have to do before eating is take the bone(s) out, take off the meat, add a little salt and hot sauce if it needs it and it's done!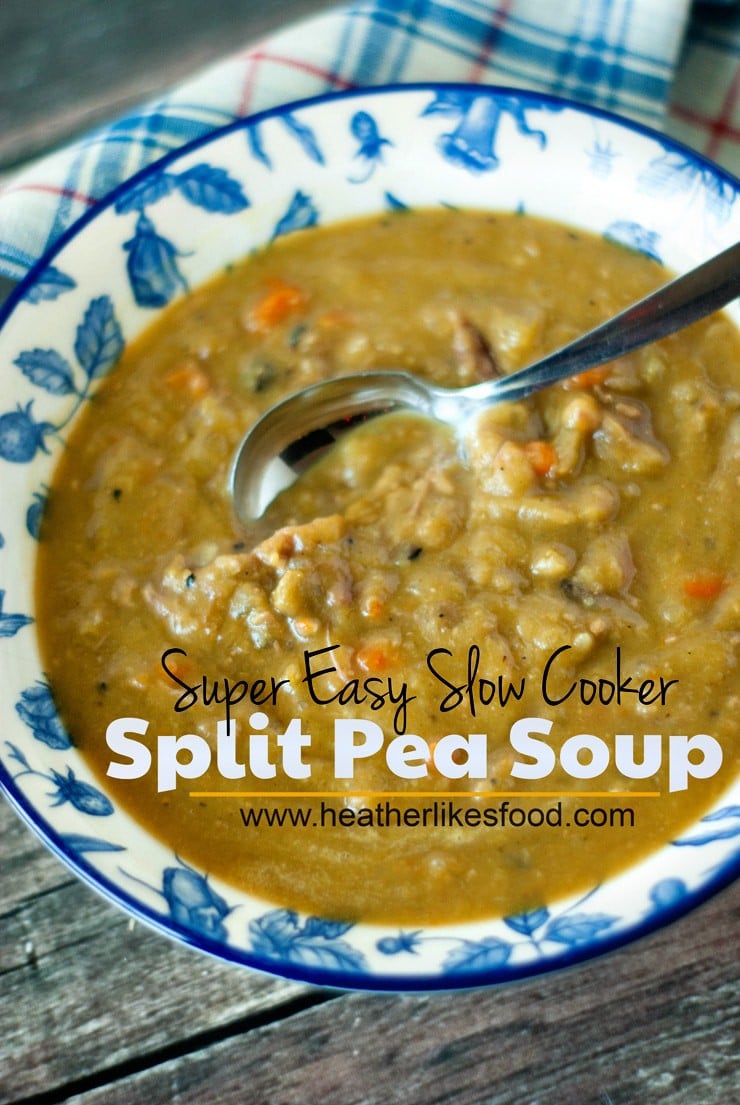 Ingredients
1 lb split peas, rinsed
8 C chicken broth
1 ham bone or 2 smoked ham hocks
2 cloves garlic, roughly chopped
1 C celery, diced
1 C carrots, diced
1 medium onion, diced
1 bay leaf
salt and hot sauce to taste
Directions
Place peas, chicken broth, ham bone or hocks, veggies, and bay leaf in the slow cooker and let cook 8 hours on low or until peas have broken down and created a rich, thick broth.
Remove ham bone from soup, cut off any meat and return to the soup. Season with salt and hot sauce as needed. All hams have a different salt content and it's hard to gauge how much you'll need. I usually don't need to add very much at all.
If the soup is too thick stir in water or milk until it's your desired consistency.

Made this recipe?
I'd love to see how you rocked it! Share your photo on Instagram with the hashtag
#heatherlikesfood  --
It will totally make my day to see it!
More Slow Cooker Meals From Other Bloggers:
Slow Cooker Low Carb Beef Short Ribs (Paleo, Keto)