This is a sponsored post written by me on behalf of The Frozen Food Foundation. All opinions are 100% mine.
Slow Cooker Vegetable Beef Soup – Not taking into account our eating habits of the past 2 weeks (see here), I'm typically a vegetable nazi. I absolutely love vegetables and usually, much to one of my objecting children's disappointment, we eat them often and regularly. It turns out that I don't totally suck at parenting! Yesssss.
Now don't go thinking I make fancy vegetable side dishes to go with every meal. In fact, my go-to vegetable side on busy weeknights is usually cold baby carrots, sugar snap peas or mini bell peppers. You can plop the bag on the dinner table and any guilt that you feel for serving them chicken nuggets for the umpteenth time that week totally washes away when you see them chomping down their veggies! And when things get crazy and I can't make it to the store I hit up the freezer for some frozen veggies to add to soups, skillets, or to quickly steam in the microwave.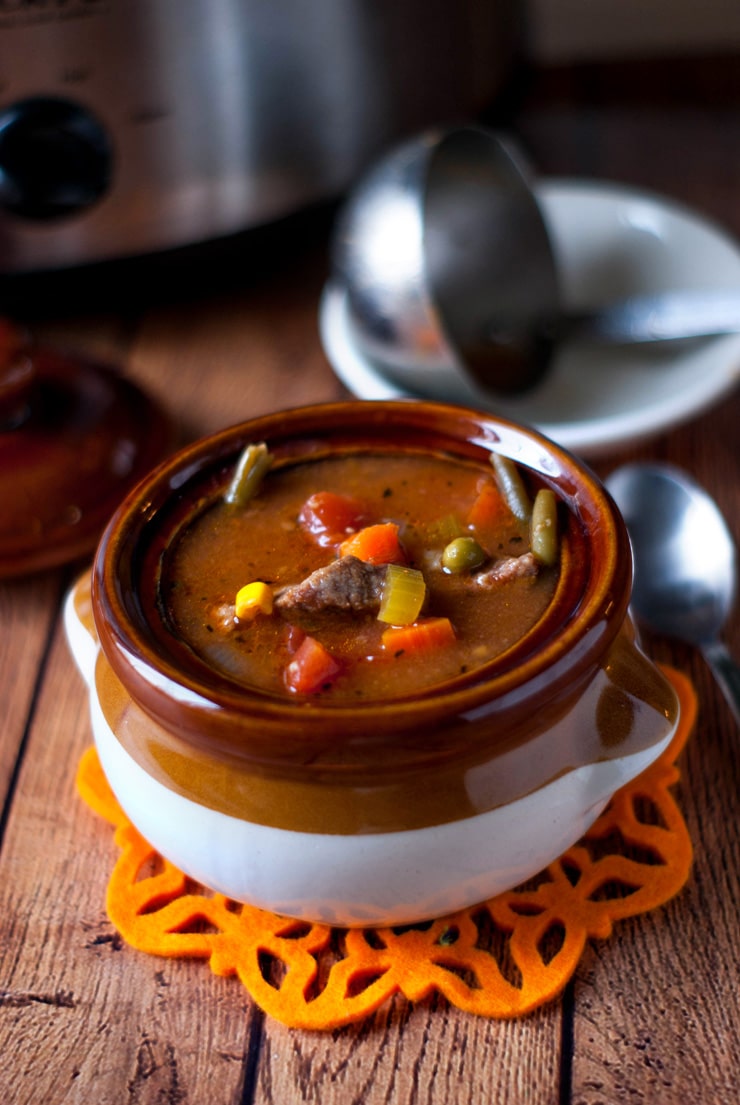 Frozen Veggies
Here are some fun facts for you:
The University of California-Davis (UC Davis), in partnership with the Frozen Food Foundation, conducted an in-depth study to evaluate the nutrient content of eight commonly-purchased frozen and fresh fruits and vegetables:
o   The study analyzed vitamins B2 (riboflavin), C and E, and B-carotene (a precursor to vitamin A); the minerals calcium, magnesium, zinc, copper and iron; dietary fiber; and total phenolics (health-promoting plant compounds).
o   Results reveal that frozen fruits and vegetables are most often (or generally) nutritionally equal to – and in some cases better than – their fresh counterparts.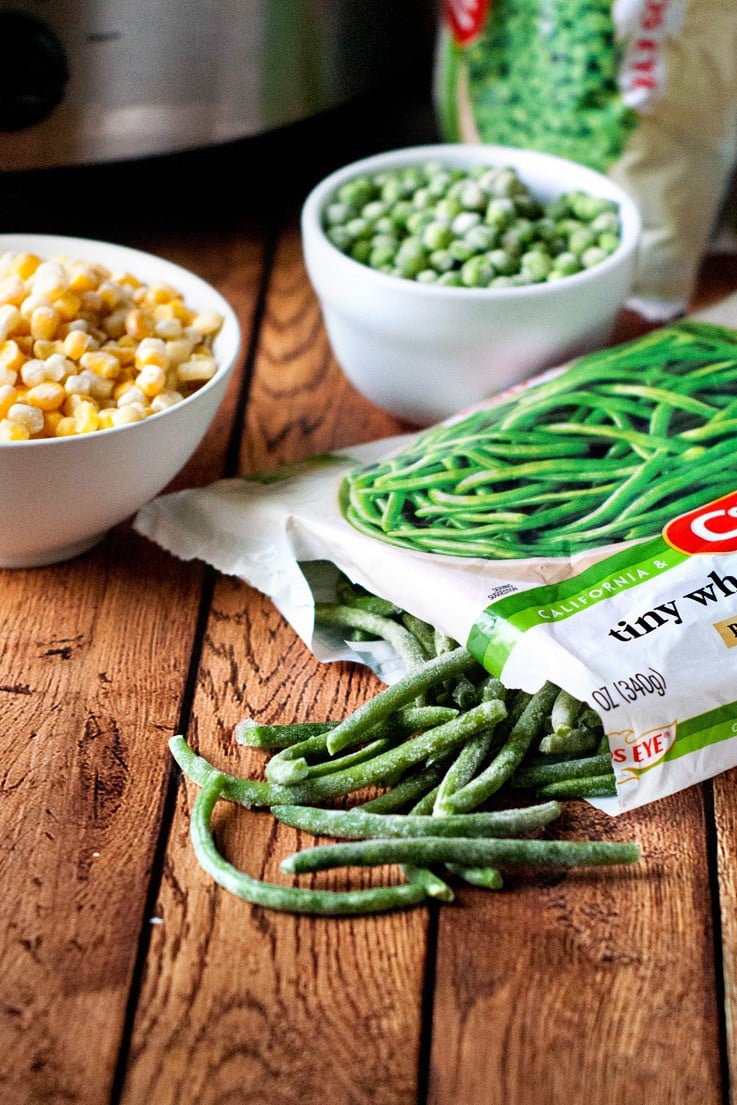 And aside from their nutritional value, the prep work of getting veggies ready for meals is already done for you when you buy them frozen! The green beans are trimmed, the peas are podded (is that what you call it?) and the corn is cut and ready to go.The Frozen Food Foundation website has lots of great information. You can also follow the Frozen Food Foundation Facebook  or the Frozen Food Foundation Twitter to stay updated on their newest finds.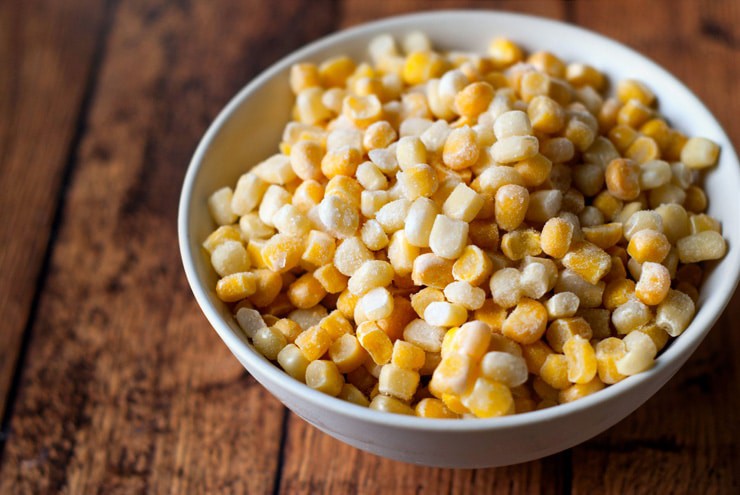 Frozen veggies are an obvious choice for soups and that's just what we are doing today! This slow cooker vegetable beef soup is my kind of fall comfort food. We're using frozen corn, peas, and green beans but any other of your favorite frozen veggies would likely work in it. Just toss some stew meat in a little seasoned flour mix, brown up the meat and add everything into the slow cooker to cook the day away. Super simple, filling, and healthy too!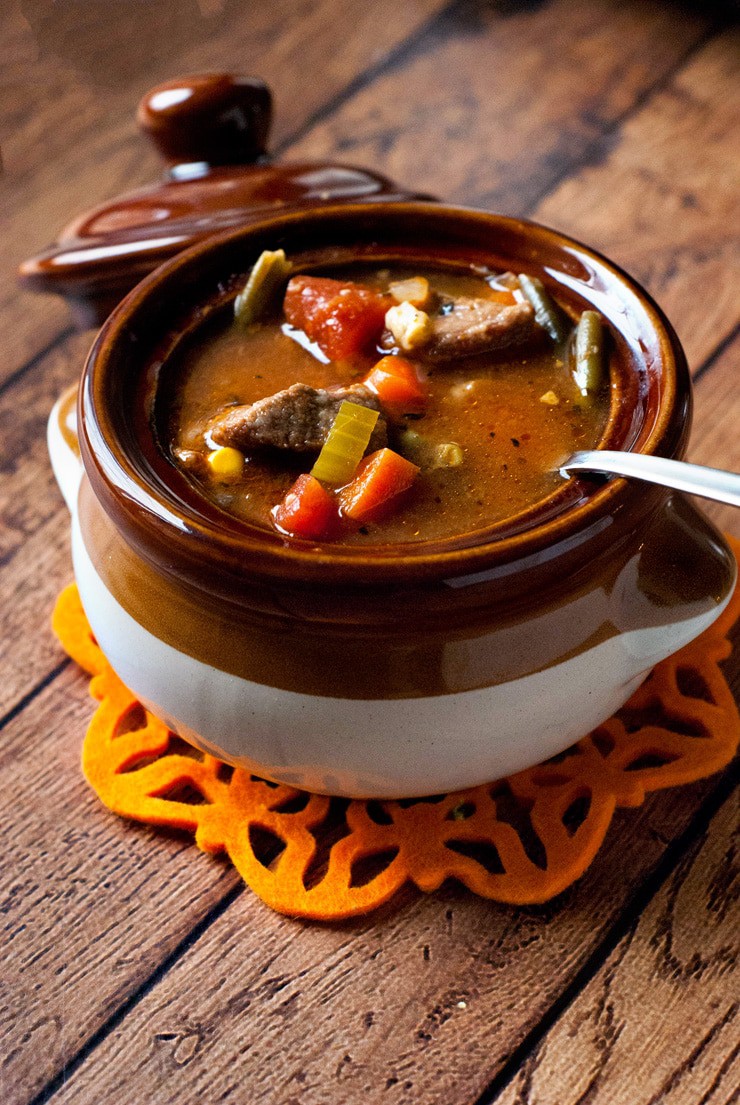 Ingredients
2 tbsp olive oil
1 1/3 lbs beef stew meat, cut into bite-sized pieces
1/4 C all purpose flour
1 tsp steak seasoning (I used MCCormick Montreal Steak)
1 medium onion, diced
1 C carrots, diced
1 C celery, diced
1 C frozen peas
1 C frozen corn
1 C frozen green beans
1 can (14.5 oz) diced Italian seasoned tomatoes
8 C chicken broth
2 C V8 or Tomato Juice
1/4 dry pearl barley
1 tsp kosher salt
1 tbsp red wine vinegar
1 tbsp Worcestershire sauce
Directions
Heat olive oil over medium- high heat.
Toss stew meat with flour and steak seasoning until coated and brown until meat is browned but not cooked through.
Place meat, veggies, broth, juice and barley in the slow cooker, stir and cook on LOW for 6-8 hours or HIGH for 4. Soup is done when both the veggies and meat are tender.
Stir in salt to taste, vinegar and Worcestershire sauce. Serve hot.

Made this recipe?
I'd love to see how you rocked it! Share your photo on Instagram with the hashtag
#heatherlikesfood  --
It will totally make my day to see it!