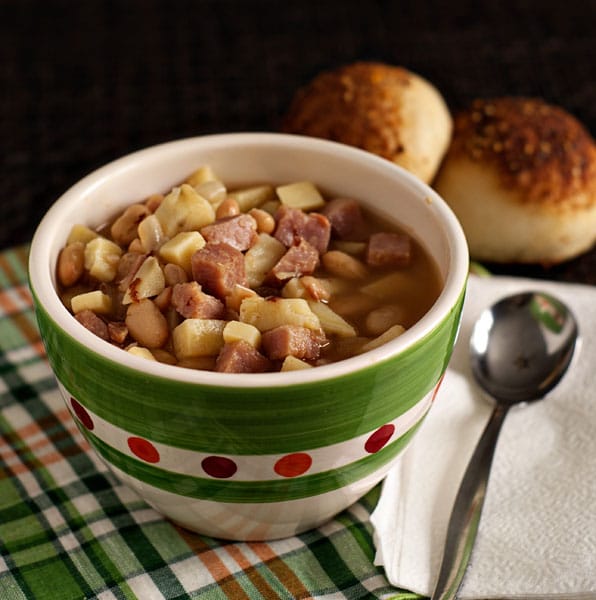 I'm just going to come right out and say it: this ham, bean, and sweet potato soup does not lend itself very well to the camera. The ingredients are pretty monochromatic and texturally boring (as far as photography goes) and while I was shooting the step-by-step I was losing light FAST! Curse you winter and your over-cast-food-photography-unfriendly ways!
What I can say is that for everything this soup lacks in aesthetics it makes up for in taste. BIG TIME!
Now, this isn't your typical ham and bean soup that usually makes its appearance shortly after the holidays each year. This one is smoky, sweet, slightly tangy, low calorie, and super hearty. I've included a few ingredients you may crinkle your forehead to, but stick with me because we're building flavors here—lots and lots of deep flavors in a small amount of time.
Are you ready? Let's go!
You'll start with a hot pot, a little olive oil and some diced onion, a few cloves fresh garlic, and a chipotle chili pepper with 1 tbsp of adobo sauce. Let cook over medium heat until the onions start to soften.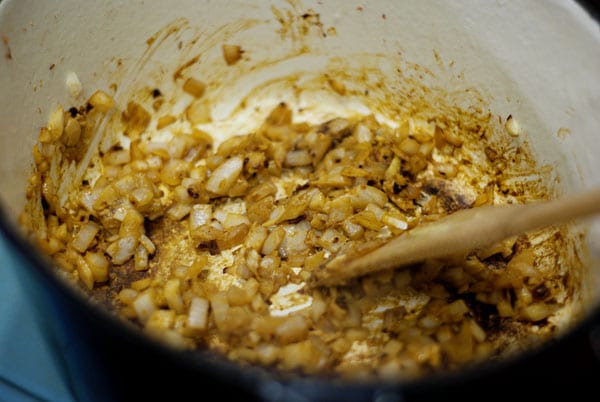 Chipotle Peppers:
I often use ground chipotle chili powder in my cooking, but this time we're using a whole chipotle pepper which is a smoked jalapeño that's been canned in what's called adobo sauce. Cans of these are easy to find in the Latin section of most grocery stores and the label will say something to the effect of "Chipotle Peppers in Adobo Sauce". Each small can has eight or so peppers in it, but you'll only need one for this entire recipe because just one little pepper packs quite a punch. I like to freeze my extra peppers in an ice cube tray topping each one with a tablespoon of the adobo sauce they are packed in. That way I have a little pepper/sauce cube ready to go next time I need one. The canned peppers are whole with seeds still intact, so you'll need to cut the one you're using for the soup in half, scrape out the seeds, and mince finely before adding it to the onions and garlic. You can certainly use more or less peppers based on how spicy you like your food. In this case, one pepper gives this soup just enough heat to warm the back of your throat and wasn't too spicy for my 6 yr. old to enjoy. I don't recommend omitting it completely though as this is what gives the soup its smoky flavor.
Once the onions have slightly softened, stir in 2 tbsp of Dijon mustard followed by 6 cups of chicken broth.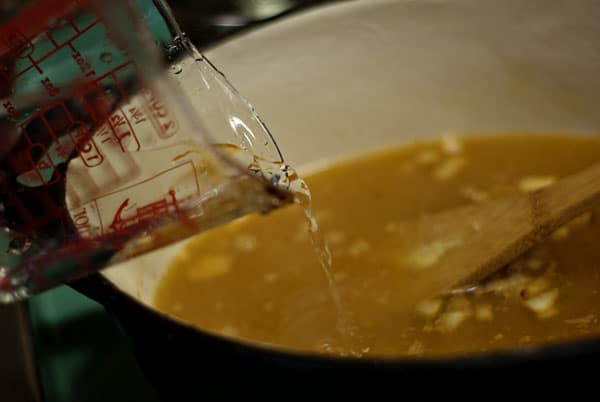 Dice 2 cups of sweet potato and add into the pot…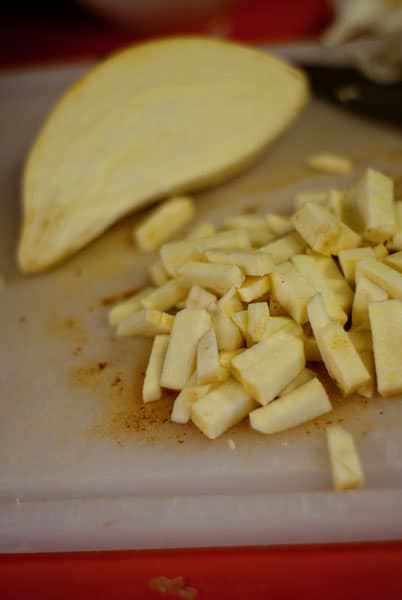 …followed by 2 (undrained) cans of white beans and a bay leaf. Let simmer for about 20 minutes or until the sweet potato is tender. I choose not to drain the cans of beans because it gives the soup a nice body and also a little extra flavor.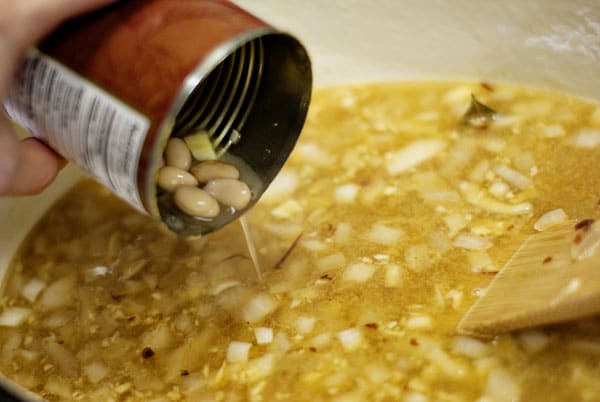 Stir in 1 pound of diced ham, 2 tbsp of honey, 1 tbsp of Worcestershire sauce and cook just until the ham is heated through.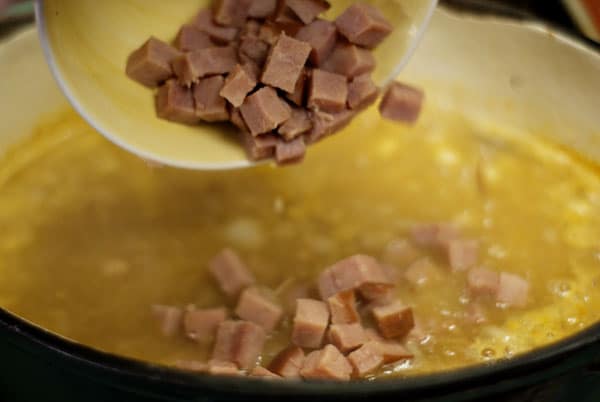 Serve with some bread for dipping and you've got yourself a mighty-fine chilly night's dinner.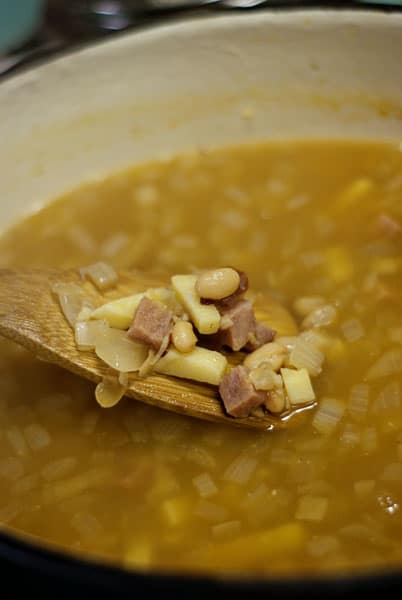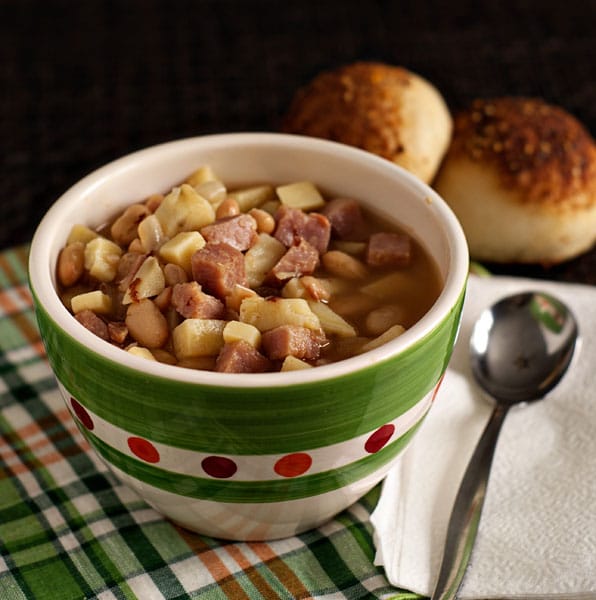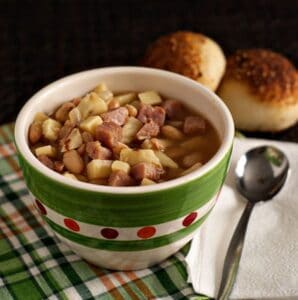 Ingredients
1

tbsp

olive oil

1

C

onion

diced

1

chipotle chili

seeded and minced

1

tbsp

of adobo sauce

sauce that the peppers are packed in

4

cloves

garlic

minced

2

tbsp

Dijon mustard

6

C

chicken broth

2

C

sweet potatoes

diced

2

cans

14.5 oz white beans, undrained

1

bay leaf

1

lb

ham steak

diced

1

tbsp

Worcestershire sauce

2

tbsp

honey
Instructions
Over medium-high heat, saute onion, garlic, and chipotle chili in olive oil until the onion starts to soften.

Stir in Dijon mustard and chicken broth, sweet potato, bay leaf and undrained beans.

Bring to a boil and simmer for about 20 minutes or until the sweet potato is tender.

Stir in ham, honey, and Worcestershire sauce and cook just until the ham is heated through.
Are We Friends On Pinterest?
Follow Me For More Great Recipes @hlikesfood