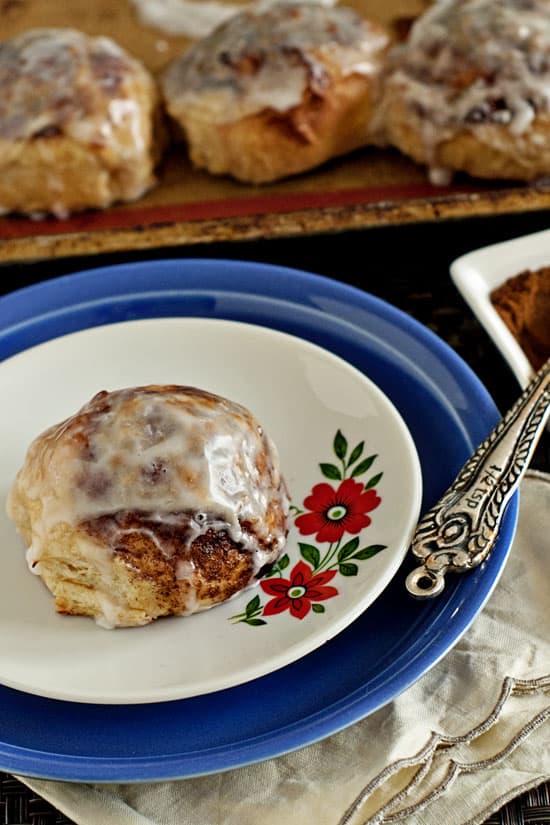 Are you ready for Mother's day? It's coming up this Sunday just in case you need a little reminder. If you don't have a plan yet, I'm pretty sure Mom won't mind waking up to a pan of these warm, soft cinnamon buns.  I sure wouldn't.
Ahem.
These buns are are great because you can make them up a day in advance and then bake the next morning. The only bad part about this is that you don't get extra points for waking in the wee hours of the morning to make them… unless you don't tell anyone. In which case, my lips are sealed! I'm all about helping people get as much sleep as possible while trying to achieve kitchen greatness.
These buns are basically a simplified cinnamon roll; they have all the same flavors but don't take as much effort. They also have a key ingredient that make them super soft and moist- instant potatoes. I'm using potato pearls for the photos here, but regular potato flakes work just as well in the same quantities.
Let's make 'em! You'll start by heating some butter and water on the stove top until the butter is just melted. It's important that you don't get your water too hot or it can kill the yeast. You want it about bathtub temperature so if it gets any hotter let it cool off a bit before adding to the other ingredients.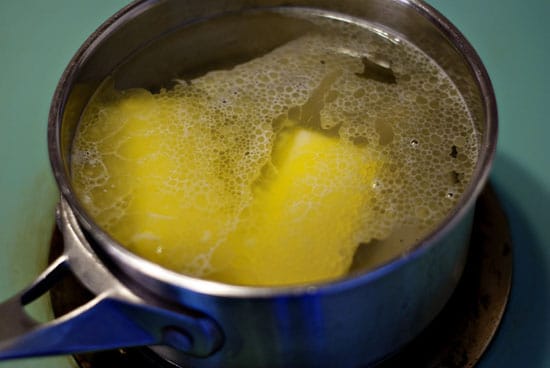 Measure out some brown sugar, instant potatoes, powdered milk, and salt into your mixer and pour the butter/water mixture over the top. Mix until combined.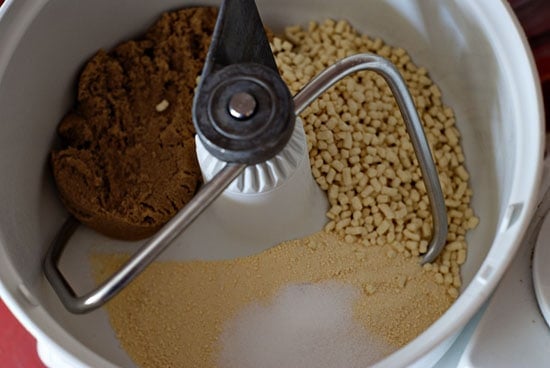 Add the yeast and a couple cups of flour, and mix until incorporated- it will look like runny cake batter. At this point, set your mixer aside for about 10 minutes to let the yeast activate. When you come back to it you'll see some bubbles forming on the top and it should start to look foamy. It's now time to add some eggs and the rest of the flour.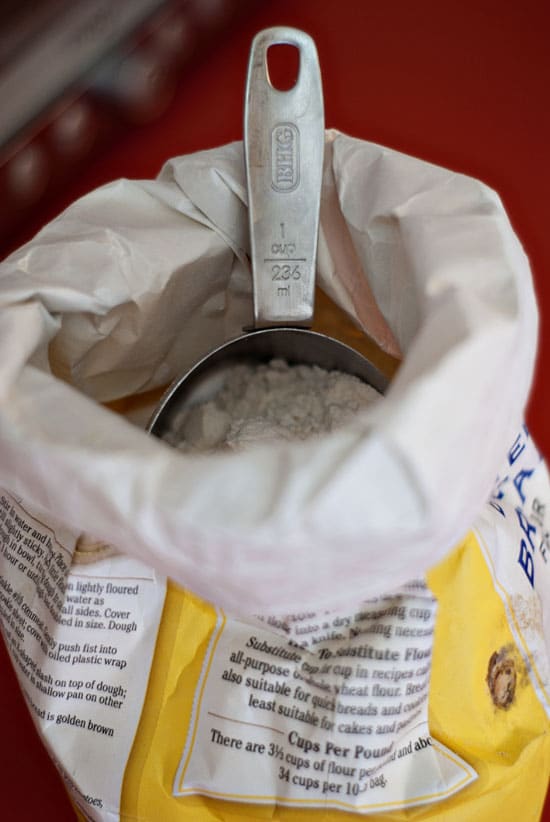 Making bread is a fickle process. I don't tell you this to scare you, but to make you realize that it might turn out perfect using 9 cups of flour one time and 11 the next. When making any kind of bread it's more about the way the dough feels than anything else. The amount of flour a bread dough will take varies on everything from humidity to temperature to type/brand of flour being used. For this recipe we're aiming for the dough to be sticky but manageable. The less flour used, the more tender the bread will turn out.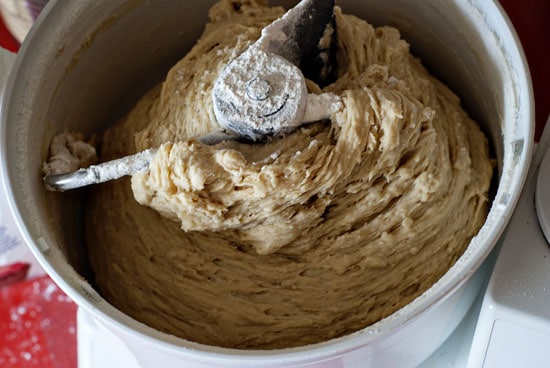 I usually add flour until the dough just starts to come away from the sides of the bowl. Once this happens, I like to coat my fingertips in flour and take a piece of the dough out of the bowl. If I can roll it with my floured hands without making a huge mess, it's ready. If not, I add a little bit more flour and repeat the process. This recipe will take 9-11 cups of flour.
Once you've added all the flour let it knead for about 8 minutes, transfer the dough into a bowl and cover to rise until it's doubled in volume. I love my Bosch because I can put the lid on and let it rise right in the bowl without having to dirty another bowl. But sometimes I leave it in there for a bit too long and I walk into the kitchen to find this…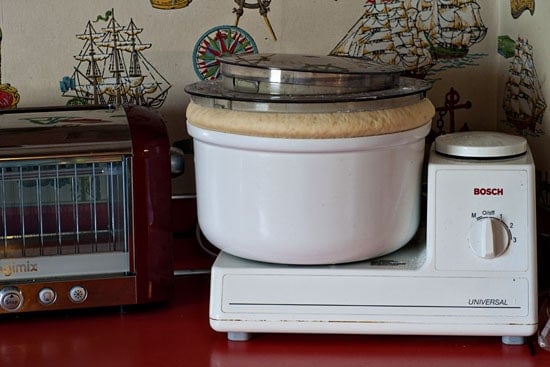 Turn your dough out ont0 a floured surface and start to divide into even portions. This recipe makes a big batch so I like to work with only half of it at a time and go from there. I basically just keep cutting pieces in half until I come to the size of roll I'd like. I explain a little bit better in my dinner roll recipe.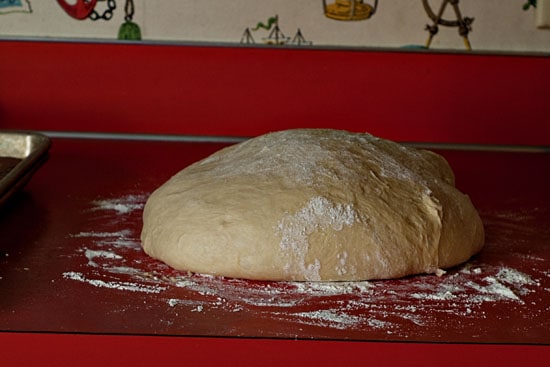 Place the rolls on a lined baking sheet about 1-2″ apart. Can you see the turtle my 6 yr old made in the background?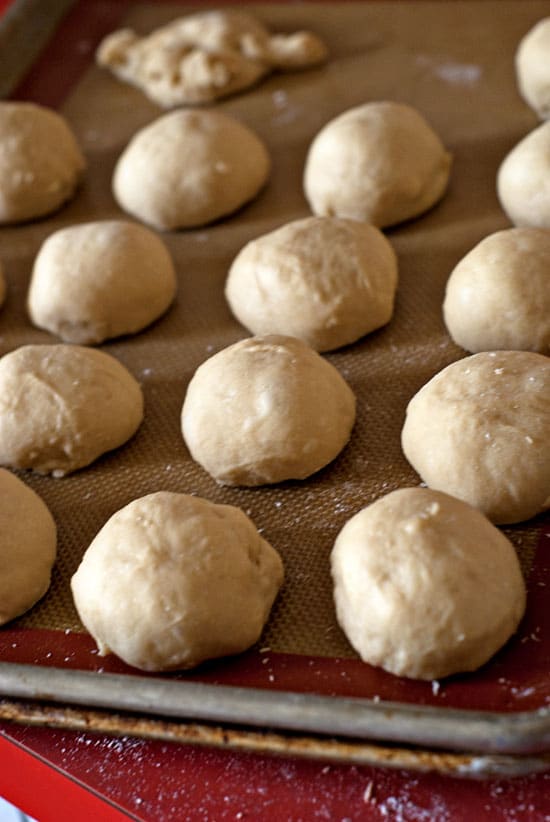 If you're not in the mood for sweets this dough also makes excellent rolls and you could bake them up just like this. BUT what's not to like about some cinnamon, sugar, and frosting, right? Dip the top of each roll into melted butter…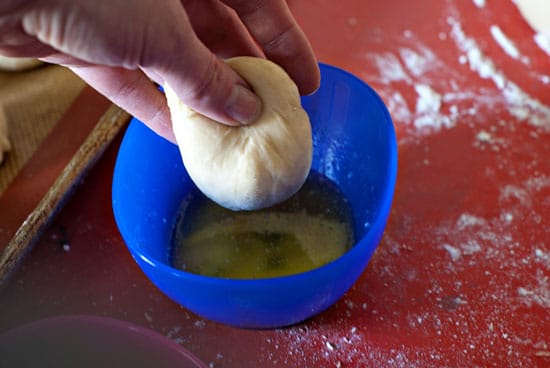 …and then into some cinnamon sugar. The recipe calls for 1 tbsp of cinnamon for every 1/4 C of sugar and that might seem like a lot of cinnamon to you but it works, promise!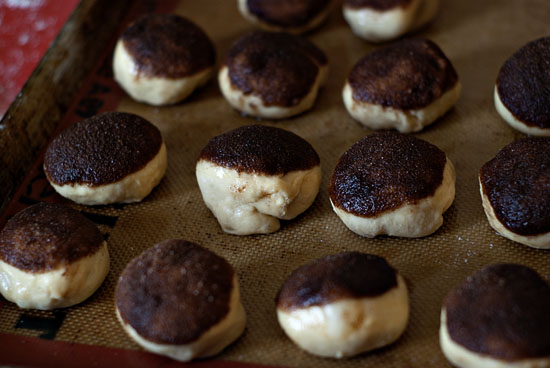 Cover the pans with plastic wrap and let the rolls rise until doubled on the counter top or overnight in the refrigerator. When ready,  bake for about 15-20 minutes or until the tops are just lightly golden and frost while still warm with cream cheese frosting (recipe below).
Ingredients
1 C butter
5 C water
1 C brown sugar
1 C powdered milk
1 1/2 tbsp salt
1 C instant potato pearls or flakes
3 tbsp instant yeast
2 eggs
11-13 C bread flour
2 tbsp ground cinnamon
1/2 C sugar
1/4 C butter, melted
4 oz butter, softened
4 oz cream cheese, softened
2 C powdered sugar
1 tsp vanilla extract
Directions
Heat water and butter on the stove top until the butter melts and the mixture is the temperature of bath water.
In the bowl of a mixer combine brown sugar, powdered milk, salt, and instant potatoes. Pour water/butter mixture into the mixer and combine.
Add 2 C of flour and yeast to the mixer bowl and mix until the flour is incorporated- it will look like runny cake batter. Let rest for 10 minutes, until it looks bubbly and the yeast has activated.
Mix in 2 eggs and 9-11 cups of flour. Add enough flour to make a sticky but still manageable dough- the dough will start to pull away from the sides of the bowl and will be easy to manipulate with floured fingers.
Continue to knead for eight minutes. Remove dough from mixer and place in a large bowl to rise. Cover with plastic wrap and let rise until doubled in size, about 1 - 1½ hours.
Turn dough out onto a floured surface and separate into two pieces. Working with ½ of the dough at a time, separate dough into pieces slightly larger than a golf ball and pinch the bottom to form into a ball.
Combine cinnamon and sugar and dip the top of each dough ball into melted butter and then into the sugar mixture. Place on a lined baking sheet and cover with plastic wrap.
Let rise on the counter top until doubled or place in the refrigerator overnight to rise.
Once doubled in size, bake the rolls at 350 degrees for 15-20 minutes or until the tops are just lightly golden brown. Frost buns with cream cheese icing while still warm.
Beat together the softened butter and cream cheese with an electric mixer. Slowly add the powdered sugar a cup at a time until smooth and creamy. Add in the vanilla extract

Made this recipe?
I'd love to see how you rocked it! Share your photo on Instagram with the hashtag
#heatherlikesfood  --
It will totally make my day to see it!