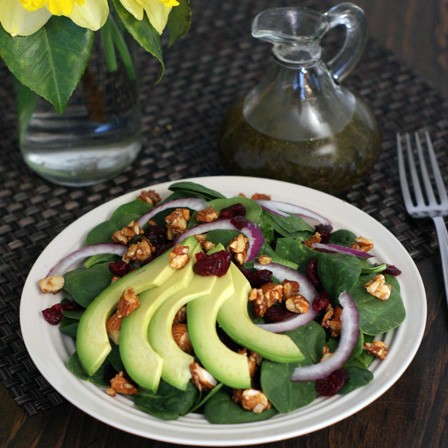 Hey guys.
I'm kind of at a loss of what to say tonight. I went to the gym for the first time in, umm… 3 years this morning and I'm pooped. As in, I got home from the gym at 11, took a shower, put on my pajamas comfy clothes, and have done almost nothing else today exhausted.
What the heck? So much for that whole exercise-gives-you-energy-and-you'll-feel-like-eating-healthy garbage.  Give it time, I know, I know. 🙂
Regardless of my apparently dysfunctional relationship to exercise, I at least have the fact that I LOVE salads going for me.  And, as promised on Monday, this salad includes my favorite candied almonds along with a few other equally enticing ingredients; baby spinach, red onion, dried cranberries, avocado and a sweet white balsamic vinaigrette.
Enjoy!
Ingredients
Baby Spinach

Red onion, sliced

Dried Sweetened Cranberries

Sliced Avocado

1/4

C white balsamic vinegar

1/4

C olive oil

1/3

C canola oil

1

clove garlic, minced fine

2

tbsp honey

2

tsp poppyseeds

salt and pepper to taste
Instructions
Combine all ingredients for the dressing except for the oils. While whisking, slowly pour the oils in a small stream until they are completely incorporated with the vinegar mixture. Serve over spinach, onions, avocado, cranberries and almonds.

Made this recipe?
I'd love to see how you rocked it! Share your photo on Instagram with the hashtag
#heatherlikesfood  --
It will totally make my day to see it!