This Strawberries and Cream Pound cake is what dreams are made of! Dense homemade pound cake is topped with vanilla pudding and copious amounts of strawberries. So, SO good!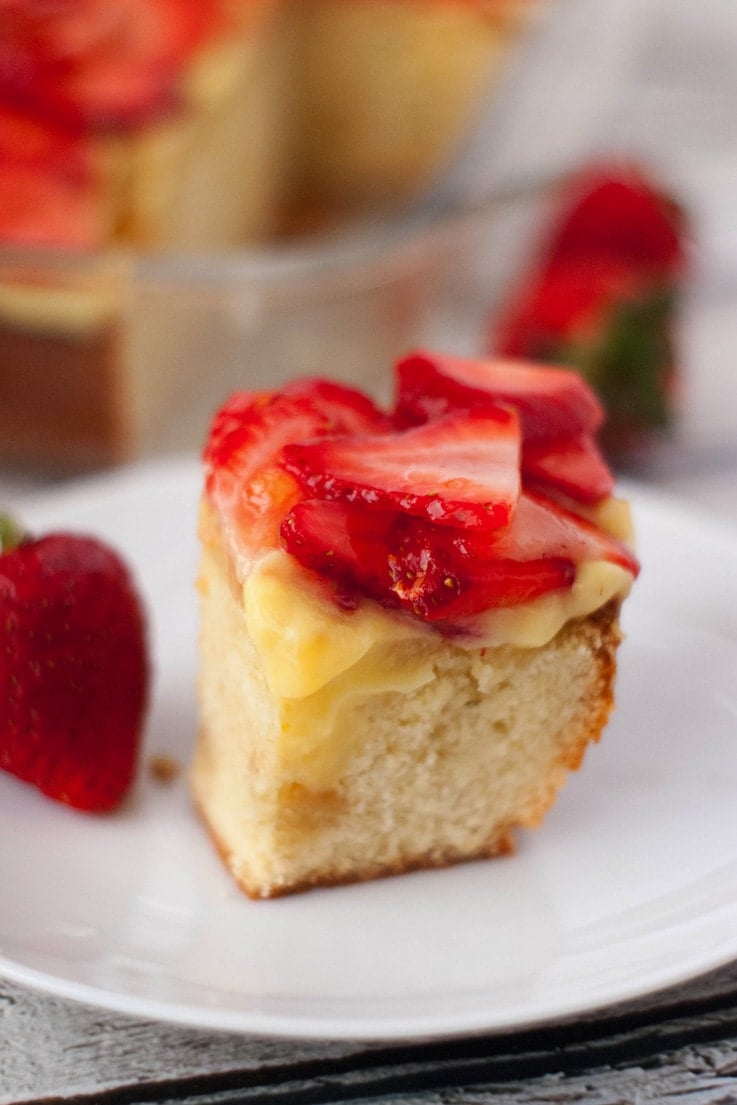 Happy-dappy Friday to ya!
I'm heading out tonight to go to a conference this weekend here in Portland. I'm SO excited that it's being held here at home. This way I still get to snuggle my big chunk of an almost one year old(!) and sleep in my own bed. Life is good.
Also, when did he get so stinkin' big? I stumbled upon this little scenario in our pantry the other evening while I was occupied making dinner. Once I found him he basically told me that I'd have to pry the Oreos out of his cold, dead hands if I wanted them. So he ate them. ALL. I'm glad they were only mini Oreos but I'm not sure how many he ate before I found him…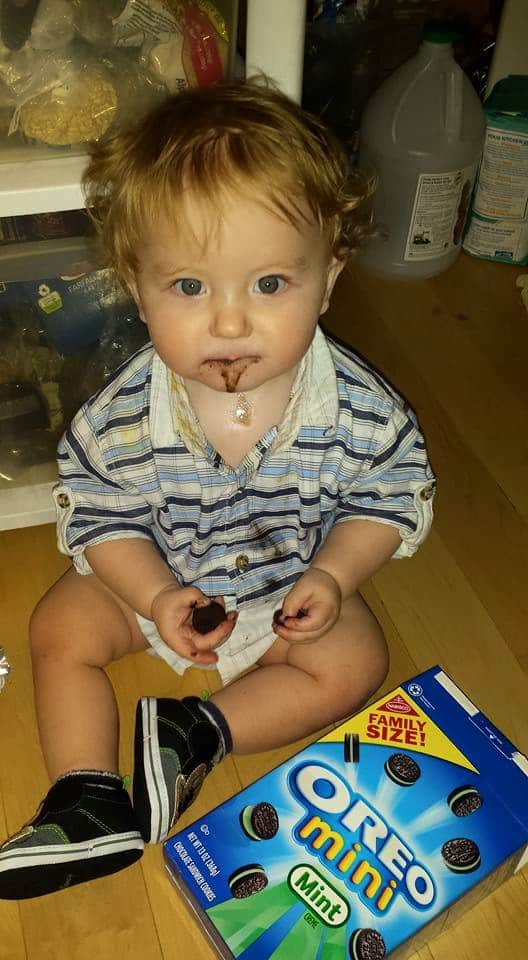 Moving on.
Did you know it's National Strawberry Month? I'm a bit of a Strawberry fanatic, so I decided I'd celebrate the month with copious amounts of Strawberries. Seems fitting, right?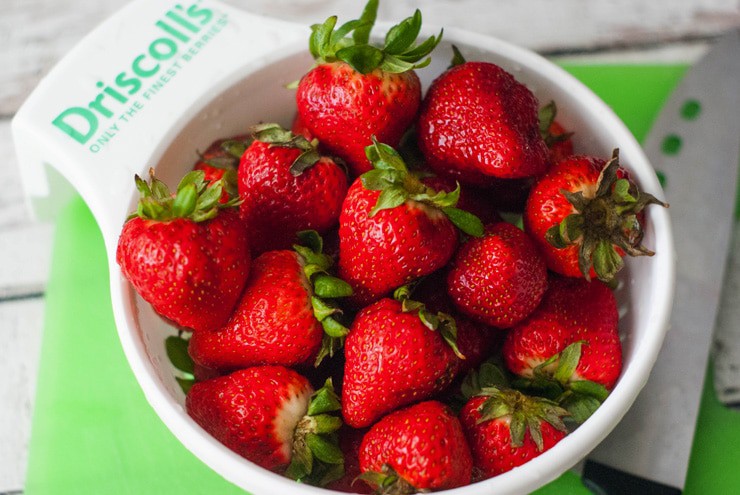 Driscoll's Berries asked if I would like to put together a strawberry recipe and I was like, "Duh, I think I can handle that."
Okay, not really but I did say I would and here it is. Are you ready for this business? It's pound cake. It's vanilla pudding. And it's strawberries. In other words, it's good.
This is basically a poke cake and I decided to use a homemade pound cake instead of a cake mix. I LOVE pound cake and the moist vanilla pudding absorbs beautifully into the dense cake. Pound cake is super simple to make, just be sure to follow the directions to-the-T. There is no leavening agent in pound cake and it rises based on how much air is whipped into the batter during the creaming process. I explain it all in the recipe but wanted to be sure to mention it here too.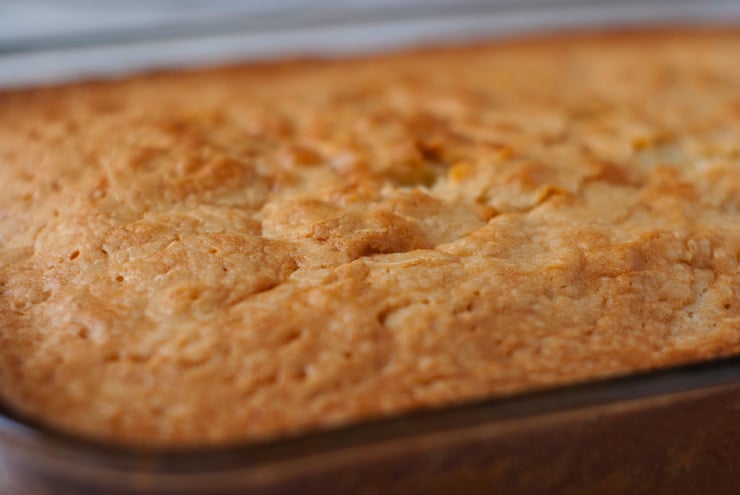 After the cake is baked, you'll poke holes all through the cake using a wooden spoon handle, or in my case, a really fat straw. My wooden spoon collection somehow completely disappeared and I've yet to find it. I have a feeling a certain 4-yr-old might have it hiding somewhere…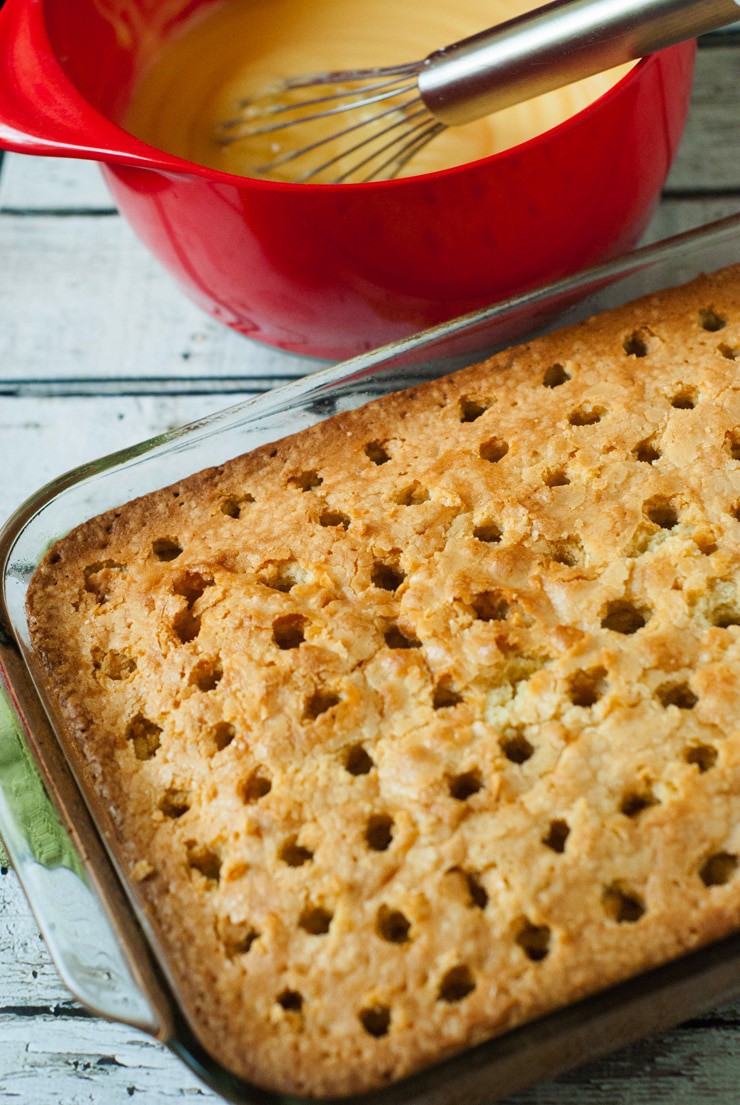 When you mix up the pudding, make sure to pour it just after mixing so that it doesn't have a chance to set up. I waited just a bit too long and not as much pudding went into the cake as I would have liked because it was too thick. It still turned out delicious, but you can prevent that by pouring it on right after mixing.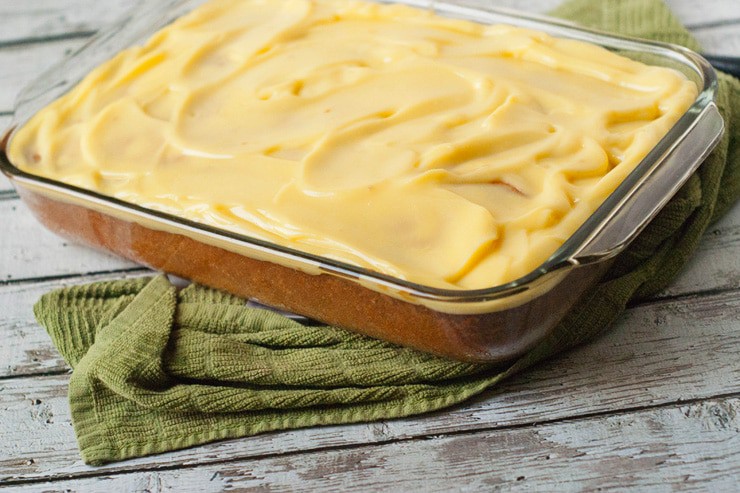 Once the cake is chilled all the way through, you'll top it with some gorgeous strawberries. I tossed my berries in 1/4 C of orange marmalade and LOVED the flavor it gave to the finished cake. If marmalade isn't your thing feel free to use strawberry jam. You just want something on the berries to keep them moist and shiny.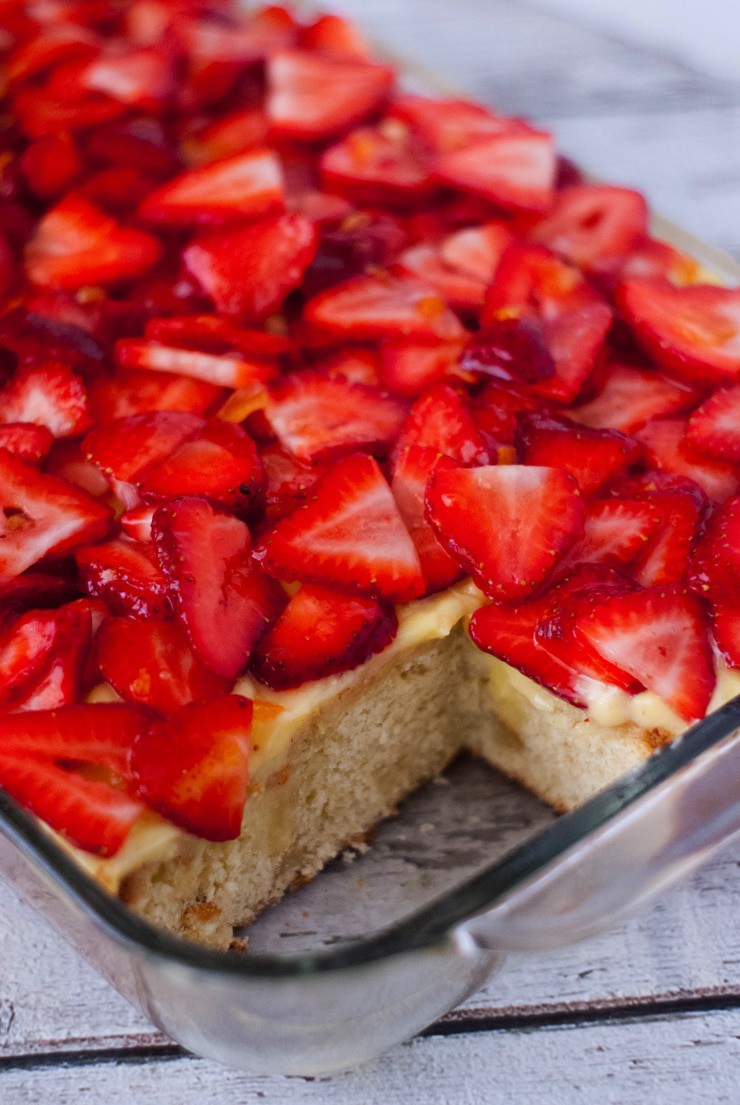 And with that, I'll leave you to your weekend! See you next week!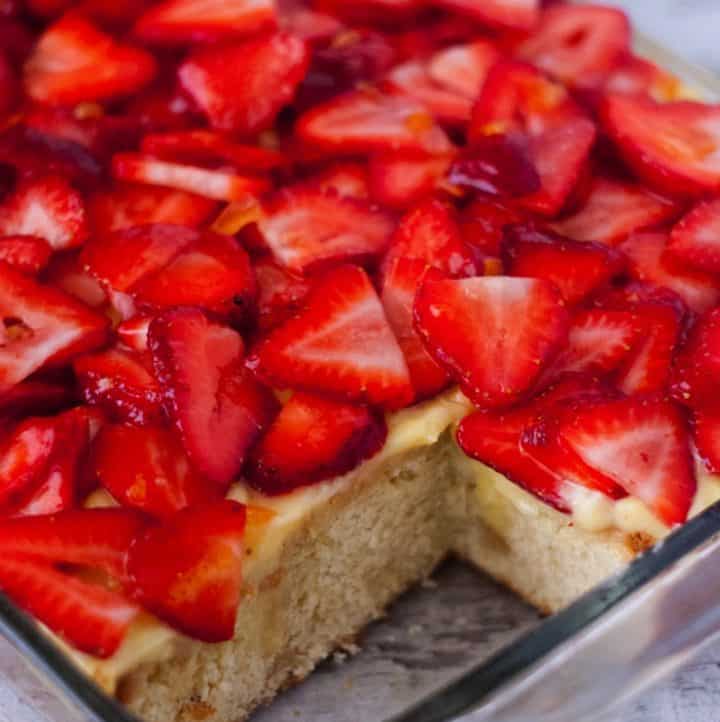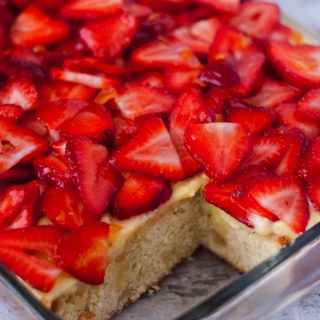 Strawberries and Cream Pound Cake
What's better than a good slice of pound cake? I'll tell you what! Pound cake with vanilla pudding oozing through it and topped with fresh strawberries.
Print
Pin
Rate
Ingredients
1

pound

salted butter

softened

3

cups

granulated sugar

6

whole

large eggs

room temperature

4

cups

all-purpose flour

3/4

cup

milk

1

tablespoon

vanilla extract

1

large box vanilla instant pudding mix

3

cups

milk

2

pounds

fresh strawberries

1/4

cup

orange marmalade
Instructions
Preheat oven to 300 degrees. Grease a 9x13" baking dish and set aside.

In an electric mixer beat butter until light, fluffy and pale yellow-- about 3-5 minutes depending on your mixer. Slowly add in sugar and beat again until light and fluffy-- an additional 3 minutes or until mixture is very very light in color and texture.

Add eggs, one at a time, beating each until the egg is incorporated.

Scrape bowl well and beat on low, alternating adding in the flour and milk, beginning and ending with the flour. Mix just until combined between each addition. Batter should be free of lumps of flour but resist the urge to over-mix. If there are still lumps, try gently mixing by hand with a spatula. Stir in vanilla.

Pour batter into prepared baking dish and gently smooth into an even layer. Bake 80-90 minutes. The crust will be golden and a skewer inserted into the middle should come out with only moist crumbs on it.

Let cool for 5 minutes and then poke holes all through it with the end of a wooden spoon or a really fat straw.

Combine 3 C cold milk with the pudding mix and whisk until the mix is dissolved-- about one minute. Pour over warm cake, making sure that the pudding goes into the holes. Cover and refrigerate until well chilled.

Slice strawberries and toss with the orange marmalade. Arrange strawberries over the top of the cake, slice and serve.
Serving:
1
serving
|
Calories:
707
kcal
|
Carbohydrates:
95
g
|
Protein:
7
g
|
Fat:
33
g
|
Saturated Fat:
20
g
|
Cholesterol:
90
mg
|
Sodium:
309
mg
|
Potassium:
269
mg
|
Fiber:
2
g
|
Sugar:
61
g
|
Vitamin A:
1075
IU
|
Vitamin C:
44.8
mg
|
Calcium:
116
mg
|
Iron:
2.3
mg
Are We Friends On Pinterest?
Follow Me For More Great Recipes @hlikesfood