It doesn't take a whole lot to get amazing, bright flavor and these strawberry lemonade crepes are the perfect example! You're not going to want to eat a crepe any other way after trying these!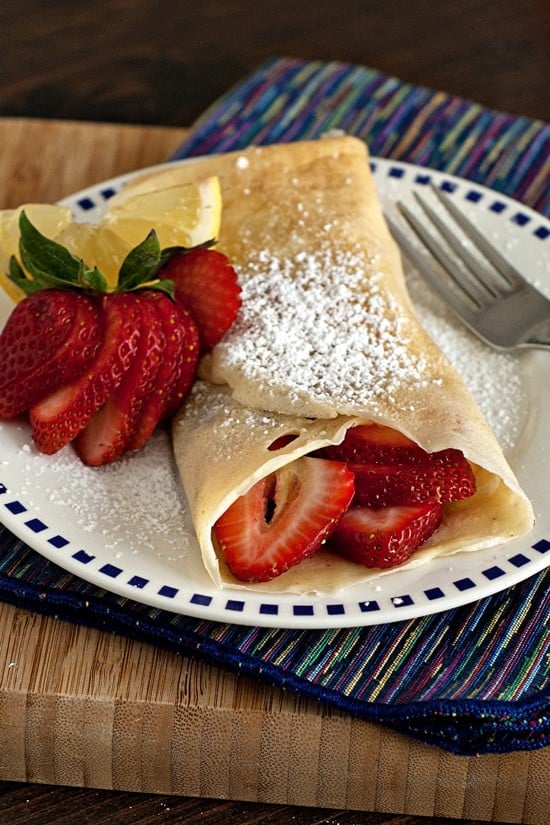 My love affair with crepes started in high school. For a few years there was this little cart in my hometown mall that served massive crepes stuffed with things like asparagus and bechamel sauce and fresh strawberries.
When I got my license and finally had the freedom to choose a lunch destination other than Wendy's –remember when jr. bacon cheeseburgers were only $1? What happened to that?– my girlfriends and I would hit up the crepe stand when we could muster up the funds. Eating crepes when everybody else was stuffing their faces with burgers and fries left us feeling sophisticated. At least until we crawled back into my 4-door Saturn, turned on some Backstreet Boys (Don't hate. #Iwantitthatway) and headed to our biology class. Ah, high school!
STRAWBERRY LEMONADE CREPES
Today I want to share with you my favorite recipe for a basic crepe batter and my absolute favorite way to top them. The topping isn't complex in the least but its simplicity is probably what makes it so special. All you do is top the warm crepe with a little pat of butter, and nice squeeze of lemon juice, a spoonful of powdered sugar and some sliced, fresh strawberries. Imagine this: the sugar melting into the butter. The sweetened butter swirling into the lemon juice. Fresh strawberries bathed in a sweet, sour, creamy syrup. A warm, soft crepe holding it all together.
Drooling yet?
Yeah, sorry about that. Enjoy, friends!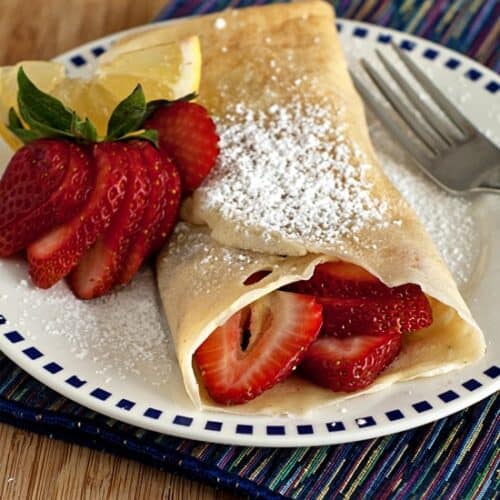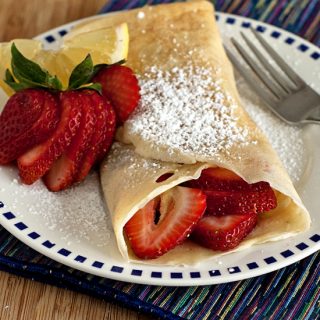 Ingredients
1

C

whole milk

1

C

All-purpose flour

2

large eggs

6

tbsp

water

3

tbsp

butter

melted

1/2

tsp

salt

butter

fresh lemons

powdered sugar

fresh strawberries

sliced
Instructions
Blend all of the batter ingredients together in a blender until smooth, about 5-10 seconds.

Transfer into a covered container and refrigerate for at least an hour up to overnight.

Gently stir the batter to combine if it appears separated.

Heat an 8 inch skillet over medium heat for about 3 minutes. Brush the pan lightly with butter (it's hot enough when the butter sizzles) and wait for the butter to stop sizzling.

Add about 2½ tbsp of batter to the pan, tilting the pan to spread the batter across the bottom of the pan evenly. Cook until the first side is spotty and golden brown- about 30-60 seconds.

Use a thin spatula to flip the crepe and cook on the second side an additional 30 seconds.

Remove crepe from the pan and place on a paper towel lined plate. Repeat process with the remaining batter (you can stack the crepes on top of each other).

To serve: place a pat of butter on a hot crepe or brush with melted butter. Squeeze a lemon wedge over the butter and top with about a tablespoon of powdered sugar. Top with sliced strawberries, fold over and enjoy!
Are We Friends On Pinterest?
Follow Me For More Great Recipes @hlikesfood