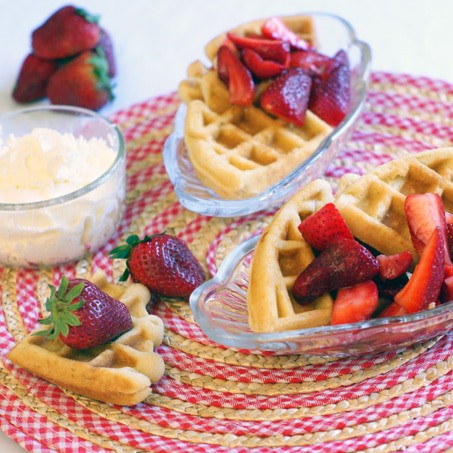 Happy Weekend! Since having knee surgery last week, my hubby has needed more of my help than usual. This morning when he woke up and asked if I would get his clothes out of the closet for him, I heard a voice from foot of my bed say,
"…and get me 2 strawberry shortcakes and a chocolate swirl."
Apparently my 5 yr. old had made her way into our bedroom during the night and thought she'd get in on the mom's-my-servant fun.
I knew I couldn't get away with giving her a chocolate swirl (whatever that is) for breakfast, but the strawberry shortcake was something I could do.  The fruit totally cancels out the sugar and fat, right? But even if it doesn't, it's worth it.  This might not be a bowl of Wheaties, but it sure tasted a gazillion times better and was such a fun treat for our Saturday morning.
These "shortcakes" fall somewhere in between cake and waffles. They're sweet,  dense enough to absorb some strawberry juice without turning to mush, but bake quick and easily in a waffle maker. I topped mine with strawberries mixed with a little bit of honey and whipped cream, but I'm sure any combo of fruit would compliment these smashingly.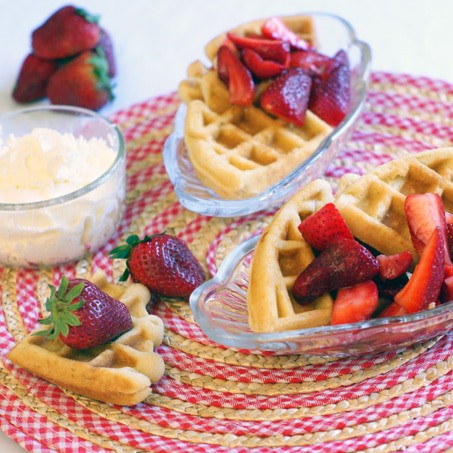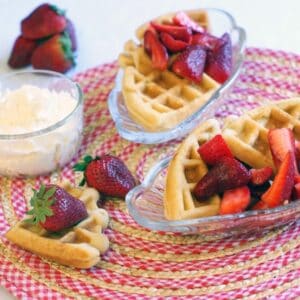 Ingredients
1/2

C

butter

softened

1

C

sugar

2

eggs

1/2

C

sour cream

1

tsp

vanilla extract

1 1/2

C

All-purpose flour

1/2

tsp

baking soda

1/4

tsp

salt
Instructions
Preheat waffle iron

Combine softened butter with sugar; cream with handheld mixer or in a stand mixer. Let mix until light and fluffy.

Add eggs one at a time, mixing after each addition and scraping sides of bowl.

Add sour cream and vanilla into the butter mixture and mix until well combined.

In a separate bowl, combine flour, salt and baking soda and pour into wet ingredients

Mix until just combined and no dry spots remain.

Spoon batter into waffle maker and bake per the manufacturer's instructions.

Serve with sliced strawberries and whipped cream.