Alright, so maybe the title is a little ominous but when I think about it that's kind of how I feel. So I thought I'd give a little update on what's been going on here in our little family and why I've been MIA for the better part of November. If you just like to follow along for recipes, feel free to skip along and come back next week. I'll be back on Monday with some fun holiday cooking tips followed by a killer recipe for Au Gratin Potatoes on Wednesday that you won't want to miss! Oh, and both of these posts include giveaways so make sure to enter to win!
If you've been following along on Facebook or Instagram even in the slightest (I was hardly on there at all, so you didn't miss much), you might have picked up that I've basically been sick in one form or another since early October.
It all started off with hanging this little kumquat on our fridge…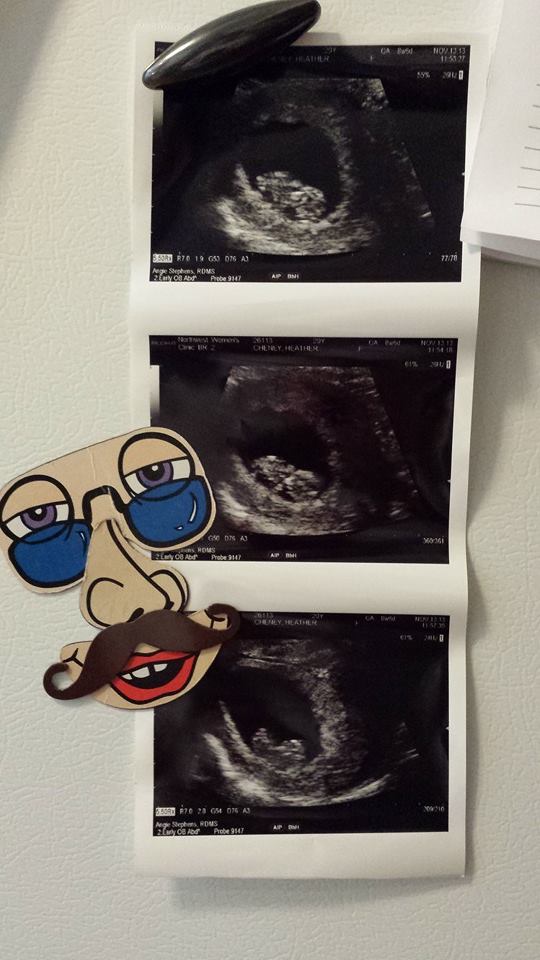 Little Cheney #3 will be joining us mid-June! All of us were (and still are) thrilled to be welcoming our baby that is now the size of a plum– click here for a super random fruit/fetus size chart —  and I could totally handle the morning sickness because I'm a maternal boss …that is until I got what I can only describe as a super villain flu/cold/kill- me-now-virus.
It. Was. Awful.
I was out for 3 weeks straight. My couch will now forever be contoured to my derriere where I took residence, my kids ate way too many ramen noodles and bowls of cold cereal, and the hubs somehow managed to take care of all of us while keeping his head above the water in his grad school classes. #superman
And then finally, I was feeling good- really good! I went to Costco and ran errands and put in a few hours at the photo studio that I work at and I felt normal. It was blissful! So blissful in fact that I had almost forgotten that my birthday was the next day–the big 30. Yikes! But I could totally handle it because I wasn't sick anymore and life was good.
Ha!
Out of no where on the morning of my birthday, my THIRTIETH birthday, I decided to have an asthma attack having never had asthma before in my life. Yeah, not cool. I proceeded to have 3 more that day, ended up in the ER twice and was finally admitted that night.
It turns out that the prego/sick-for-so-long combo plate made me asthmatic and I spent a week in the hospital trying to get it under control. Barf.
So I decided that I'm actually going to turn 30 next year and this was just a practice run of how not to spend your birthday. I've been home for a week resting, savoring non-hospital food, cuddling my kiddos and taking it really easy. Currently I'm enjoying a bowl of mashed potatoes and gravy at 10pm on a Friday night like  my normal pregnant self should, so things are adjusting pretty well back to normal. I'm truly grateful. Here's hoping for a healthy remainder of the year!
I've loved getting emails and Facebook messages from many of you over the past few weeks saying you were going to or did use one of my recipes for your Thanksgiving dinner. It totally makes it all worth it and I hope your dinner was a success! I love the Christmas season and am excited to share some of my favorite recipes with you over the next few weeks!