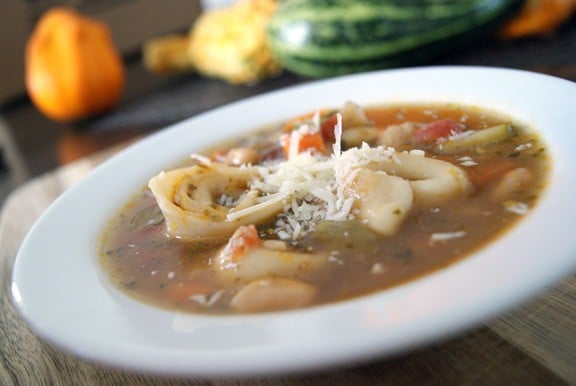 I love this time of year for sooo many reasons, but I also hate it because somehow when it starts to get cold  I  completely justify eating whatever I want because 1.) I'm cold and warm carb loaded things make me happy and 2.) I'm going to be hiding under sweaters and boots all winter long and you can't see fat under those, right? Right. Wrong! Or at least that's what I'm telling myself as I drink my green smoothie and eat salad when I'm shivering. Oh the sacrifices.  Luckily soups are my friend because if you make the right kind they are low fat and satisfying- like this one.
We're on a meat-free kick lately. Meaning I don't feel like buying meat and don't feel like it needs to be included in every meal or even every day. But don't worry, I'm not going to turn all veggiesaurus on you, bacon cheeseburgers are still a bare necessity for me to be a happy, successful person. But for now, I made this soup without any meat, but a little sweet italian sausage would be a great addition.
** Update 11/2012 this recipe is an entry in the Shine Supper Club for hearty one pot meals. There are lots of awesome recipes on Shine, go check it out!**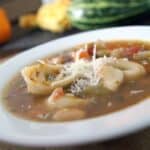 Tortellini Minestrone
Ingredients
1-2

tbsp

olive oil

3

stalks celery

diced

3

small carrots

diced

1

onion

diced

2

medium zucchini

sliced and quartered

2

cups

chopped spinach leaves

2

cloves

garlic

minced

1/8-1/4

tsp

red pepper flakes

more if you like it spicy

1

tsp

dried oregano

5

cups

chicken stock

5

cups

beef stock

1

can white beans

drained

1

can diced tomatoes

2

tsp

liquid smoke flavoring

1/4

cup

prepared pesto

1

lb

frozen cheese filled tortellini

1/2

tsp

kosher salt or to taste
Instructions
Saute the celery, carrots, onion and garlic in olive oil over med-high heat. Cook until onions are softened and translucent. Add in zucchini, spinach, pepper flakes, oregano (this is also where you would add in the sausage). Stir together and cook until the spinach starts to wilt. At this point you'll add the tomatoes, beans and stocks, stir to combine and bring to a simmer. Let cook until the veggies are tender. Once tender, stir in the pesto, smoke flavor, and tortellini and cook about 4 minutes or until the pasta is cooked through. Season to taste with salt and serve with grated Parmesan cheese!