I warned you yesterday on Facebook you would need your fat pants for today's recipe and I wasn't kidding. If you aren't compelled by the end of this post to to block out a few hours of "you" time, find a movie to watch, throw on some stretchy pants, and make this dip, I'm not sure we should be friends anymore. Only kidding!
We can be friends even if you aren't tempted by this because it means that you have the willpower of a thousand stallions and I could clearly benefit from your influence. You want to know how else you can help me? Keep reading…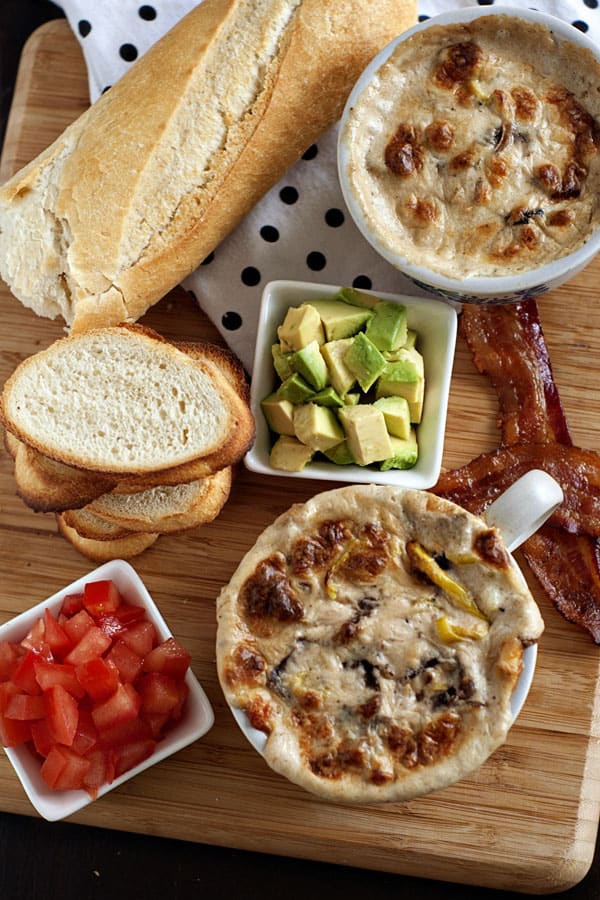 I'm not afraid to admit that this dip is just down right ridiculous. We're talkin' an alfredo sauce base with cream cheese, provolone cheese, thick sliced roast beef, pepperoncinis and onion soup mix baked until melted perfection. BUT, we're not done yet.
OH, no! Once it comes out of the oven it gets topped with fresh avocado, diced tomatoes, AND crispy bacon. Are you stretchy pants out yet?
Not only is this California Cheesesteak Dip absolutely to die for, it's also a finalist in Lipton® Recipe Secrets® Dip to Win Contest! I could walk away with $2500 if this thing takes the prize and it would probably mean something pretty darn good for you too (hint,wink, wink, hint). Even if I don't win, every person that votes gets entered to win one of 30 dip warmers and a Grand Prize of $1500!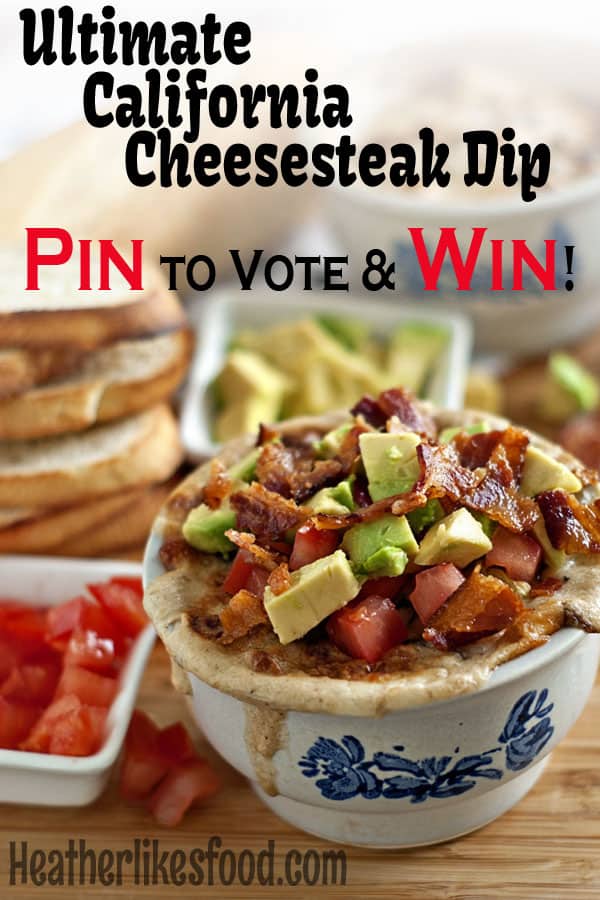 I'm up against some crazy competition from other amazing food bloggers and I need your help! Would you take a minute to hop over to the Dip to Win page and vote for me? Each person is only allowed one vote for the entire contest so the more people we can get to vote the better! If you feel so inclined to share the contest with your social networks I'll love you forever. I've also made it super easy for you below with text that you can just copy and paste :P.
How to Vote!
1. Visit liptondiptowin.com
2. Select your favorite food blogger dip (mine, duh.)
3. Fill in your info at the bottom of the page.
4. Pin your favorite dip to any of your Pinterest boards.
Share!
(Copy and Paste)
Facebook: Vote for Heather Likes Food's ultimate California cheesesteak dip in Lipton's Dip to Win Contest for a chance to win up to $1500! Vote Here: https://www.liptondiptowin.com
Twitter: Vote for @hlikesfood 's CA Cheesesteak Dip in Lipton's Dip to Win Contest for a chance to win up to $1500! Vote Here: https://goo.gl/LqQFG
Thanks SOOOO much for your help! You guys are the best! Oh, and make this dip.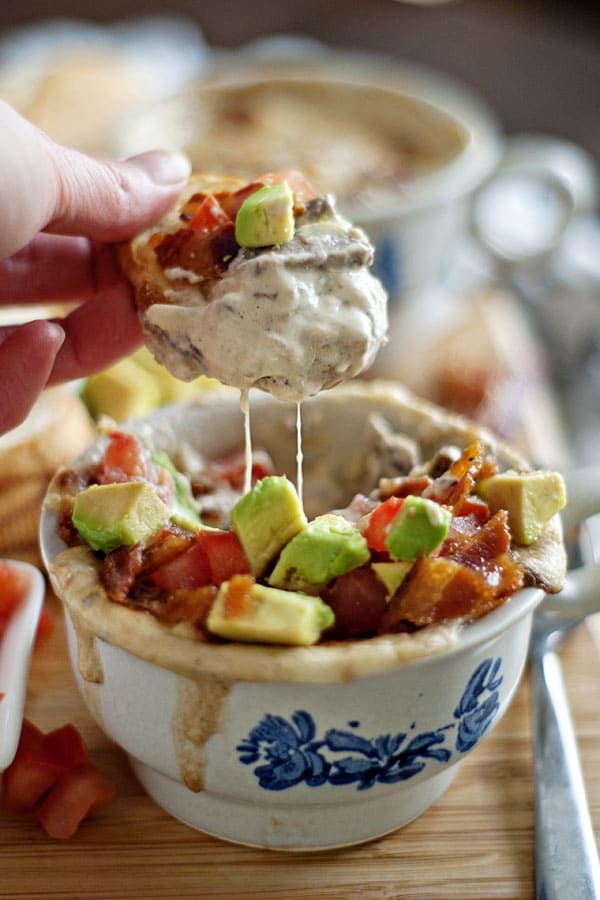 Want More Awesome Dip Recipes?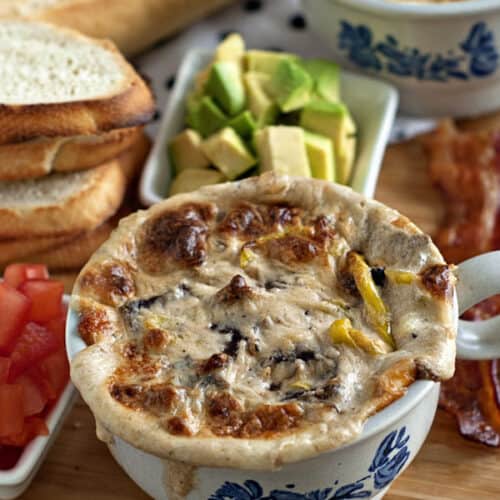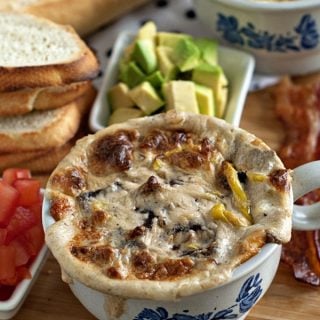 Ingredients
1

15 oz jar prepared alfredo sauce

8

ounces

cream cheese

softened

1

1oz packet Lipton® Recipe Secrets® Onion mix

1

lb

thick sliced

1/8" deli roast beef, cut into bite-sized pieces

2

C

provolone cheese

shredded or finely sliced

1/2

C

sliced peperoncinis

drained
Garnish:
1

ripe avocado

diced

1

large tomato

seeded and diced

6

strips of bacon

cooked and crumbled
Instructions
Preheat oven to 400 degrees

Whisk the alfredo sauce and cream cheese together in a medium-sized bowl until smooth.

Stir in Lipton® Recipe Secrets® Onion mix, roast beef, provolone cheese, and peperoncinis; mix until combined.

Spread mixture into an 8"x 8" baking dish or ramekins and bake for 20-25 minutes or until bubbly and lighty browned on top; adjust cooking time based on size of baking dish.

Top with avocado, tomatoes, and bacon. Serve with toasted bread or tortilla chips for dipping.
Are We Friends On Pinterest?
Follow Me For More Great Recipes @hlikesfood