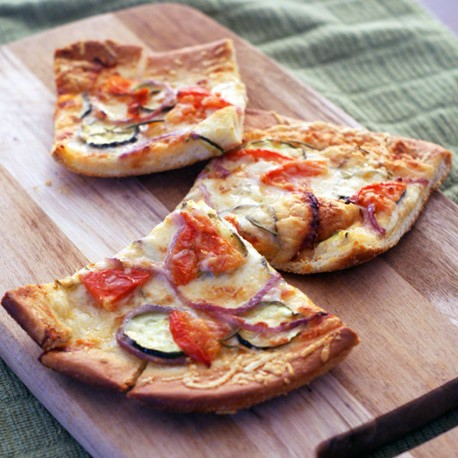 My 5 yr. old came home from Kindergarten on Friday with her stack of papers/projects that she had completed throughout the week. During one project, the kids had to write what their favorite type of pizza was and draw a picture of it. What did my daughter write?
"Peppers. I love vegtabulee pizza."
MY LATEST VIDEOS
Heart Melter!
I'm sure I totally scored 50 bonus Mom points with her teacher after she read it. Maybe it will make up for all the times I've forgotten to turn in her library book, return permissions slips, and have shown up late to pick her up. We may not be organanized, but gosh darnit! We eat our veggies!
I don't really know if this is considered flat bread or pizza, but I can easily eat half a pan of whatever it is! I served this with cream of tomato soup (not the abomination that comes in a can) and the combination of the two were divine. This uses only olive oil as a "sauce" so a  marinara or white sauce would also be great for dipping.
This dough recipe is also a great base for any type of pizza. I like to make it up a day before I need it and let it proof in the fridge overnight– to proof just means to let rise, rest, and let the yeast ferment. Doing an overnight rise is actually how most pizzerias make their dough because it creates good texture and flavor. BUT if you're having a mad craving for pizza right now, all is not lost! You can roll it out after letting it rise at room temperature until it's doubled in size and still get good results.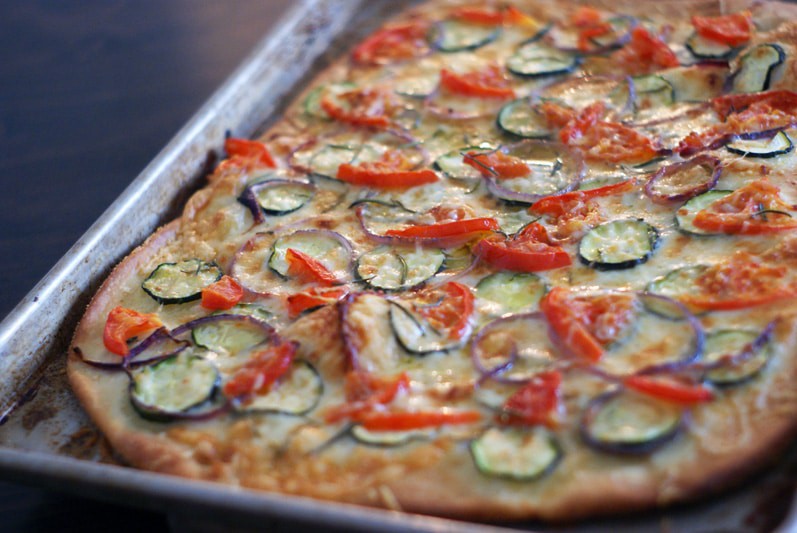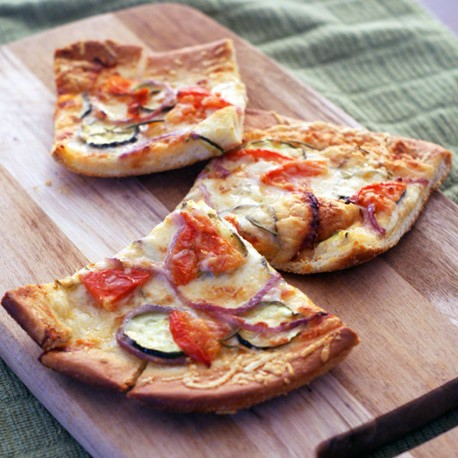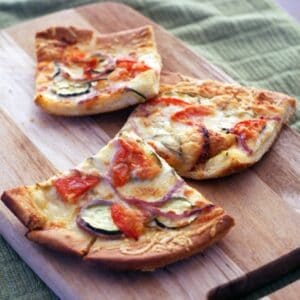 Ingredients
4 1/2

C

Bread Flour

2 1/4

tsp

instant yeast

3

tbsp

olive oil

1 1/2

tsp

salt

1 1/2

C

warm water

Sliced Zucchini

Sliced Red onion

Sliced Tomato

Spinach leaves

12-16

Provolone Cheese Slices

1 1/2-2

C

shredded parmesan cheese

4

cloves

garlic

minced

1/2

C

olive oil

corn meal

2

sprigs fresh rosemary
Instructions
Preheat oven to 500° (or as hot as your oven will go, NOT broil)

Combine all ingredients in the bowl of your mixer, or in a large mixing bowl if doing by hand. Mix with your machine's dough hook or by hand and continue until it forms into a ball.

Knead dough for a few more minutes--Your dough should be smooth and elastic.

Place dough ball in a greased bowl and cover with plastic wrap. Refrigerate for up to 24 hours or let rise at room temperature until doubled in size.

Remove your dough from the fridge and allow to warm up an hour before rolling out. Sprinkle 2 baking sheets with cornmeal.

Divide dough into 2 rounds and roll each into a rectangle and place on prepared baking sheets.

Combine minced garlic with olive oil and drizzle a little over each crust, saving some for later.

Layer provolone cheese, zucchini, red onion, tomatoes and spinach over crust. Top with parmesan cheese, rosemary leaves, and another drizzle of olive oil.

Bake for 10-12 minutes, or until the cheese is melted and crust is browned.

Serve immediately.
Are We Friends On Pinterest?
Follow Me For More Great Recipes @hlikesfood