Unauthentic Weeknight Kentucky Hot Browns – First of all, let me just start this post out by saying that I KNOW this is not a true Kentucky Hot Brown. I know that true Kentucky hot browns use turkey breast and thick sliced bread. I know that the original is topped with bacon and I know that omitting bacon from a recipe is an abomination. I KNOW! But bear with me here.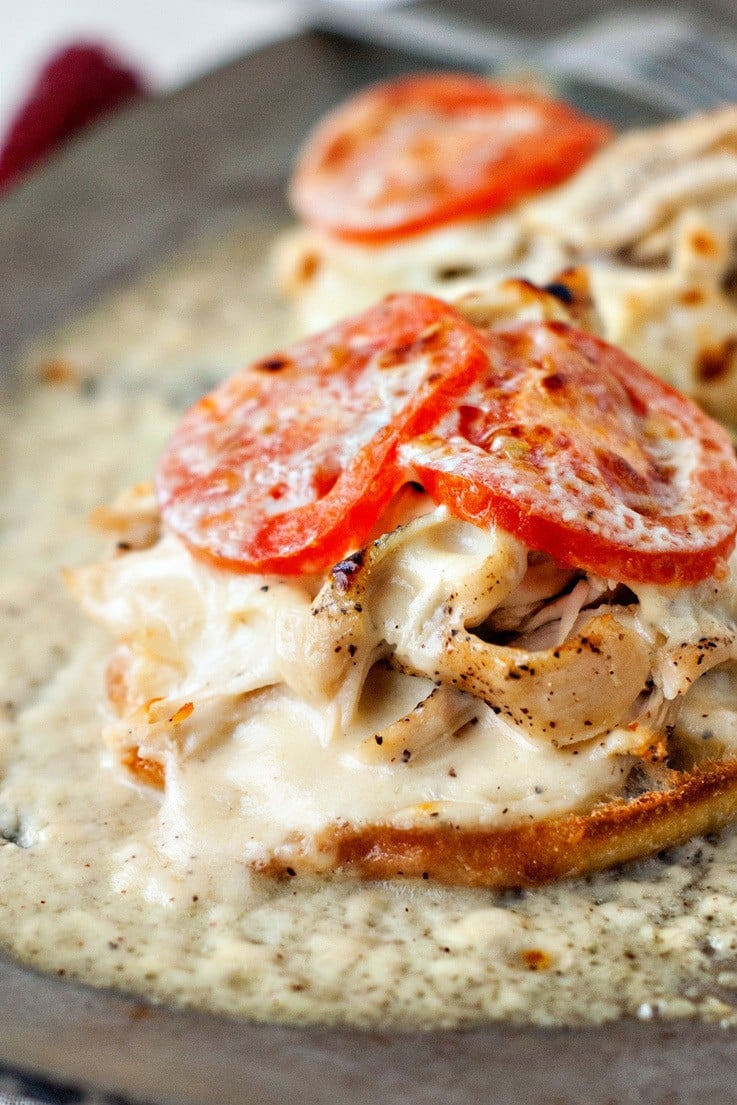 These Unauthentic Kentucky Hot Browns are something that graced our dinner table often when I was growing up. We always called it "Chicken on English Muffins" or something to that same boring effect so when I decided to share it here I was at a total loss as to what I should call it. BUT, the story doesn't stop here.
My mom once told me that she and my dad had a dish at a restaurant that they loved but couldn't remember what it was called so they came home and tried to replicate it– this is was what they came up with. It turns out that Kentucky hot browns are pretty darn similar to these so I'm just going to go out on a limb here and say that it's probably what they had that fateful night. I might be wrong but I'm going with it and I hope you will too.
It's the memories that are associated with family meals like these that make me grateful for good food. Meals don't have to be complicated or "authentic" or use fancy ingredients to be memorable and satisfying and this recipe totally fits the bill. Plus it is totally do-able in under 30 minutes which makes it a win in my book.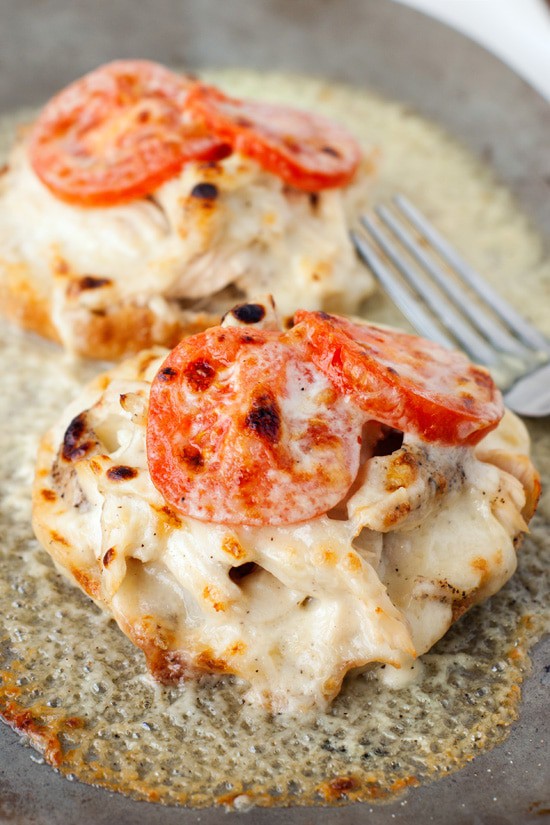 Making Unauthentic Kentucky Hot Browns
But, before we jump into the recipe, I wanted to tell you about a campaign that GE has started all about bringing people together throughout the week, creating their own kitchen stories. It's called "Weeknight Kitchen" and you can hop over to the Food Network site for lots of recipes and inspiration for your own weeknight meals. Also, GE has a whole new look and appliances that make getting dinner on the table easier. We're talking a Hand-Free Auto Fill Refrigerator— the industry's first hands-free auto fill that fills glasses automatically, a Double Oven Range, and a Dishwasher with 102 jet streams! You can see all of these appliances in action here.
Alright, now on to the recipe! Let's just take a moment to oooh and awwww over how pretty butter is when it's melting. Aaaaand done. We're going to take this butter, mix it with a little flour to create a roux, mix in some milk and let it thicken up. What we're doing is creating a basic cheese sauce. For a more detailed tutorial click here.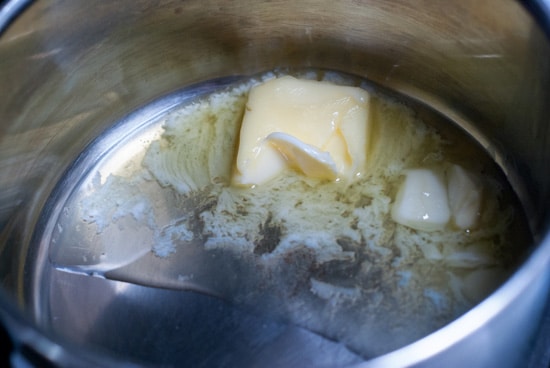 Our cheese of choice for this is going to Monterrey Jack. It's creamy, mild and really lets the flavors of the other ingredients shine.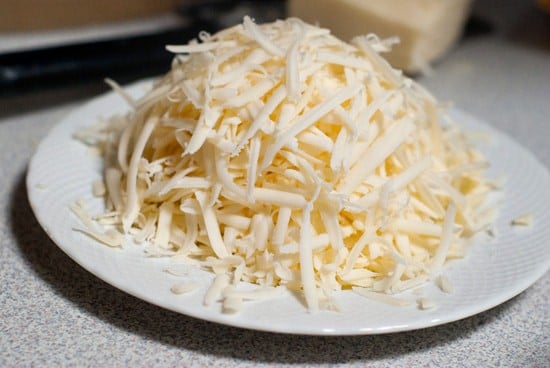 We'll start building our sandwich(?) on a toasted english muffin– all the nooks and crannies soak up the cheese sauce perfectly! Next up, some chicken. To make this super easy, shred up a a cooked rotisserie chicken and pile it high on top.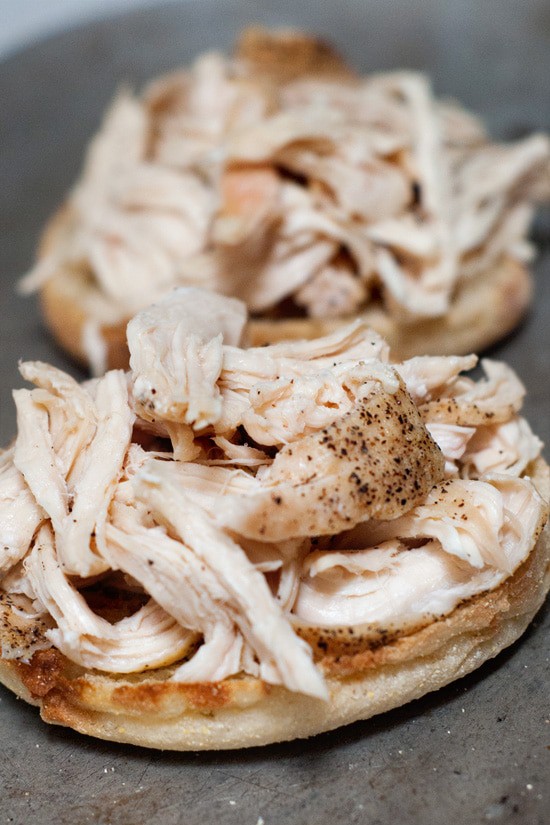 Toppings on Kentucky Hot Browns
Toppings: I like mine with just a few slices of tomato, but it's also mighty fine with some sliced avocado on top. The cheese sauce is mild enough that you can pile almost anything on these and they'll be good… almost being the operative word here.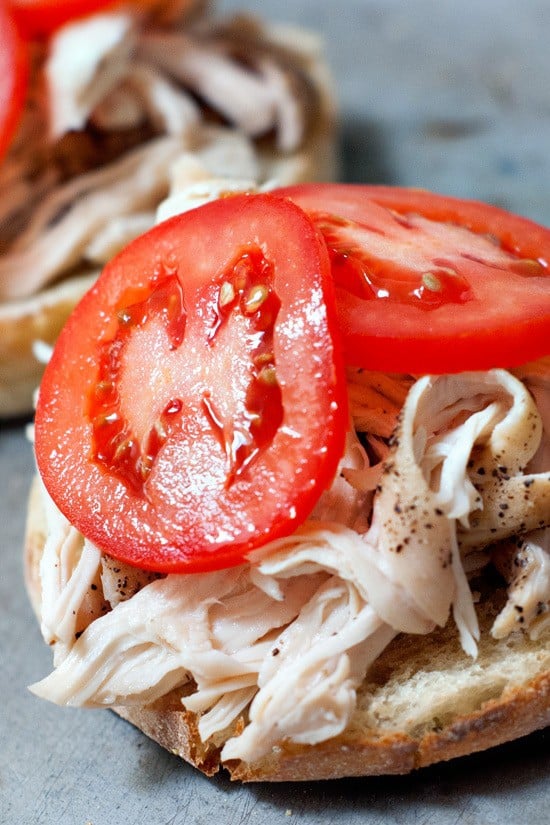 Smother that bad boy with a few spoonfuls of sauce…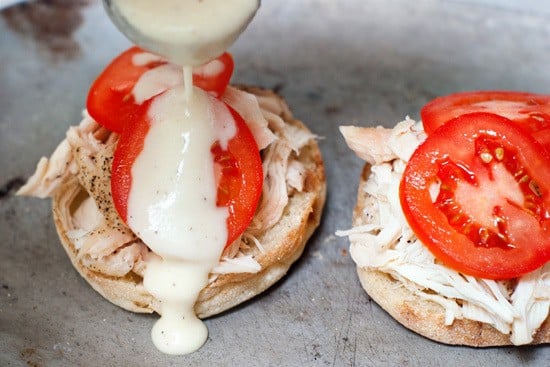 Add a little bit more cheese to the top if you feel like it….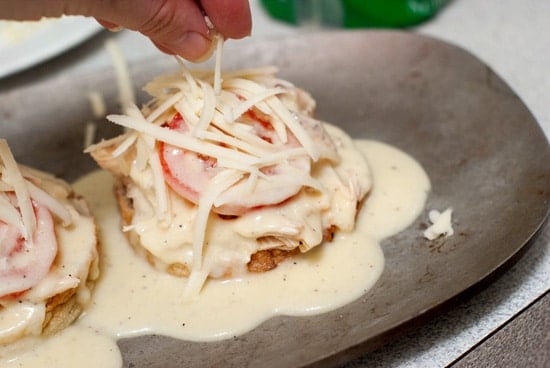 And pop it under the broiler for a few minutes. Just make sure to keep an eye on it because things can go south really quick under the broiler if you know what I mean.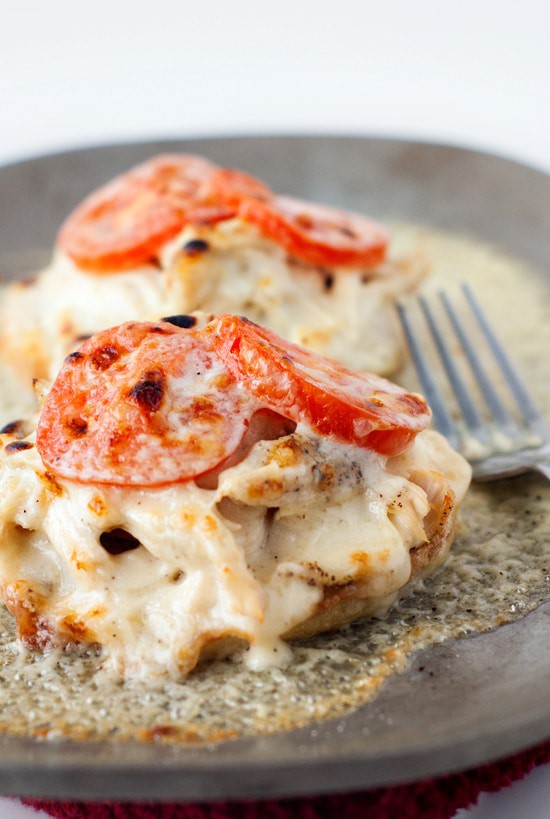 Weeknight dinners should be quick and easy for any busy family. GE Appliances can help streamline the kitchen process with their hands-free auto-fill refrigerator, their double oven range, to their 102 jet wash system dishwasher. To see these appliances in action check out GE: Kitchen Reimagined. For more tips on weeknight dinners head over to FoodNetwork Weeknight Kitchen page for recipes, tips, and much more!
This is a sponsored conversation written by me on behalf of GE Appliances. The opinions and text are all mine.
Interested in more delicious recipes?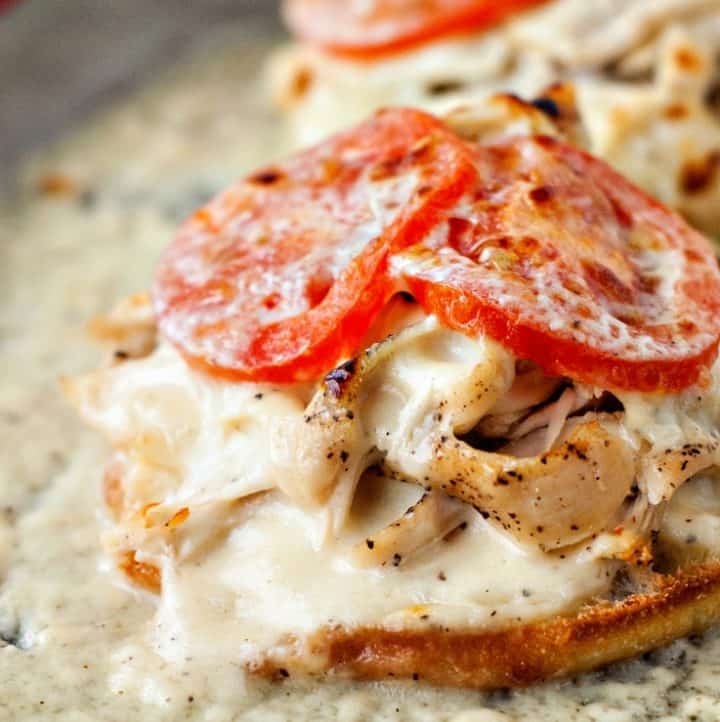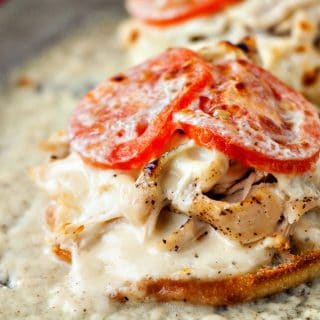 Ingredients
2

Tbsp

Butter

2

Tbsp

All-Purpose Flour

1 1/2

C

milk

1

C

monterrey jack cheese

grated

1

tsp

mustard

Salt and Pepper to taste

2

C

cooked chicken

shredded

4

English muffins

fresh tomatoes

sliced
Instructions
Melt butter in heavy saucepan on top of stove.

Add flour, stir and let cook for 1 minute, being careful not to scorch.

Slowly add milk, whisking to combine. Stir constantly until mixture comes to a boil. Cook and stir 1 minute longer.

Remove pot from heat and stir in cheese and mustard until melted.

Toast English muffins and top with chicken, sliced tomatoes, and the cheese sauce. Broil for 3-4 minutes, watching closely until tops are browned and bubbly.
Are We Friends On Pinterest?
Follow Me For More Great Recipes @hlikesfood