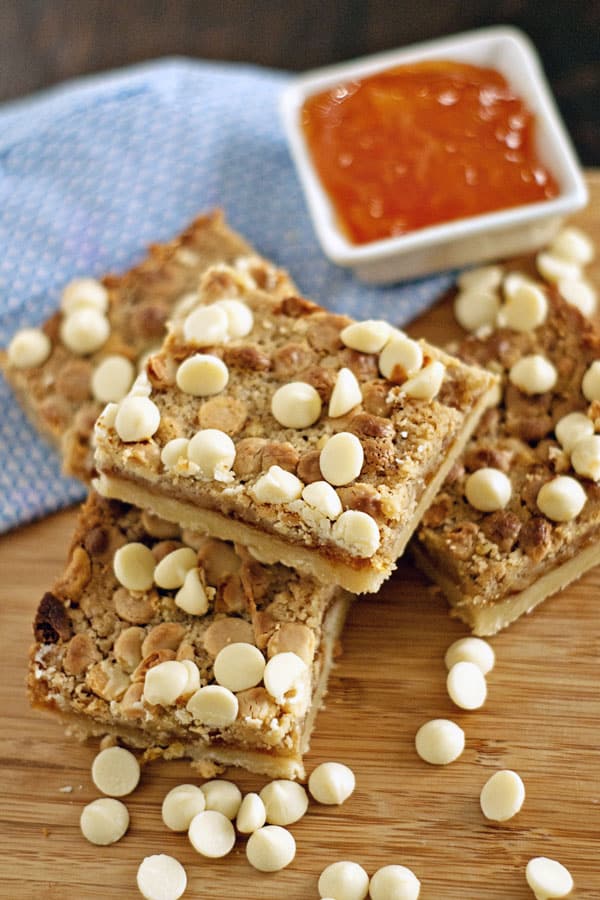 I have a thing for butter and I'm pretty sure I'm not alone. My 6 year old asked me today what I would do if she ate the whole cube of butter we were making cookie bars with. My initial reaction was to say "ew. gross. sick.", when really all I wanted to do was go get a baguette and finish it off with her. One of my best memories of my time at culinary school was when I walked into the kitchen to find the head chef standing over a big pan of clarified butter holding an entire  baguette in his hand. I don't even remember exactly what he said upon being caught, but it was something to the effect of "butter is good". I agree whole-heartily with him.
These cookie bars are perfectly buttery, sweet, crunchy, soft, and just plain delish. You can swap out the jam with whatever flavor you have on hand and even switch up the chocolate with semi-sweet or milk chips. I like to initially spread 1/2 of the chips over the crust, bake and then add the remaining chips during the last five minutes. The first batch of chips will kind of melt into the crust and the second batch will stay perched nicely on top.
MY LATEST VIDEOS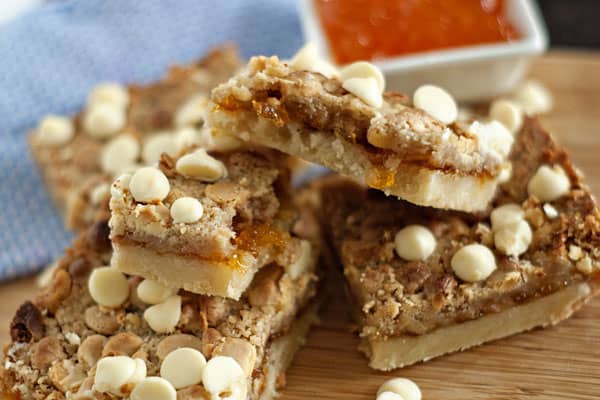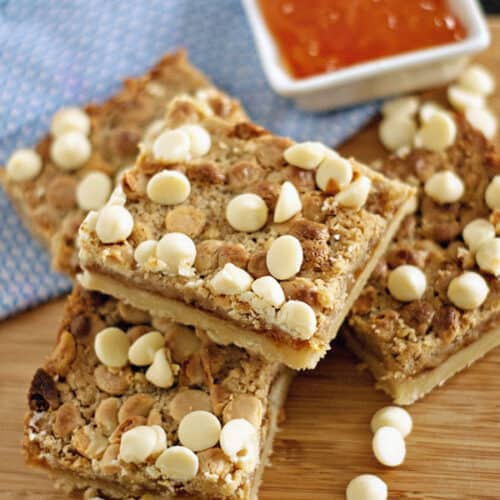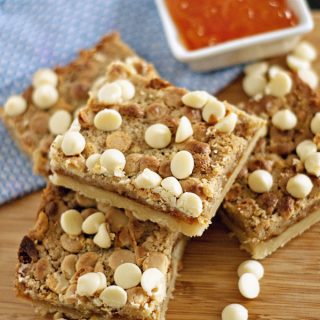 Ingredients
2

C

all-purpose flour

3/4

C

sugar

3/4

C

butter

cut into small pieces

1

C

all-purpose flour

1

C

walnuts

chopped

1/2

C

brown sugar

1

stick + 1 tbsp butter

cut into small pieces

1

C

apricot pineapple jam

2

C

white chocolate chips
Instructions
Preheat oven to 375

Combine flour and sugar in a medium bowl. Cut in butter with pastry blender or 2 knives until mixture resembles coarse crumbs. Press in the bottom of a greased 9x13" pan.

Bake for about 20 minutes or until set but not brown.

Combine flour, walnuts, and brown sugar in same bowl. Cut in butter with pastry blender or 2 knives until the mixture again resembles coarse crumbs.

Spread jam over hot crust. Sprinkle with topping and ½ of the chocolate chips. Bake for 15 top with remaining chips and bake an additional 5 minutes or until golden brown.

Let cool completely before cutting into squares
Are We Friends On Pinterest?
Follow Me For More Great Recipes @hlikesfood