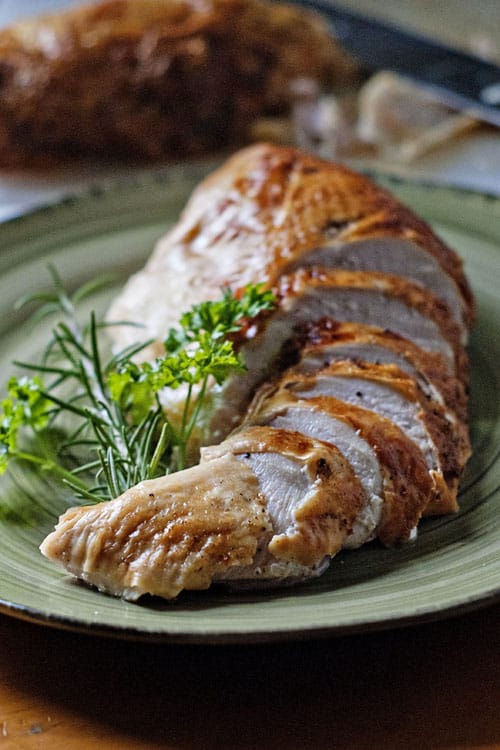 When I was in college (pre-cooking school days) my roommates and I decided to put on a Thanksgiving dinner. Having always been a little over-zealous in the kitchen, I volunteered to make the turkey- a 19 pound turkey! I had never made a turkey, let alone a behemoth one. I had remembered hearing that brining the turkey first made it super juicy so that's what I set out to do. So there I was, giant bird staring me down, giblets and neck sitting on the counter (ew. sick.), massive amounts of brine ready to go, and roommates coming in and out of the kitchen gagging because I was making the turkey dance. And then it hit me that I hadn't planned on what to actually put the turkey in. Whoops. So one kitchen garbage bag to hold the turkey and brine and a clean…er… college standards clean, trash can later we were in business. But where do we store it to keep it cold? The fridge wasn't big enough to hold the trash can. We could have just buried it in the snow outside but were afraid that an animal would dig it up in the night. Where do we put it? My car. Strapped in to the front seat of my little Saturn coupe was a nearly 20 pound bird housed in an un-used trashcan and bag ready to brine the snowy, cold night away.
What do we learn from this? PLAN AHEAD! All turned out well, the turkey tasted great and I felt pretty resourceful after the fact. But let's be honest, I could have been up bird poop creek with only a raw drumstick for a paddle if I had gone to school in Arizona.
A brine is basically a very salty marinade for your turkey. The salt solution hydrates the cells of the muscle tissue before cooking and allows the meat to hold onto that moisture during cooking. Brine recipes range from a simple salt and water solution to the inclusion of fruit juices, spices, sugar, and aromatics. The end results are all pretty similar, really, but create a flavorful, moist bird that takes very little extra preparation. I'm a white meat fan and whole turkeys are usually just too much meat for my family to eat so I decided to just cook a breast. The same brine can be used on a whole turkey, but the cooking time will be longer. The combination of the fact that white meat cooks much faster than dark, and the size versus a whole turkey means that you can have a 4 pound turkey breast roasted in about an hour and a half which is a win for me.
For this brine you'll combine water, chicken stock, kosher salt, and brown sugar and mix until the salt is dissolved. A good thing about using a small-ish turkey breast is that it easily fits into a gallon-sized Ziploc bag for brining. Place your bird into the baggie and pour the brine over the top, seal and place into a bowl to keep it upright. Leave the turkey in the brine for 4-12 hours. Leaving it in there any longer can cause the meat to break down which isn't good.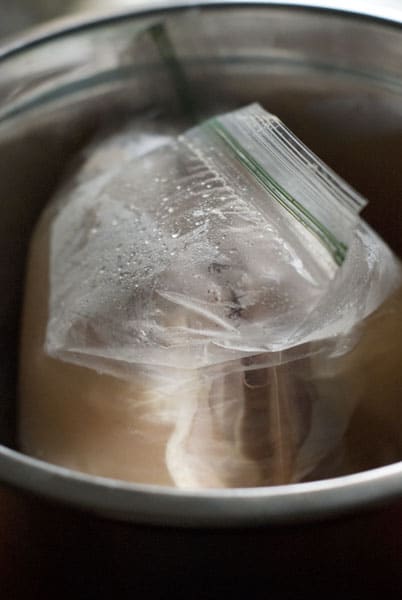 Once your brining period is up, remove the turkey from the brine, rinse, and dry well with paper towels. Place the turkey breast in a 9x13" pan. You could use a fancy-schmancy v-shaped roasting pan to keep the breast upright but a few foil balls will do the trick just perfectly. Place a ball on either side, one in the front just under the tip, and one in the back tucked up and under the rib cage.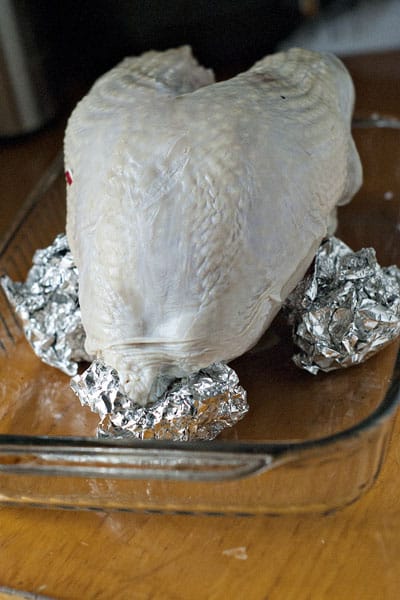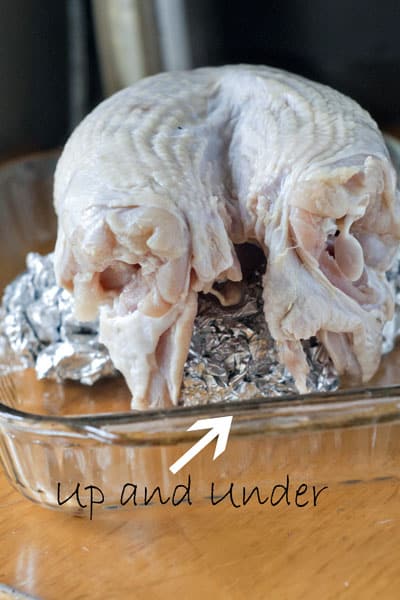 Using your finger tips, fully separate the skin from the breast meat creating a pocket. Spread a few tablespoons of softened butter under the skin with your hands.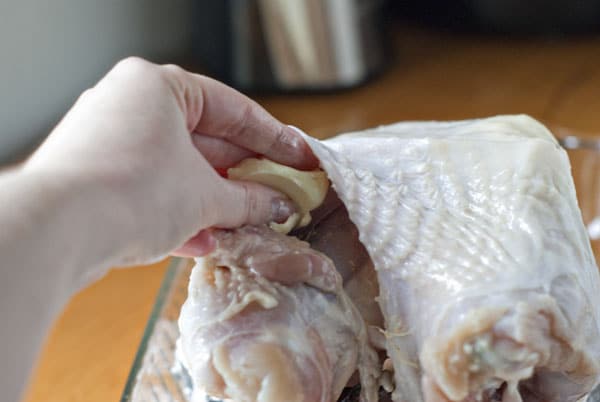 Drizzle a few tablespoons of olive oil over the skin, spread around and season with salt and pepper.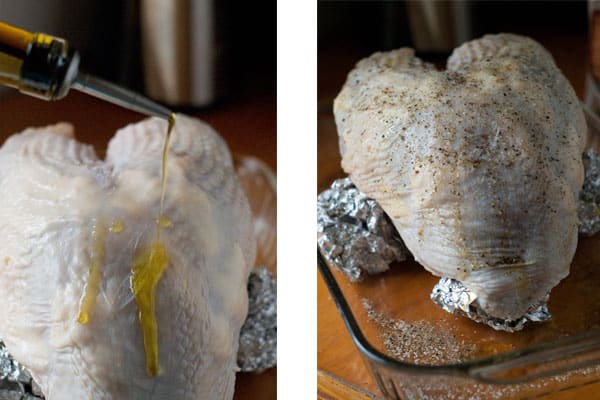 The trick to this bird is starting it at a high temperature to brown the skin and then finishing at a lower temperature to cook through without drying it out. I generally don't trust the little red pop-out timers that turkeys come with, so if you have a meat thermometer stick it into the thickest part of the breast and take a reading. It's fully cooked when it reaches 160-165 degrees. Remove from oven, tent with foil and let rest for at least 15 minutes before cutting.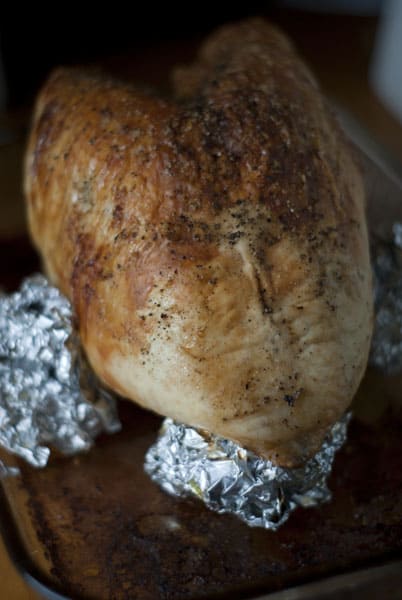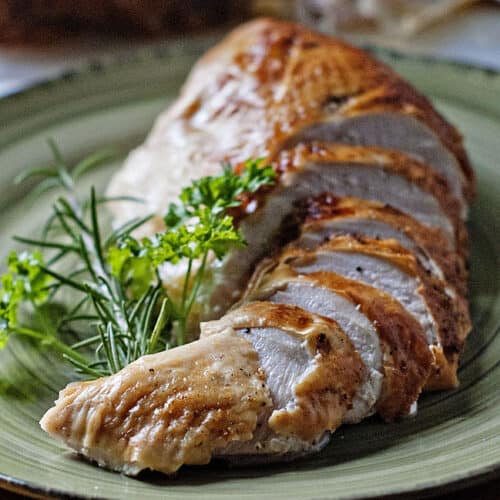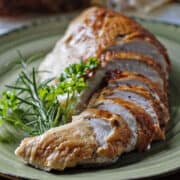 Brined and Roasted Turkey Breast
The secret to moist and tender white meat turkey is to brine it! Follow this recipe for the best oven roasted turkey breast!
Print
Pin
Rate
Ingredients
2

tablespoon

kosher salt

1

tablespoon

brown sugar

2

C

cold water

2

C

cold chicken broth

4

lb

whole

bone-in turkey breast

2

tablespoon

olive oil

2

tablespoon

soften butter

½

teaspoon

kosher salt

½

teaspoon

black pepper
Instructions
Combine brine ingredients and mix until the sugar and salt is dissolved. Place breast in large ziplock bag and pour brine over the top. Seal bag and place in a bowl to hold upright. Let turkey brine for 4-12 hours, but no longer.

Preheat oven to 425.

Remove turkey from the brine, rinse, and pat dry with paper towels. Place bird in a 9x13" baking pan and support with 4 foil balls. Place 1 on either side of the breast, 1 under the tip, and 1 nestled just up and the rib cage.

Separate the skin from the breast and spread softened butter evenly under the skin. Drizzle and rub olive oil over the skin and season with salt and pepper.

Place in oven and roast for 30 minutes. Lower heat to 325 degrees and continue to roast the turkey until it registers 160-165 degrees on an instant-read meat thermometer about 45 minutes to 1 hour longer.

Let rest for at least 15 minutes before cutting.
Nutrition Facts
Serving:
1
serving
|
Calories:
389
kcal
|
Carbohydrates:
3
g
|
Protein:
29
g
|
Fat:
28
g
|
Saturated Fat:
9
g
|
Trans Fat:
1
g
|
Cholesterol:
851
mg
|
Sodium:
2455
mg
|
Potassium:
365
mg
|
Fiber:
1
g
|
Sugar:
2
g
|
Vitamin A:
1314
IU
|
Vitamin C:
4
mg
|
Calcium:
136
mg
|
Iron:
4
mg
ARE WE FRIENDS ON INSTAGRAM?
Tag me @heatherlikesfood and use #heatherlikesfood so I can see what you're making and enjoying!