You're going to want to have this Coffee Cake In A Mug recipe tucked into your back pocket for the next time you get a sugar craving. It can be mixed up and cooked in just 2 minutes!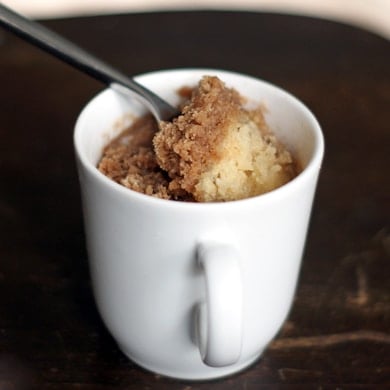 By now we all know that I like food, but what I haven't told you is that I'm not a huge chocolate fan. Gasp! I like chocolate, I really do, and while I think that chocolate milkshakes and Reese's peanut butter cups are from the gods, I just can't handle a lot of it. Dark chocolate? No thanks. If I had my choice between a fruit cobbler with ice cream and a Death by Chocolate cake, I'm going with the cobbler. Sorry folks, no shame.
What I'm really trying to get at here is that I've done the cake in a mug thing before and wasn't sold- that totally relates, right?. I usually try to stay FAR, FAR away from the microwave when it comes to anything besides reheating food. In fact, baking in the microwave pretty much goes against everything I believe in. Until now. The chocolate mug cakes I've made in the past were 1. WAY too chocolaty for my tastes and 2.  like eating rubber.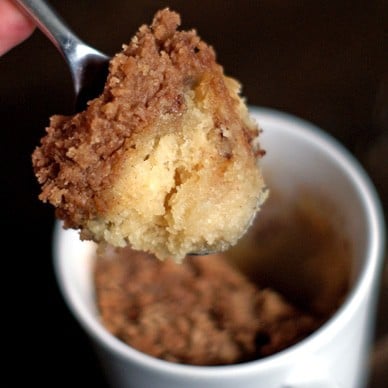 I was in the mood for cake the other morning – it was almost noon, don't judge– and I had zero counter, oven, or sink space because I was in the midst of cooking for 300 people. So I went against my better judgement and headed for the microwave and I am so glad that I did. Well, kind of.  It may or may not be true that I've made this every day for the past week during nap time and my butt is getting big.

**Update: If you  like pumpkin, hop on over here for a pumpkin version of this cake that is just as  sinfully good as this one!**
Ingredients
1

Tbsp butter

2

tbsp sugar

2

tbsp applesauce

vanilla extract, few drops

1/4

C All Purpose flour

1/8

tsp baking powder

pinch of salt

1

tbsp butter

2

tbsp flour

1

tbsp brown sugar

1/4

tsp cinnamon
Instructions
In a mug soften 1 tbsp of butter in microwave, about 5 seconds. You don't want it melted, just soft. Stir in 2 tbsp of sugar and mix until well incorporated. Stir in applesauce, vanilla (just a tiny bit, we're talking drops), flour, baking powder, and pinch of salt; stirring until just combined. Use the back of your spoon to smooth it out in the bottom of the mug.
Want struesel? Of course you do! In a separate, small bowl, combine 1 tbsp of butter, 2 tbsp of flour, 1 tbsp of brown sugar, and ¼ tsp cinnamon. Use your fingers to to pinch the butter and mix it in with the other ingredients. When it starts to look like lumpy sand (appetizing, eh?) and all ingredients are combined, pour on top of cake batter in mug.
Cook in the microwave for 50-80 seconds depending on your microwave. At 1 minute, my microwave cooks it perfectly. It will look just barely set on top. You don't want to overcook it and things tend to get ugly fast in the microwave. I suggest cooking it 50 seconds, and then in 10 second intervals checking after each interval until done. Eat white it's still warm. Once it cools off, it tends to loose some of it's magic!

Made this recipe?
I'd love to see how you rocked it! Share your photo on Instagram with the hashtag
#heatherlikesfood  --
It will totally make my day to see it!