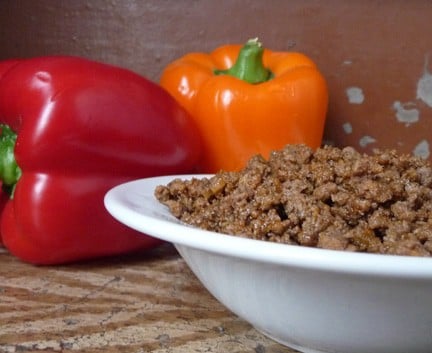 Well, I hope your Thanksgiving was grand! We are back in town and I'm ready to get going again. I'm all about easy meals- especially this time of year.   I don't know about you, but the whole "Let's relax, sleep in, and enjoy our holidays" idea has never happened in my life. I probably bring it on myself, and volunteer for WAY too much because I LOVE Christmas. And honestly,  it wouldn't be the holidays without me running around like an idiot trying to get everything done that I voluntarily willed on myself  resulting in torture. Did I mention I LOVE it?  Probably for the same reason I love working high stress jobs- catering and cake decorating. I think I'm addicted to stress… I need therapy.
Now go eat some tacos, enchiladas, nachos, or whatever else your little heart desires! And don't think I don't use that big bottle or Taco seasoning from Costco once a week. I DO.  I just make this when I want something that isn't from the shelf.
Ingredients
1 lb ground beef (ground turkey will work just as well!)
1 10 oz can green enchilada sauce
2 tbsp minced, dried onion
1 1/2 tsp ground cumin
1 tsp paprika
1 tsp chile powder
Salt to taste
Directions
Heat up a medium sized skillet and brown ground beef until no longer pink. Drain on paper towels or in a collander.
Return meat to pan and add remaining ingredients. Let simmer for 5-6 minutes over medium-high heat or until most of the liquid is absorbed and it's the consistency you like—for instance, I like my taco meat a bit drier than I do for making nachos or enchiladas with.

Made this recipe?
I'd love to see how you rocked it! Share your photo on Instagram with the hashtag
#heatherlikesfood  --
It will totally make my day to see it!