This One Pan Sour Cream Chicken Enchilada Skillet is cheesy, creamy, zesty and so much easier than spending your day rolling up enchiladas!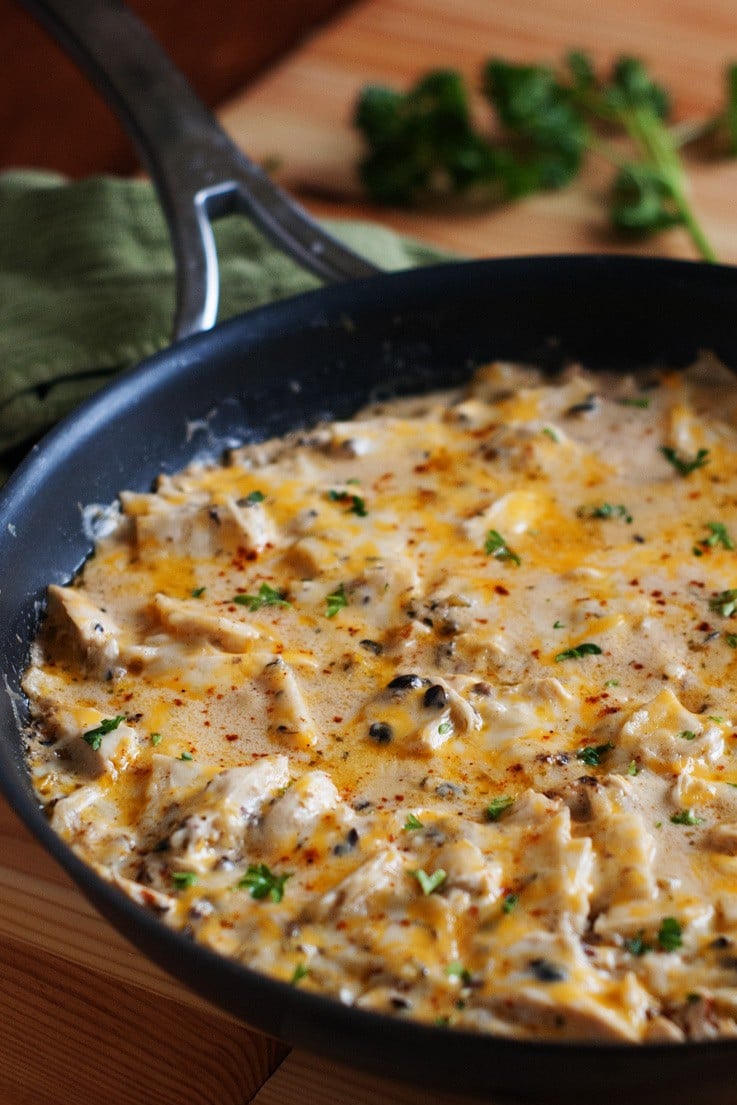 Alright folks, here's the deal. I love enchiladas with a giant pink puffy heart, but I hardly ever make them. By the time dinner rolls around the last thing I want to do is attempt to roll up enchiladas while my toddler plays the roll of Godzilla in my kitchen. Seriously, this kid. Is it a boy thing? My girls were not climbers and into everything like he is. It's about all I can do everyday to keep him from killing himself, let alone make some dang enchiladas.
So, we make skillet enchiladas. They have all the flavor of your normal enchiladas but take 300% less work! Are you sold yet?
You'll start by making the sauce which is basically thickened chicken broth, seasoned up and studded with green chiles and black olives. Then, you'll place your whole chicken breasts right into the sauce to cook– about 15 minutes.
Once the chicken is cooked, you'll take it out of the sauce, shred it up, stir some sour cream into the sauce and put the chicken back in.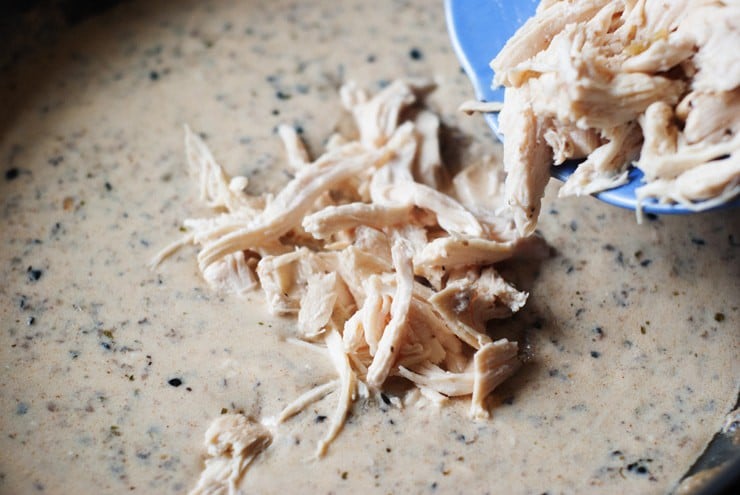 Next, the tortillas go in…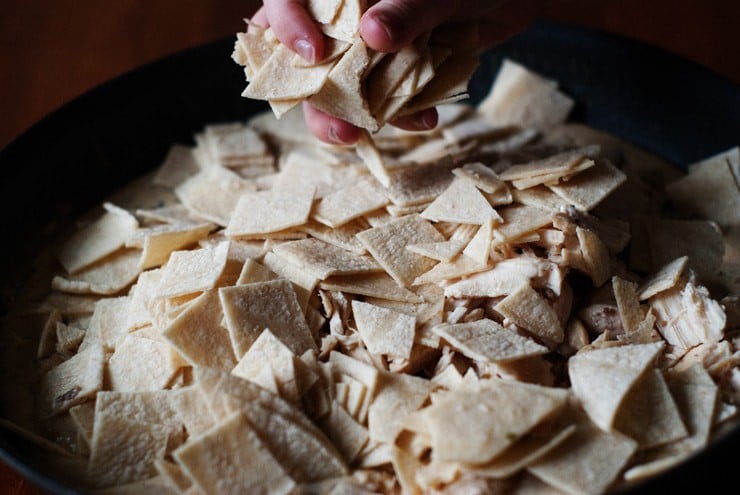 Give it a stir.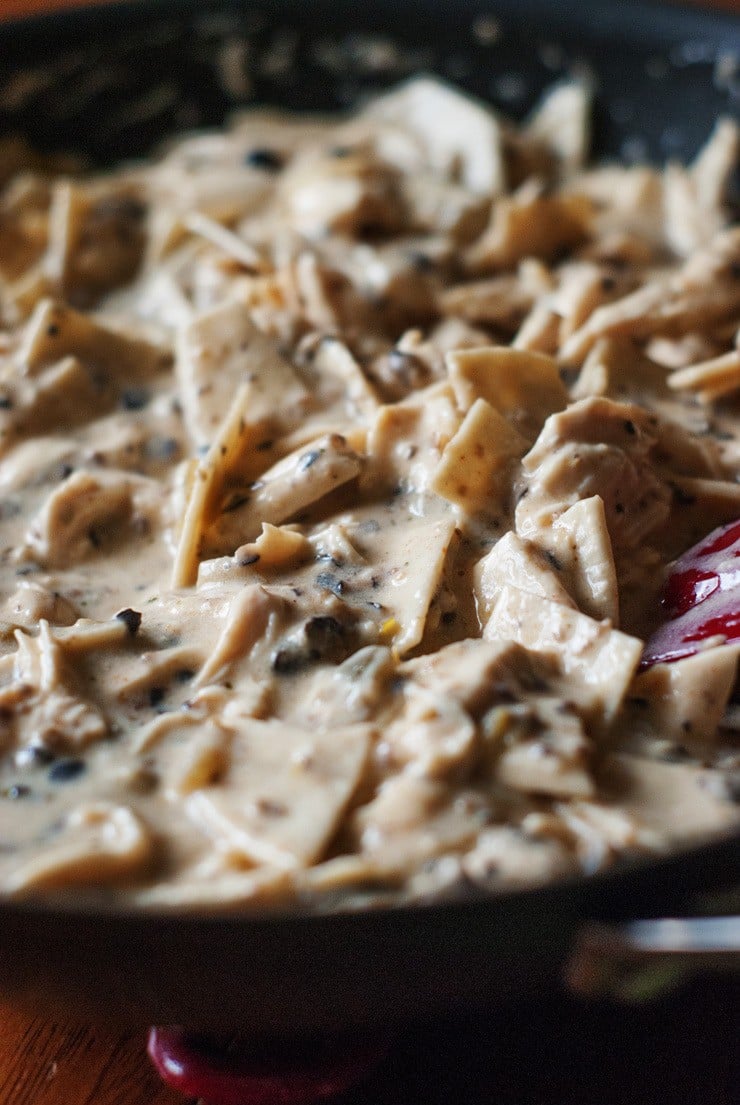 Top with cheese, cover and cook for another 5-8 minutes until bubbly. Once it's done, you'll have something that looks something like this. Not to0 shabby, right?
Seriously, if you're a chicken enchilada fan like I am, this One Pan Sour Cream Chicken Enchilada Skillet is your new best friend.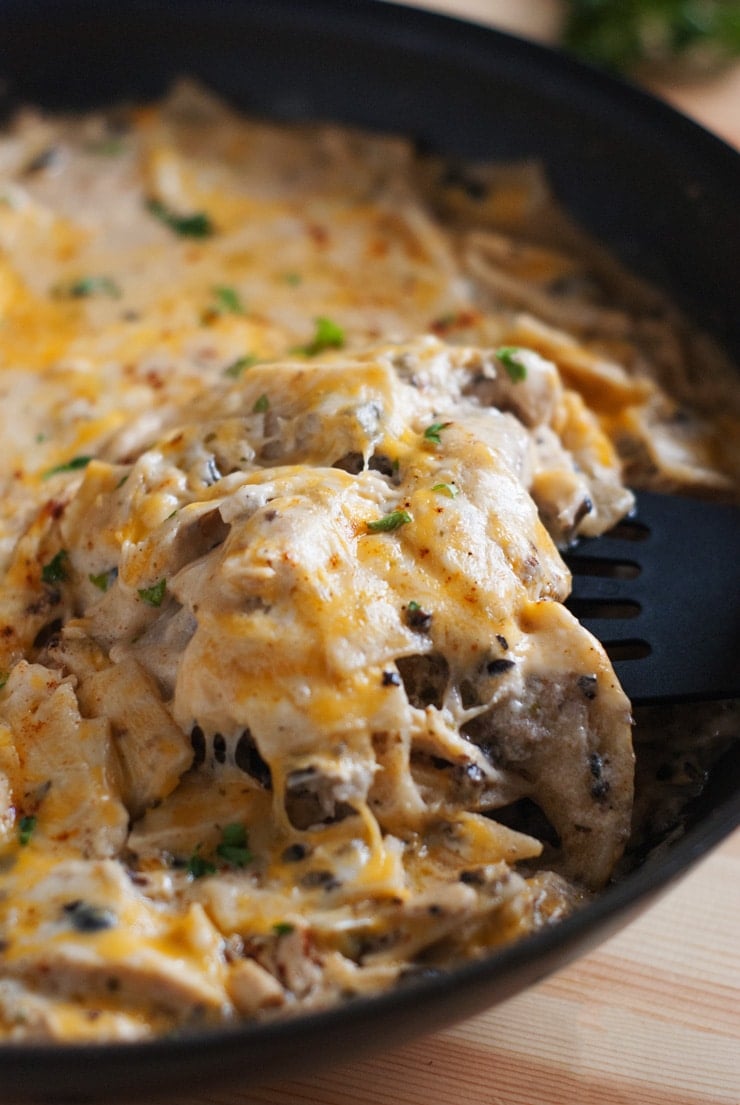 A note about this recipe: I've had a few people comment that this doesn't have enough spice or kick to it. The recipe as written will give you a sauce that is creamy, just lightly seasoned and lets the flavor of the chicken, cheese and tortillas come through– like the sour cream chicken enchiladas that I grew up eating! 🙂 This mild sour cream sauce is meant to be just that. So if you are looking for a more tangy and spicy sauce, like red enchilada sauce, you can sub 2 cups canned red enchilada sauce for the chicken broth, flour, and butter. You can still stir in the sour cream to make a creamy sauce and that should give you the results you're looking for. Hope this helps!
One Pan Sour Cream Chicken Enchilada Skillet
Cheesy, creamy, zesty and so much easier than spending you day rolling enchiladas up!
Print
shopping list
Ingredients
3 tbsp butter
3 tbsp all purpose flour
2 C chicken broth
1/2 tsp kosher salt
1/8 tsp chipotle chili powder (optional)
1/4 tsp oregano
1 (4oz) can chopped green chiles
1 (4oz) can chopped black olives
3-4 boneless skinless chicken breasts
1 C sour cream
12 corn tortillas, cut into bite-sized pieces
1-2 C colby-jack cheese, grated
Directions
In a large skillet, heat butter over medium heat until melted. Stir in flour, cook for 1 minute and whisk in chicken broth. Continue stirring until smooth and thickened-- about 2-3 minutes.
Stir chipotle chili powder, salt, oregano, green chiles and black olives into the sauce and place chicken breasts into pan. Bring to a simmer, reduce heat to low, cover and cook about 15 minutes or until chicken is cooked through.
Remove chicken from pan, leaving the heat on low, and place chicken on a plate to shred into bite-sized pieces.
Stir sour cream into the sauce and return chicken to the pan along with the tortillas. Stir until combined and top with grated cheese. Cover pan and cook for 5-8 minutes until bubbly and the cheese is melted.

Made this recipe?
I'd love to see how you rocked it! Share your photo on Instagram with the hashtag
#heatherlikesfood  --
It will totally make my day to see it!
If you like this recipe, these might make your mouth water too…
Chicken Black Bean Enchilada Skillet