Love Salmon but don't know how to make it well? This post is for you! You won't believe how easy it is to make perfectly pan-seared salmon with super crispy skin and a moist and tender center. To make it even better, we're topping it with a blackberry balsamic sauce that is out of this world delicious!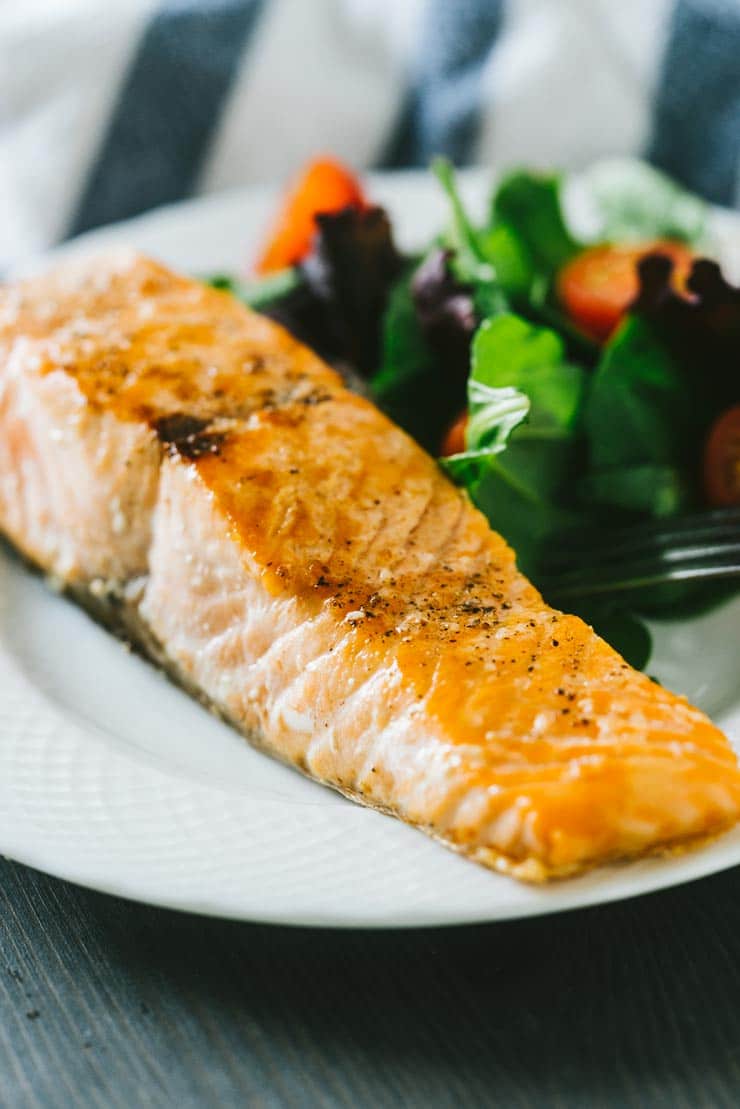 I'm serious when I say cooking perfectly pan seared salmon with crispy skin is simple. All you need is a few simple guidelines and tips, and you'll be making the best salmon that ever came out of your kitchen.
But, since salmon cooks so quickly, we need to make the sauce first, so it's ready when the salmon is! The sauce we're making is blackberry and balsamic vinegar reduction that is tangy and sweet and pairs perfectly with the rich salmon.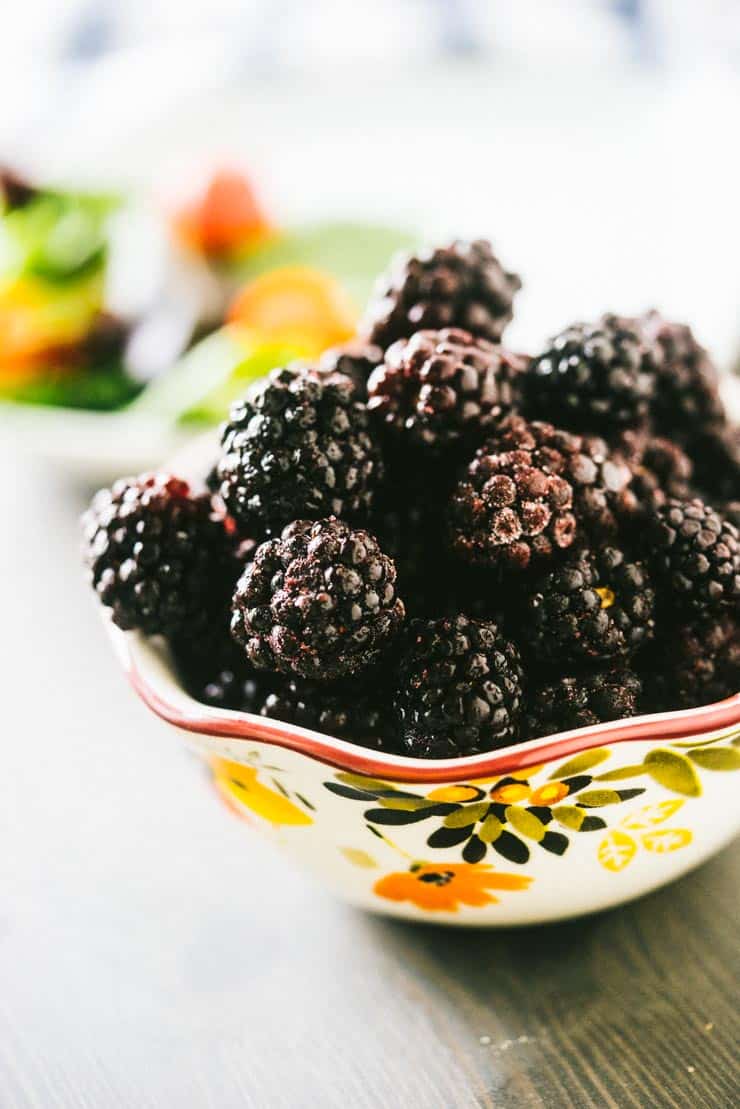 We're using these gorgeous frozen Oregon blackberries in our sauce, and if you didn't know it already, I'm a HUGE Oregon berry fan. Growing up in Southern Oregon I spent many a summer day with purple-stained fingertips and blackberry seeds in my teeth.
How to Make Blackberry Balsamic Sauce
To make the glaze, you'll combine frozen blackberries, balsamic vinegar, honey, and dried rosemary in a small saucepan and simmer until it's reduced by about half. I like to strain my sauce through a mesh colander to catch the seeds and herbs and then set aside until ready to use.
How to Make Pan Seared Salmon
Start with good salmon- Fresh salmon is bright in color and will spring back into place when pressed with your fingertip.
Dry Your Salmon- Press each side of the filet with a paper towel to remove any excess moisture. This excess moisture will cause the skin to stick to the pan if not removed, so dry it well.
Season Well- Well seasoned food doesn't season itself :). Use a large grain salt like Kosher so you can see how much you are putting on and season both the front and back of the filet. It's best to season fish just before cooking so the moisture being drawn from the salt doesn't move down to the skin and prevent it from becoming crispy.
Preheat The Pan- Pour a thin layer of neutral-tasting vegetable oil (like canola) into the bottom of a heavy bottomed skillet. Stainless steel or cast iron work best as they cook more evenly. Preheat your pan and over medium-high heat for at least 5 minutes. If the pan isn't hot enough it will actually cause the skin to stick, making it hard to flip without tearing the fillet.
Lower Heat and Add Salmon Skin Side Down- While you want the pan hot when you first put the fish in, you want to actually cook the salmon at a medium-low heat. Cooking it at a high heat will overcook the outer layers and not render the fat under the skin properly. So just before adding the fish, lower the heat to medium-low.
Press Salmon Gently Into the Pan- As soon as the salmon hits the pan, use a flexible spatula to gently press the fish into the bottom of the pan and hold for about 10 seconds. When the skin hit the hot pan, it will want to curl and buckle, causing the fish to cook unevenly. Pressing it into the pan will prevent this from happening.
Don't Flip Until 90% Cooked - Allowing the salmon to cook skin side down for the majority of the time will allow the fat under the skin to render and also insulates the fish from overcooking. The fillets pictured below took about 5 minutes to reach a perfect-for-me medium-rare temperature of 120 degrees F. 
Cook other Side- Once your salmon is at the temperature you'd like (rare to well done), gently flip using a flexible spatula and fork to help guide it onto the other side without splattering the oil. Cook just briefly-- about 30 seconds to a minute- since it's already mostly cooked through. Transfer to a paper towel-lined plate.
Let It Rest- Just like any other cut of meat, you want to let the salmon rest for a few minutes before cutting into it to let the juices redistribute.
 Serve with Blackberry Balsamic Sauce- Drizzle a couple of spoonfuls of the sauce you made earlier over the fish and be prepared for Pan Seared Salmon goodness!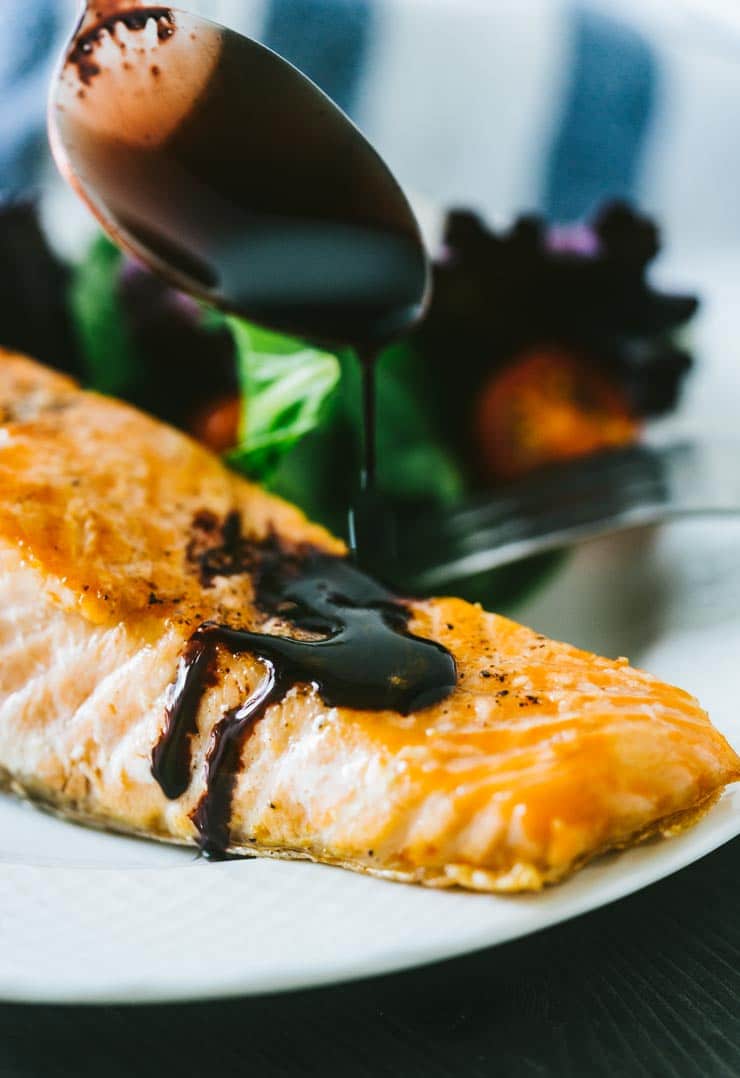 Tools I Recommend for This Pan Seared Salmon Recipe
Flexible Fish Spatula: This spatula is made specifically for turning fish as it is lightweight and flexible, allowing you to get under tender pieces of fish without damaging the filet. They are inexpensive, and I definitely recommend getting one if you love cooking fish!
Stainless Steel Skillet: A quality Stainless Steel skillet will give you the seared meat of your dreams! Stainless steel is excellent at heat retention and cooks evenly.
Mesh Strainer: Mesh strainers have multiple uses and are great in this recipe for straining the blackberry balsamic sauce. I love this set as it comes with three different sizes of strainers, so you always have one that fits the job.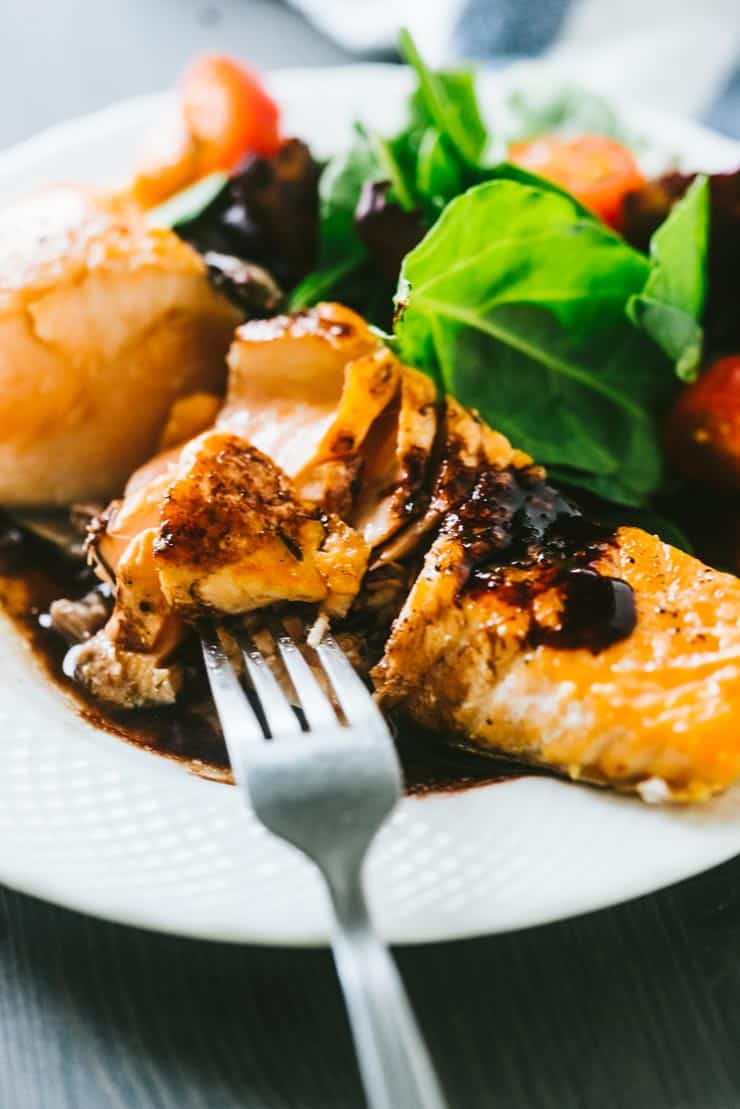 Want More Easy Fish Recipes?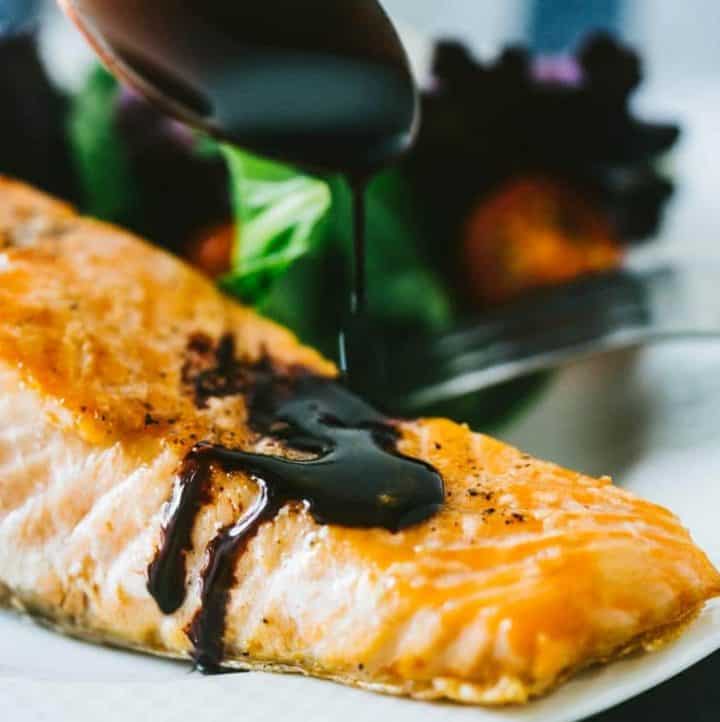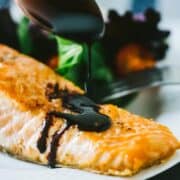 Perfect Pan Seared Salmon + Blackberry Balsamic Sauce
If you've been yearning to learn how to make pan seared salmon, this recipe is for you! Top with this tangy and delicious sauce and you have a meal that is easy enough for weeknights and elegant enough for company.
Print
Pin
Rate
Ingredients
1

cup

frozen Oregon Blackberries

1

cup

balsamic vinegar

¼

cup

honey

1

teaspoon

dried rosemary

4

fresh salmon fillets

5-6 ounces each with skin on

kosher salt and pepper

canola oil
Instructions
In a small saucepan heat blackberries, balsamic vinegar, honey and rosemary until simmering. Crush blackberries with the back of a spoon until all are broken apart. Cook on a medium-low simmer until reduced by half and the mixture coats the back of a spoon.

Pour sauce through a fine mesh strainer to separate the seed and herbs from the sauce. Discard seeds and set the sauce aside.

Heat a thin layer of oil over medium-high heat in a stainless steel or cast iron skillet. Preheat for about 5 minutes.

Salt and pepper fish on all sides and carefully add, skin side down, to skillet, gently pressing down on top of each fillet with a flexible spatula after each addition for about 10 seconds to set the skin.

Cook fish for about 5 minutes without flipping or until your desired temperature-- 125 degrees for Medium-Rare, 145 degrees for medium-well.

Gently flip fish over using a spatula and a fork to ease it over onto the other side and cook just briefly to get some color on top- about 30 seconds to a minute.

Remove fish from pan and place on a paper towel-lined plate. Allow to rest for 5 minutes before serving.

Serve with the blackberry balsamic sauce.
Nutrition Facts
Serving:
1
serving
|
Calories:
377
kcal
|
Carbohydrates:
31
g
|
Protein:
34
g
|
Fat:
10
g
|
Saturated Fat:
1
g
|
Cholesterol:
93
mg
|
Sodium:
90
mg
|
Potassium:
973
mg
|
Fiber:
1
g
|
Sugar:
28
g
|
Vitamin A:
145
IU
|
Vitamin C:
7.6
mg
|
Calcium:
48
mg
|
Iron:
2.1
mg
ARE WE FRIENDS ON INSTAGRAM?
Tag me @heatherlikesfood and use #heatherlikesfood so I can see what you're making and enjoying!