Real Maple Syrup, fresh garlic, and soy sauce make the perfect marinade for this Maple Garlic Baked salmon  It's lightly sweet and caramelizes so well, you'll never eat salmon another way again. 😉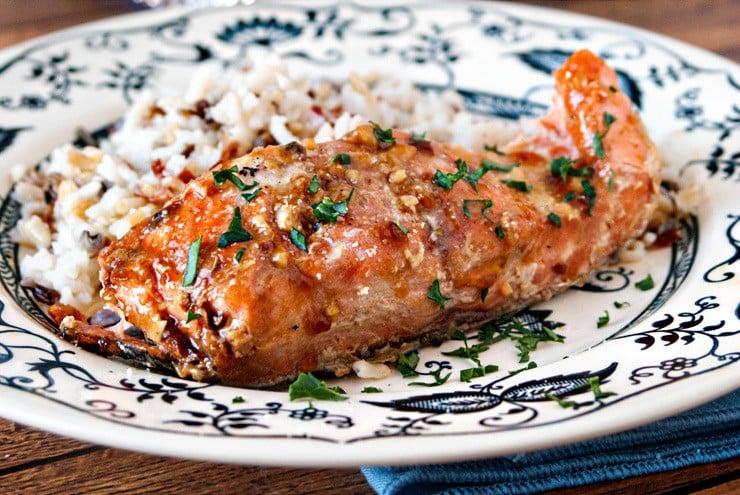 Fish is one of the quickest dinners that you can get on the table. I love that I can usually go from a frozen fillet to cooked in about an hour. This salmon does need to be marinaded for 30 minutes (no more or the fish can take a weird texture) but after that it's just a quick 20 minutes in the oven and you're good to go!
The marinade is a simple mixture of real maple syrup (it's okay to splurge on the good stuff), soy sauce, and garlic. It makes the salmon lightly sweet and caramelizes beautifully in the oven. I served this alongside some rice pilaf and a big pile of the best roasted broccoli in the world– recipe coming soon!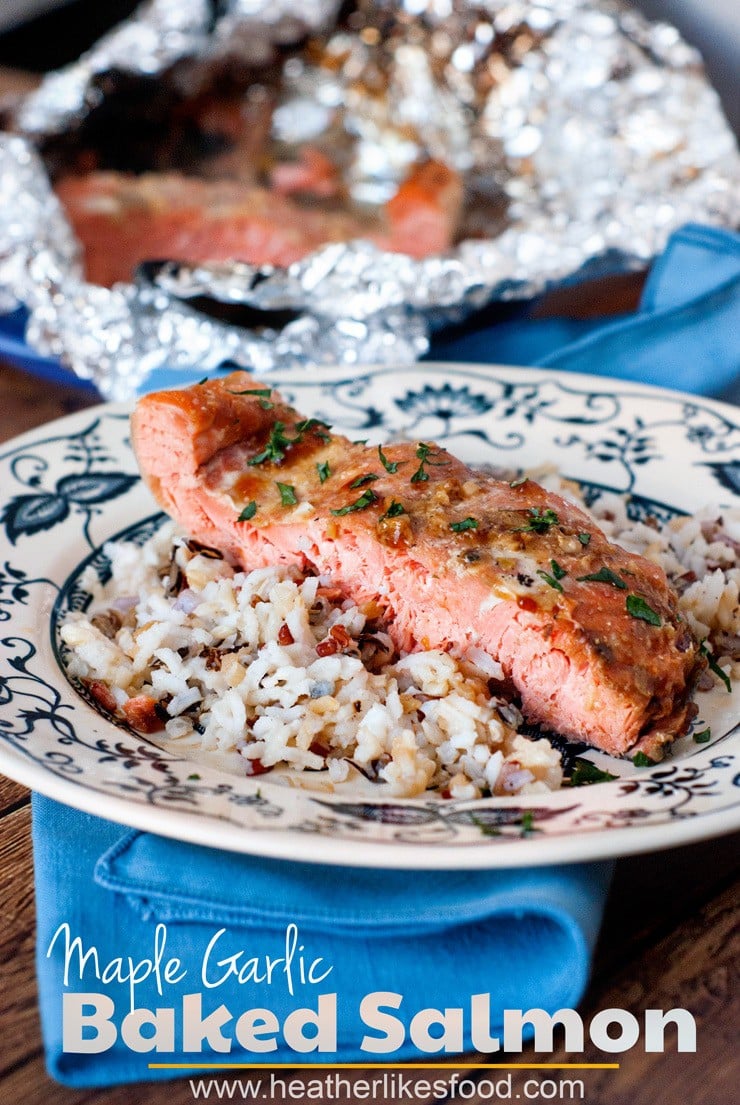 Ingredients
1-2 lb salmon fillet
1/4 C real maple syrup
2 tbsp soy sauce
2 cloves garlic, minced
1/2 tsp kosher salt
black pepper
Directions
Combine maple syrup, soy sauce and garlic in a small bowl.
Lay two pieces of foil slightly overlapping in a 9x13 baking dish. Place salmon skin side down on the foil so that you can bring the sides of it up and over the fish and close to bake.
Season salmon with salt and pepper and pour maple mixture over it. Close foil and allow to marinade for 30 minutes-- no longer.
Place in a preheated 400 degree oven and bake still covered for 15 minutes. Open the foil and cook for an additional 3-5 minutes under the broiler to caramelize the top. Fish is done when it flakes easily in the thickest part.

Made this recipe?
I'd love to see how you rocked it! Share your photo on Instagram with the hashtag
#heatherlikesfood  --
It will totally make my day to see it!