This broiled salmon recipe is the salmon recipe that gets made the most at my house. It's quick and simple to make and produces some of the moistest, most flavorful salmon you can get your hands on!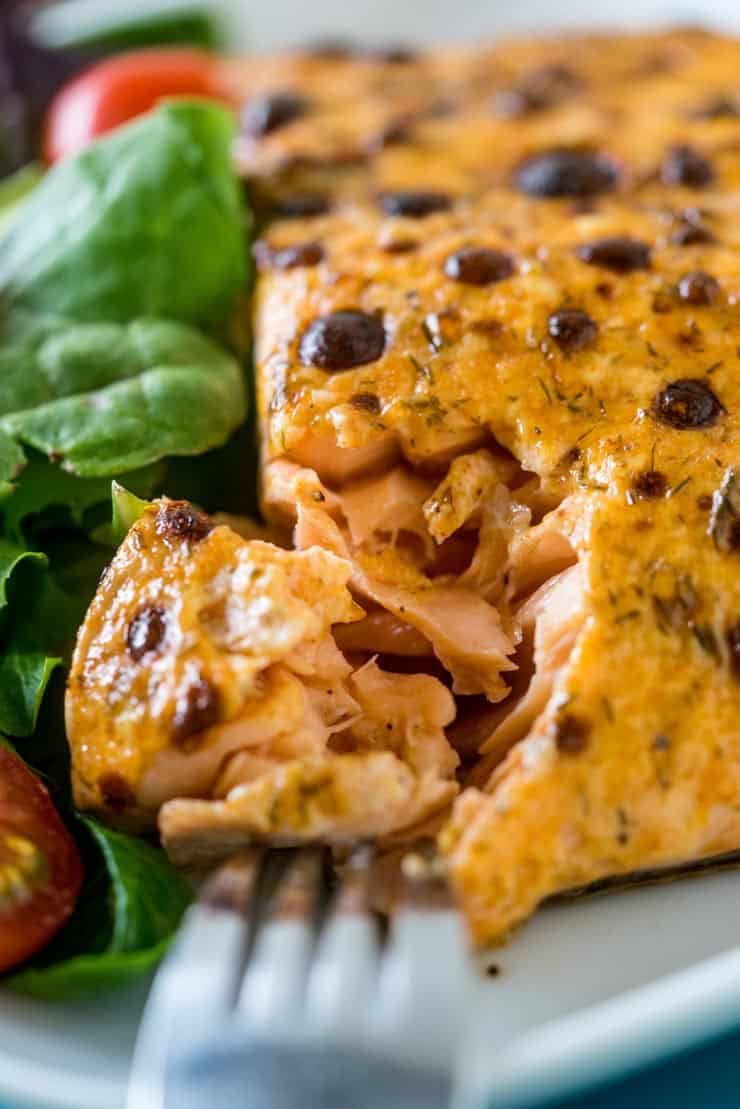 I've said it before, and I'll say it again: If you don't use your broiler to cook with, start today! It's definitely one of the most under-utilized kitchen tools in the kitchen. If used right, the broiler cooks delicate foods, like this broiled salmon, quickly and efficiently without drying it out and still gives you the depth of flavor you get from caramelization like you do from other cooking methods.
What is the difference between broil and bake?
When you bake, the heat radiates all around the food (top and bottom heating elements and maybe a convection fan), and the temperature is set and regulated. When you broil the heat always comes from above and typically only has one or two temperature options- low (about 450 degrees Fahrenheit) and High (about 550 degrees Fahrenheit). This direct, high-temperature heat coming only from above, sears the food without drying out the interior.
What temperature should salmon be cooked to?
Salmon is safe to eat at 145 degrees Fahrenheit, but that doesn't mean you should keep under the broiler until it reaches 145. Food continues to cook even after it's taken off the heat-- it's called carryover cooking. I like to take my salmon out of the oven when it hits 130 degrees, cover with foil and allow to rest 10 minutes. The residual heat from cooking will be trapped in the foil and continue to gently cook the fish, even after it's out of the oven; Leaving you with tender salmon that isn't overcooked and tough!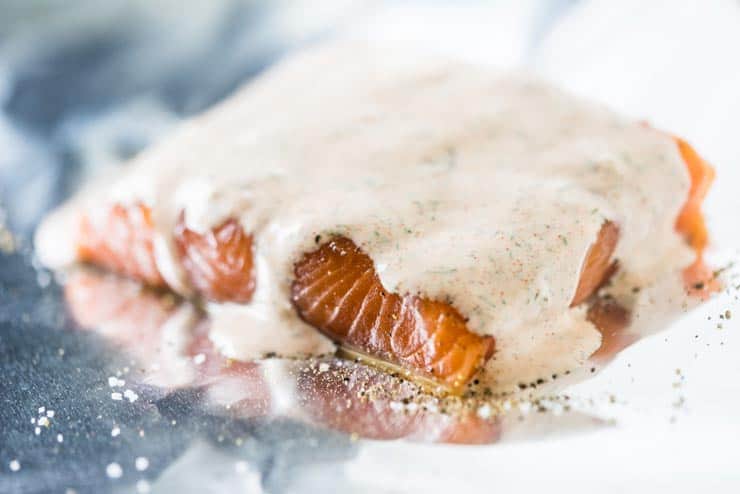 How to Make Broiled Salmon
Preheat broiler to HIGH and place the oven rack so that it's about 6 inches away from the heating element.
Stir together the mayonnaise, lemon juice, dill, and smoked paprika.
Arrange salmon fillets on a baking sheet lined with greased aluminum foil, skin side down.
Sprinkle the salmon with salt and pepper and spoon the mayonnaise sauce over the fish.
Place salmon under the broiler and cook for about 5 minutes or until the sauce is bubbly and brown and the internal temperature reads 130 degrees Fahrenheit when you place a food thermometer in the thickest, middle-most part of the fillet.
Take the salmon out of the oven and cover with foil. Allow to rest for 10 minutes to finish the cooking process out of the oven.
How long should I broil the salmon?
Depending on the temperature of your broiler, your salmon may cook faster or slower than others. The best way to gauge how long to cook the salmon is with a food thermometer like this one. Using this will ensure you're never left with dry, overcooked salmon.  Insert the probe into the thickest, middle-most part of the salmon. When the thermometer reads 130 degrees, it's ready to come out and be covered with foil!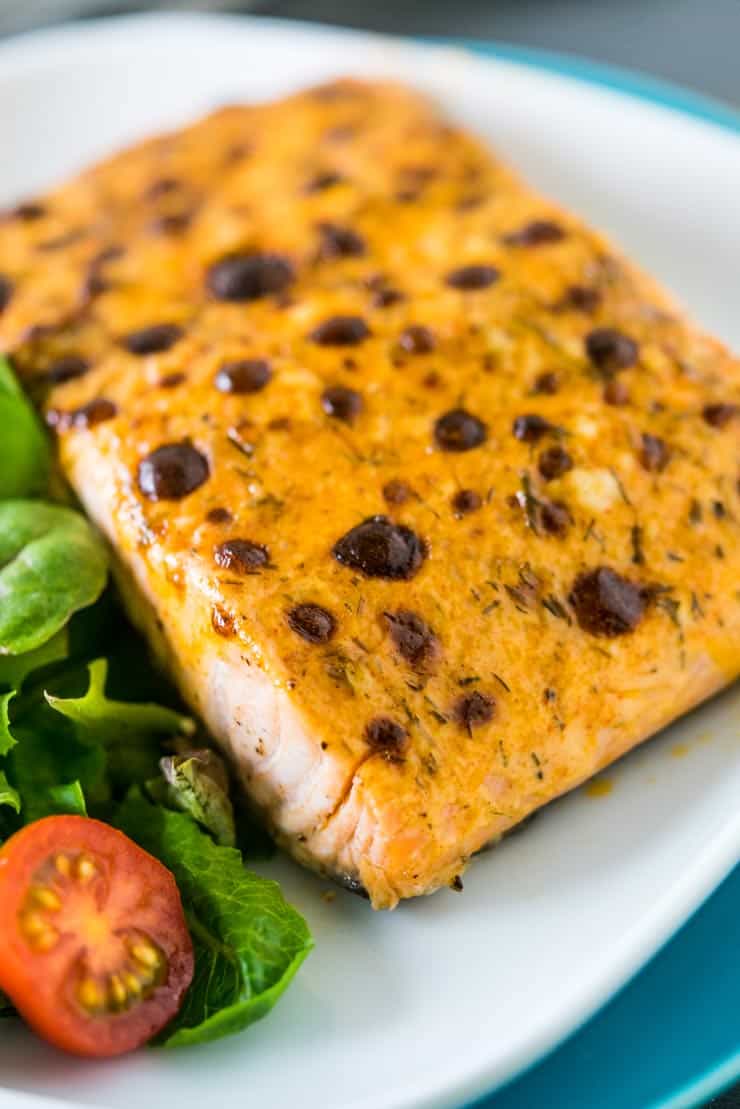 Cooking Tips for Making the BEST Broiled Salmon
THAW YOUR FISH If using frozen salmon fillets, make sure they are entirely THAWED before placing under the broiler. Fish that is still frozen in the middle will leave you with an over-cooked exterior and under-cooked interior.
SMOKED PAPRIKA I use smoked paprika a lot in my recipes, and that's because it gives fantastic flavor! You can use regular paprika if you'd like, but smoked will add that little extra punch of flavor that puts this salmon over the top.
GREASE YOUR FOIL It's vital that you spray the aluminum foil you cook the salmon on with cooking spray or wipe with a bit of vegetable oil before putting your fish on it. This step will ensure that the fish skin will come off the foil easily and won't tear the flesh of the fish when removing.
USE MAYONNAISE I know there are a lot of mayonnaise haters out there, but the use of mayonnaise in this broiled salmon recipe is non-negotiable. It not only adds flavor; it keeps the salmon moist and insulated while cooking at a high temperature.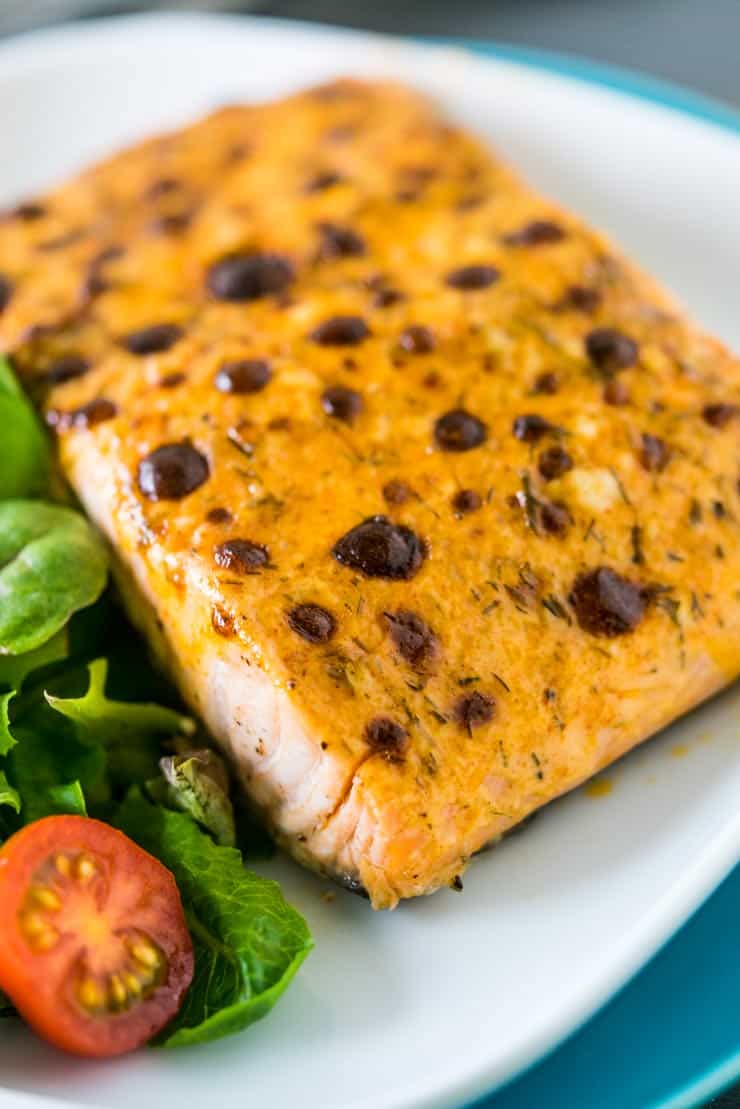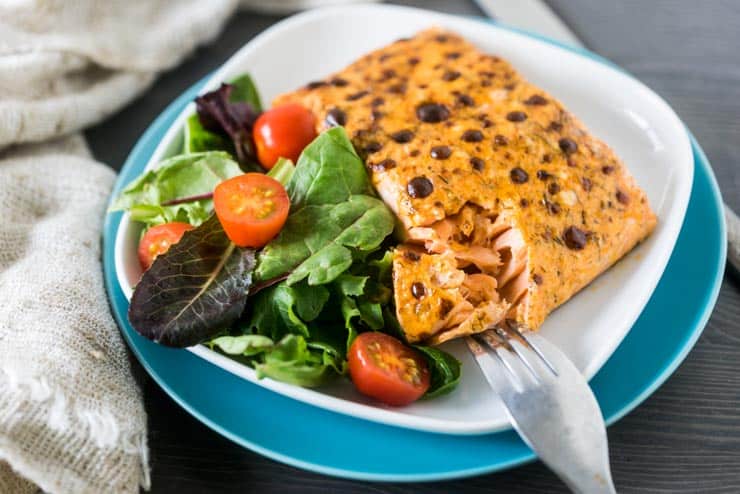 Here Are Some Other Easy Salmon Recipes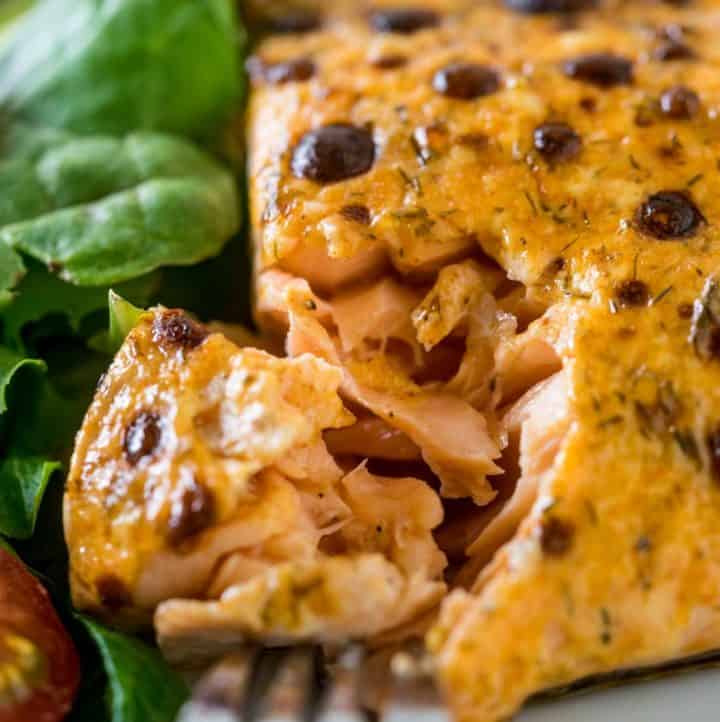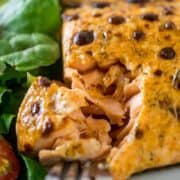 The Best Broiled Salmon
This broiled salmon stays nice and moist by adding a simple sauce right on top and cooking quickly under the broiler. A perfect, easy weeknight meal!
Print
Pin
Rate
Ingredients
¼

cup

mayonnaise

2

tablespoons

lemon juice

1

teaspoon

dried dill weed

½

teaspoon

smoked paprika

salt and pepper

4

salmon fillets

5-6 ounces each
Instructions
Set oven rack 6 inches from the heat source and preheat your oven's broiler. Line a baking sheet with aluminum foil and spray with cooking spray.

Stir mayonnaise, lemon juice, dill weed, and smoked paprika together in a bowl until smooth.

Lay salmon fillets, skin-side down, on the prepared baking sheet. Spinkle with salt and pepper and brush fillets with mayonnaise sauce.

Place under the broiler and cook until salmon is golden, bubbly, and the internal temperature reaches 130 degrees Fahrenheit-- about 5-8 minutes. Remove from oven, cover with foil, and allow to rest for 10 minutes before serving.
Nutrition Facts
Serving:
1
serving
|
Calories:
339
kcal
|
Protein:
33
g
|
Fat:
21
g
|
Saturated Fat:
3
g
|
Cholesterol:
99
mg
|
Sodium:
164
mg
|
Potassium:
833
mg
|
Vitamin A:
205
IU
|
Vitamin C:
2.9
mg
|
Calcium:
25
mg
|
Iron:
1.5
mg
ARE WE FRIENDS ON INSTAGRAM?
Tag me @heatherlikesfood and use #heatherlikesfood so I can see what you're making and enjoying!