If you're looking for a dinner that comes together super quick, has tons of flavor, and just a few ingredients, you're going to want to keep readin' about this easy chicken cacciatore!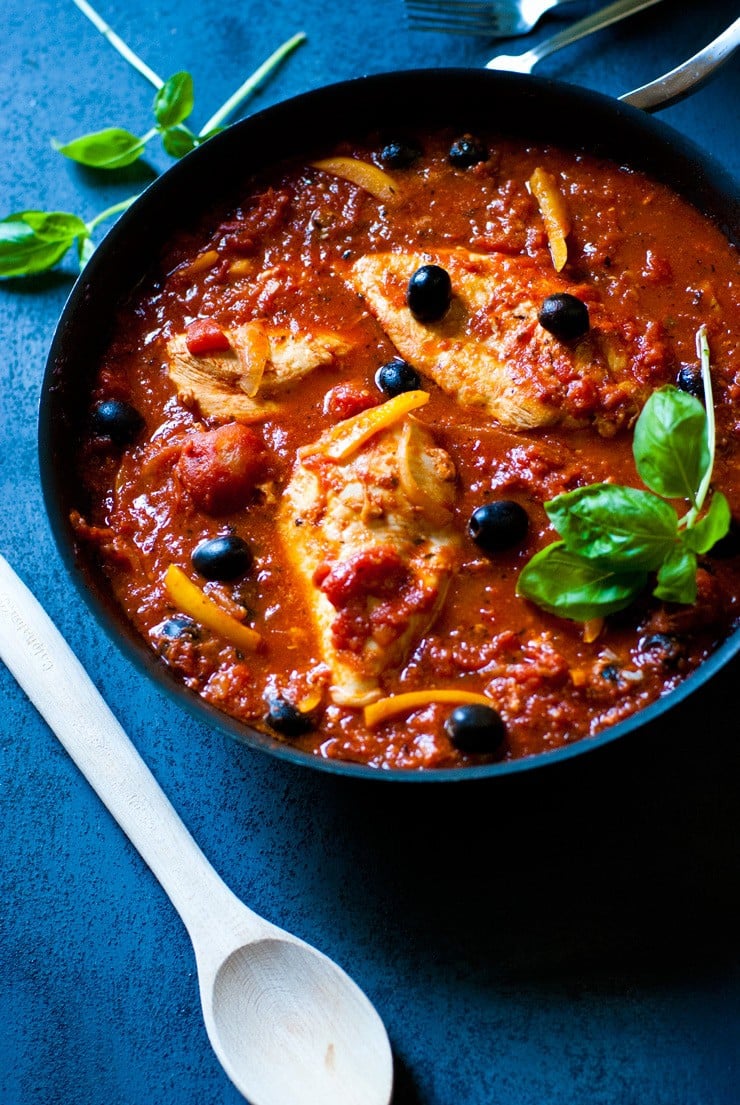 Hi friends! I'm so excited to be back writing this post today. I attended a conference for food bloggers over the weekend here in Portland and I'm just so jazzed up about this little site of mine right now. At the conference we talked about a lot of things, but one of my favorite topics was how to stay "genuine" in your writing. I often get so caught up on just getting a recipe posted that I forget to add a little bit of me into the posts. I'm not the best writer, but I do enjoy it and that's one of the reasons why I started the blog in the first place. So, I really want to work more at making this space "mine".
Keeping this site up and running isn't always easy for me. I stay home with my kids and work on the website when the kids are in bed at night, in the early morning when they are still sleeping, or while they are at the sitter twice a week during school hours. My husband is a graduate student working towards his doctorate and has been a student for the better part of our marriage, so we've gotten used to having him be pretty well occupied with his schooling over the years. However, he also hasn't worked during most of his schooling and do you know how we're surviving financially? THIS BLOG! It has been such a huge blessing to us. Yes, we do still live off student loans as well, but a good chunk of our living expenses are paid for because you guys show up and read my posts. I so, so appreciate you guys! This is pretty much a dream job for me and I just feel so blessed to be able to stay home with my kids and make a living. It's incredible.
So that said, I really want to make this space feel like the special, incredible space it is to me. I want to share the things are are making me happy, sad, and everything in between. I'm a pretty private person, but feel like having a place to share these things will help me see beyond the "numbers" of running a blog and help me to hopefully connect to you in a different way. I plan on sharing more of our family, our adventures, my kids helping me in the kitchen, our hard days and our exciting days, and of course, really amazing recipes. Because really, I'm all about the food when the day's done. Aaaannnndd squishy baby snuggles.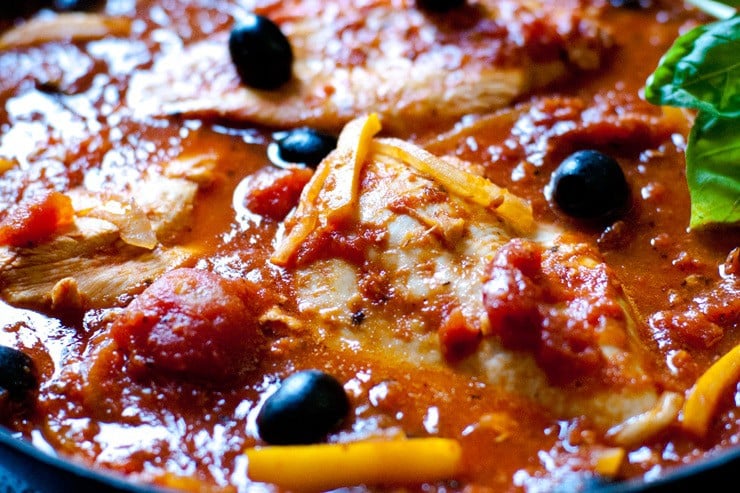 So, I hope you'll stick around. I have lots of easy and delicious recipes coming your way (lots of one pan dinners, as promised!) and a little bit of a deeper look into what's going on in our neck of the woods. I can't wait!
And now, for this recipe!
ONE PAN EASY CHICKEN CACCIATORE
I didn't have this meal planned to share with you, but last night I asked the hubs what he wanted for dinner because I was all out of ideas and he quickly said "CHICKEN CACCIATORE!" thinking there was no way I'd oblige. Well, as it turned out, I had everything needed for this quick and and easy chicken cacciatore version. I was also itching to take some photos using my new photo backdrop board that I won at the conference over the weekend (by winning a dance-off, no less), so I quickly snapped some pics called the family in and the kiddos scarfed it down over brown rice. It's quick, easy, and only takes 7 ingredients so I hope you'll try it!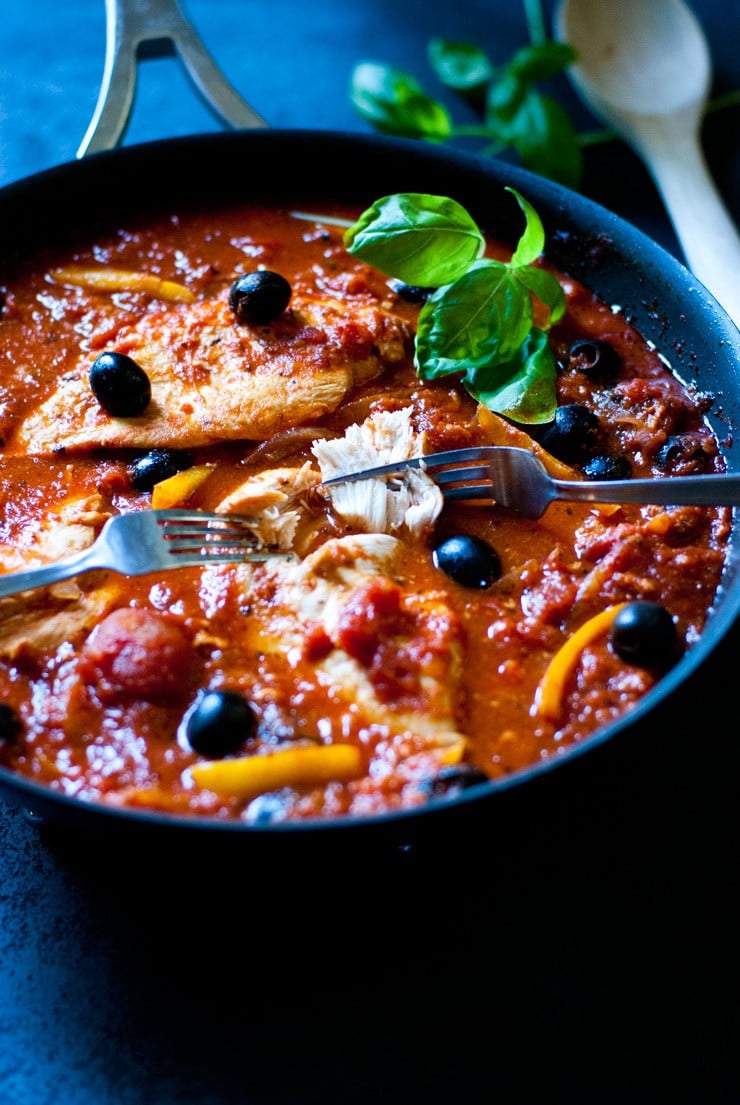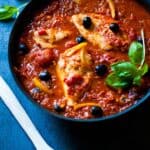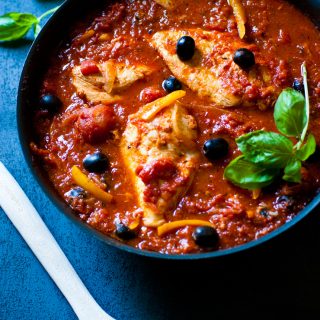 One Pan Easy Chicken Cacciatore
If you're looking for a dinner that comes together super quick, has tons of flavor, and just a few ingredients, you're going to want to keep readin' about this easy chicken cacciatore!
Ingredients
1

tablespoon

olive oil

2

whole

bell peppers

sliced

1

whole

yellow onion

sliced

1/2

teaspoon

kosher salt

2

cloves

garlic

minced

28

ounces

whole tomatoes

drained and cut each tomato into fours

24

ounces

favorite pasta sauce

(I LOVE Mezzetta Tomato and Sweet Basil)

14

ounces

black olives

drained

4

whole

boneless skinless chicken breast halves
Instructions
Heat olive oil over medium-high heat and cook peppers and onion with salt until just barely tender. Stir in garlic and cook for 1 minute or until fragrant.

Pour cut tomatoes, pasta sauce, and drained olives into the pan, stir and bring to a simmer.

Place chicken breasts into the sauce, submerging each breast completely into the sauce. Bring back to a simmer, reduce heat to low, cover and cook for 20 minutes. Remove from heat.

Remove chicken breasts from sauce, shred, return to the sauce and serve over rice, pasta, or egg noodles with parmesan cheese.
Nutrition Facts
One Pan Easy Chicken Cacciatore
Amount Per Serving (1 serving)
Calories 253
Calories from Fat 171
% Daily Value*
Total Fat 19g 29%
Sodium 3011mg 125%
Potassium 977mg 28%
Total Carbohydrates 21g 7%
Protein 5g 10%
* Percent Daily Values are based on a 2000 calorie diet.