Chicken, bacon, and cheese! Who needs more?! This Smothered chicken comes together in about 30 minutes and is a far cry from your traditional smothered chicken and gravy, but is just as tasty. Dare I say it's even better?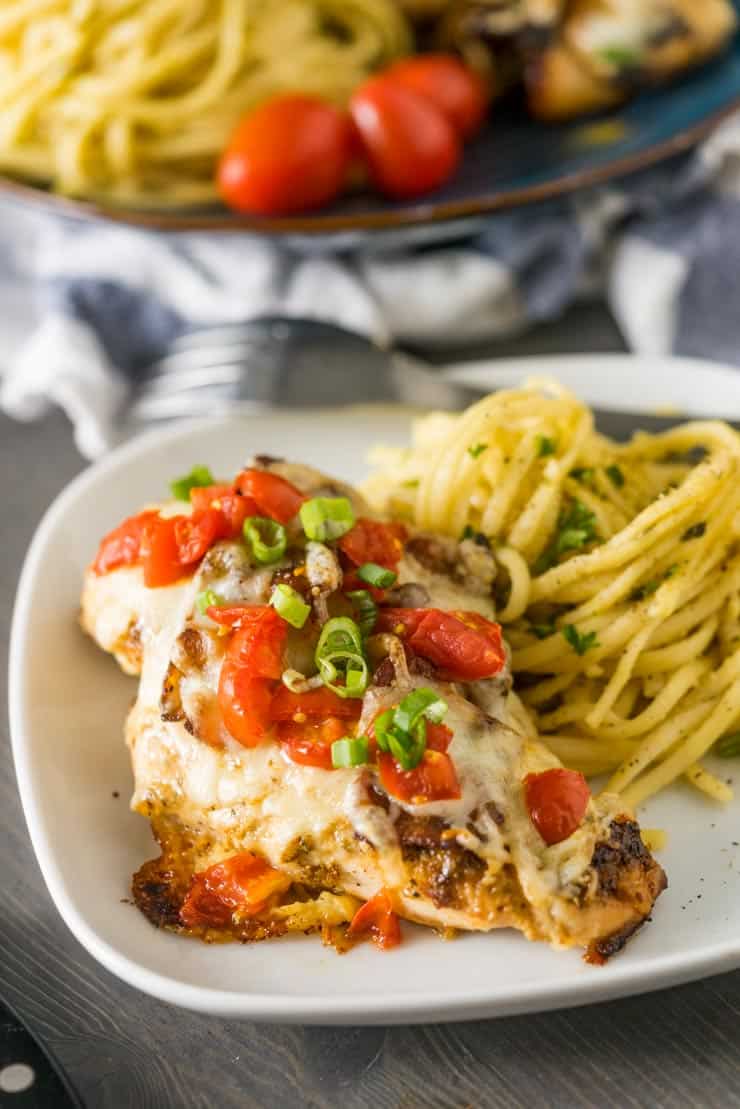 This baked smothered chicken recipe has been kicking around in the deep, dark, archives of the site and I decided it was due time that I give it a little bit of love. In the process, I shot some updated pictures and was reminded of just how. dang. good. this chicken really is!
I mean, you can't really go wrong with chicken, bacon, and cheese, but this chicken definitely wins its keep here at HLF with all the other flavors it has going on. I've even created this Smothered Chicken Casserole and this One Pan Smothered Chicken Skillet in its honor over the years.
A lot of the flavor comes from the addition of prepared Caesar Salad dressing. The salad dressing combines with the juices of the chicken and tomatoes as it cooks to form a sort of gravy that keeps it so moist and delicious! Let's take a look!
How to make Baked Smothered Chicken Breasts
You'll start off by seasoning your chicken with some salt and browning it in a little bit of olive oil on the stovetop. It's not important to cook the chicken all the way through as we'll do that in the oven, just to get a little bit of color on it.
After it's browned, transfer to a baking sheet (use a Silpat or parchment paper to keep cleanup easy) and season with Montreal Chicken seasoning.
Top with Caesar Salad Dressing, two slices of crispy bacon, cheese, onion, and fresh tomatoes.
Bake until cooked through and reaches 165 degrees Fahrenheit.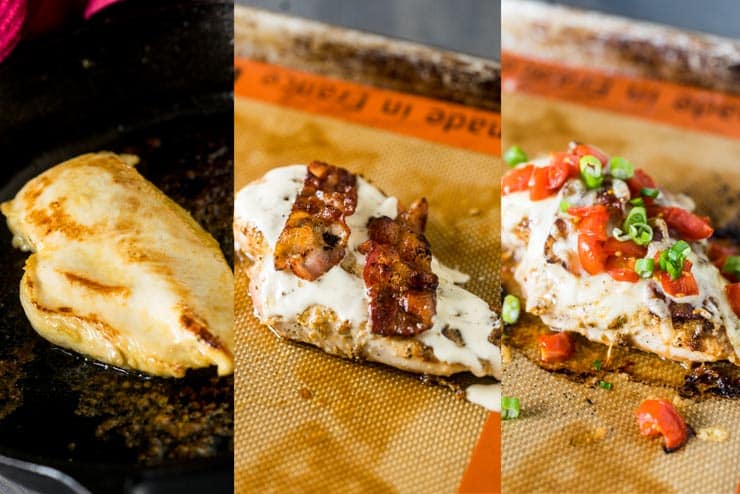 What is Smothered Chicken?
Well, traditional smothered chicken is a southern dish usually involves lightly breading chicken and cooking it in a type of chicken gravy. It's a vintage recipe that is wildly delicious when done right! I'm not sure what prompted me to call this chicken breast recipe "Smothered Chicken" many years ago when I first made it, but it just felt right, and I don't have the heart to change it now. 🙂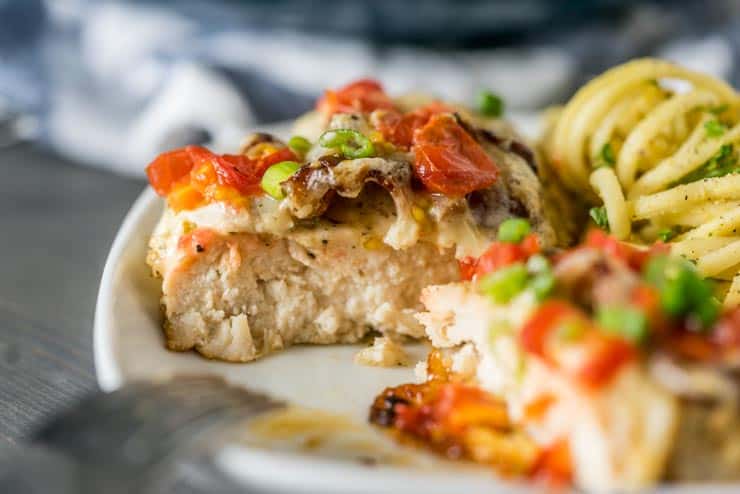 What Should I Serve with this Baked Smothered Chicken?
I love to serve these chicken breasts with a big salad because they are so flavorful and hold their own pretty darn well on the dinner table. But, if you're looking for a more hearty side, I recommend these  Super Creamy Slow Cooker Mashed Potatoes or this  Perfect Brown Rice.
Oven Fried Chicken Breast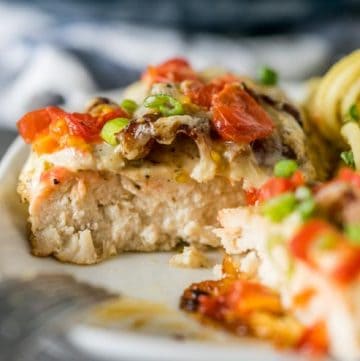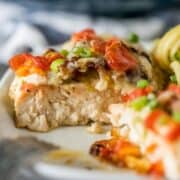 Smothered Chicken
Bacon, cheese, tomatoes, and Caesar dressing! What more could you want from a juicy and tender baked chicken breast?!
Print
Pin
Rate
Ingredients
4

whole

boneless skinless chicken breasts halves

½

cup

shredded Monterrey Jack cheese

½

cup

shredded Cheddar cheese

1 /3

cup

Caesar salad dressing

2

tablespoon

chopped chives or green onion

4

slices

bacon

cooked and cut in half

1

fresh tomato

diced

Salt

Montreal Chicken seasoning (I use McCormick Brand)
Instructions
Preheat oven to 400 degrees.

Line a baking sheet with foil or parchment paper to cut down on the mess.

Preheat a skillet with 1 tablespoon of olive oil over medium-high heat. Season chicken with salt and place in pan, cooking on both sides. You don't need to cook the chicken all the way through, but do try to get it nicely browned and caramelized- that's where the flavor is!

Place browned chicken on the cookie sheet and sprinkle with Montreal Chicken Seasoning. Evenly distribute the Caesar dressing over each breast, followed by 2 strips of bacon and top with even amounts of cheese, chives or onions, and tomatoes.

Place in oven and bake for about 20 minutes or until the chicken is cooked through and reaches 165 degrees F. Cooking time will vary depending on the thickness of your chicken breast.

Nutrition Facts
Serving:
1
serving
|
Calories:
255
kcal
|
Carbohydrates:
2
g
|
Protein:
10
g
|
Fat:
22
g
|
Saturated Fat:
8
g
|
Cholesterol:
42
mg
|
Sodium:
522
mg
|
Potassium:
133
mg
|
Sugar:
1
g
|
Vitamin A:
535
IU
|
Vitamin C:
4.8
mg
|
Calcium:
220
mg
|
Iron:
0.6
mg
ARE WE FRIENDS ON INSTAGRAM?
Tag me @heatherlikesfood and use #heatherlikesfood so I can see what you're making and enjoying!
The Indulgent Life
I decided I'm going to give little tidbits of our life here after each recipe post. I love that HLF has morphed and grown into a more recipe-centric place, but do miss being able to go back and see snippets of our family life from when I used to share those more often. So, maybe this is just for me, but you're welcome to stick and around and get a glimpse as well. x- Heather
We recently purchased a 1978 beast of an RV to renovate and make our own. It's been a super fun project for the hubs and me to work on together, and we're excited to see both what we can turn it into and the places we'll visit with our family in it.
We've affectionately named the RV "Star Lord" though my three year old is convinced its name is "Head Shoot Gun". Not sure where that name came from, but he's sticking to it and isn't budging.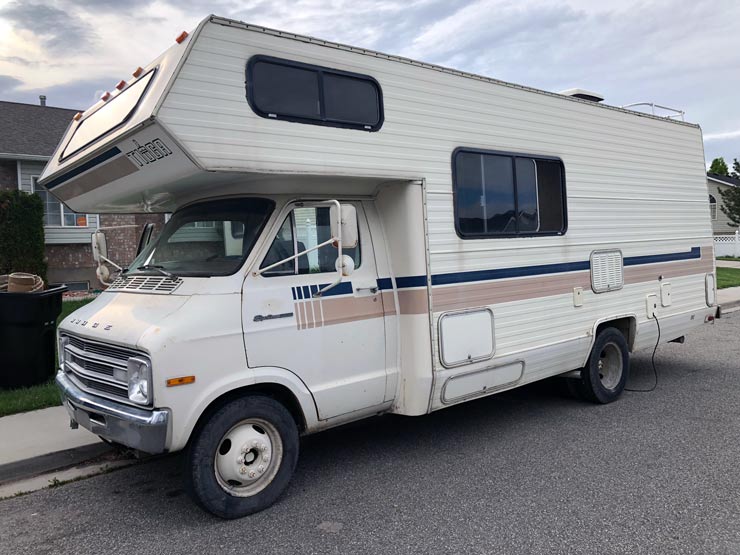 Here's Star Lord in all his 1978 glory. We've been working on a lot of the mechanics the last month or so that we've had it and we spent a good chunk of time tearing out the ceiling over the cab, removing some water damage and fixing the frame. But now, we're to the FUN part-- making him look pretty!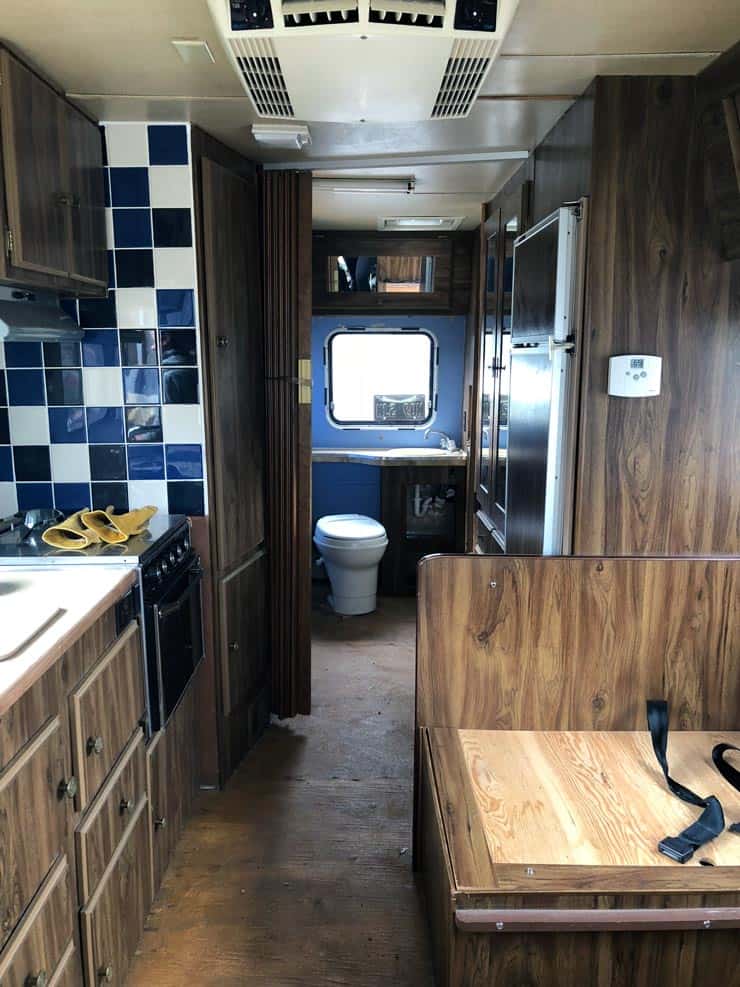 We spent our afternoon yesterday tearing out the old carpet and began to prep for paint! Woot! Fingers crossed prep doesn't take as long as I'm afraid it's going to!