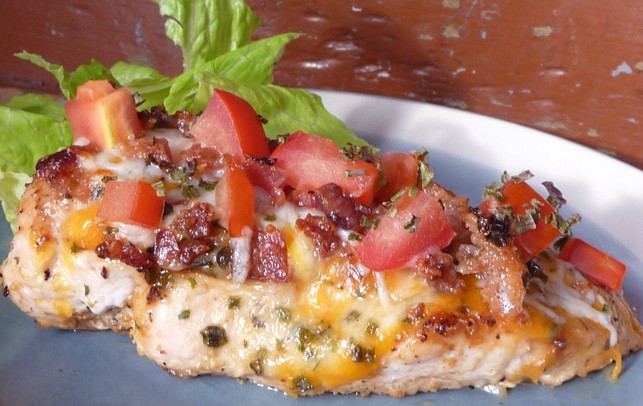 So, I took a break. A really long break. I could bore you with all the gritty details about my life the past few months, but this should sum it up for you:  Giving birth+motorcycle accident+ incapacitated husband+ four year old+newborn= really busy/cranky/out-of-sorts  me.  Yep, we're doing good now, though.  Who knew it would get so crazy, right? Anyways I feel like I'm just getting out of my I-don't-want-to-make-anything-more -complicated-than-grilled-cheese funk. It feels good to be actually cooking good food again. And here's what we're starting with;  Chicken all smothered in  goodness. Bacon goodness. Bacon+cheese goodness. Oh goodness, goodness me.
Ingredients
4 boneless, skinless chicken breasts
1/2 cup shredded Monterrey Jack cheese
1/2 cup shredded Cheddar cheese
1 /3 cup Caesar salad dressing
2 tbsp chopped chives or green onion
1/4 cup chopped, cooked bacon (I used the real bacon bits from Costco)
1 tomato, diced
Salt, Montreal Chicken seasoning (I use McCormick Brand)
Directions
Preheat your oven to 400 degrees. Line a cookie sheet with foil or parchment paper to cut down on the mess. Place chicken in a bowl and season liberally with salt and the Montreal Chicken seasoning. Cover with plastic wrap and marinade in fridge for at least an hour, up to overnight.
Once it's good and flavorful, brown the chicken in a hot pan in olive oil on the stovetop. You don't need to cook the chicken all the way through, but do try to get it nicely browned and caramelized- that's where the flavor is! Place browned chicken on the cookie sheet and evenly distribute the Caesar dressing over each breast. Then top with even amounts of cheese, bacon, and top off with the chives or onions. Place in oven and bake for 10 minutes. Take out and top each breast with the diced tomato. Return chicken to the oven and bake for another 5-10 minutes or until the chicken is cooked through, depending on the thickness of the chicken.
Get ready for chicken heaven.

Made this recipe?
I'd love to see how you rocked it! Share your photo on Instagram with the hashtag
#heatherlikesfood  --
It will totally make my day to see it!