This Thanksgiving let the slow cooker do all the work and dirty just one dish instead of several to make these super creamy crock pot mashed potatoes.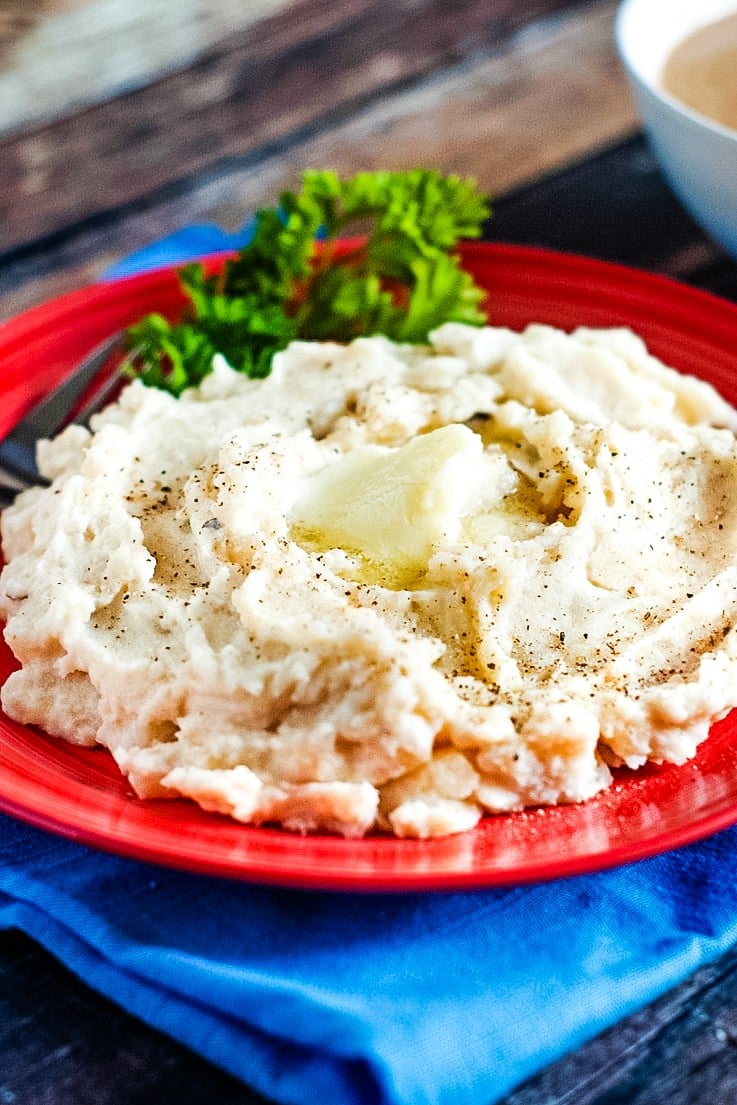 Why has it taken me 30+ years to realize I could make mashed potatoes in the crock pot? Seriously guys. These slow cooker Mashed Potatoes change EVERYTHING! If you knew about this genius hack and didn't tell me, you're in trouble.
But really, it's stupid simple and I kind of feel like punching myself in the face for not realizing this sooner. This is a Thanksgiving Day game changer, I tell ya. No more steamy pots of boiling potatoes taking up the stovetop! No more dirtying a pot, a strainer, and a bowl just to make some taters!  Wanna know how to make it?
How to Make Crock Pot Mashed Potatoes:
Place potatoes, chicken broth, salt and garlic in a slow cooker and cook on HIGH for 4 hours, or 6 hours on LOW or until the potatoes are cooked through and tender.
Use a potato masher to mash potatoes to your desired smoothness and stir in the cream and butter.
Use more or less cream depending on how creamy you'd like them — season with salt and pepper to taste.
Keep Warm in the Crock Pot until ready to serve.
Can You Keep Mashed Potatoes Warm In A Crock Pot?
Absolutely! Crock pots are great for buffet tables and for when you are feeding a crowd. Some crock pots or slow cookers even have a warm setting. Just check whatever you are keeping warm in them every so often if you aren't familiar with your particular crock pot. Some of them run hotter than others and could scorch the bottom of your potatoes if it runs too hot.

Can I Cook Potatoes In A Slow Cooker?
I cook potatoes in my slow cooker all the time (like this Cheesy Potato Soup or just plain baked potatoes), so I'm surprised I hadn't thought to make mashed potatoes in it before now. Potatoes are the perfect food for cooking in a slow cooker because they do well with low, even heat and don't dry out too easily.
Can you Make Mashed Potatoes Ahead of Time and Reheat?
Mashed potatoes are great for making ahead and reheating. Just be sure to give yourself plenty of time to reheat them as they are very dense and take a while to heat through. You may need to add a bit more cream, milk, or butter to the potatoes if they are too thick after reheating as well.
What Kind of Potatoes Should I Use for Mashed Potatoes?
Generally, potatoes with a higher starch content like Russets or Yukon Golds produce the fluffiest, creamiest mashed potatoes. They also generally have the mildest flavor that allows you to pair them with herbs, cheeses, and gravies. But waxy potatoes like reds and whites can produce good mashed potatoes if not over mixed. Their lower starch content allows them to turn gummy if mixed too much. Waxy potatoes produce a thicker, less fluffy, but albeit still delicious mashed potato if done right.
Crock Pot Mashed Potatoes: Ingredients
Let's talk about the ingredients I'm using in these mashed potatoes for a minute. Good mashed potatoes don't need a lot of ingredients, but the right ones make all the difference.
Russet Potatoes. I talked a bit about choosing potatoes for mashed potatoes above. I used Russet for this recipe because I knew I wanted the extra starch content that would give me a super creamy and fluffy end product.
Chicken Broth. Traditional mashed potatoes are boiled in water and then mashed. This recipe for slow cooker mashed potatoes cooks the potatoes in chicken broth. The flavor from the chicken broth adds a little extra depth to the finished mashed potatoes without being overpowering, and I love it.
Kosher Salt. I cook almost exclusively with kosher salt. I love that the grain is larger and I can really see and feel how much salt I'm adding, but it's still a flake, so I know it will dissolve easily and won't leave large pieces of salt in my finished recipes.
Garlic. Oh garlic, how I love thee, let me count the ways! If you're not a garlic lover, you can leave it out of this recipe. I'm of the camp that believes everything is better with a bit of garlic-- especially mashed potatoes!
Heavy Cream. Heavy cream is my liquid of choice for mashed potatoes. It may not be the healthiest option, but I definitely feel like it gives me the richest, creamiest potatoes when I use it.
Butter. When making mashed potatoes, I always use salted butter to save me any additional seasoning. Mashed potatoes are one of those dishes that using high-quality butter like Kerrygold will really make a difference because you'll be able to taste it.
I'm kind of excited about this!  Not only do you not use up as many dishes and they cook by themselves, but you also get the added flavor of cooking them in chicken broth. Not to mention that the garlic practically melts and mashes right in with the potatoes giving them just a slight garlic flavor, nothing overpowering though. Garlic + Potatoes = heaven. I'm super glad I've now got one very small part of my Thanksgiving dinner planned... here's to at least 106 other things! 🙂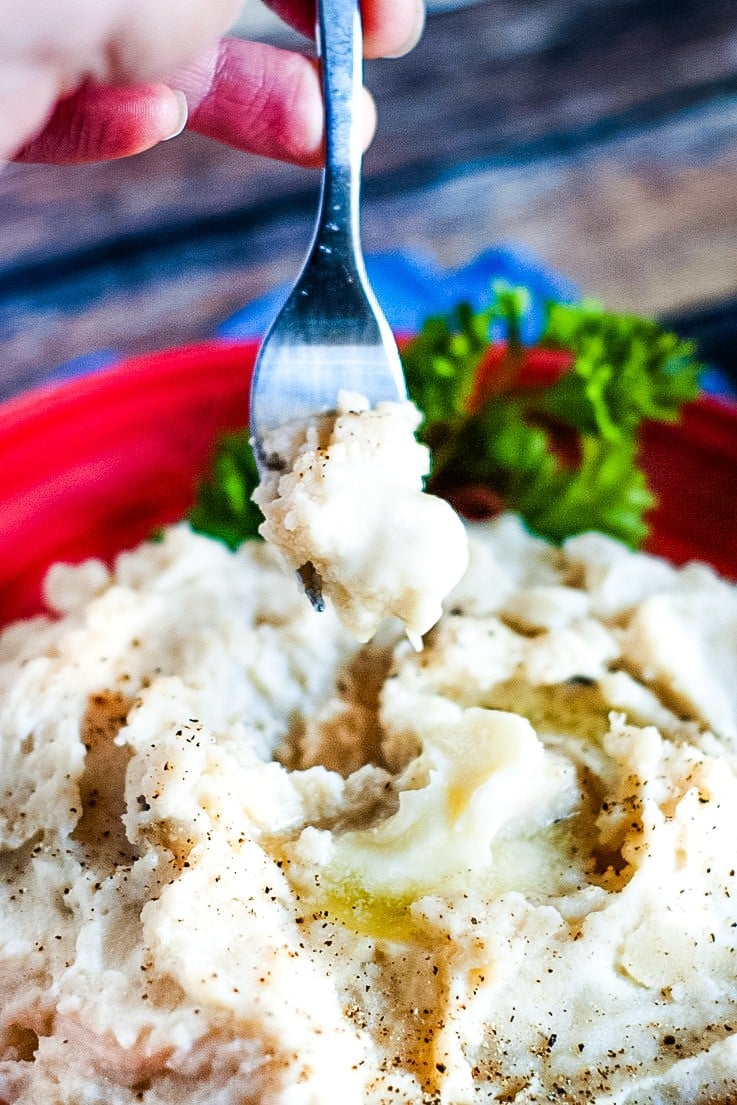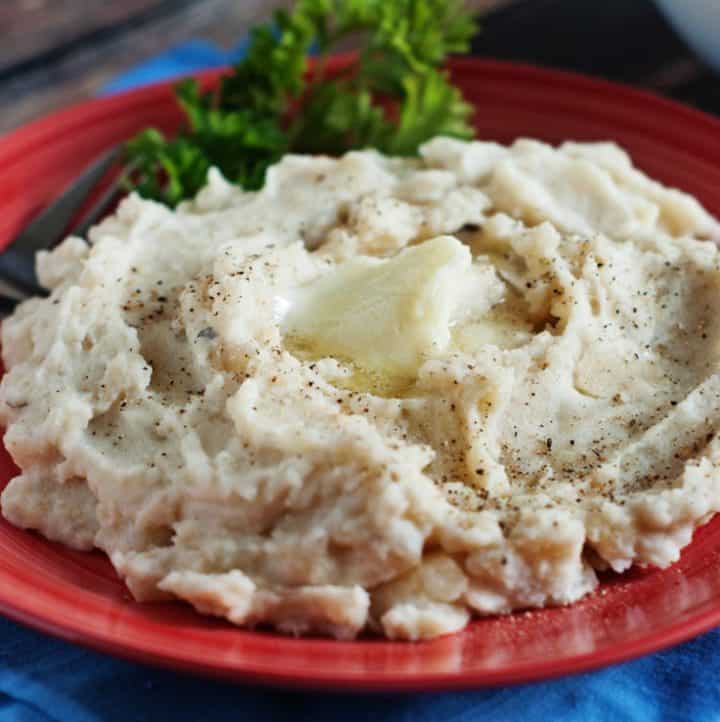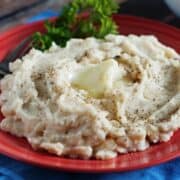 Super Creamy Slow Cooker Mashed Potatoes
These Crock Pot Mashed Potatoes are super creamy and full of flavor thanks to the addition of chicken broth and garlic!
Print
Pin
Rate
Ingredients
5

pounds

russet potatoes

peeled and diced

2

cups

chicken broth

1

teaspoon

kosher salt

4

cloves

garlic

smashed

¾-1 ½

cups

cream

2

tablespoons

butter

melted

salt and pepper to taste
Instructions
Place potatoes, chicken broth, salt and garlic in a slow cooker and cook on HIGH for 4 hours or 6 hours on LOW or until the potatoes are cooked through and very tender.

Use a potato masher to mash potatoes to desired smoothness and stir in cream and butter. Use more or less cream depending on how creamy you'd like them. Season with salt and pepper to taste.
Nutrition Facts
Serving:
1
serving
|
Calories:
382
kcal
|
Carbohydrates:
53
g
|
Protein:
7
g
|
Fat:
16
g
|
Saturated Fat:
10
g
|
Cholesterol:
58
mg
|
Sodium:
559
mg
|
Potassium:
1263
mg
|
Fiber:
3
g
|
Sugar:
1
g
|
Vitamin A:
635
IU
|
Vitamin C:
21
mg
|
Calcium:
67
mg
|
Iron:
2.6
mg
ARE WE FRIENDS ON INSTAGRAM?
Tag me @heatherlikesfood and use #heatherlikesfood so I can see what you're making and enjoying!