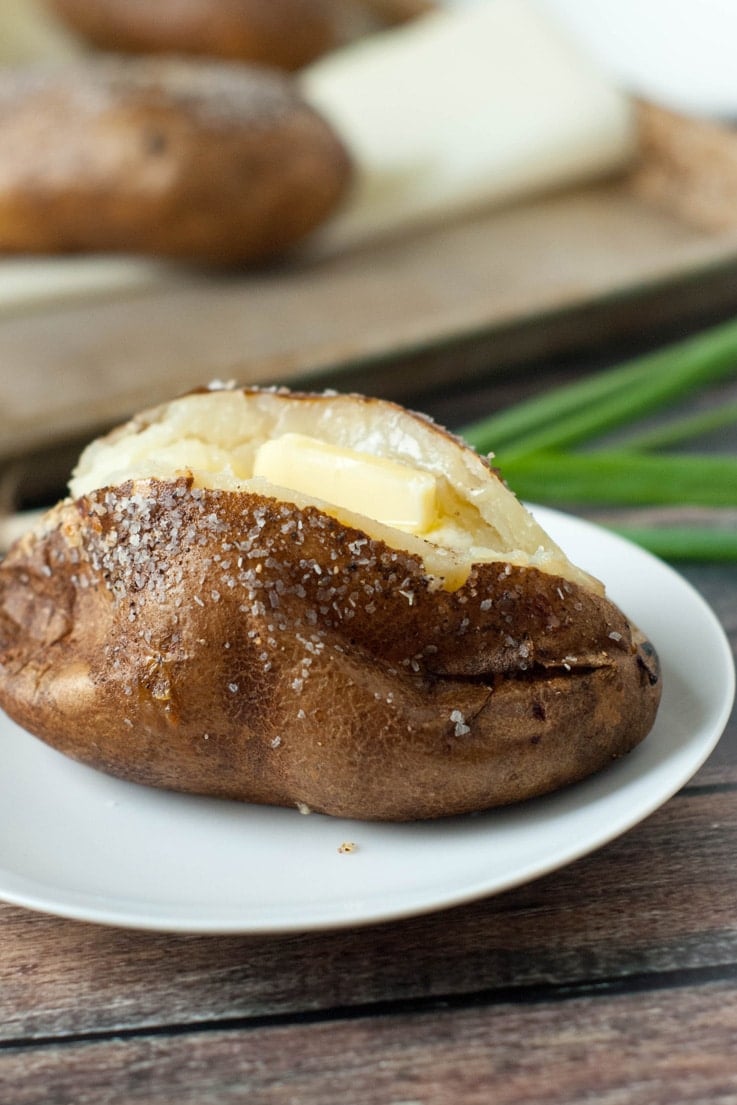 Back before I went to cooking school, I was working a job as a server for the university catering service. On one uneventful afternoon, I walked into the kitchen to find one of the chefs elbow deep in a giant metal bowl full of oil covered baking potatoes. I was confused. I'd seen potatoes be tossed in oil once they were cut up, but whole potatoes? He then poured in a whole bunch of salt and pepper and continued to toss them around until they were all shiny and crusted with seasoning. I finally ended up asking him what the heck he was doing and he told me we has getting ready for a steak dinner we were catering later that night. He explained that the oil kept the potatoes moist while the salt and pepper made them look pretty and taste good. Made sense.
Not long after this conversation was had I was taken on a date to Outback Steakhouse. And, lo and behold, they had they same salt and pepper crusted baked potatoes! And they were good. Really good.
Fast forward like 13 years, this still the only way I like to eat my baked potatoes. They turn out so fluffy and moist and the skin is slightly crisp and seasoned and just perfect.
Now, a lot about how well a baked potato turns out has to do with the actual potato itself. You can't bake a red potato and expect it taste like a steakhouse potato, because it's not. Each variety of potato has a different moisture content and for these baked potatoes we want one that is dry and mealy-- the Russet! They are pretty big and can be found at all grocery stores. My store calls them "Baking Potatoes" instead of Russets but if they're big and look like your stereotypical potato, that's it.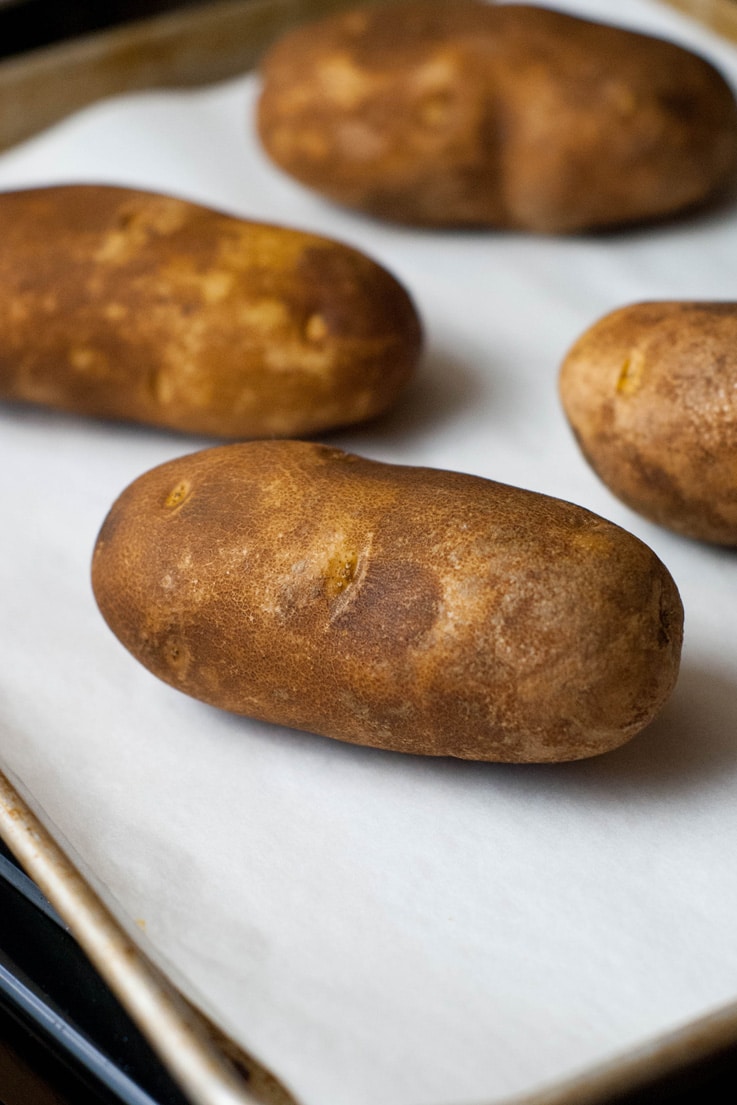 Wash your potato really well and then dry it really well too so that you can brush a layer of oil over the entire thing. The chef from my story dumped all of the potatoes into a bowl and tossed them with the oil and seasoning but since you're likely not making 30+ potatoes at once, this method uses less dishes. 🙂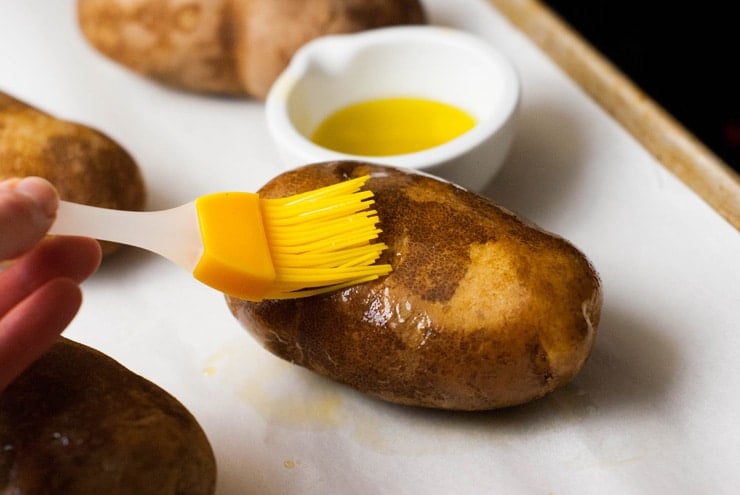 The kind of salt you use matters too. Kosher salt is a large flake which means you'll be able to see it well on the potato as well as really feel the texture and crunch of it when eating.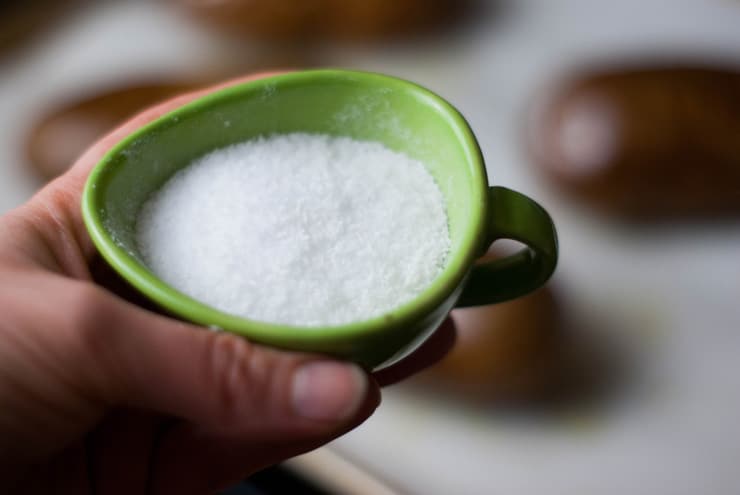 Sprinkle some kosher salt and pepper on the top half of each oil covered potato. You can do the underside if you wanted to, but it's not necessary.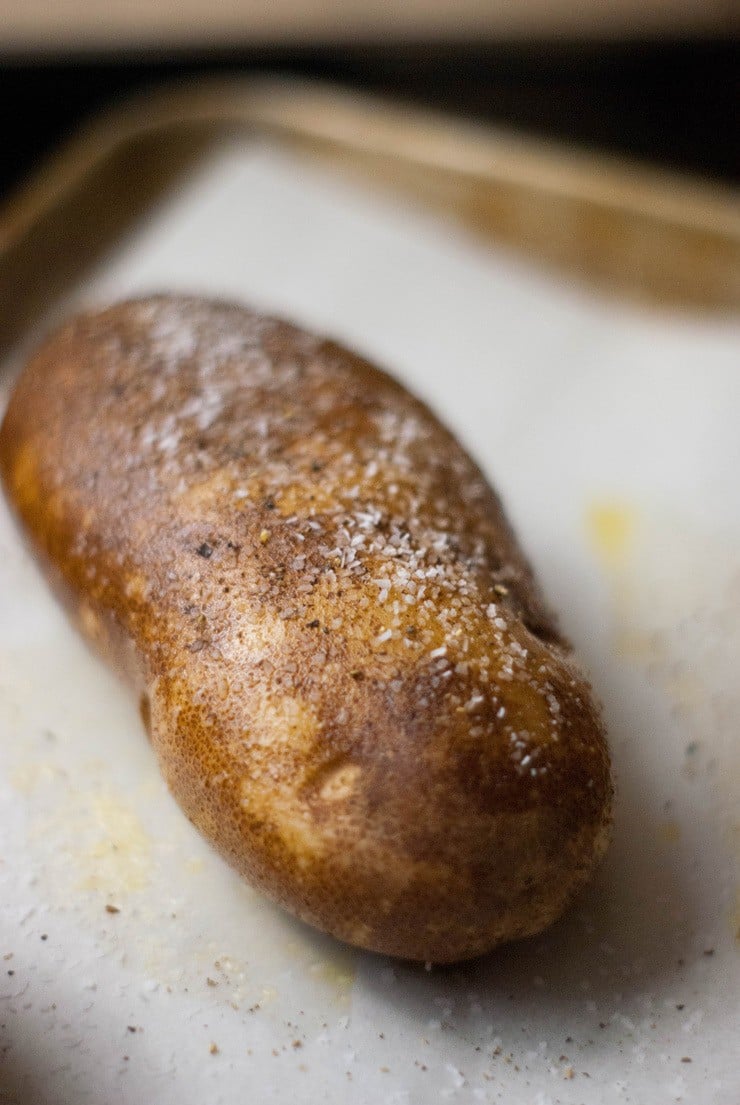 From here all you do is pop them into a 375 degree oven for about an hour. Based on the size of the potato and your oven the time will vary. The potato is done when you can easily pierce it with a fork .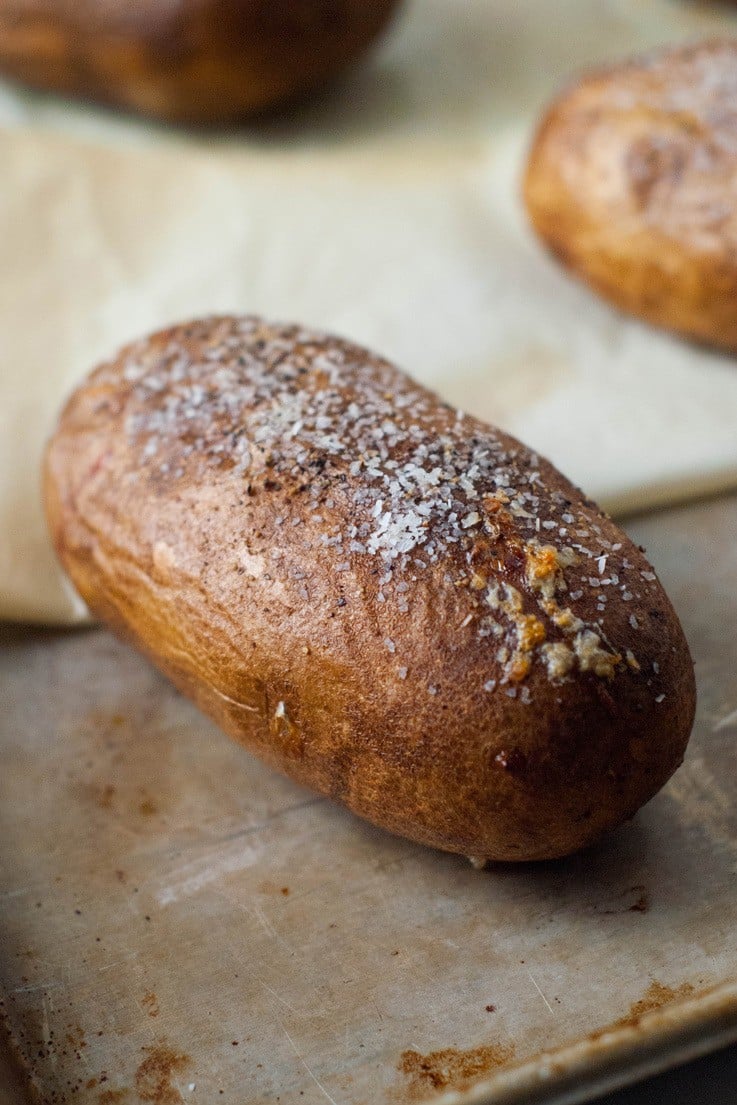 Isn't it pretty? Now all you have to do is smother the thing in butter and sour cream for the absolute perfect baked potato. Easy huh?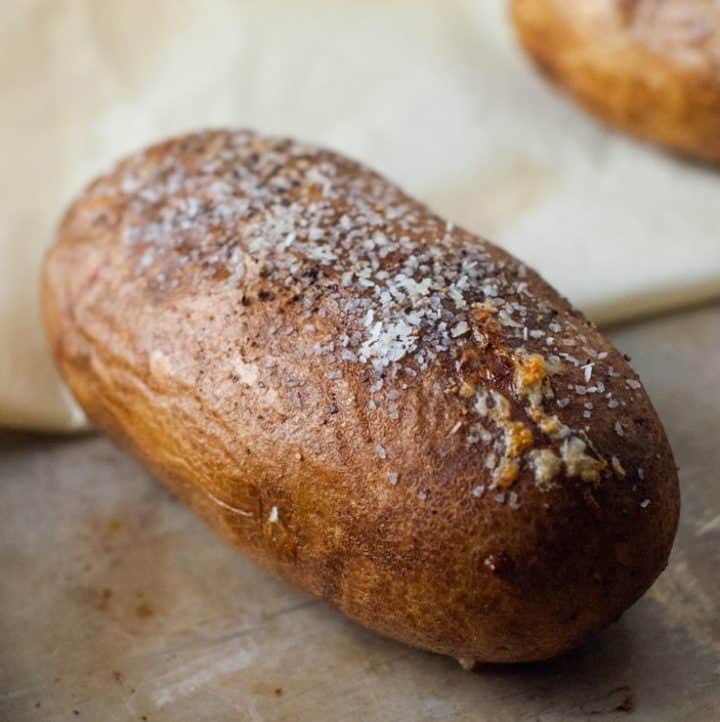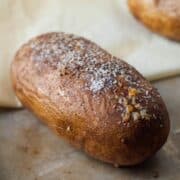 Steak House Baked Potatoes
Do you ever crave a good, fluffy baked potato like you get a expensive steakhouses? Now you can make them at home! They are super simple, easy and will impress
Print
Pin
Rate
Ingredients
6

Russet Baker Potatoes

¼

cup

Vegetable Oil of Choice- I used olive

kosher salt

black pepper
Instructions
Wash and dry each potato. Brush a layer of oil over the entire surface of each potato. Sprinkle salt and pepper over the top portion of each potato. Bake at 375 degrees for about an hour or until it pierces easily with a fork.
Nutrition Facts
Serving:
1
potato
|
Calories:
1218
kcal
|
Carbohydrates:
158
g
|
Protein:
32
g
|
Fat:
55
g
|
Saturated Fat:
7
g
|
Sodium:
128
mg
|
Potassium:
5278
mg
|
Fiber:
31
g
|
Vitamin C:
145.7
mg
|
Calcium:
383
mg
|
Iron:
41.7
mg
ARE WE FRIENDS ON INSTAGRAM?
Tag me @heatherlikesfood and use #heatherlikesfood so I can see what you're making and enjoying!