These Sandwiches are made with the best homemade sloppy joe sauce. It's tangy, saucy and sweet, with just a little bit of a kick– it's my favorite sloppy joe recipe, and I hope it will become yours, too!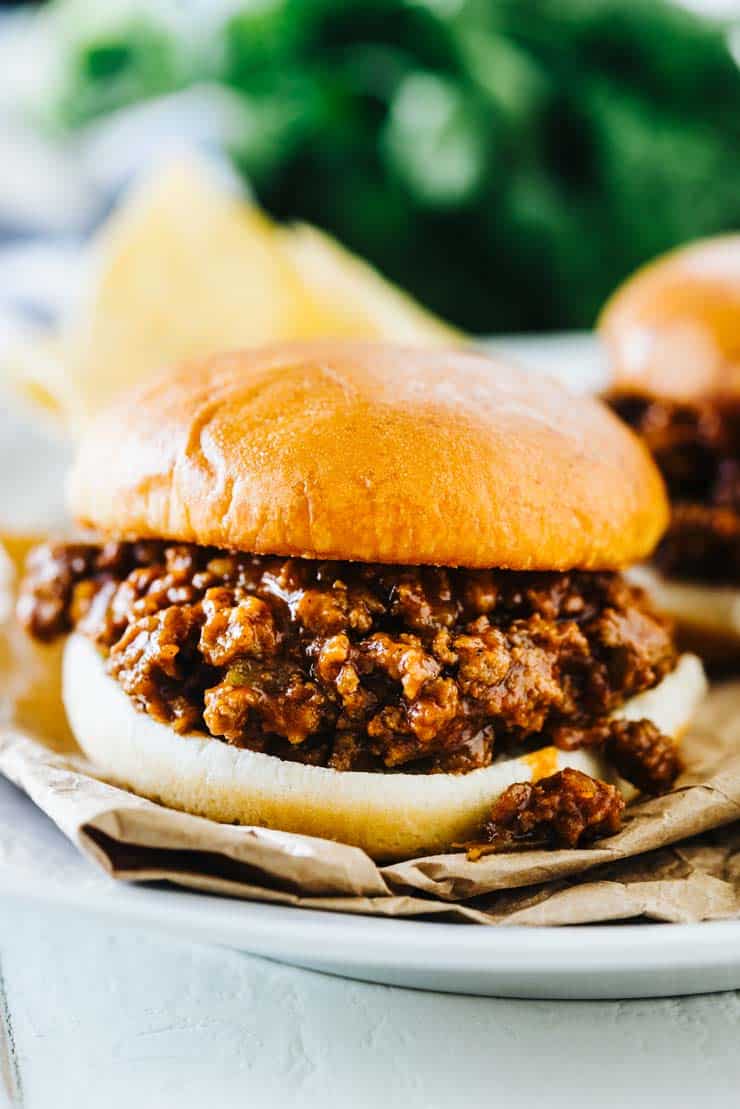 The Best Sloppy Joe Recipe
I have a thing for sloppy joes–  like a big thing. You might even call it love. I don't know what it is, but there's just something about their tomato-y, sweet, and tangy goodness that keeps me falling for them again and again. This sloppy joe sauce recipe is one that I've had in my recipe box for a long, long time.
In fact, these sloppy joes were one of the first recipes I posted on this here website about seven years (!) ago. I can't believe I've been at this for SEVEN years, guys. We've lived a lot of life the last seven years, and it's been so fun to have this website during that time.
I've gotten away from talking about my family life here as I want the recipes and how to cook those recipes to be in the forefront, but I thought I'd give a little update for those of you that have been long-time followers.
We moved to Utah last August so the hubs could complete an internship to finish out his PsyD. We miss Portland terribly and can't wait to get back, but it's been fun to live near some family for the time we've been here. The plan is to move back this coming summer (2018), but we'll see. I've learned not to make too many concrete plans over the years. 🙂
After GRADUATION (I can't even believe it's really happening!), the hubs will work as a clinician somewhere, and we'll hopefully be able to settle the kids down somewhere at least semi-permanently. We're all kind of tired of moving at this point.
Other than that, the kids are happy and healthy at 11, 7 and three years old. They keep me busy and always laughing at the messes they make or dance routines they choreograph. The most recent was between the 7 and 3-year-old– a re-enactment of Dirty Dancing's final dance scene, running lift and all. I miiiight have helped with that one just a bit.
So, let's get right to the recipe, shall we?
How to Make Sloppy Joes From Scratch
Sloppy Joes are usually attributed to that highly processed sugar-laden sauce you find in a can. And you'd think that since they sell the sloppy joe sauce in a can, it must be hard to make! Nope. This couldn't be further from the truth!
If you've never had a homemade sloppy joe, now is the time! They are really easy to make and taste SO MUCH BETTER than anything you can get out of a can. My kiddos love them, and they are an easy, budget-friendly meal.
Step 1.) Choose your Meat
This sloppy joe sauce works well with both ground beef and turkey. I'm not a huge fan of ground chicken, so I've never tried it, but if you do and it turns out well, let me know! Onc
Step 2.) Make the Sauce
The sauce includes brown sugar, chili powder, mustard, onion, vinegar, ketchup, Worcestershire sauce, tomato sauce, and my secret ingredient, diced green chilies. After you brown the meat just add all the sauce ingredients to the pan and let cook!
Step 3.) Simmer WELL
The longer you can simmer the sauce, the better! I'm usually making sloppy joes because I'm in a time crunch and need something quick, but if you have the time, let it simmer away to let all the flavors develop and meld together. Or use the slow cooker method below.
Step 4.) Toast Them Buns!
Brush buns with melted butter and place face up under the broiler for just a minute (watch closely!). The toasted, buttered buns hold the sloppy joe sauce better and add texture and flavor.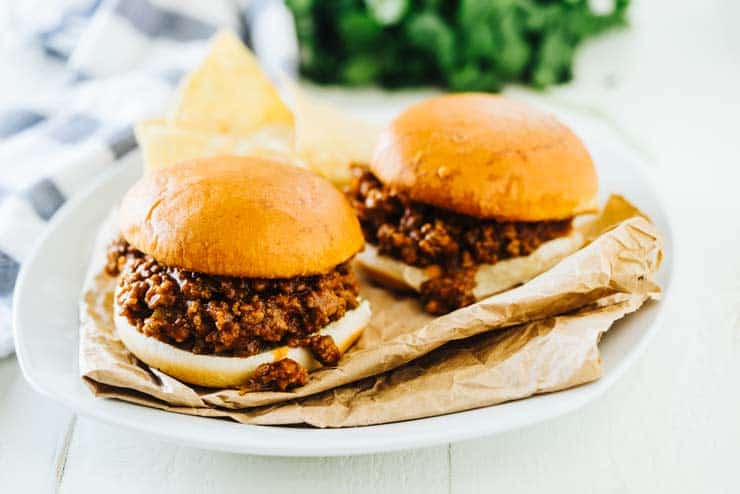 How to Make Sloppy Joes In the Slow Cooker
If you'd like to make this recipe in the slow cooker, brown the meat with the onion, drain off the fat, and stir with the remaining sloppy joe sauce ingredients in the slow cooker. Cook on high for at least an hour or low for 2 hours. It can be left in there longer if you'd like.
Cooking for a crowd? Make Sloppy Joes!
Sloppy joes make a great meal for any size crowd because they are budget-friendly and super easy to make. The best way to make them for a crowd is using the slow cooker method above. For more fun, create a sloppy joe bar using the topping suggestions below.
Need to know how much to make?  When cooking for a crowd, it can be hard to figure out how much food to purchase– especially meat! This recipe makes six good-sized sandwiches so if you need to make sloppy joes for 50, you'll need to multiply the recipe by 8 and buy 8 pounds of ground meat.  One good rule of thumb is is to estimate about 2 and a half ounces of raw meat per person when dealing with ground meat.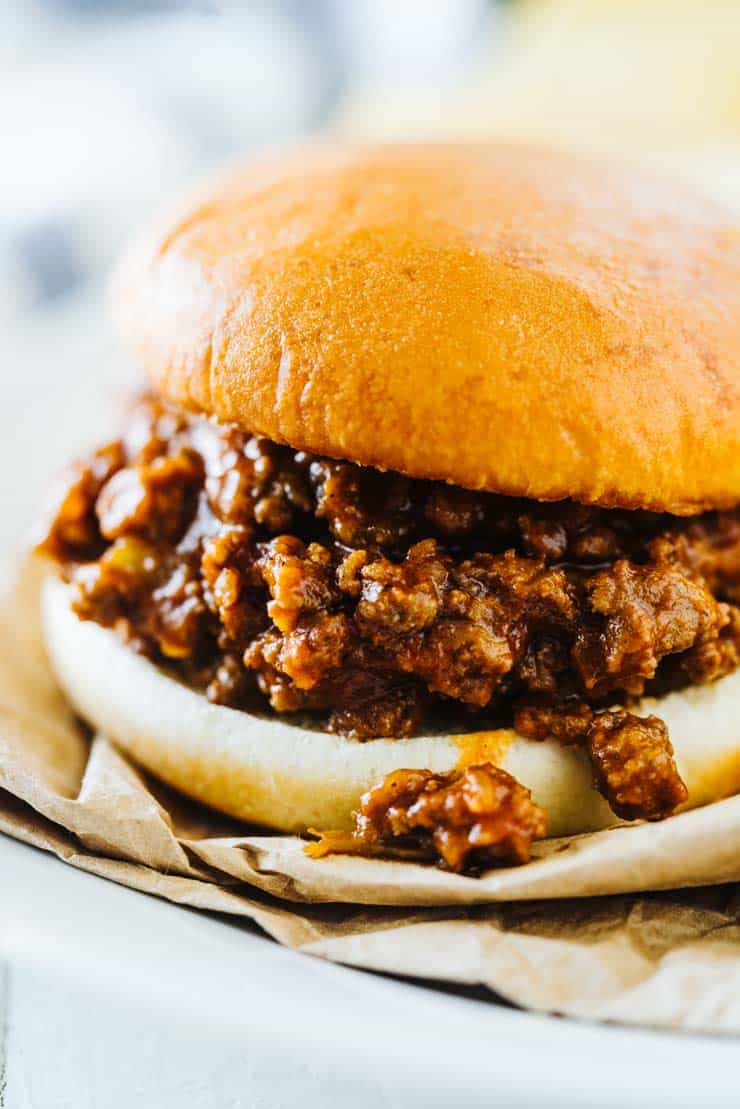 Sloppy Joe Toppings
Want to make this sloppy joe recipe super special? Make a sloppy joe bar! It's the perfect way to dress up these basic sandwiches and makes a fun and easy dinner for a crowd. Here are some of my favorite toppings:
Thinly sliced red onion
Dill pickle chips
Yellow Pepper rings
Crispy bacon slices
French-fried onions (like those you put on green bean casserole)
Sliced Cheese- cheddar, pepper jack, muenster, American
Sour Cream
Potato Chips or Fritos
Other ways to Use Sloppy Joe Sauce
Don't feel like you have to be bound to a hamburger bun! This Sloppy Joe Sauce Recipe can be used for many things. The sauce is slightly sweet and is similar to a BBQ sauce. It's great served over a baked potato or even used as a topping for "Nachos." Or make a "sloppy Dog" and top a hot dog with it like you would a chili dog.
How Did Sloppy Joes Get their name anyway?
Sloppy Joes originated in Sioux City, Iowa by a cook named Joe in the 1930's. Loose-meat sandwiches like Sloppy Joes were a popular staple at casual lunch-counter restaurants and were known to be sloppy and messy to eat. Albeit, tasty. (Wikipedia)
Want more easy sandwich recipes?
Tools used in making this Sloppy Joe Sauce
Anolon Nouvelle Copper Non-stick Pans: These non-stick pans are metal utensil safe and last a long time. I've been using Anolon's pans exclusively for the past five years and am still in love with them!
The Chop Stir: This strange little tool makes short work of browning ground meat with the odd shape that allows it to crumble the meat quickly as it cooks.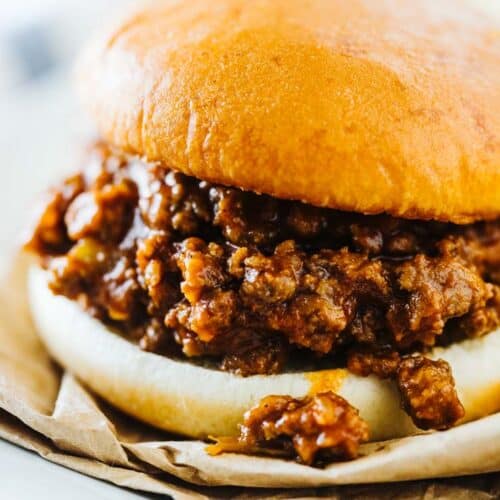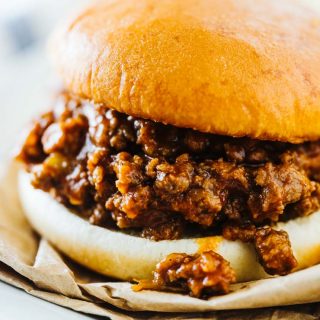 The Best Sloppy Joe Sauce
This recipe seriously makes the best sloppy joes! It's tangy, saucy and sweet, with just a little bit of a kick-- it's my favorite sloppy joe recipe and I hope it will become yours, too!
Print
Pin
Rate
Ingredients
1

pound

lean ground beef or turkey

4

ounces

canned diced green chiles

1/2

teaspoon

kosher salt

2

tablespoons

brown sugar

1/2

tablespoon

chili powder

1

teaspoon

mustard

1

small onion

finely chopped

1

tablespoon

apple cider vinegar

1/2

cup

ketchup

2

tablespoon

Worchestershire Sauce

8

ounces

tomato sauce

4

hamburger buns
Instructions
Heat a large skillet over medium-high heat. Add hamburger and onion, cooking and crumbling the meat until no longer pink.

Remove meat from pan and place on a plate lined with paper towels or bags to drain off the excess fat.

Once drained, put the meat back into the skillet and add all remaining ingredients. Stir until combined and let simmer 10-15 minutes or until slighlty thickened.

Serve on toasted hamburger buns with a slice of cheese if you'd like.
Nutrition
Calories:
244
kcal
|
Carbohydrates:
28
g
|
Protein:
20
g
|
Fat:
5
g
|
Saturated Fat:
2
g
|
Cholesterol:
46
mg
|
Sodium:
863
mg
|
Potassium:
547
mg
|
Fiber:
2
g
|
Sugar:
12
g
|
Vitamin A:
490
IU
|
Vitamin C:
11.6
mg
|
Calcium:
81
mg
|
Iron:
3.7
mg
Nutrition and Food Safety Disclosure