Today we're talking about baking chicken breasts to moist, juicy perfection, smothering them in BBQ Sauce and consuming immediately! Are you ready for this deliciousness?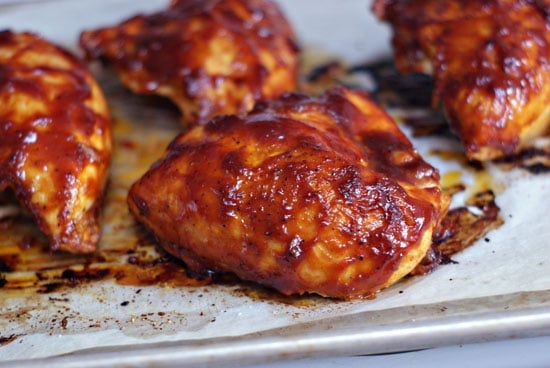 A well baked chicken breast is, in my opinion, hard to find. Even at the best restaurants it seems like chicken is kind of the implanted  "safe food" on the menu for the unadventurous and takes a back seat when it comes to quality preparation.
Well, not today friends. Today we're talking about baking chicken breasts to moist, juicy perfection. And while we're focusing on smothering it in BBQ sauce, this preparation can be used on just about any flavor chicken you can dream up. Just marinade, season, bake, and enjoy.
The key to this oven baked BBQ chicken is to start with bone-in, half chicken breasts. Boneless and skinless chicken has it's place in the poultry kingdom, but not here. We want the bone because it keeps the meat from drying out and imparts excellent flavor. Since we're smothering this chicken in BBQ sauce, I'm going to take the skin off but I often leave it on if I'm cooking it without a sauce. Leaving it on will naturally baste the chicken as it cooks and also crisps up nicely if you like that sort of thing. I'm kind of a skin hater so even if I leave it on to cook I rarely eat it.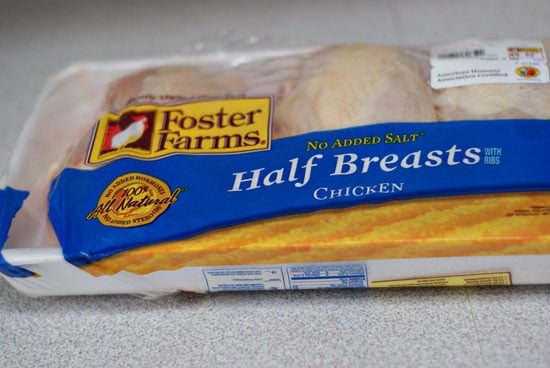 Next up is the marinade. I'm using a combo of olive oil, lemon juice, smoked paprika (for that smoky BBQ flavor) and minced garlic.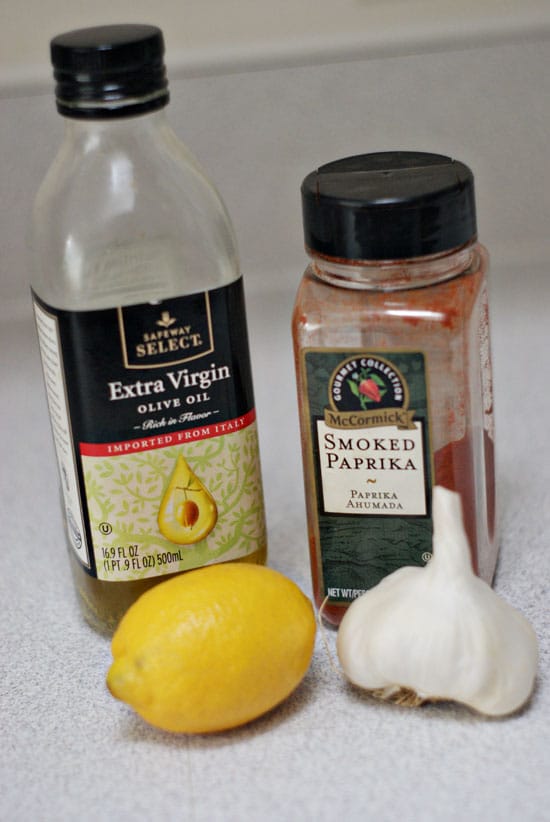 Mix up the marinade and pour over the chicken in a ziplock bag. I clearly ran out of bags so I had to improvise and use a produce bag. It worked in a cinch but I won't recommend you try it. Bones + thin plastic + ewwie chicken juice = a mess in my fridge. Just use a regular bag, please. I use a bag as opposed to a bowl because you don't have to use very much marinade to cover the chicken and it seems to marinade more evenly.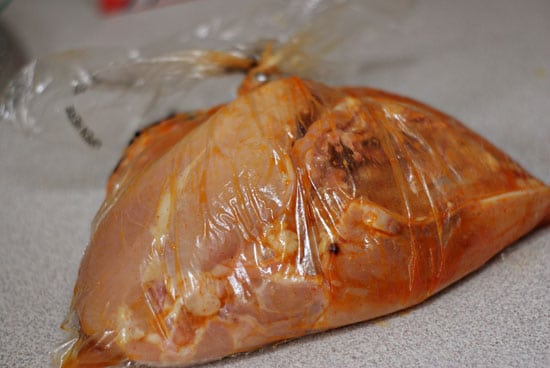 Place the chicken in the fridge for at least and hour or up to overnight. Going much past 24 hours could result in some funny-textured chicken though. Take the chicken out of the marinade and place on a baking sheet. Season with liberally with kosher salt and pepper and pop in a 350 degree oven for 20 minutes.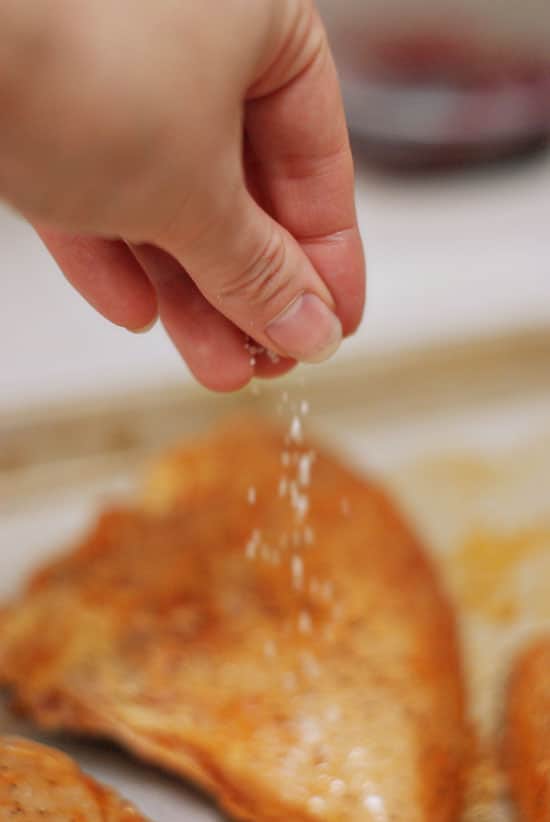 After 20 minutes your chicken will be about half-way done depending on the size of the breast. Brush each breast with your favorite BBQ sauce and return to the oven.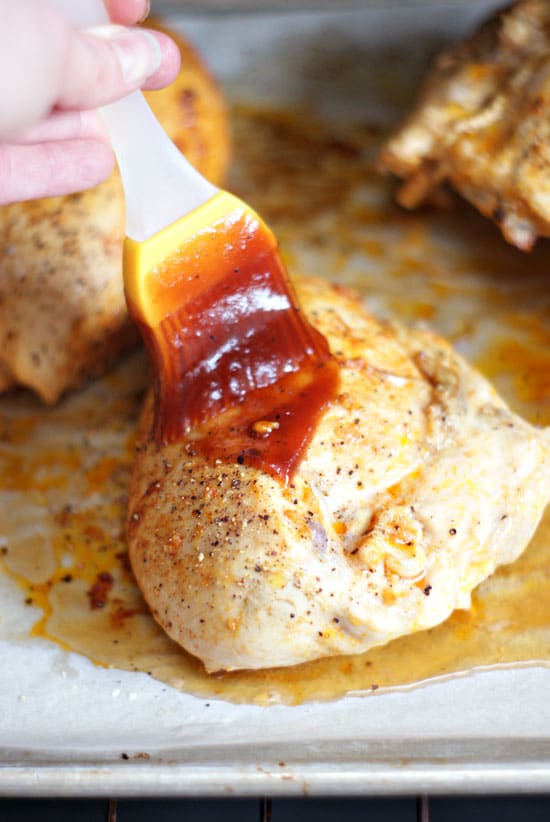 Repeat the application of BBQ sauce to the chicken every 5 minutes until the chicken is cooked through. Standard chicken breasts take a total of 35-40 minutes, so 4-5 brushings with the sauce should do ya. If you have a thermometer, insert it into the thickest part of the breast and remove from the oven when it hits 165 degrees F.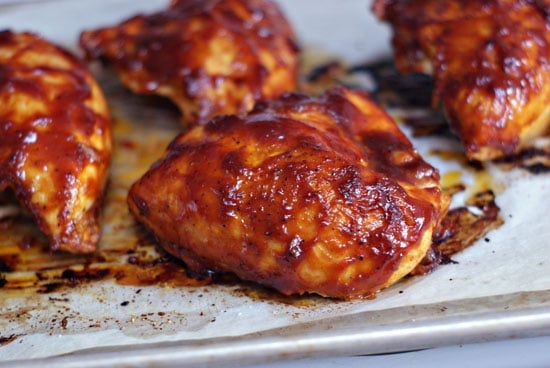 Taking the time to apply the sauce to the chicken at 5 minute intervals results in a deliciously sticky, glazed exterior that makes me want to lick my fingers just thinking about it.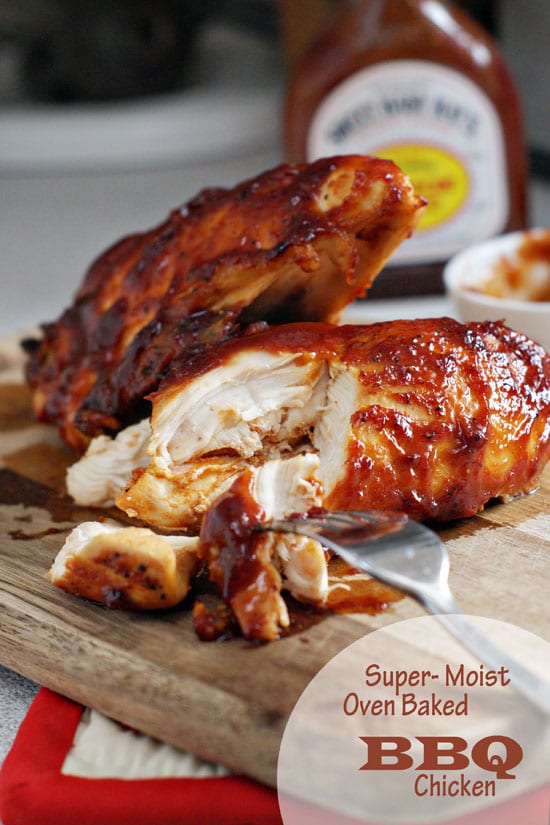 If you're looking for great place to get your chicken from, we love using Butcher Box. They deliver healthy 100% grass-fed beef, organic chicken, and heritage breed pork directly to your door. Most people setup monthly deliveries but you can also do every other month or every 3 months. Each box comes with about 8.5 lbs of meat and the price works out to less than $6.50/meal (at a 5 – 8oz portion size). Try a box today at butcherbox.com and you'll get a free package of bacon with your first order. You can cancel anytime if you're not a fan. But we think you'll dig it.
Ingredients
4,

bone-in Chicken Breast Halves

3

tbsp olive oil

1 1/2

tsp smoked paprika

2

tbsp fresh lemon juice

3

cloves garlic, minced

1/2-3/4

tsp kosher salt

pepper to taste

1

C favorite prepared BBQ sauce
Instructions
Remove skin from chicken breast halves and place in a large ziplock bag.
Combine olive oil, smoked paprika, lemon juice, and garlic in a small bowl and pour over chicken.
Let chicken marinade for at least an hour, up to 24 in the fridge.
Preheat oven to 350 degrees
Remove chicken from bag and place on a baking sheet. Season with salt and pepper.
Bake for 20 minutes and brush a layer of BBQ sauce on the chicken. Return to the oven and repeat brushing with BBQ sauce every 5 minutes until the chicken is cooked through, about 15 to 20 minutes longer. Chicken is done when it reaches an internal temperature of 165 degrees F when read with a thermometer inserted into the thickest part of the breast.

Made this recipe?
I'd love to see how you rocked it! Share your photo on Instagram with the hashtag
#heatherlikesfood  --
It will totally make my day to see it!
Love BBQ? These recipes might hit the spot too…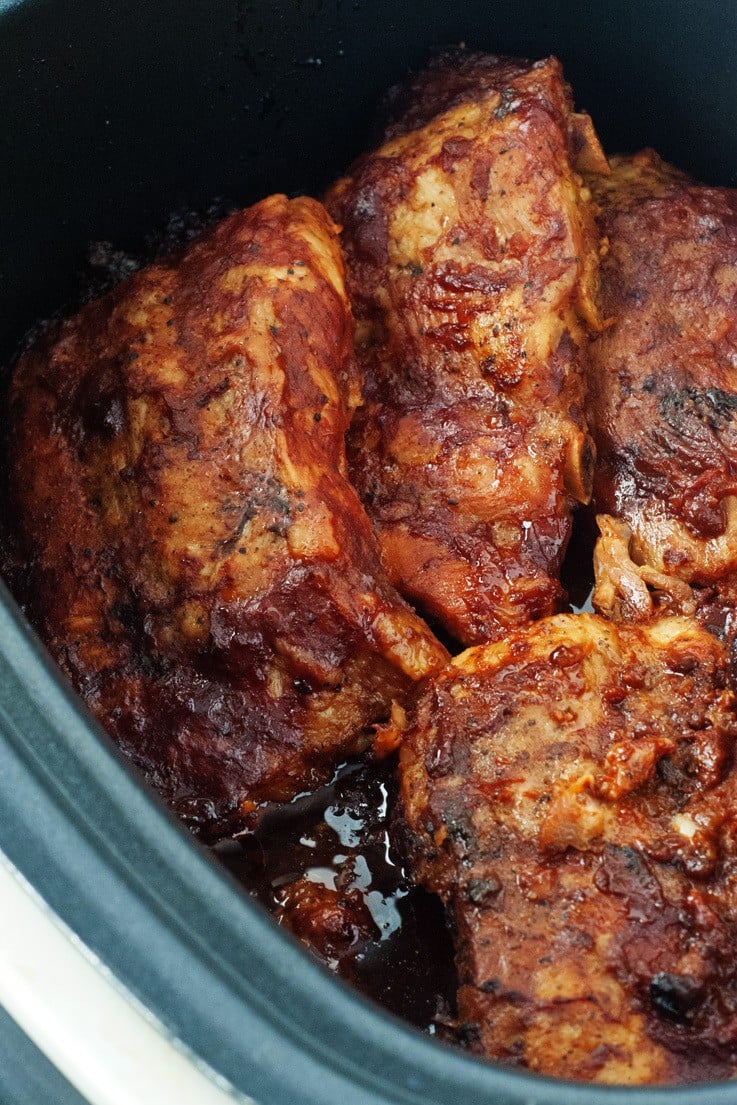 Slow Cooker BBQ Chicken Taco Salad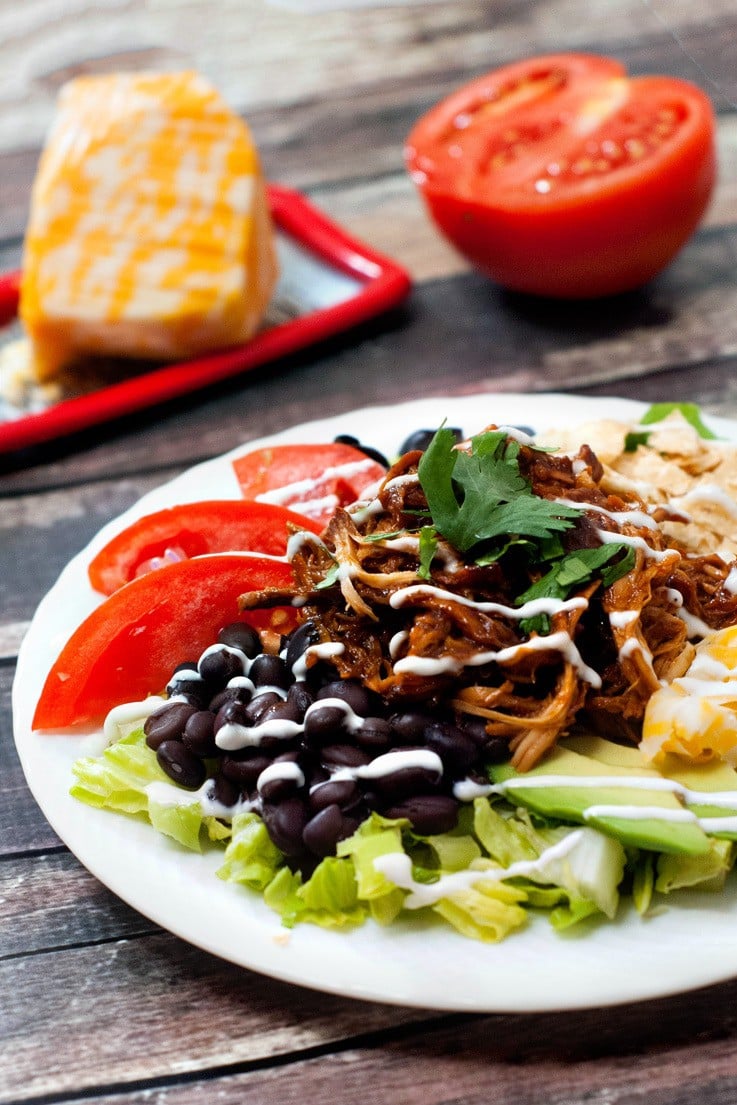 One Pan BBQ Chicken Sandwiches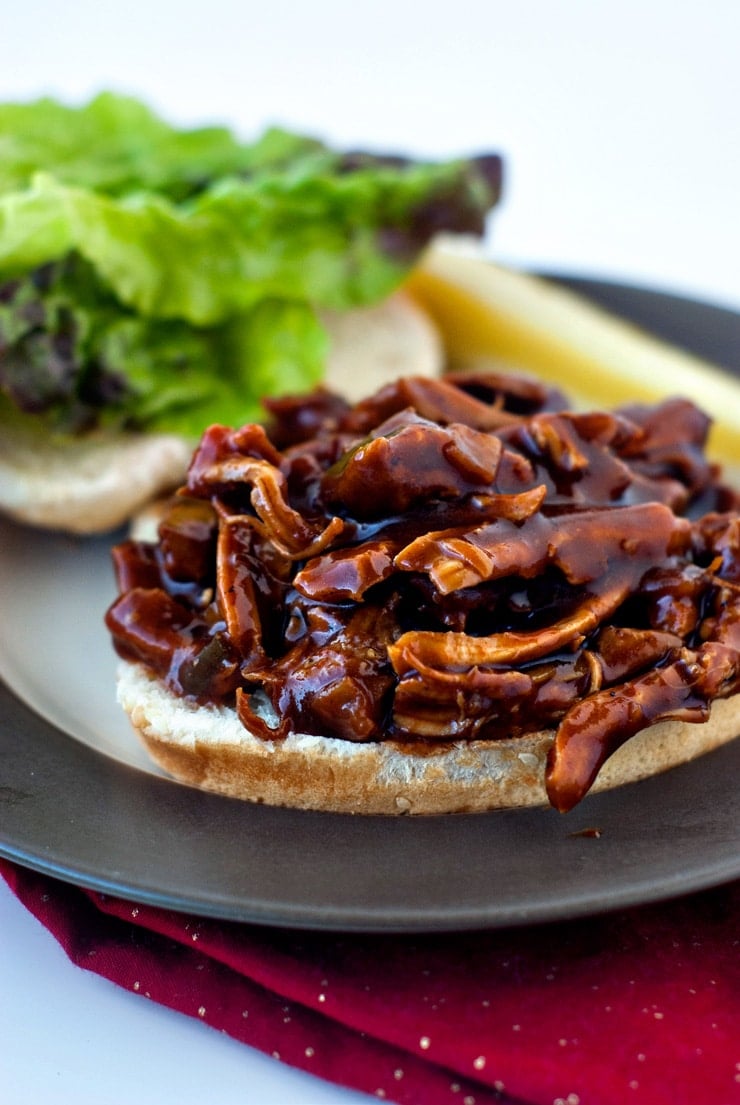 Slow Cooker Blackberry BBQ Pulled Pork