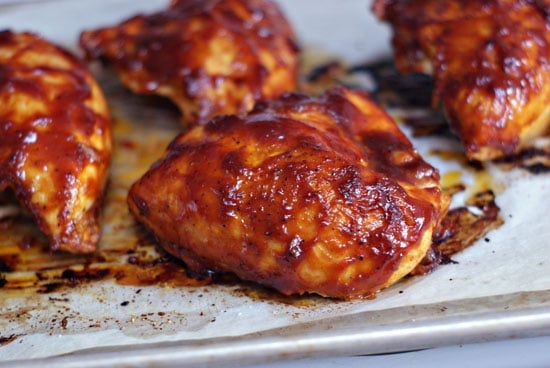 Today we're talking about baking chicken breasts to moist, juicy perfection, smothering them with BBQ Sauce and consuming immediately! Are you ready for this deliciousness?
Today's recipe for chicken is moist and juicy. And while we're focusing on smothering it with barbecue sauce, this preparation can be used on just about any flavor chicken you can dream up. Just marinate, season, bake and enjoy.
Why This Recipe Works
In a nutshell, this recipe uses bone-in chicken breasts and a flavorful marinade. Both of these things help the chicken stay moist and juicy while cooking in the oven. Then, you'll brush the chicken with bbq sauce during the last few minutes of cooking so that it forms a sticky bbq sauce topping and makes the chicken irresistible.
BBQ Chicken vs. Grilled Chicken
When someone says "bbq chicken" you think one of two things, right? There's the barbeque chicken that is cooked on a grill or smoker and there's the chicken that is baked in the oven with barbecue sauce. This recipe is the latter. If you'd like some recipes for grilled chicken, try this Gorgeous Grilled Chicken recipe, my Garlic Ranch Chicken Marinade, or my go-to recipe for Basic Grilled Chicken.
What Kind of Chicken Should I Use?
The key is to start with bone-in, half chicken breasts. Boneless and skinless chicken has its place in the poultry kingdom, but not here. We want the bone because it keeps the meat from drying out and imparts excellent flavor. Since we're smothering this chicken with BBQ sauce, I'm going to take the skin off, but I often leave it on if I'm cooking it without a sauce. Leaving it on will naturally baste the chicken as it cooks and also crisps up nicely if you like that sort of thing. I'm kind of a skin hater so even if I leave it on to cook I rarely eat it.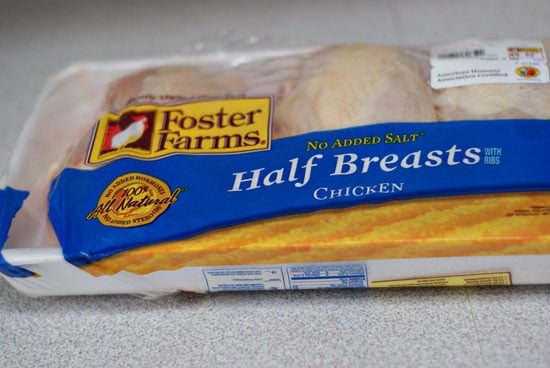 The Key To Moist, Flavorful BBQ Chicken
Marinating is all about adding flavor and moisture to the meat. I'm using a combo of olive oil, lemon juice, smoked paprika (for that smoky BBQ flavor), and minced garlic. If you don't have smoked paprika, I definitely suggest you get some! It has such good flavor and gives a nice smoky flavor to anything you add it to.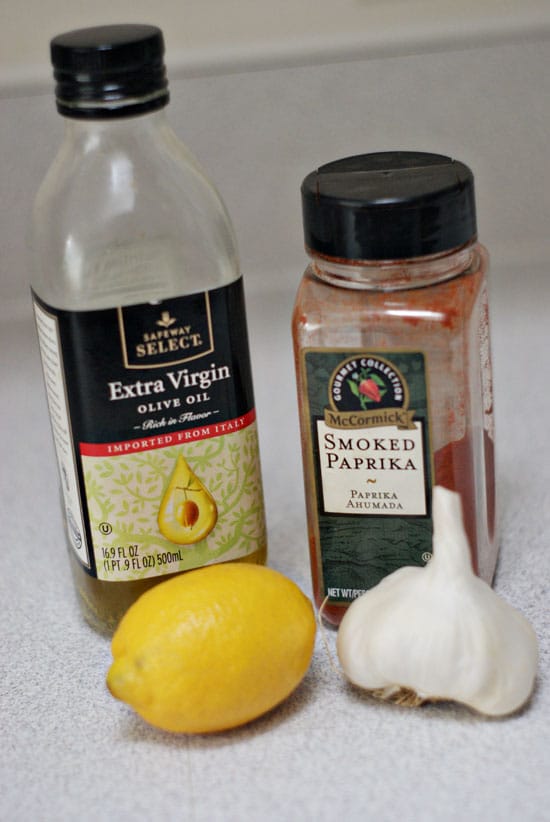 How To Make Oven Baked BBQ Chicken
Step 1.
Start by mixing up the marinade and pouring over the chicken in a ziplock bag. I use a bag as opposed to a bowl because you don't have to use very much marinade to cover the chicken and it seems to marinate more evenly. Place in the fridge.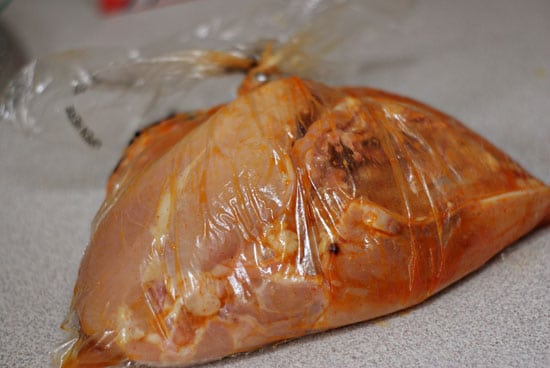 Step 2.
Place the chicken in the fridge for at least an hour or up to overnight. Allowing the chicken to marinade past 24 hours could result in some funny-textured chicken though.
Step 3.
Take the chicken out of the marinade and place on a baking sheet. Season with liberally with kosher salt and pepper and pop in a 350-degree oven for 20 minutes.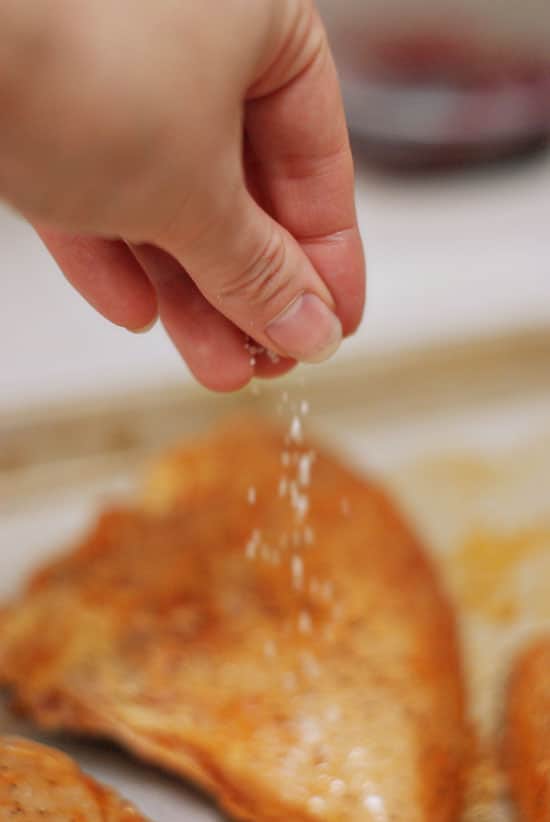 Step 4.
After 20 minutes your chicken will be about half-way done depending on the size of the breast. Brush each breast with your favorite Barbecue sauce and return to the oven.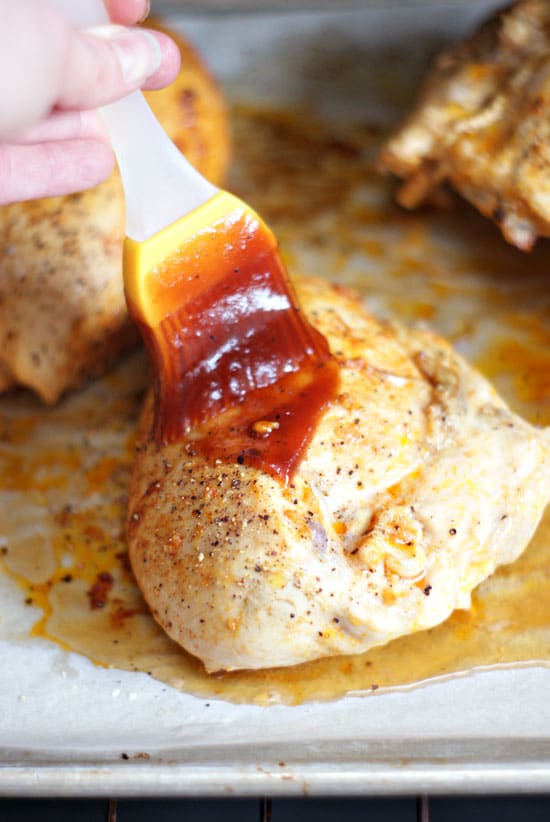 Step 5.
Repeat the application of BBQ sauce to the chicken every 5 minutes until the chicken is cooked through. Standard chicken breasts take a total of 35-40 minutes, so 4-5 brushings with the sauce should do ya. If you have a thermometer, insert it into the thickest part of the breast and remove it from the oven when it hits 165 degrees F.
How do I get that sticky-sweet caramelized sauce on my bbq chicken?
Taking the time to apply the sauce to the chicken at 5-minute intervals while baking results in a deliciously sticky, glazed exterior that makes me want to lick my fingers just thinking about it.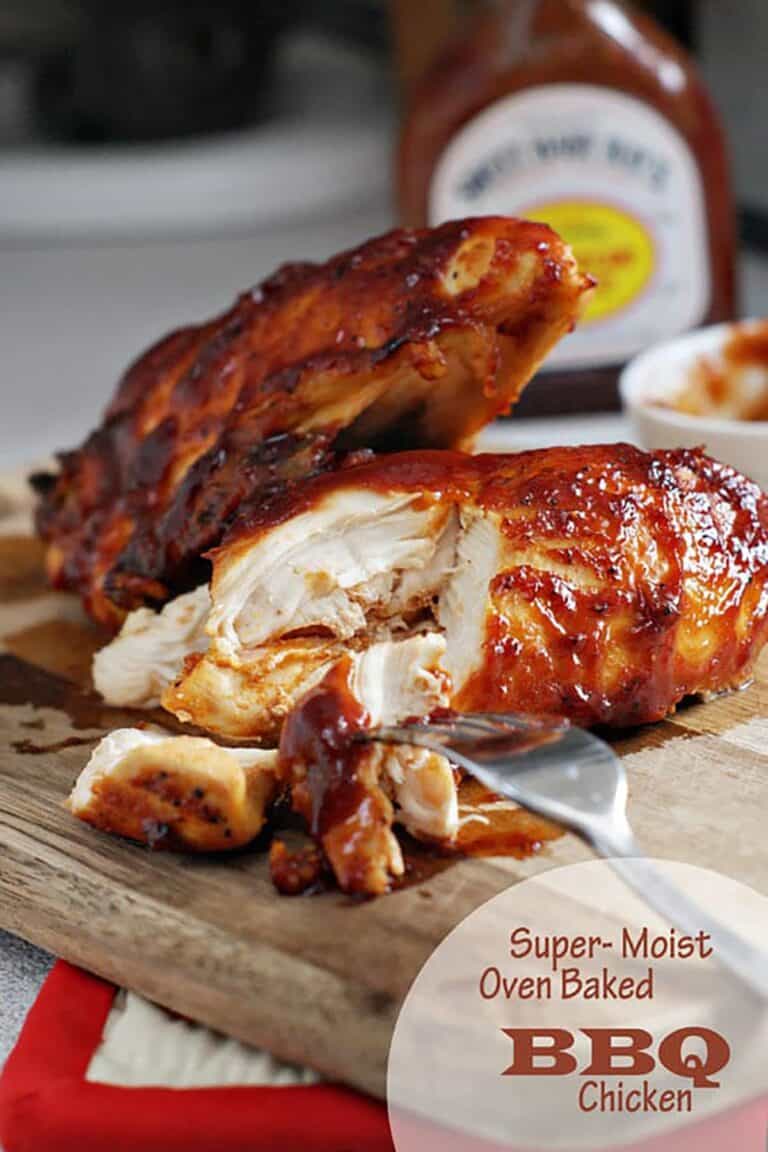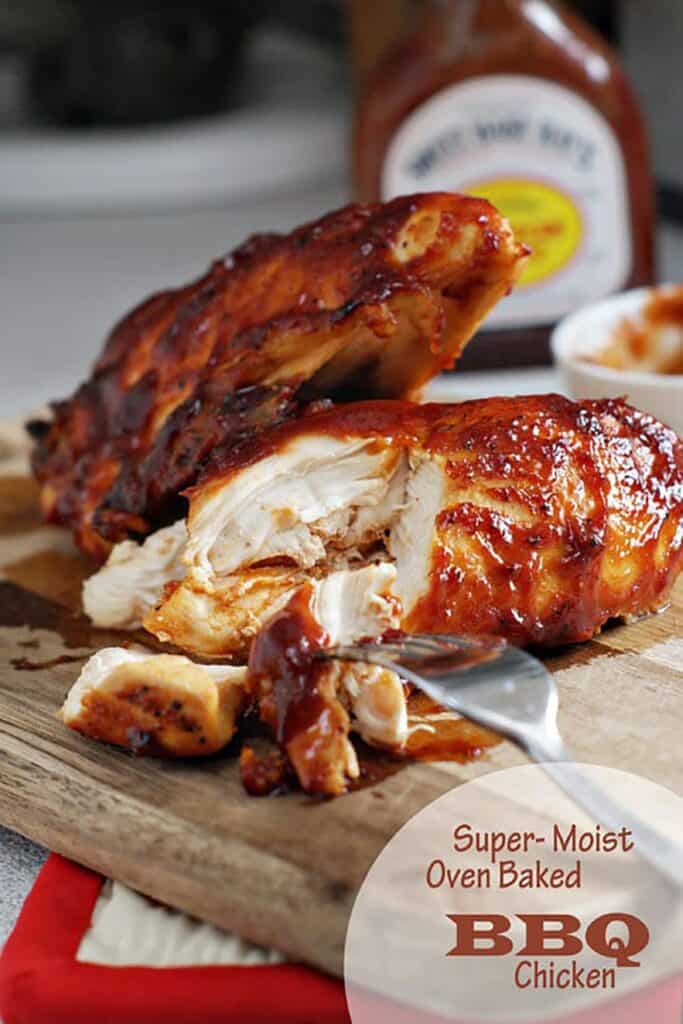 Frequently Asked Questions About This Recipe
How Long Should I Marinate Chicken For?
Chicken can be marinated for up to 24 hours, but any longer than that, the marinade can affect the texture of the chicken.
What Temperature Is Chicken Done?
Chicken is fully cooked at 165 degrees Fahrenheit. Use an instant read thermometer to check the temperature and insert into the the thickest part of the chicken for an accurate reading.
Can I Use Boneless Skinless Chicken Breasts Instead of Bone-in?
Yes, boneless chicken can be used, but bone-in chicken breasts will give you the moistest, most flavorful chicken.
Does Chicken Need to Be Covered While Cooking?
When roasting chicken, like we are here, you do not need to cover the chicken.
Other Popular Recipes People Really Like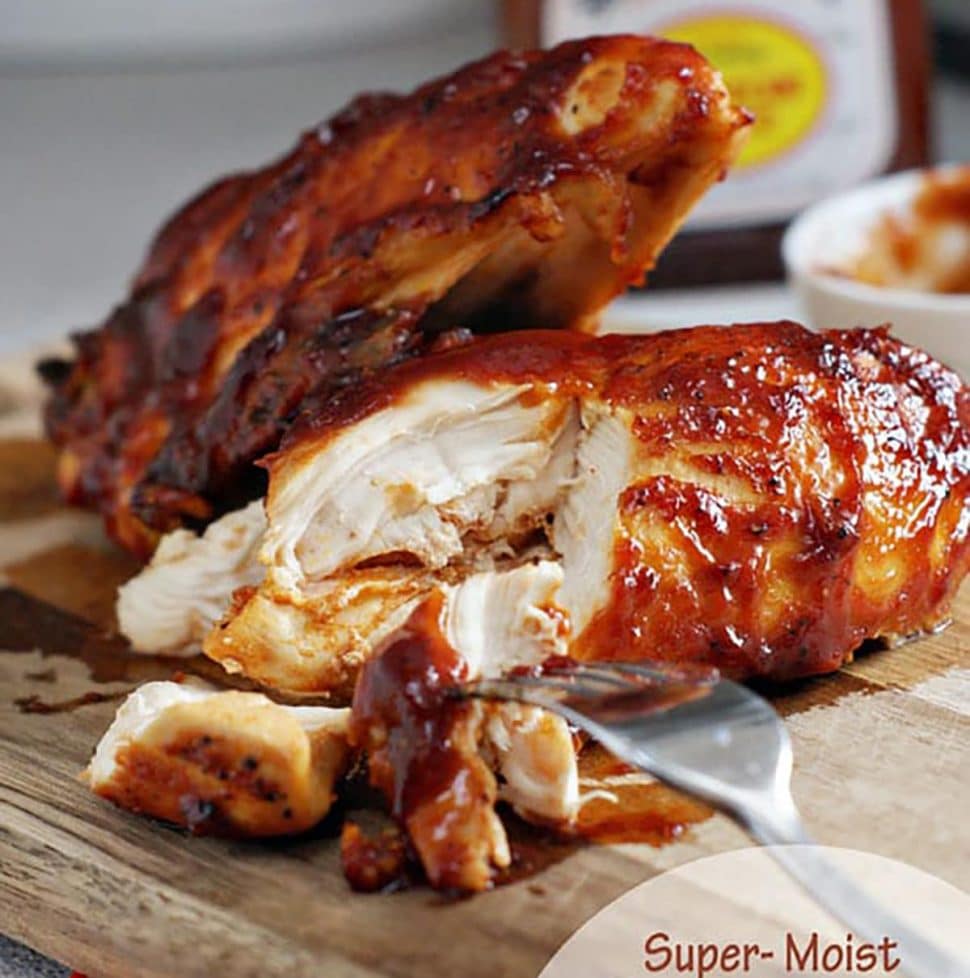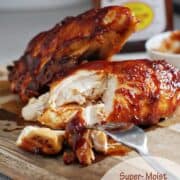 Super Moist Oven Baked BBQ Chicken
Oven Baked BBQ Chicken, baby! Today we're talking about baking chicken breasts to moist, juicy perfection, smothering them with BBQ Sauce and consuming immediately! Are you ready for this deliciousness?
Print
Pin
Rate
Ingredients
4

bone-in Chicken Breast Halves

3

tablespoons

olive oil

1 ½

teaspoons

smoked paprika

2

tablespoons

fresh lemon juice

3

cloves

garlic

minced

½-3/4

teaspoon

kosher salt

pepper to taste

1

cup

favorite prepared BBQ sauce
Instructions
Remove skin from chicken breast halves and place in a large ziplock bag.

Combine olive oil, smoked paprika, lemon juice, and garlic in a small bowl and pour over chicken.

Let chicken marinade for at least an hour, up to 24 in the fridge.

Preheat oven to 350 degrees

Remove chicken from bag and place on a baking sheet. Season with salt and pepper.

Bake for 20 minutes and brush a layer of BBQ sauce on the chicken. Return to the oven and repeat brushing with BBQ sauce every 5 minutes until the chicken is cooked through, about 15 to 20 minutes longer. Chicken is done when it reaches an internal temperature of 165 degrees F when read with a thermometer inserted into the thickest part of the breast.
Nutrition Facts
Serving:
1
chicken breast
|
Calories:
611
kcal
|
Carbohydrates:
30
g
|
Protein:
47
g
|
Fat:
31
g
|
Saturated Fat:
7
g
|
Cholesterol:
144
mg
|
Sodium:
1168
mg
|
Potassium:
689
mg
|
Sugar:
24
g
|
Vitamin A:
715
IU
|
Vitamin C:
4
mg
|
Calcium:
53
mg
|
Iron:
2.3
mg
ARE WE FRIENDS ON INSTAGRAM?
Tag me @heatherlikesfood and use #heatherlikesfood so I can see what you're making and enjoying!