This Instant Pot Brisket can be made in any electric pressure cooker or even a slow cooker. In this post, I show you how to cook a tender and juicy brisket using a flavorful rub and a few other tricks that will make it incredible.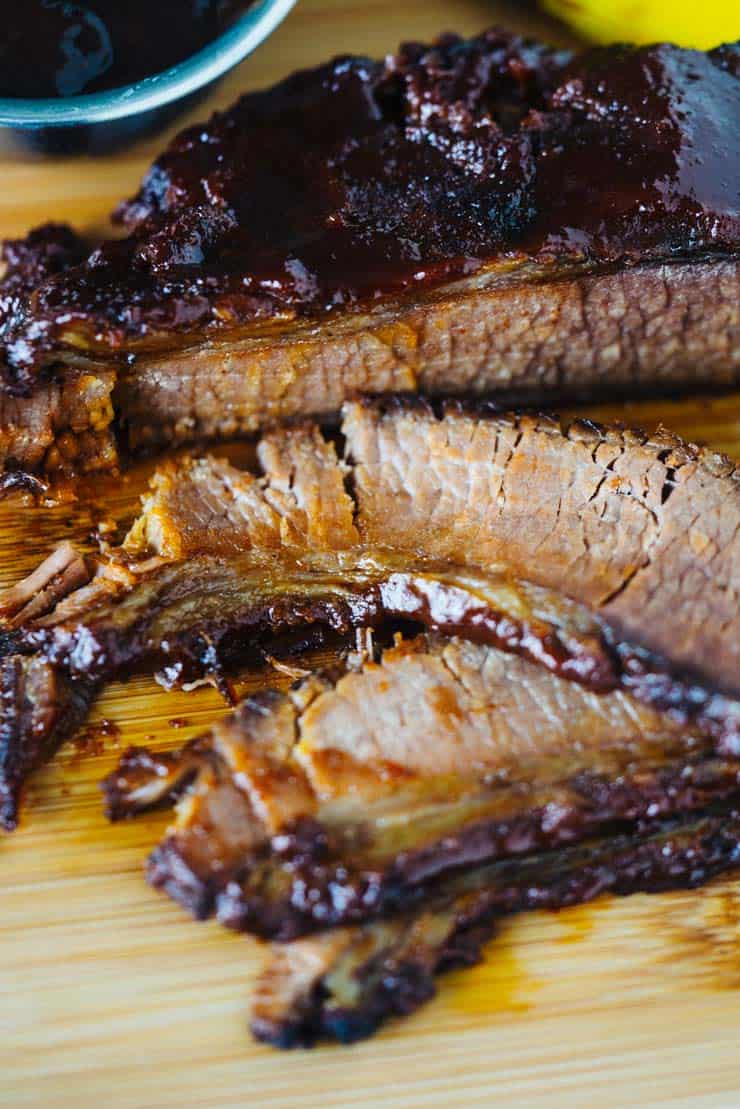 Instant Pot Brisket
Each year for my husband's birthday he chooses a "dream" meal for me to cook as his gift. He's had some creative requests over the last 13 years that we've been doing this. My favorite has to be the "Shellfish Tower" that I made about seven years ago-- that was a doozy!
It's always a fun tradition, and we usually invite friends or family over to enjoy it with us. This year's request was pretty simple-- BBQ brisket, orange rolls, cheese grits, and homemade mac and cheese. Carb-lovers paradise, right?
So, I decided I'd snap some pics and share the recipe for the Instant Pot Brisket I made. I'll be sharing the recipe for my favorite baked mac and cheese soon as well as for the orange rolls. Get your fat pants ready! Speaking of fat pants, if you need a dessert to go along with this brisket, you gotta try a Pizookie!
But, first things first!

How to Cook Instant Pot Beef Brisket
Start with flavor. I make a dry rub (recipe below) and rub it over the entire surface of the brisket. I then refrigerate it for at least 8 hours to let the flavor sink in.
From here it goes into the Instant Pot, Electric Pressure cooker, or slow cooker to be cooked until tender. Brisket is a cut of beef that is made for slow cooking; it needs the long cooking period to break down the connective tissue to make it tender.
Your Instant Pot Brisket Cooking Time will be about 1 hour 15 minutes but will depend on the size of your cut. If you're slow cooking it, plan on 8-9 hours.
Once it's cooked, it get's a good helping of your favorite BBQ sauce and then goes under the broiler or on the BBQ to get that irresistible char and caramelization on the top that you want on your meat.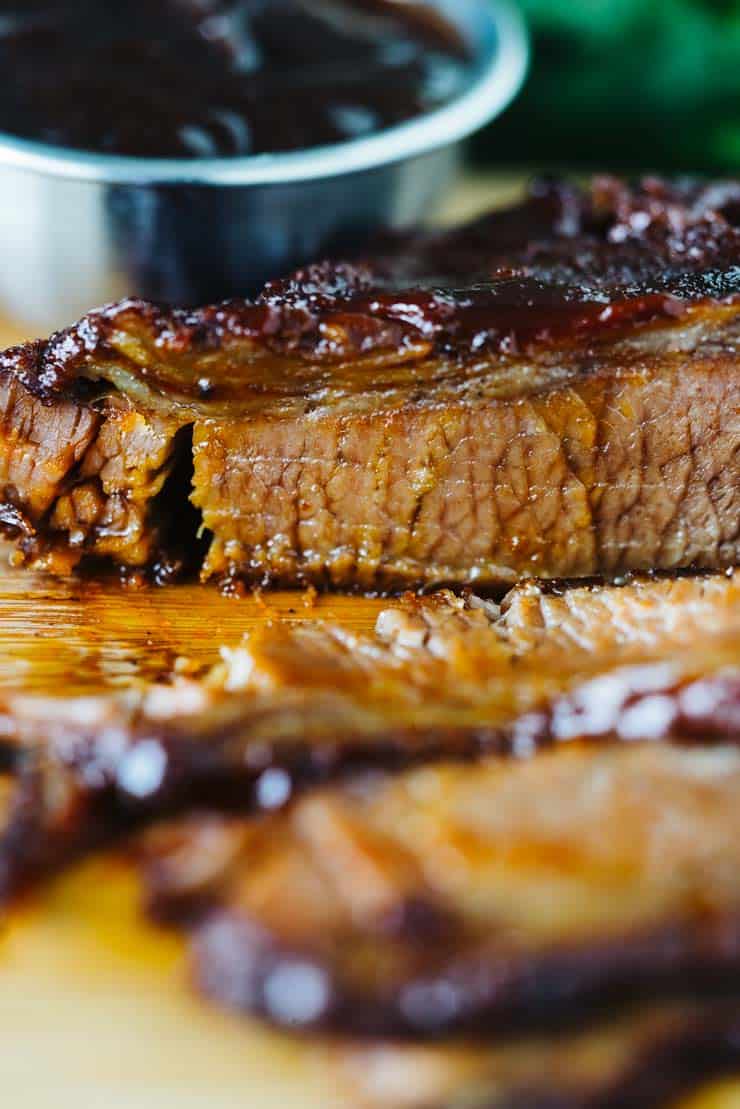 Most Asked Questions About Making Beef Brisket
[sc_fs_multi_faq headline-0="h2" question-0="WHERE IS BEEF BRISKET CUT FROM?" answer-0=" [sc_fs_multi_faq headline-0="h2" question-0="Where Is Beef Brisket Cut From?" answer-0="Brisket is cut from the breast section of beef. A whole brisket is made of 2 different cuts– the flat cut and point cut. Flat cuts are the easiest to find and are typically 5-6 pounds. This is the cut I use." image-0="" headline-1="h2" question-1="How To Trim A Brisket For The Instant Pot" answer-1="A flat cut brisket is lean and topped with a thick fat cap. Since we're not smoking it in this recipe, you don't need a thick fat cap to protect the meat. I like to cut the fat cap down to an even ⅛ inch over the entire brisket." image-1="" headline-2="h2" question-2="How To Slice Beef Brisket" answer-2="Brisket is a unique cut as it remains sliceable even after cooked until super tender as long as you cut across the grain. The lean protein structure of the meat allows it to hold its shape and makes it a great choice for sandwiches. " image-2="" headline-3="h2" question-3="What Does It Mean To Cut Across The Grain" answer-3="When you're ready to cut, take a look at the brisket and see which way the long fibers of the meat are running. You want to cut across those fibers or across the grain at 90 degrees to keep it as tender as possible. " image-3="" count="4" html="true" css_class=""]
More BBQ Inspired Recipes That You Might Like 
Other Instant Pot Recipes That Are Favorites
Tools Used in Making Instant Pot Brisket
Instant Pot: This is the model that I have and LOVE. It's been with me for over a year, and I've definitely put it through the ringer, but still works like new! It's changed the dinnertime routine at our house and helps me make meals in under an hour that used to take HOURS!
OXO Stainless Steel Tongs: These tongs take a beating in my kitchen. They go from the grill for flipping meats to the salad bowl for tossing with very little complaint. They are built like a tank and have silicone grips that make them super easy to use, even with my very small hands.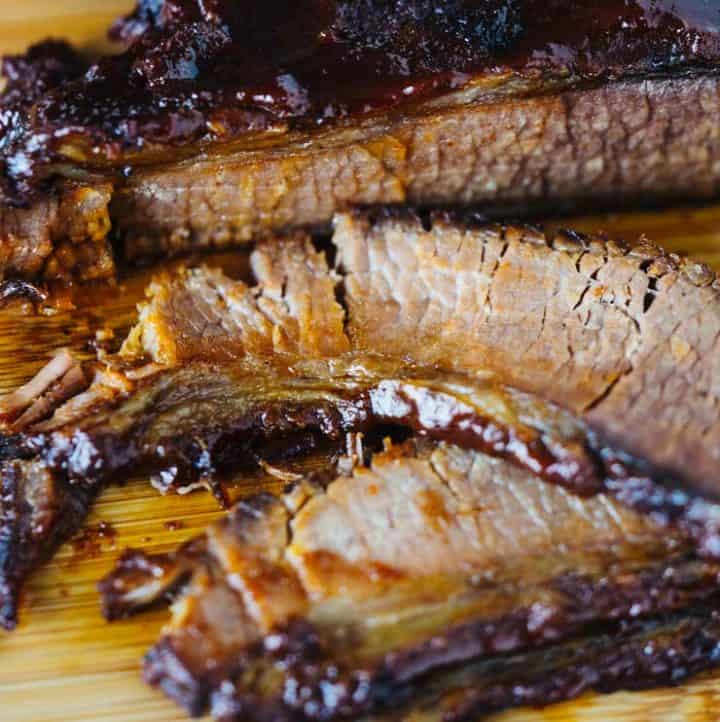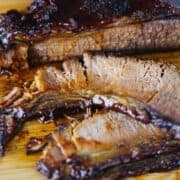 Instant Pot Brisket
This Instant Pot Brisket can be made in any electric pressure cooker or even a slow cooker. In this post, I show you how to cook a tender and juicy brisket using a flavorful rub and a few other tricks that will make it incredible.
Print
Pin
Rate
Ingredients
4-5

lb flat cut brisket

fat cap trimmed to ⅛"
Rub:
3 ½

tablespoons

smoked paprika

3

tablespoons

brown sugar

2

tablespoons

kosher salt

1 ½

tablespoon

garlic powder

1 ½

tablespoon

onion powder

1

tablespoon

ground black pepper

¾

teaspoon

chipotle chili powder

1 ½

teaspoon

ground cumin

¾

teaspoon

ground coriander

1

teaspoon

oregano

⅓

teaspoon

cayenne pepper
Instructions
Combine spice rub ingredients in a bowl and rub over the entire surface of the brisket. Place seasoned brisket on a baking sheet, cover with plastic wrap and refrigerate for 8-12 hours.

Cook per your desired cooking method below. Remove cooked brisket from the pot and place on a baking sheet. Brush with your favorite bbq sauce and place under the broiler for a few minutes or until the sauce starts to caramelize. Alternately you can finish the brisket off on the grill.
Instant Pot Cooking:
Cut brisket in half so it fits, and place ½ of the brisket in Instant Pot on wire trivet with the fat cap up followed by the remaining half. Add 1 cup water to the pot and set to cook at high pressure for 75 minutes. Allow a natural pressure release for at least 15 minutes and then you can manually release the rest.
Slow Cooker:
Place brisket in the slow cooker and cook for 8-9 hours on low or until tender.
Nutrition Facts
Serving:
1
serving
|
Calories:
1157
kcal
|
Carbohydrates:
7
g
|
Protein:
151
g
|
Fat:
53
g
|
Saturated Fat:
18
g
|
Cholesterol:
449
mg
|
Sodium:
1979
mg
|
Potassium:
2500
mg
|
Fiber:
1
g
|
Sugar:
3
g
|
Vitamin A:
1345
IU
|
Vitamin C:
0.2
mg
|
Calcium:
59
mg
|
Iron:
15
mg
ARE WE FRIENDS ON INSTAGRAM?
Tag me @heatherlikesfood and use #heatherlikesfood so I can see what you're making and enjoying!