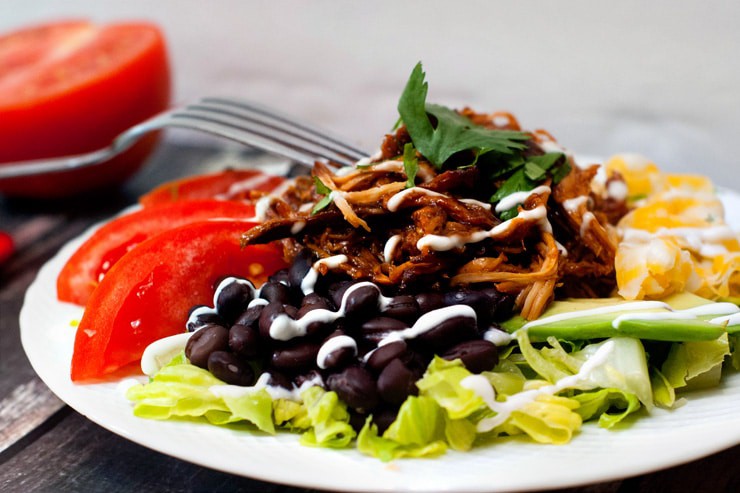 There's not much I love more than a giant bowl of salad loaded with lots of different goodies– and that's exactly what this salad is!
I know taco salad isn't exactly a mind-blowing idea, but have you ever had taco salad with slow cooker BBQ Chicken? If you haven't it's darn good. The other good thing about this recipe is that this chicken is made in the slow cooker and while it's awesome on this salad, it's also great to use for sandwiches, as a main dish, or whatever. So really, I'm basically granting you your every dinner making wish today.
You're welcome.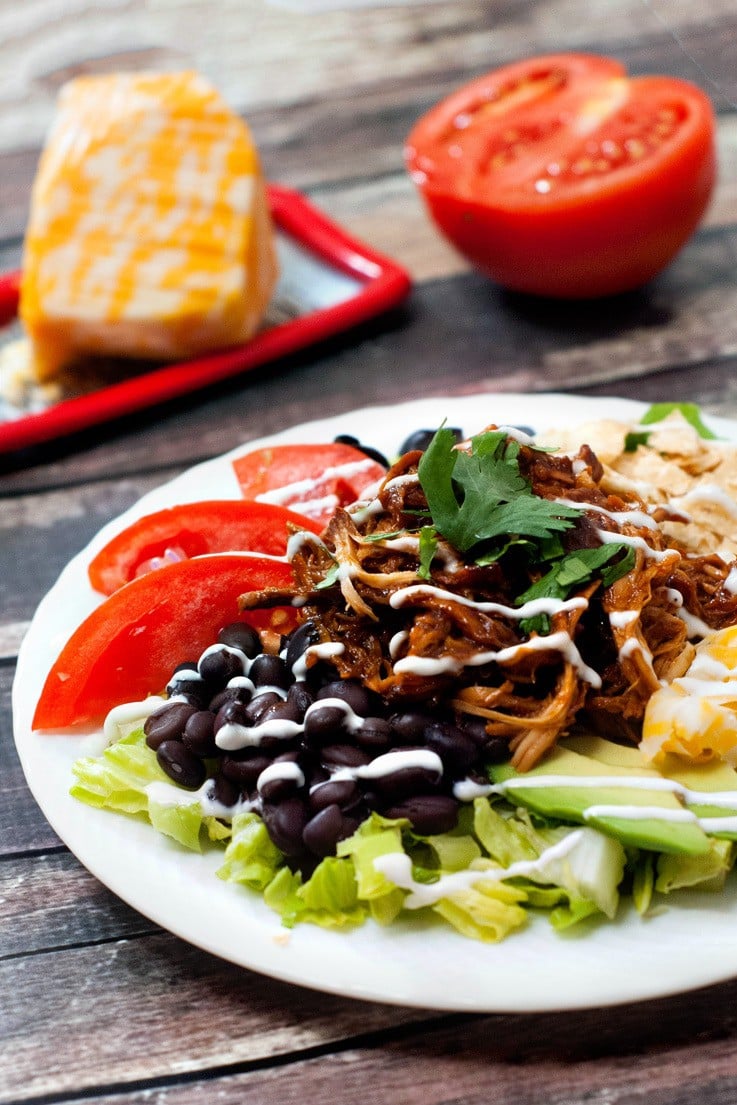 Ingredients
2

lbs boneless, skinless chicken breasts

1

cup BBQ sauce

1/4

cup Italian dressing

1/4

cup brown sugar

1

tbsp Worcestershire sauce

salt to taste

Chopped Romaine

Tomatoes

Black Beans

Avocado

Shredded Cheese

Tortilla Chips

Black Olives

Cilantro

Ranch Dressing
Instructions
Season chicken breasts lightly with salt and pepper and place in slow cooker.
In a mixing bowl combine BBQ sauce, Italian dressing, brown sugar and Worcestershire sauce. Stir until well combined.
Pour over chicken, cover and cook on HIGH for 3-4 hours. Shred chicken and continue to cook an additional 10 minutes.
Assemble salads as desired or use chicken in sandwiches or as a main dish.

Made this recipe?
I'd love to see how you rocked it! Share your photo on Instagram with the hashtag
#heatherlikesfood  --
It will totally make my day to see it!