Homemade Brown Sugar - So the other night we needed, NEEDED cookies but upon searching the pantry for the brown sugar that I KNEW was in there, I couldn't find any. Feeling defeated, I sank my booty into the couch and was ready to drown my sorrows in a protein bar. <--- what the heck?!?
Making Homemade Brown Sugar
When it finally dawned on me that I had heard tell of people making their own brown sugar, I jumped up and tried it out. I had always imagined that brown sugar was naturally brown so I couldn't duplicate it with regular sugar, but found out that this is both true and false. While it's true that natural brown sugar (raw sugar) is, in fact, brown from having a residual amount molasses in it, commercial brown sugar = white sugar + molasses.
You can adjust the amount of molasses depending on how dark you want your homemade brown sugar to be. For a basic light brown sugar like you can find in the store use 1 tablespoon per 1 cup of granulated sugar.
Drizzle the molasses over the sugar and start to incorporate it in with a fork. It may look like it will never fully combine, but it will, promise!
With a little persistence, you will soon have the fluffiest, softest, best tasting brown sugar you've ever used. I'm really questioning ever buying a bag of commercial brown sugar again because this sugar is so, so, so good. I've used it to bake cookies, top my oatmeal, and a handful of other things and have had excellent results. I hope you'll try it!
Check Out My Facebook For More!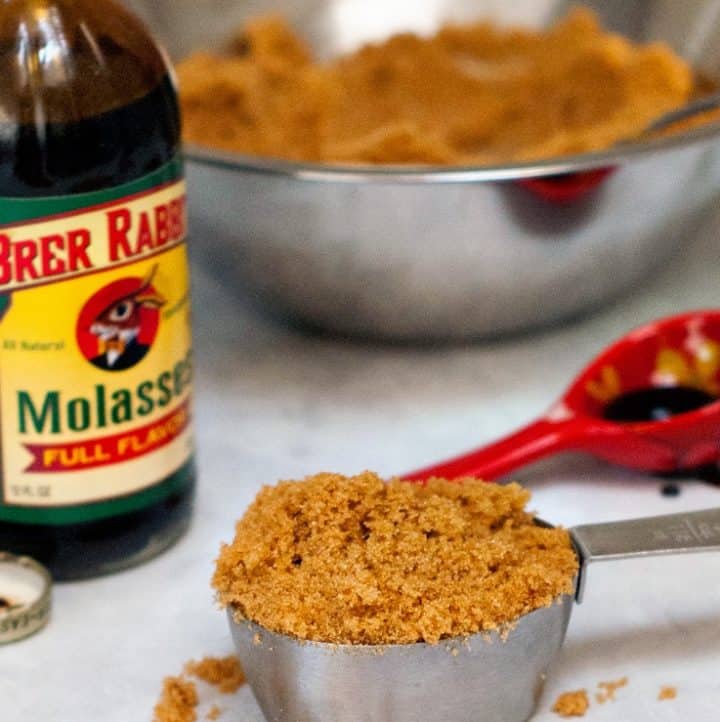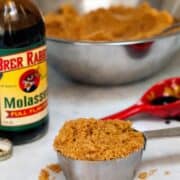 Homemade Brown Sugar
Homemade brown sugar is much easier to make than you might think and gives you the fluffiest, moistest sugar you've ever baked with!
Print
Pin
Rate
Ingredients
1

cup

granulated sugar

1

tablespoon

molasses
Instructions
Combine the sugar and molasses with fork until combined and light and fluffy,
Nutrition Facts
Serving:
1
serving
|
Calories:
832
kcal
|
Carbohydrates:
214
g
|
Sodium:
9
mg
|
Potassium:
292
mg
|
Sugar:
214
g
|
Calcium:
41
mg
|
Iron:
0.9
mg
ARE WE FRIENDS ON INSTAGRAM?
Tag me @heatherlikesfood and use #heatherlikesfood so I can see what you're making and enjoying!