Slow Cooker Salsa Chicken Chili – We've arrived! It's officially soup season and I have a super simple and easy recipe for you today. For those of you that have had slow cooker salsa chicken, this is a lot like that with the addition of beans, corn, and some fresh cilantro and lime to brighten it up.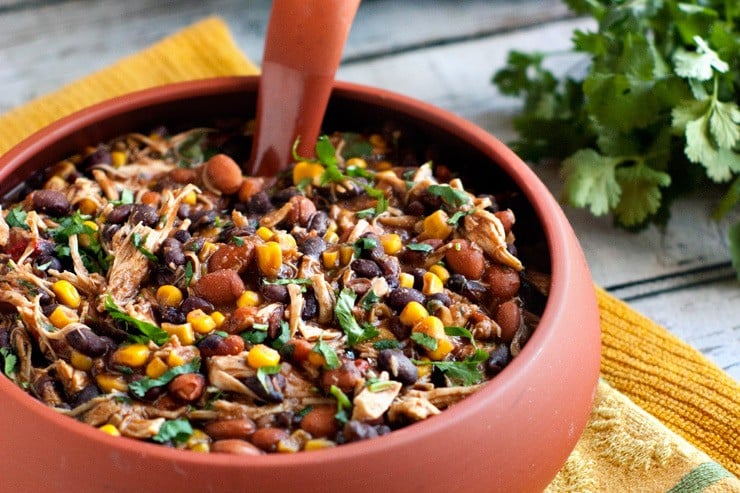 Delicious Slow Cooker Salsa Chicken Chili
There's not a whole lot that tops a bowl of hot, filling chili when it's chilly. It's chilly time chili. Chili chilly.
Alright, I'll stop.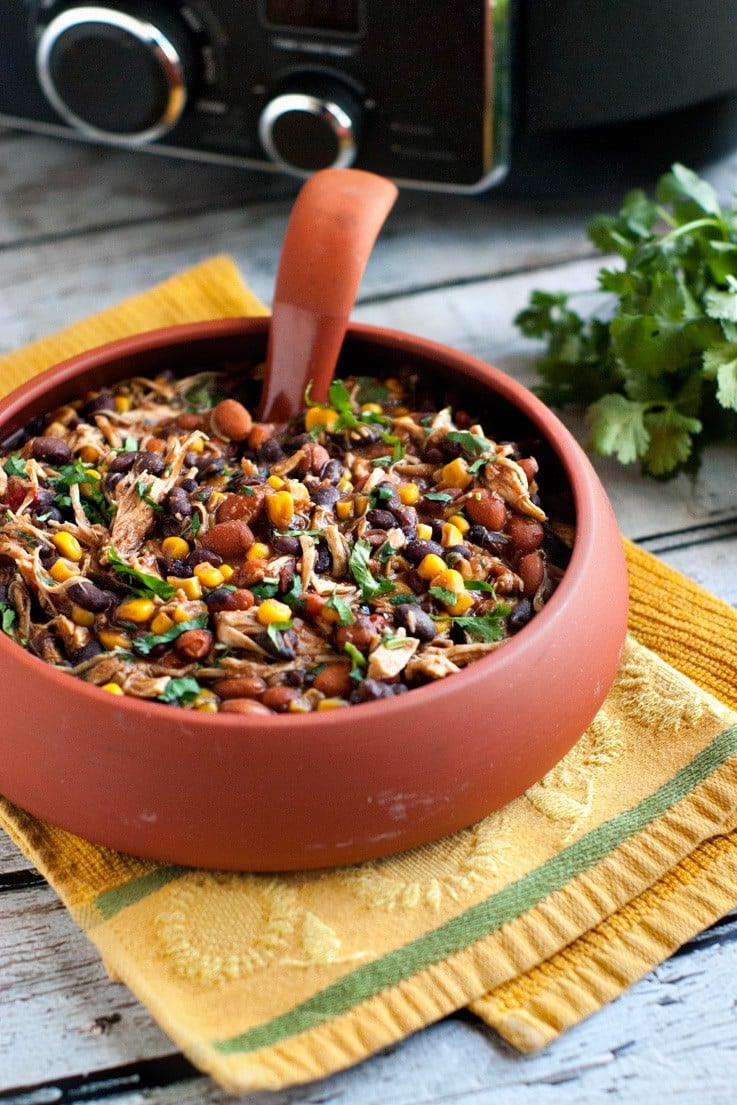 Top this salsa chicken chili with some tortilla chips, shredded cheese, a little sour cream and even some avocado. Everything is better with avocado.
Ingredients
2-3 Boneless Skinless Chicken Breasts
2 cans (14.5 oz) black beans, undrained
1 can (14.5 oz) pinto beans, undrained
2 C jarred salsa
1/4 C taco seasoning
1 can corn (14.5 oz) drained, or 1 1/2 C frozen corn kernels
1/2 C fresh cilantro, chopped
1 fresh lime, juiced
1 tbsp masa harina corn flour, optional
Directions
Place chicken, beans, salsa, corn, and taco seasoning in a slow cooker, stir to combine and set to cook for 4 hours on HIGH.
Remove chicken from the chili and shred.
If you'd like the chili a little thicker, stir in 1 tablespoon of masa harina, cover the slow cooker and cook an additional 10 minutes.
Stir shredded chicken, cilantro and lime juice into the chili and serve with chips, sour cream, and shredded cheese.

Made this recipe?
I'd love to see how you rocked it! Share your photo on Instagram with the hashtag
#heatherlikesfood  --
It will totally make my day to see it!
Check Out my Facebook for More!