Classic Slow Cooker Pot Roast - We are in the middle of moving this week and I'm in serious need of some comfort food right now. Anybody want to make this for me and bring it my way? There's only so many more bowls of cereal and slices of pizza I can handle. I. NEED. MY. KITCHEN. BACK.
I'm totally not complaining though.
No.
Me complain?
I don't do that.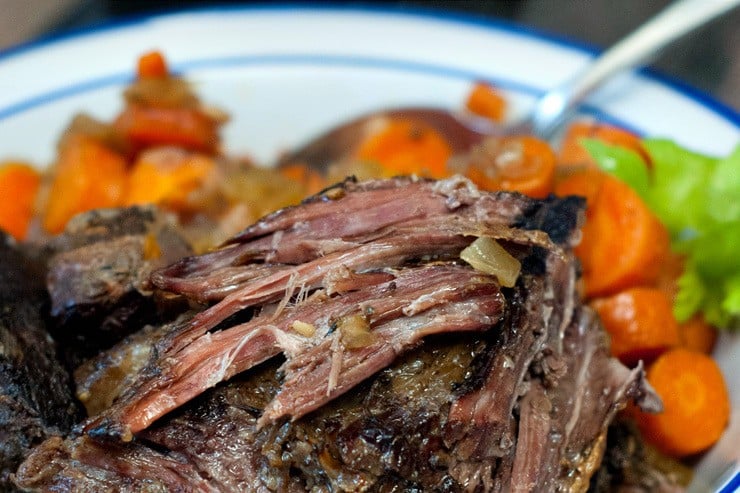 Classic Slow Cooker Pot Roast Recipe
At least I made this slow cooker pot roast recently enough that I still have it tucked into my memory somewhere and know that one day, ONE DAY, I'll be able to get my cooking on again.
This slow cooker pot roast is perfect for Sunday dinners and even weeknights because, as the name suggests, it's all done in the slow cooker so you can start it in the morning and basically forget about it until close to dinner time. My version takes just a little more effort than just throwing a raw roast in and walking away but it is big on deep flavor which is sometimes lost when using the slow cooker.
First up: season your meat! This is not a request, this is not a suggestion, it's an absolute must! Season it liberally, too. Remember that the salt and pepper you put on the outside need to season that whole big hunk of meat, so don't skrimp. I mean, use reason and don't dump a ¼ C of salt on it, but season it well.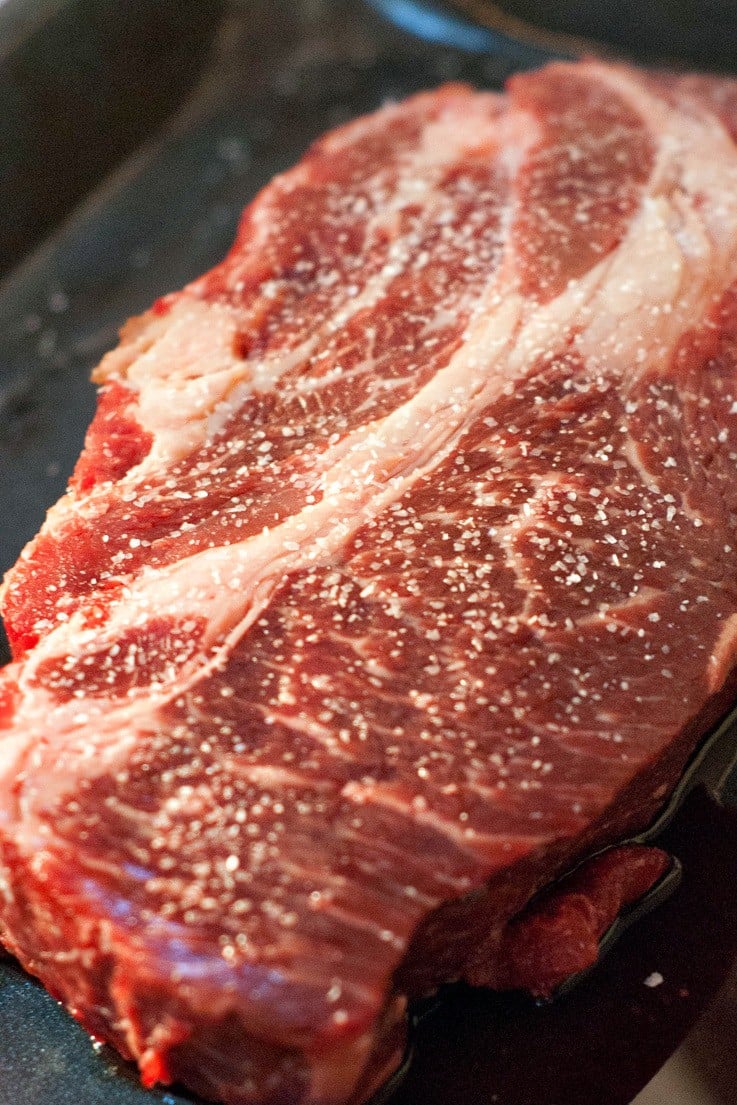 Another element of flavor comes from the vegetable trifecta-- mirepoix. It's just french fancy talk for carrots, celery and onions but it's the base that most stocks, sauces, stews and soups are made from and it's awesome.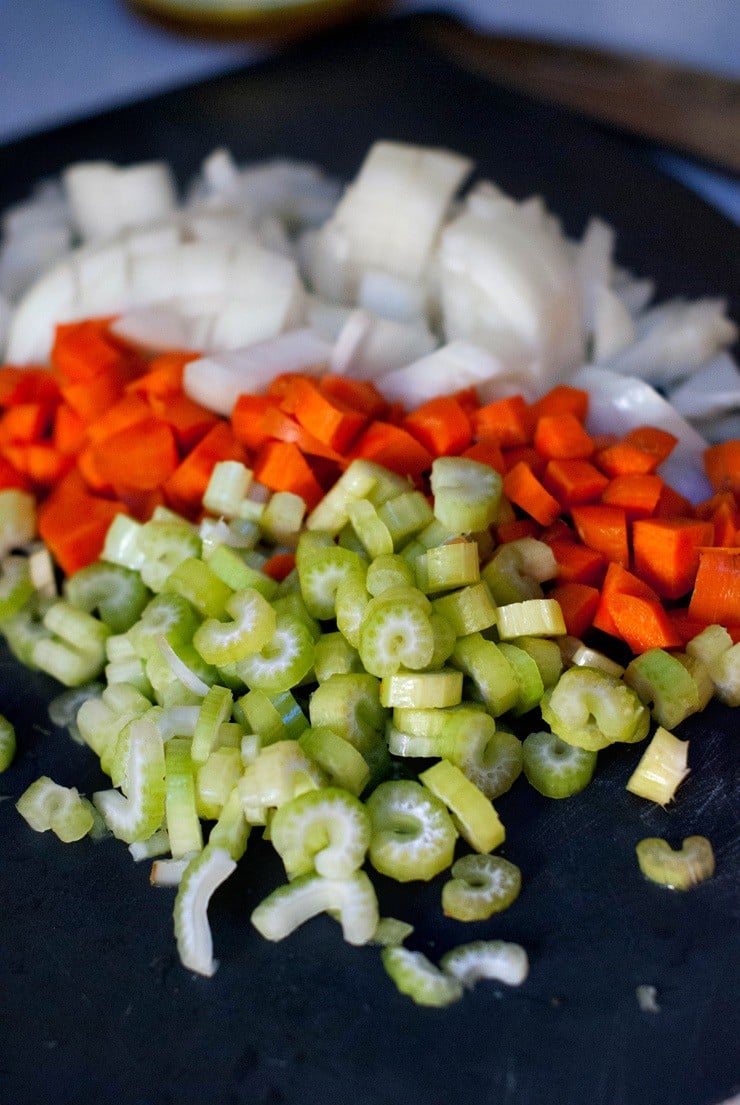 Browning your meat and veggies before they go into the slow cooker with increase flavor by oodles and oodles. Serious.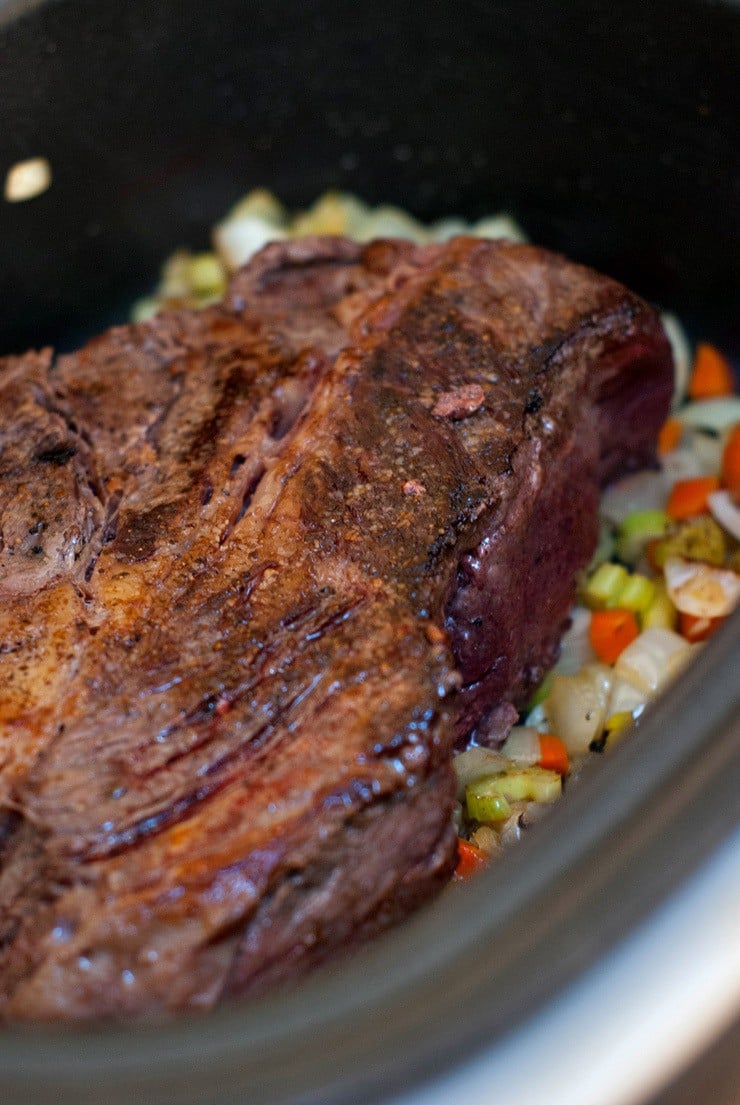 And once that roast is cooked all good and tender like, you're going to make a gravy to smother it in with the cooking juices. Sound good?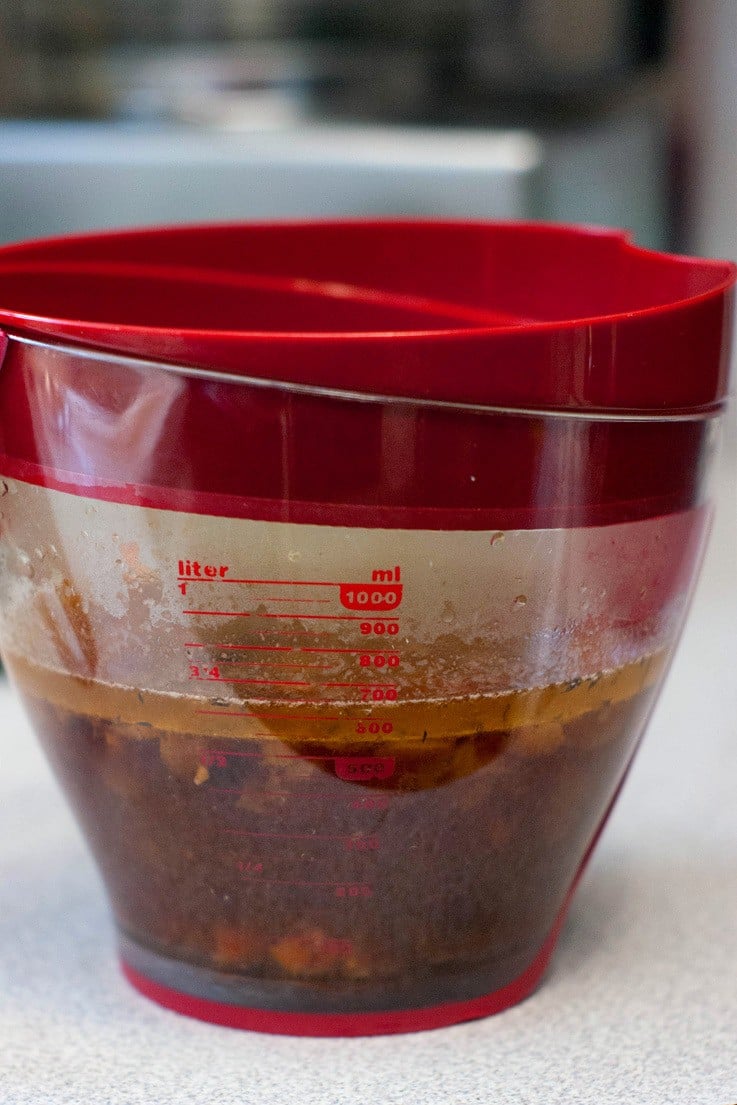 I promise it's good. Like really, really good.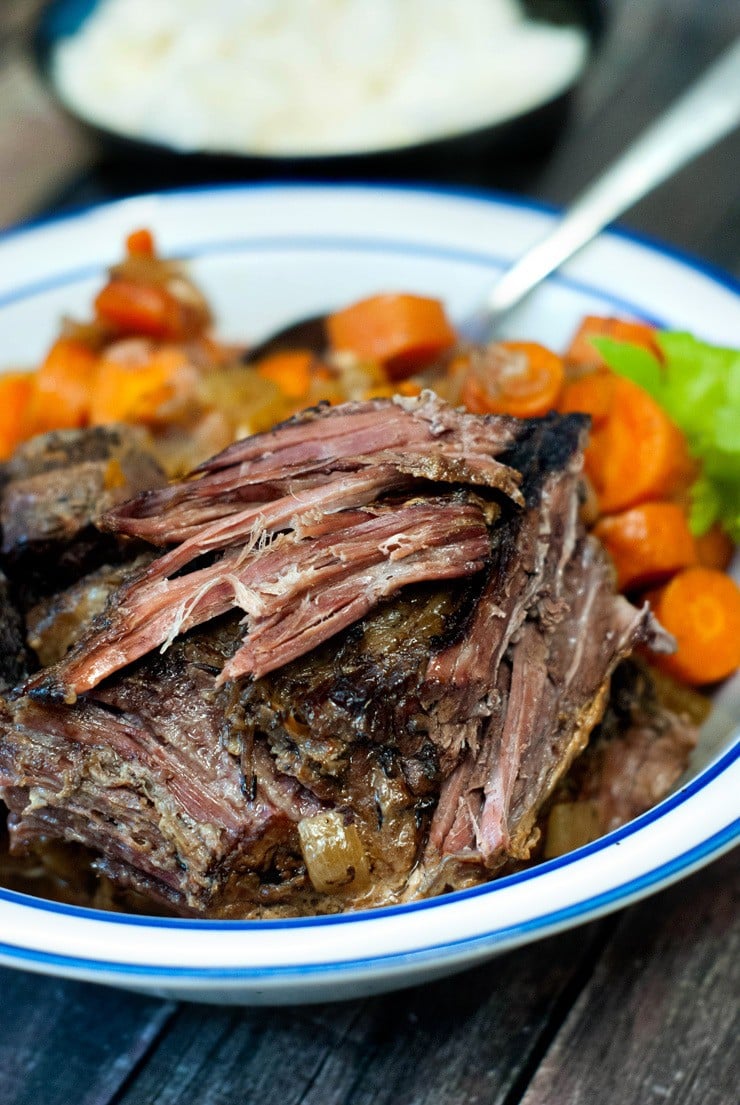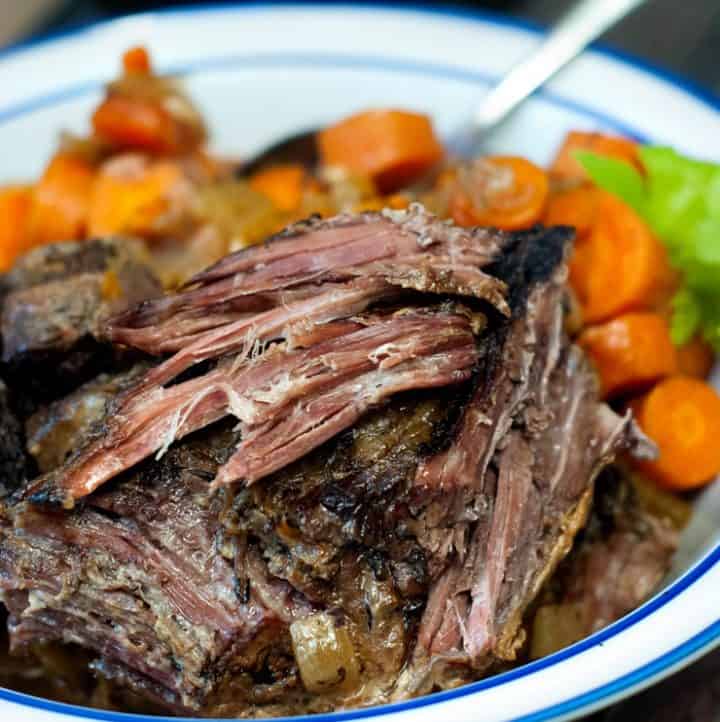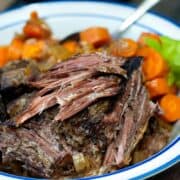 Classic Slow Cooker Pot Roast
A classic, slow cooker pot roast recipe that gives you a warm, comforting meal without a lot of work!
Print
Pin
Rate
Ingredients
3-4

pounds

Beef Chuck Roast

2

tablespoons

vegetable oil

1

whole

carrot

peeled and chopped

2

whole

ribs celery

chopped

1

whole

medium onion

chopped

½

cup

red wine or beef broth

¼

teaspoon

dried thyme

2

cloves

garlic

chopped

1-2

pounds

root vegetables of choice

potatoes, carrots, parsnips cut into bite-sized pieces

1

cup

beef broth

2

tablespoons

flour

salt and pepper
Instructions
Season roast liberally with salt and pepper and brown over medium-high heat until golden brown on both sides, keep the pan on the heat, remove the roast from the pan and place in slow cooker.

Place chopped carrots, onion, and celery in the hot pan, lower heat to medium and cook until lightly browned on the edges and just barely tender and stir in garlic and thyme.

Add wine or broth to the pan, scraping up any browned bits from the bottom and pour the veggies and liquid over the roast in the slow cooker.

Cover and set the slow cooker to LOW for 7-8 hours.

2 hours before the roast is finished, spoon desired bite-sized root vegetables around the roast, cover and continue to cook until the roast and vegetables are tender.

Remove the meat and vegetables from the slow cooker and pour the cooking juices into a fat separator or measuring cup. Let the juices sit for a few minutes and slowly spoon or pour off the fat from the liquid.

Place 1 cup of the juices in a skillet and bring to a simmer. Cook until they are reduced by about half and stir in beef broth. Gently sprinkle 2 tablespoon of flour over the liquid, whisking vigorously until thickened and no lumps remain. Season with salt and pepper to taste and serve alongside the meat and vegetables.
Nutrition Facts
Serving:
1
serving
|
Calories:
523
kcal
|
Carbohydrates:
12
g
|
Protein:
46
g
|
Fat:
30
g
|
Saturated Fat:
15
g
|
Cholesterol:
156
mg
|
Sodium:
341
mg
|
Potassium:
1112
mg
|
Fiber:
1
g
|
Vitamin A:
55
IU
|
Vitamin C:
8.9
mg
|
Calcium:
65
mg
|
Iron:
7.5
mg
ARE WE FRIENDS ON INSTAGRAM?
Tag me @heatherlikesfood and use #heatherlikesfood so I can see what you're making and enjoying!
Visit my Facebook for More!