Don't wait, make these homemade spice mix recipes NOW! They are so easy to make and taste better than that store-bought stuff. They are great for gifts, too!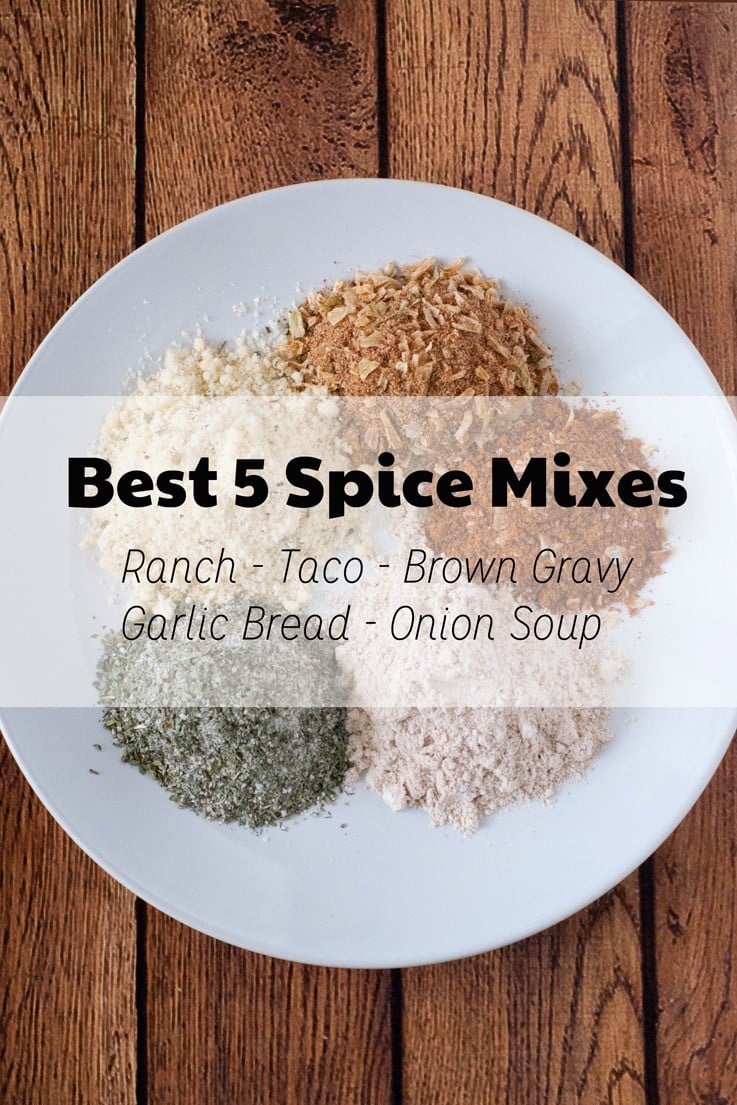 These homemade spice mix recipes are game-changers!
I've never been able to stomach paying over a dollar for a teeny tiny little packet of spices just so I can make homemade ranch dressing. Especially when I know I likely have all the ingredients in my pantry already! It's craziness.
So I decided to figure out recipes for all of my go-to spice mixes so I could have a mason jar of each one of them ready to go in my pantry. Plus, if being convenient and inexpensive isn't enough, these mixes just taste better than anything you can get in the store. There's nothing in the mixes that you can't pronounce and you have the power to omit ingredients if you'd like!
What Homemade Spice Mixes can you make?
Today I'm sharing my recipes for Taco (it's the absolute best taco seasoning you'll try, promise!), Ranch Dressing, French Onion Soup, Brown Gravy, and Garlic Bread.  I picked these (with the exception of the garlic bread) because they are commonly called for in many recipes and they seem to be the ones I reach for most often at the grocery store. I threw the Garlic Bread seasoning into the mix because, garlic bread. Who doesn't like to be able to have a loaf of hot garlic bread ready in under 5 minutes? It's also something that has 101 other uses and once you have a shaker of it in your fridge you'll find all sorts of things to use it in.
Instead of adding a recipe card below for each seasoning mix like I usually do, I put all of them onto a single printable sheet for easy reference. Each recipe is listed and includes the standard preparation and/or measurement equivalent for use in lieu of a packet. ---> Download and Print Spice Mix Printable Here. <---