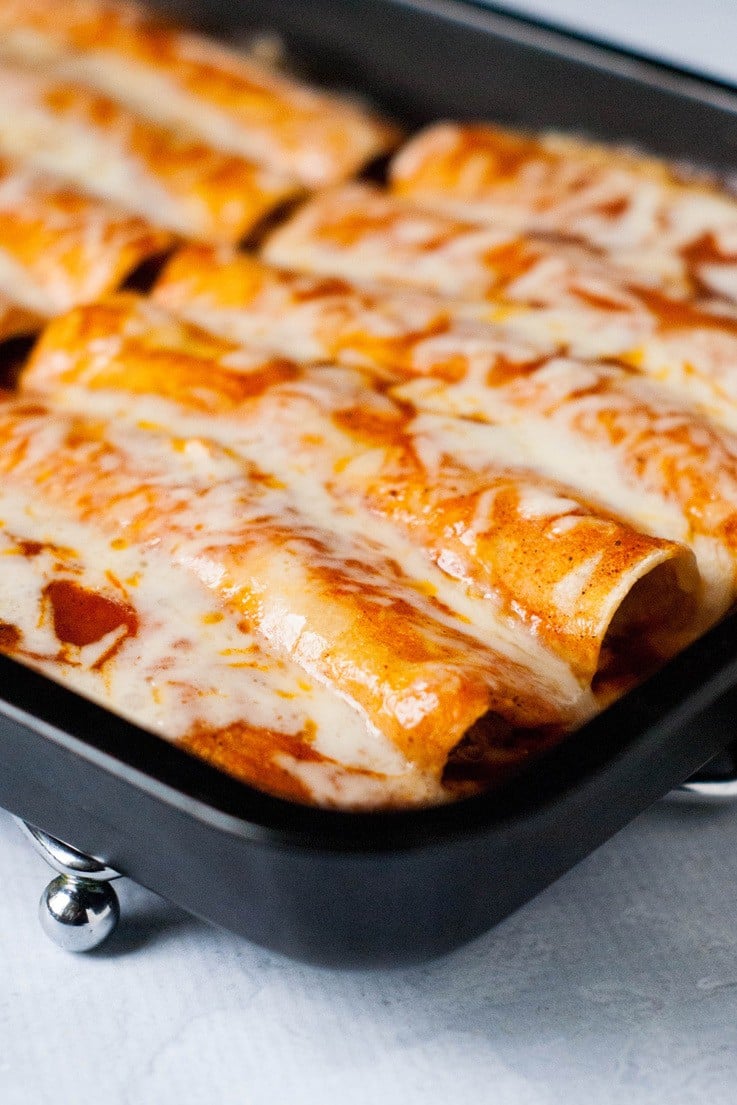 I often get asked to put my own recipes to work and use them in new recipes so that you guys know how to use them. So today, I put together a recipe that uses my recipes for Homemade Taco Seasoning and Enchilada Sauce. These recipes are probably two of my favorites, like, ever. Once you try the taco seasoning I promise you'll never go back to a packet again and the enchilada sauce is unlike anything you can get out of a can. So good.
Today's taco chicken enchilada recipe is one of those things that is so, so easy but gives big rewards in flavor.  You start with making some taco chicken in the slow cooker.
Boneless Skinless Chicken Breast + Taco Seasoning + 4 hours = tender, shredded chicken for your enchiladas. Stupid simple.
And then all you do is roll up the chicken with a little monterrey jack cheese in a corn tortilla, place in a baking dish, smother with enchilada sauce, more cheese, and you're done!
Well, you DO have to bake it first but that takes 35 minutes tops.
When they come out of the oven they are bubbly and melty and the tortillas are tender and saucy and all is right in the world.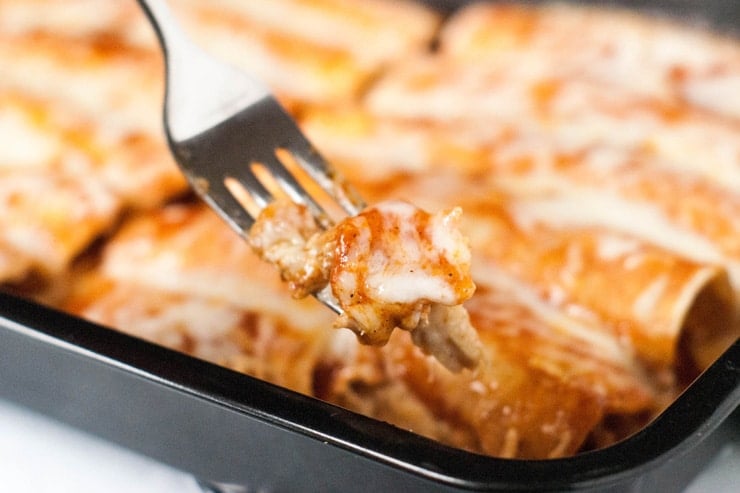 Ingredients
4 medium boneless skinless chicken breasts
3 Tbsp Taco Seasoning (I use this recipe)
2 C Enchilada Sauce (I use this recipe)
12 corn tortillas
1-2 C Monterrey Jack Cheese, shredded
Directions
Place chicken breasts in slow cooker and sprinkle 2 Tbsp of the taco seasoning over the top. Cook on low for 4 hours or until chicken is tender and shreds easily. Shred chicken and stir in the remaining taco seasoning and ¼ C of water. Return cover and cook an additional 10 minutes.
Spread ½ C of enchilada sauce into the bottom of a 9x13" pan.
Heat tortillas until pliable and place about ¼ C of the chicken in the middle of each tortilla with about 2 Tbsp of the cheese. Roll and arrange in the 9x13" pan. Repeat until all the chicken and tortillas are used.
Pour remaining enchilada sauce over the top of the enchiladas and top with remaining cheese. Cover pan with foil and bake @ 375 degrees for 20 minutes, remove foil and bake an additional 10-15 minutes or until enchilada sauce is bubbling and cheese is well melted.
Serve with sour cream, lettuce and tomato.

Made this recipe?
I'd love to see how you rocked it! Share your photo on Instagram with the hashtag
#heatherlikesfood  --
It will totally make my day to see it!