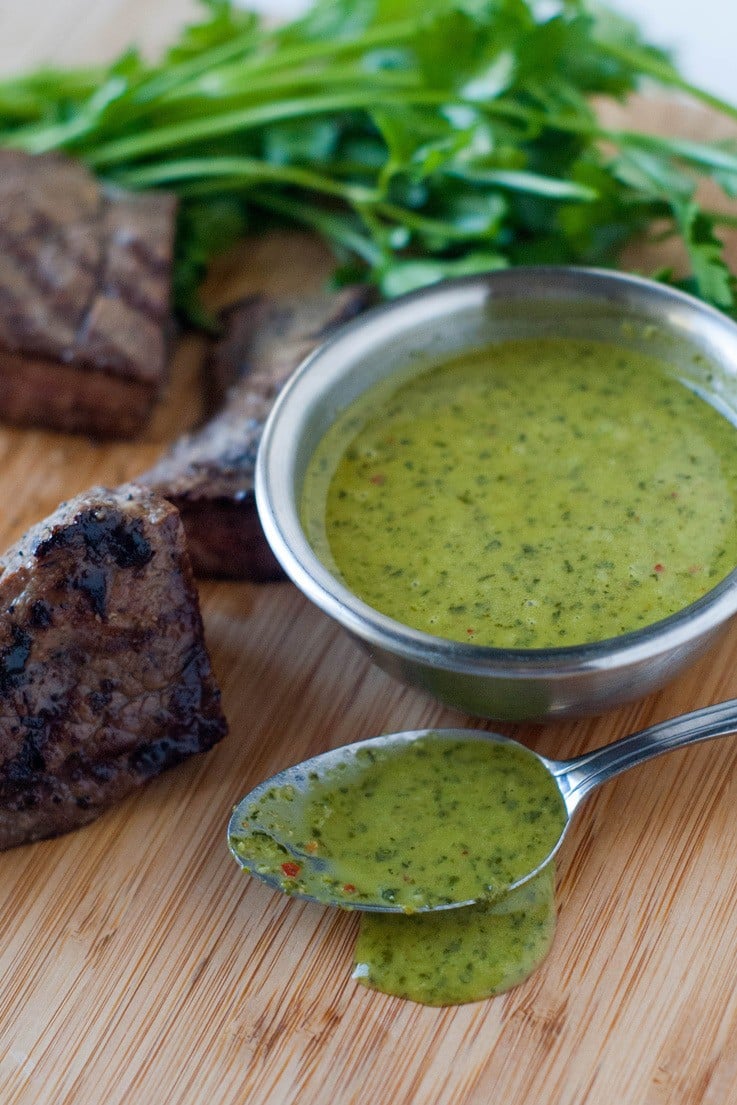 Well good Friday to ya! It's not actually Good Friday, but it is a good day so I think that counts. The sun is shining, we're headed to the beach tomorrow and I have a big bowl of this chimmichuri waiting for me in the fridge.
LIFE IS GOOOOOOD.
Ever had chimmichurri? It's a sauce that basically makes everything you put it on start a dance party in your mouth. EVERYONE WILL BE INVITED and want to SHAKE IT!  It involves parsley and cilantro and garlic (lots of it!) some olive oil and a little vinegar and lemon juice to make it nice and zingy.
In Argentina (where it originates from) it's most typically served with steak but great on so many meats, veggies, and even used as a salad dressing. It tastes fresh and bright and you'll basically want to put it on everything. I like to make a batch and use half of it as a marinade for grilled chicken or steak and reserve the other half to use as a sauce.
It's a super versatile thing and really can be tweaked to your liking. The proportions used in the recipe below suit my tastes but feel free to play with it until it's perfect for YOU.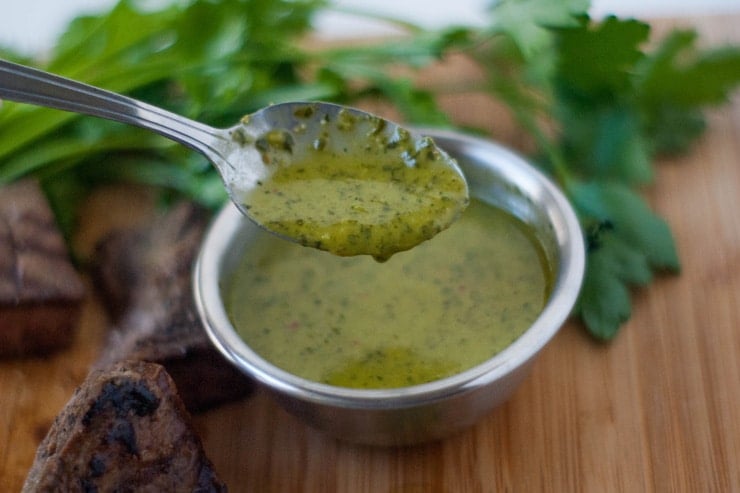 Ingredients
1 bunch flat leaf parsley
1 C fresh cilantro
6 cloves garlic, minced
3/4 C extra virgin olive oil
1/4 C red wine vinegar
1 tbsp fresh lemon juice
1/2 tsp ground cumin
1/2 tsp kosher salt
1/2 tsp crushed red pepper flakes
Directions
Combine all ingredients in a blender and blend until smooth. Separate into two parts and use half for marinading and half as a sauce after cooking. Or just use as a sauce for many different things.

Made this recipe?
I'd love to see how you rocked it! Share your photo on Instagram with the hashtag
#heatherlikesfood  --
It will totally make my day to see it!