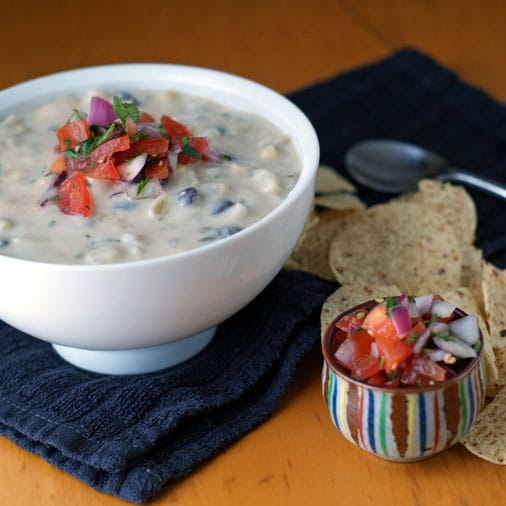 I sure hope you're some place warm right now and can send some of the heat over this way. Or better yet, just send me a plane ticket (or 2) to Tahiti-k? I can pay you in cookies ONCE I warm up because I'm freezing my ends off this morning! But I do see some light at the end of this winter tunnel… the sun is finally out and the purple tulips I've been growing in my kitchen are starting to bloom. Want to know what to get me for Valentine's day? Tulips. Favorite flower ever.
Anyways, back to the recipe.  This soup is hearty and has tons of flavor.  On the night that I was working on this recipe I was craving tacos but I had already prepped that morning to make a regular  corn and potato chowder. So like any reasonable person, I spent 3 hours making a soup that should have taken 30 minutes. What? Normal people do it all the time.
Calm down, don't worry, it won't take you 3 hours to make this. That's just what happens when I get an idea in my head and HAVE to make it work. Lots of trial and error. Despite the fact that I was throwing the whole southwestern curve ball at the chowder, I wanted a really creamy base that wasn't the result of copious amounts of heavy cream. The trick?  I ended up making a cheese sauce (roux+milk+cheese) separate from the veggies and stock and stirred it in at end. I used a can of evaporated milk to keep it rich and a cup of 1% milk. It's not exactly low-fat, but definitely better than using cream.
Ingredients
2

lg. ripe tomatoes, seeded and diced

1/4

of a large red onion, diced

1/2-1

whole jalepeno, seeded and diced

juice of 1 whole lime

1/4

C chopped, fresh cilantro

Salt and Pepper to taste
Instructions
Combine all ingredients in a bowl and mix well. I like to make it up at least an hour ahead of time and refrigerate so the flavors can blend.

Made this recipe?
I'd love to see how you rocked it! Share your photo on Instagram with the hashtag
#heatherlikesfood  --
It will totally make my day to see it!
Ingredients
6

C. diced, peeled potatoes (about 5 medium)

1

medium onion, diced

1

tbsp. olive oil

5

C. chicken or vegetable broth

1 14.5

oz. can black beans

12

oz. frozen corn kernels

1

can diced green chiles

4

tbsp butter

4

tbsp flour

2

cloves garlic

1 12

oz. can evaporated milk

1

C milk

1/2

tsp ground cumin

1/4

tsp chipotle chili powder

1/4

tsp kosher salt, more to taste

juice of 1 lime

5

oz (about 2 Cups) grated Monterrey Jack Cheese

1/3

C fresh cilantro, chopped
Instructions
In a heavy bottomed dutch oven or stock pot, heat oil over medium heat until it starts to shimmer. Place onions and garlic in oil and let cook until the onion starts to soften, about 6 minutes.
Add in the cumin and chili powder and stir until very fragrant, about 1 minute.
Add the chicken broth and diced potatoes to the pot, bring to a low boil, cover and cook until the potatoes pierce easily with a fork.
While the potatoes are cooking, melt the butter in a medium sized sauce pan. Once melted stir in the flour and cook, stirring constantly for a minute. Gradually stir in the 2 milks and continue to stir making sure to clean the bottom of the pan with each stir so it doesn't burn.
As it comes to a boil, the mixture with start to thicken. Continue to stir and cook for 1 minute longer. Remove from the heat and stir in the cheese.
Once the potatoes are cooked, stir the corn, beans, and green chilies into the broth and potatoes.
Add the cheese sauce into the broth mixture and stir until well combined. Season with ¼ tsp kosher salt, adding more depending on the salt content of the broth you used. Squeeze juice of 1 lime and stir in chopped cilantro. Serve with fresh pico de gallo.

Made this recipe?
I'd love to see how you rocked it! Share your photo on Instagram with the hashtag
#heatherlikesfood  --
It will totally make my day to see it!