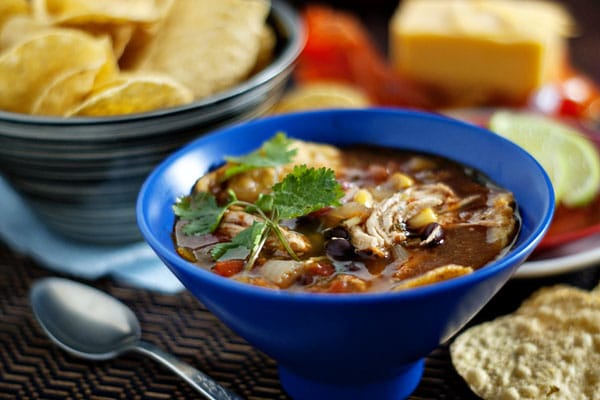 I've shared a lot of recipes over the years with friends and family but, this tortilla soup is hands down the one that gets requested the most often. Honestly, I'm really surprised I haven't already shared it, if only to prevent me from having to email it to someone new. Forwarding emails is such taxing work, you know. I'd much rather sit and eat bon bons and watch Parenthood (do bon bons still exist?).
Here are a few reasons why I think this is a favorite (in no particular order):
It's absolutely the BEST tortilla soup I've ever tried. Lots of trial and error has gone into making this soup my be-all-end-all. If soup eating were a sport, I would win something while eating this and you would too.
It's drop dead easy. Put (mostly) all of the ingredients into the slow cooker in the morning and come dinner time you have a hot, hearty soup that literally took you 10 minutes to make.
It makes you feel amazing and has healing abilities. This is the direct result of #1 and #2. People will love it. You'll feel really cool. You'll start day dreaming about cooking for Graham Elliot on Master chef. You'll eventually realize Graham will want you to cook more than just tortilla soup and decide not to audition. You'll feel sad until you realize there's still soup in the fridge. All is well. All is well.
It's a texture thing. Crunchy tortilla chips topped with cheese turn magical when you add a ladle-full of hot soup brimming with beans and chicken. Throw some diced avocado and a dollop of sour cream into the mix and you just created a euphoric textural symphony of taste in a bowl. The only thing that could make it better would be a unicorn sitting at your dining room table with you. And maybe some flan.
Now that I've pretty much covered the "why", let's focus on the "how". You'll start by adding red enchilada sauce, chopped green chiles, diced tomatoes, and black beans into your slow-cooker.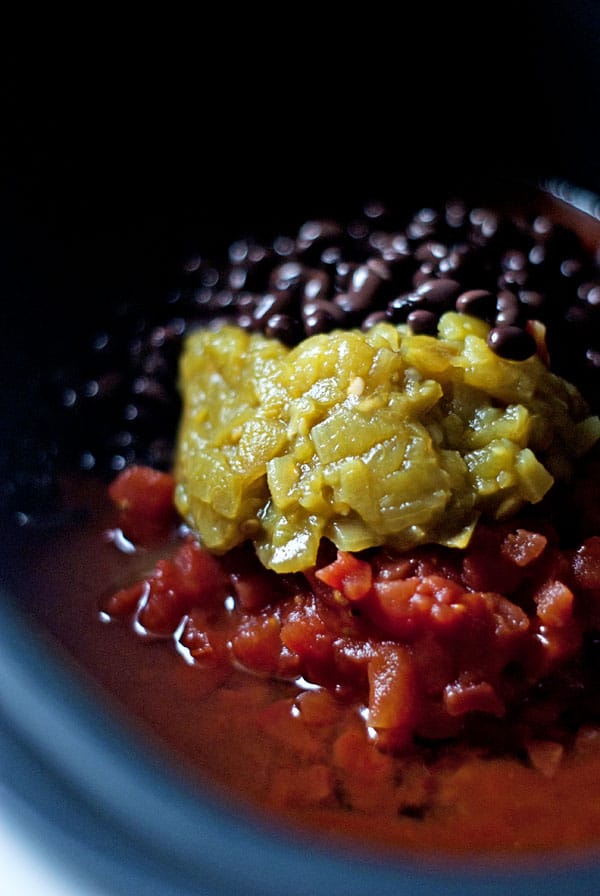 Followed by some frozen corn kernels…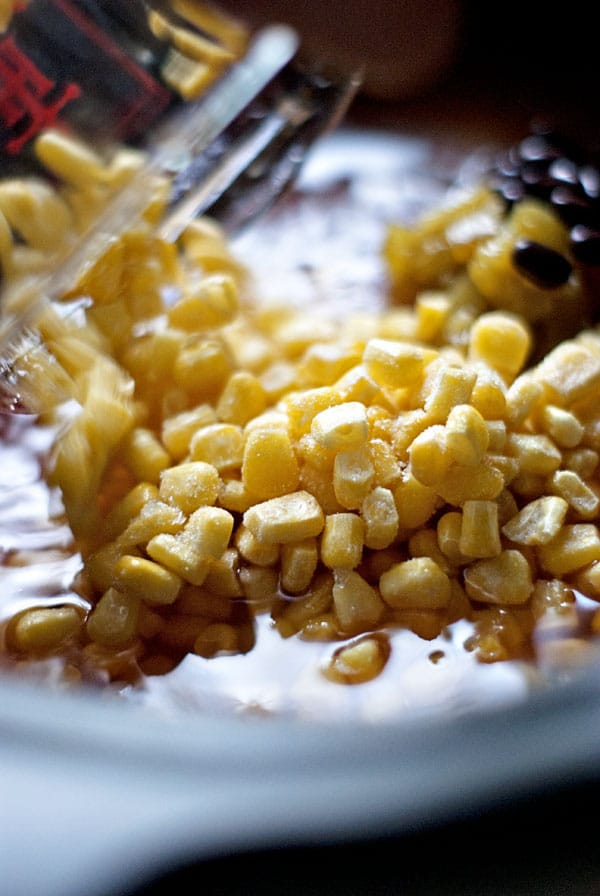 …spices like cumin and chili powder, salt, oregano, and a bay leaf. You'll also chop up an onion and a few cloves of garlic and add them into the mix. You'll then pour a few cups of chicken broth over everything and give it a stir.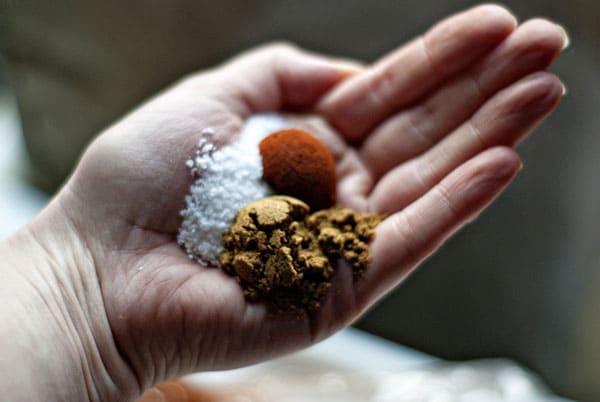 As a general rule, I never like to add frozen meat to my slow-cooker since it takes so long for it to come up to temperature. But, I break that rule whenever I make this soup. Such a rebel, I know. But my reasoning is that the chicken breasts are individual and the soup itself is brothy so they defrost really quickly and it saves me a step. Add 2 boneless skinless chicken breasts into the slow-cooker.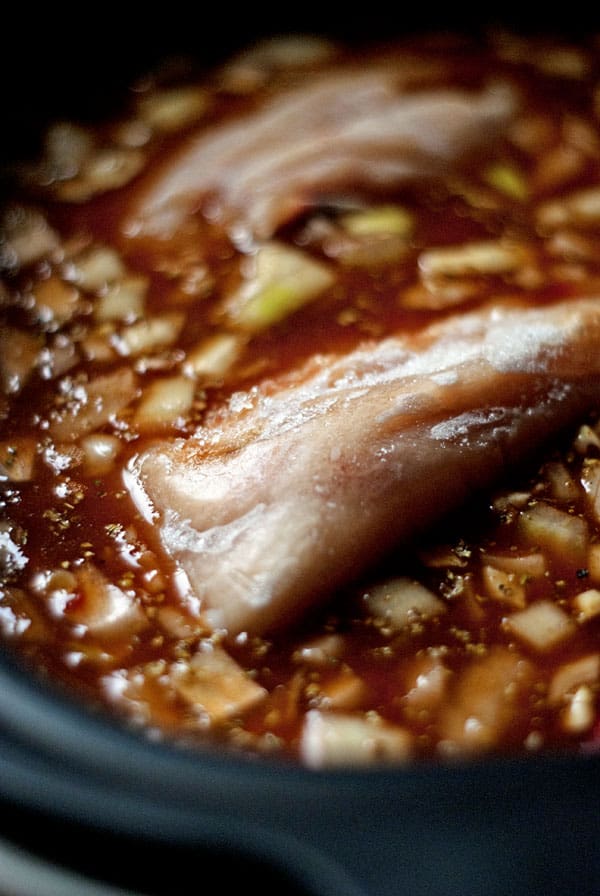 Let it rip and roll and do it's thing on HIGH for 3-4 hours or on LOW for 6-8. It's ready when the chicken shreds easily. Remove that easily shred-able chicken from the soup and shred it up. Meanwhile, stir a big handful of chopped fresh cilantro and the juice of 2 limes into the soup.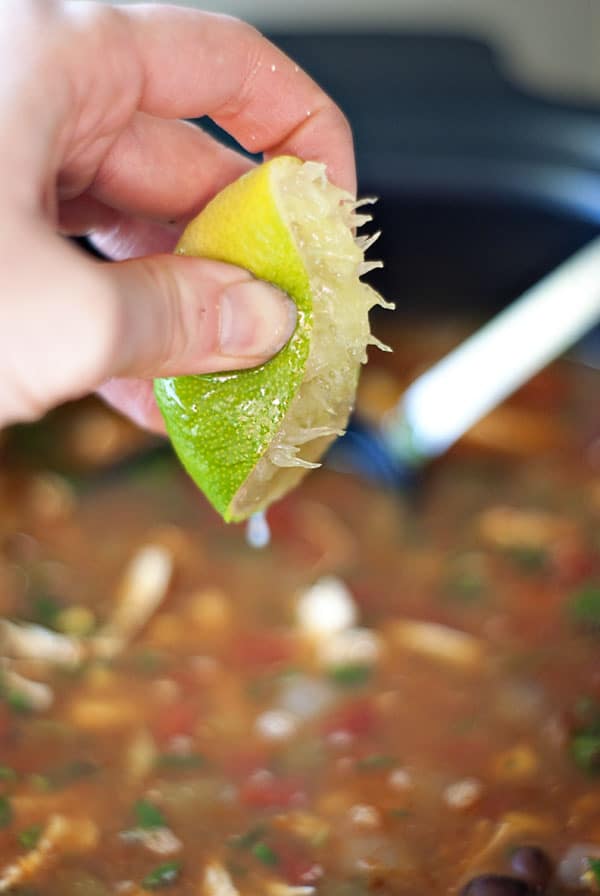 Return the chicken to it's home and serve hot over corn chips and cheese for maximum effect. The melted cheese paired with the still-slightly-crisp tortilla chips is heaven.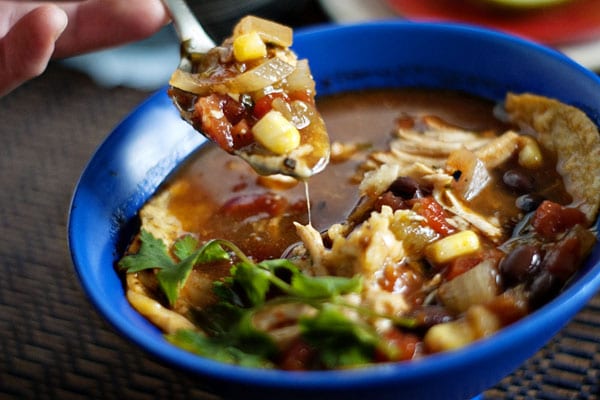 This post is part of BlogHer's Dinner, Faster editorial series, made possible by Land o' Lakes.
Ingredients
1

can (15oz) petite diced tomatoes

1

can (10 oz) red enchilada sauce

1

can (4 oz) diced green chilies

1

can (14.5 oz) black beans, drained

10

oz frozen corn kernels

1

medium onion, diced

2

cloves garlic, minced

4

C chicken broth

1

tsp ground cumin

1

tsp chili powder

2

tsp kosher salt

1

tsp oregano

1/4

tsp black pepper

1

bay leaf

2

boneless/skinless chicken breasts

1/2

C fresh cilantro, chopped

2

limes, juiced

tortilla chips, cheese, sour cream, avocado for serving
Instructions
Combine all ingredients except for the cilantro and lime juice in a slow-cooker.
Cook on HIGH for 3-4 hours or LOW for 6-8 hours.
Remove chicken from soup, shred into bite-sized pieces and return to soup.
Stir in chopped cilantro and lime juice.
Serve with tortilla chips, cheese, sour cream, and avocado if desired.

Made this recipe?
I'd love to see how you rocked it! Share your photo on Instagram with the hashtag
#heatherlikesfood  --
It will totally make my day to see it!