Pepper Jack Stuffed Doritos Burgers - Let's start our Monday out right, shall we? Whaddaya say we crush up a bunch of nacho cheese doritos, mix them into burgers and stuff each one with a pile of pepper jack cheese that turns into a molten volcano of goodness?
I think YES.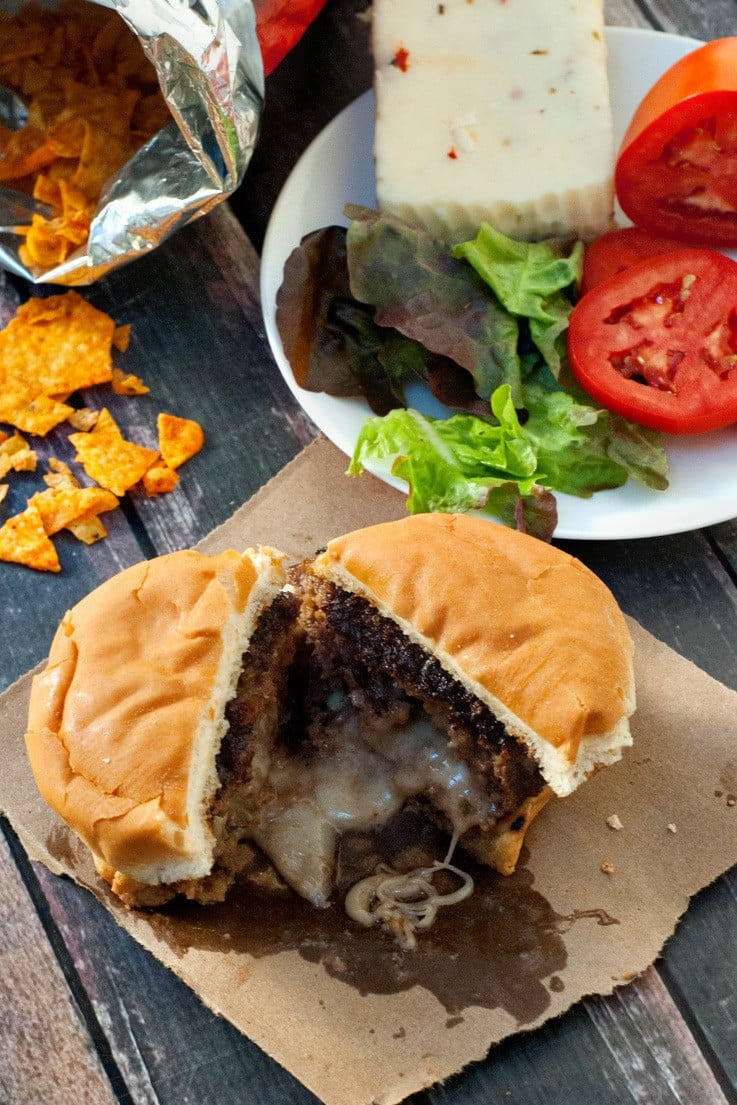 I was listening to the radio the other day and one of the DJ's mentioned a burger he had tried made with Doritos and I knew I had to figure this one out.  You're welcome.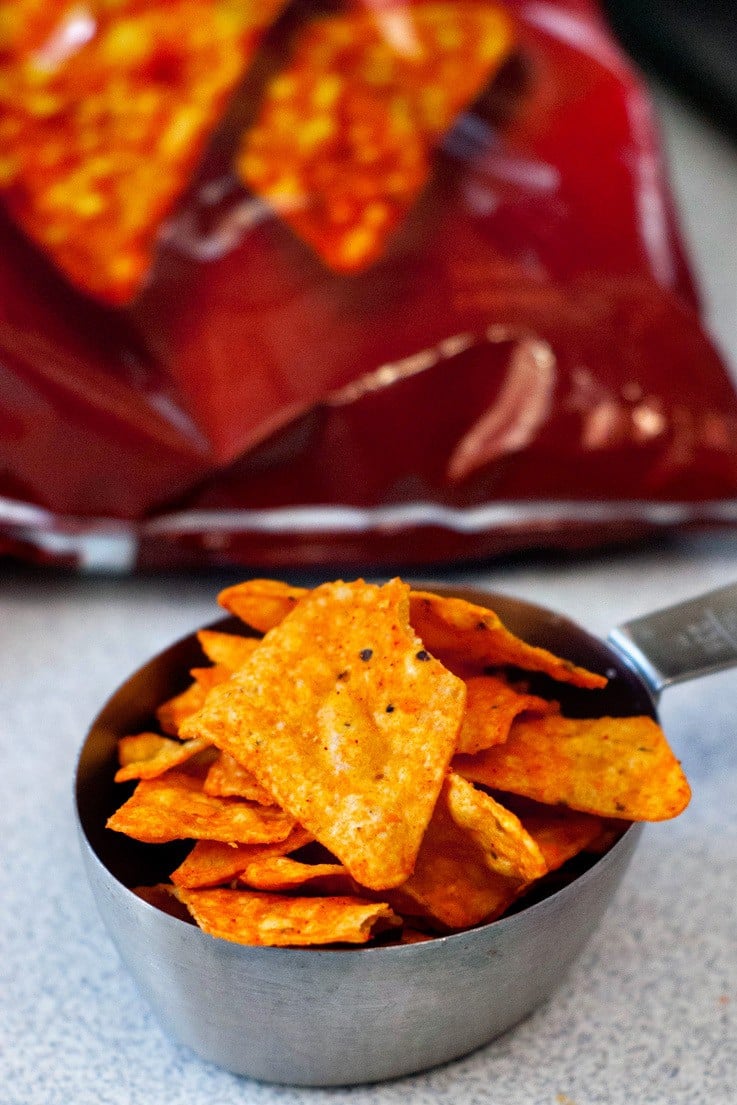 The 3 magic ingredients here are chips, meat, and an egg. It doesn't sound like much, but just trust me this time. My food processor did all the work to crush up the chips, but a rolling pin and ziplock bag would do the trick to.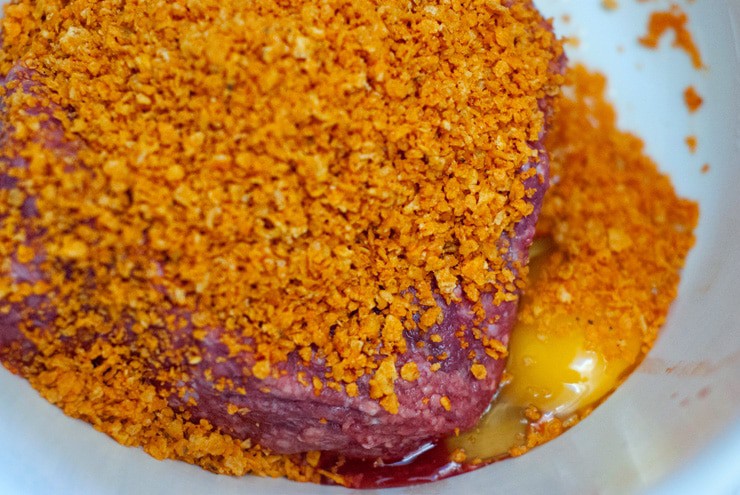 This Pepper Jack Stuffed Doritos Burgers recipe makes 5 patties perfectly if you measure them out to a quarter cup. Each finished patty needs ½ C total, so you'll be scooping out 10 portions of the meat.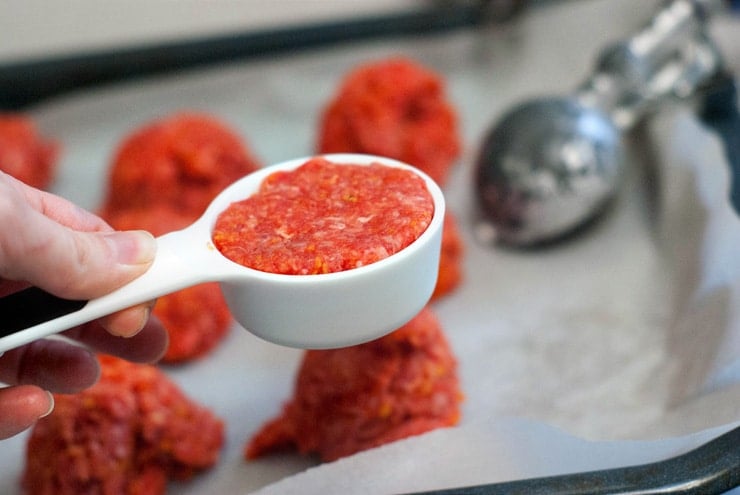 You'll flatten and shape each ¼ C portion into about ½" thick patties first and then we need to make a little hot tub for the cheese to nestle into. I used the back of my ice cream scoop to indent each patty a bit and then topped 5 of them with about 2 tablespoons of grated cheese.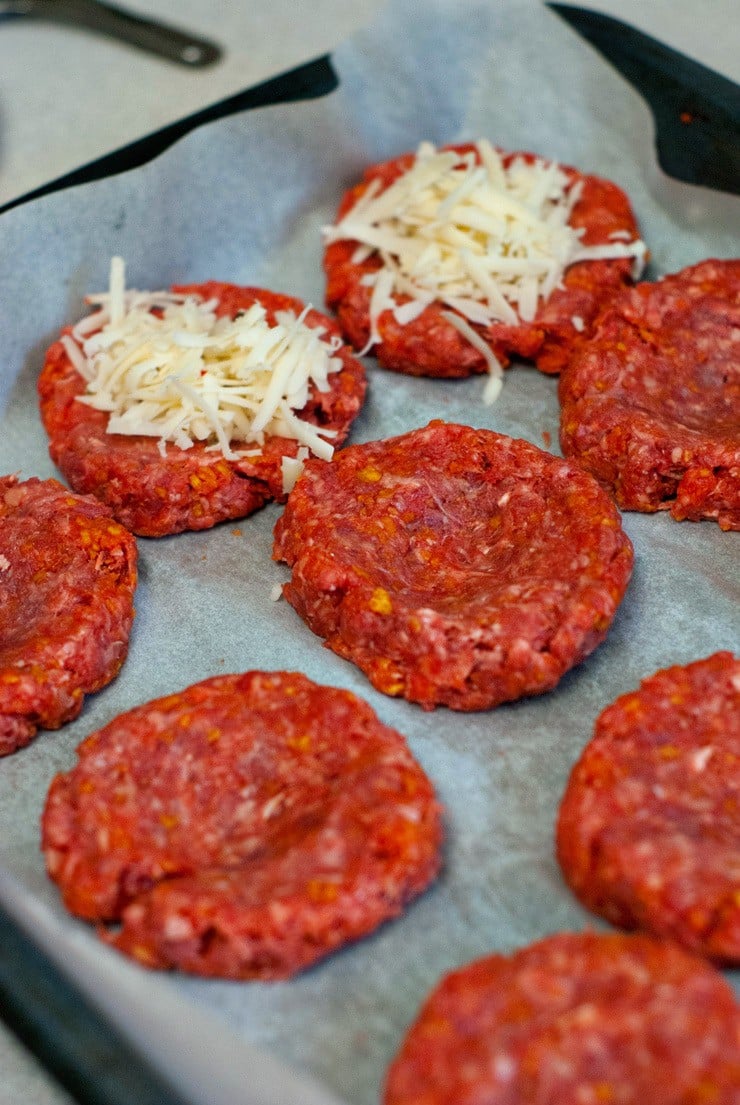 Take the remaining 5 patties and top the cheese filled ones with them, making a little cheese/hamburger sandwich. Crimp the edges to seal in the cheese and reshape and smooth as needed. I also gently flattened them out at this point so they weren't so huge that my jaw got dis-jointed from taking a bite.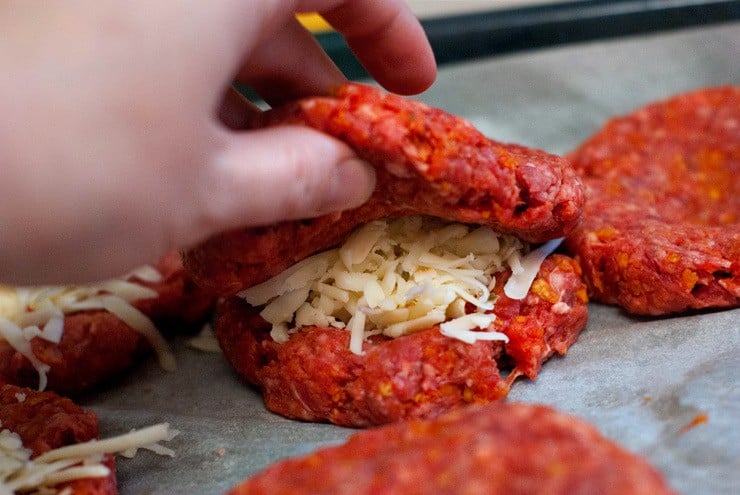 They take about 6 minutes per side over medium-high heat to cook all the way through. Obviously cook them less if you like yours more rare, but with the cheesy middle, these are about as juicy as they come so you don't have to worry too much about them drying out if you cook them for the full time.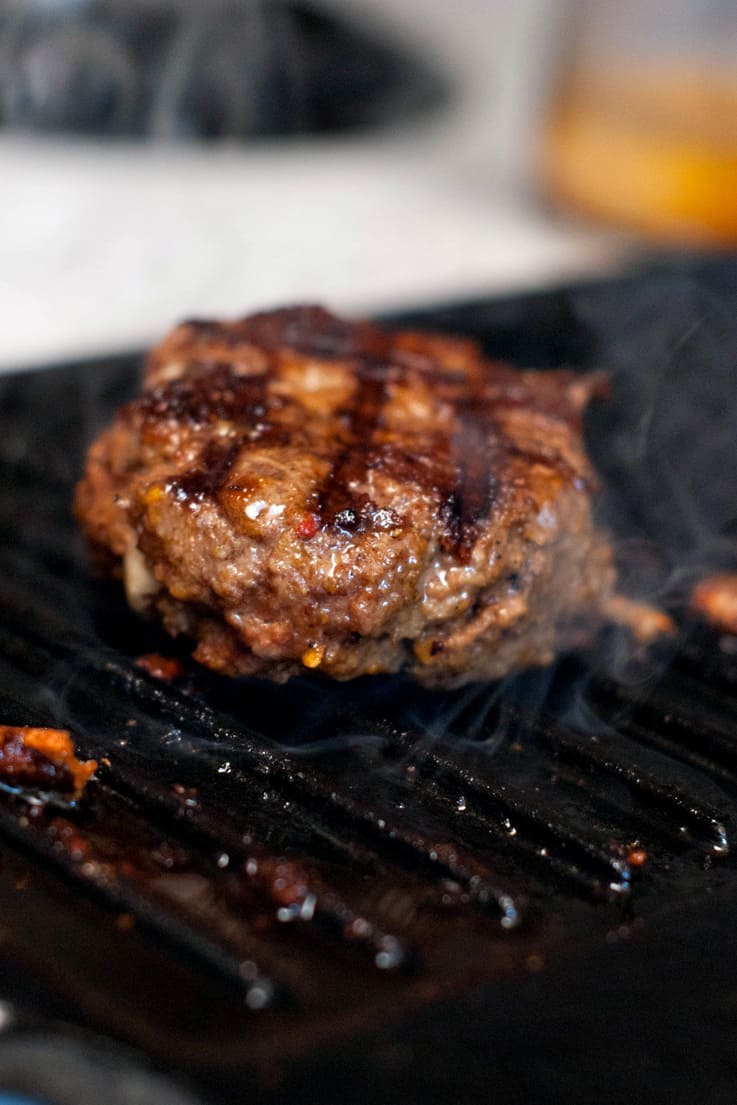 Best Part of Pepper Jack Stuffed Doritos Burgers
For me, the best part of these Pepper Jack Stuffed Doritos Burgers is the super crunchy, salty outside that the Doritos provide. The whole burger is just lightly seasoned with corn and nacho cheese, and the cheese in the middle kind of makes this amazing. Don't forget to take your first bite while they are still hot so you can fully experience the it's-way-too-hot-to-eat-right-now-but-I'm-happy-to-sacrifice-my-mouth-for-something-so-tasty effect. Mouths heal fast anyways.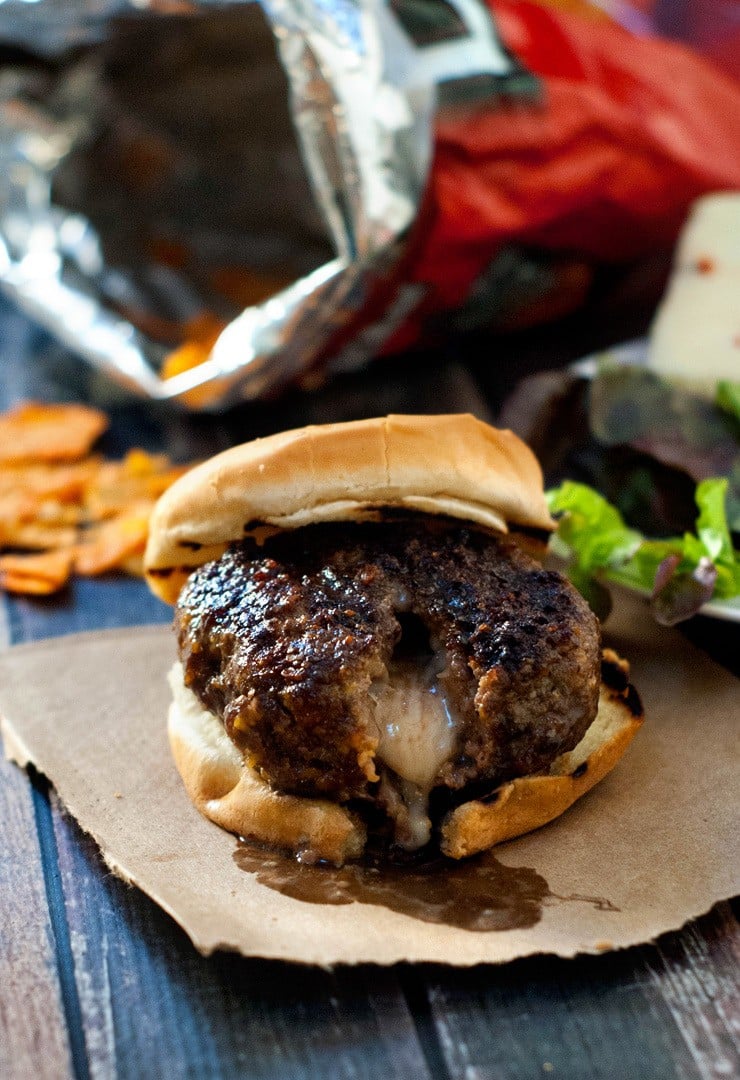 Other Sandwich Recipes You Might Like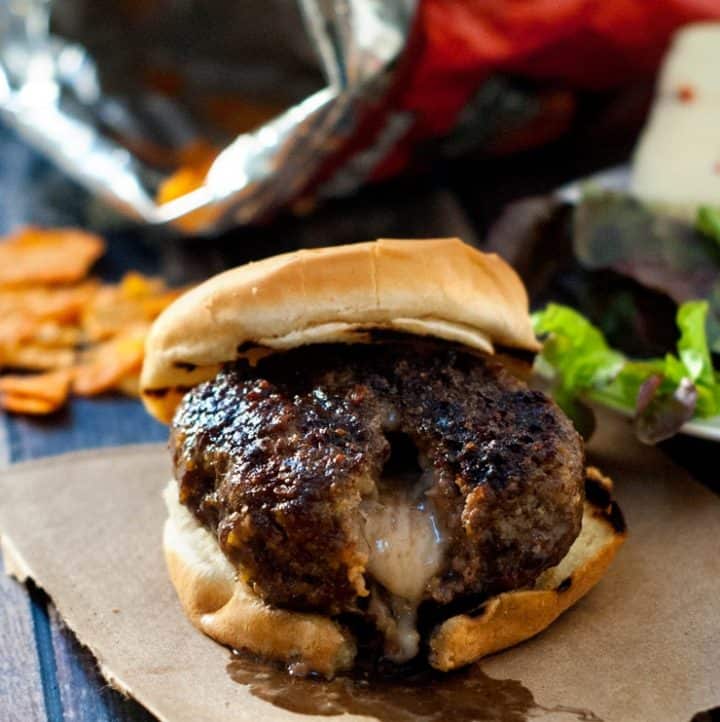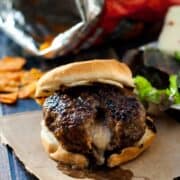 Pepper Jack Stuffed Doritos Burgers
If you love Doritos and jack cheese, you can't go wrong with these Pepperjack Stuffed Doritos Burgers!
Print
Pin
Rate
Servings:
5
hamburger patties
Ingredients
¾

cup

finely crushed Nacho Cheese Doritos

about 2 C chips

1 ⅓

pound

ground beef- 85% lean or less

1

egg

¾

cup

pepper jack cheese

shredded

salt and pepper

buns and burger toppings
Instructions
Combine crushed chips with the meat and egg. Mix until all ingredients are well incorporated, bur don't over mix the meat.

Divide the meat into ¼ C portions and flatten into about ½" thick patties. Use the back of an ice cream scoop to indent the middle of each patty and place 2 tablespoon of the cheese in 5 of the indentations.

Cover each cheese topped patty with the remaining patties, crimp the sides to seal and gently smooth out the patties to be uniform. You can also slightly flatten them at this point. Season each side of the patty well with salt and pepper

Cook over medium high heat on a griddle or grill, about 6 minutes per side for well done.

Serve with the usual hamburger toppings and don't forget to take a bite while the cheese is hot, melty, and juicy!
Nutrition Facts
Serving:
1
patty
|
Calories:
420
kcal
|
Carbohydrates:
11
g
|
Protein:
29
g
|
Fat:
28
g
|
Saturated Fat:
11
g
|
Cholesterol:
130
mg
|
Sodium:
255
mg
|
Potassium:
419
mg
|
Vitamin A:
180
IU
|
Calcium:
180
mg
|
Iron:
3.2
mg
ARE WE FRIENDS ON INSTAGRAM?
Tag me @heatherlikesfood and use #heatherlikesfood so I can see what you're making and enjoying!