These Garlic Parmesan Grilled Cheese sandwiches are what I imagine heaven to be like; cheesy, buttery, and delicious! But, in all seriousness, this technique makes for the best grilled cheese bread ever and takes .2% more effort than throwing something in the microwave. Let's make them!

I'm about to change your little microwave grilled cheese life with these garlic parmesan grilled cheese sandwiches.
What?
Yeah, I see you.
Trying to make a grilled cheese sandwich in the microwave– WHAT ARE YOU THINKING?!?
You see, I did a little searching on my friend, GOOGLE, and it turns out that "Microwave Grilled Cheese" is one of the most-searched-for terms when it comes to grilled cheese. Are you as grossed out as I am?
So, I'm here to set the record straight with a super easy, crispy grilled cheese recipe that will blow the microwave-loving socks off the interwebs.
Mmmkay?
How to Make Garlic Parmesan Grilled Cheese
You start by brushing two pieces of hearty white bread with melted butter. Alternately, you can spread softened butter on the bread if you don't want to melt it. You'll then sprinkle each buttered side with garlic powder and dried parsley.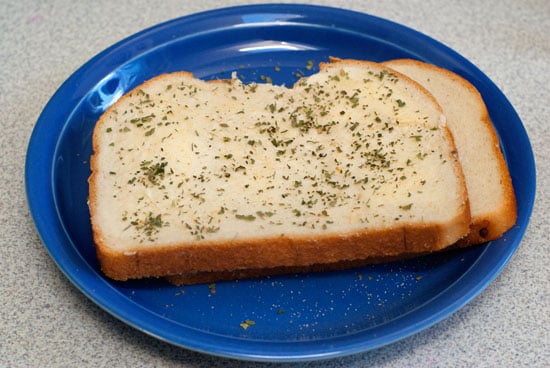 Follow the parsley with a couple of tablespoons of shredded Parmesan cheese (NOT the stuff that comes in a can) on the buttered side of each slice of bread. Gently press the cheese down into the bread as much as you can without squishing it.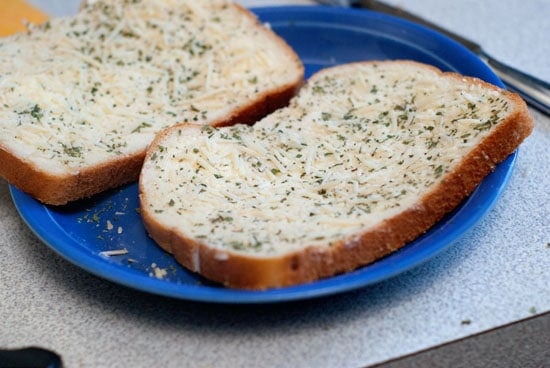 Now, just go along your business like you normally would when making a grilled cheese sandwich on the stove-top. Heat a non-stick skillet over medium heat, slice your cheese of choice and place the bread parmesan butter side down into the hot pan.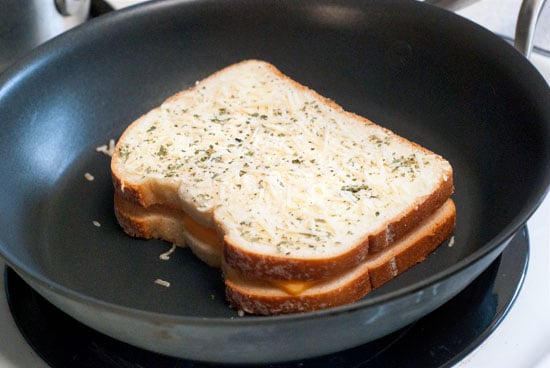 Cook each side of the sandwich until it's golden brown, crispy, and the cheese is good and melted. There are few things worse than biting into a grilled cheese that has partially melted cheese. Am I right?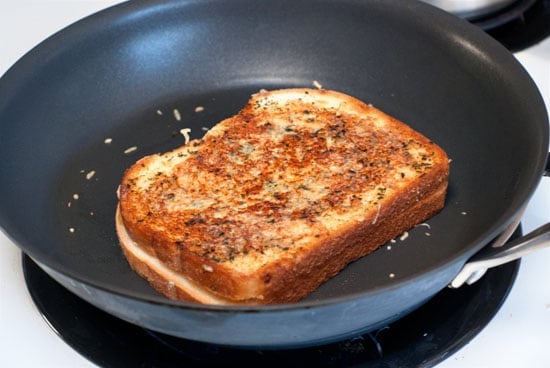 The finished Garlic Parmesan Grilled Cheese is crispy, garlic-y, cheesy, and pretty hard to resist. If you ever get the notion to throw some cheese and bread into the microwave again after reading this, I'm not sure I can help you. 🙂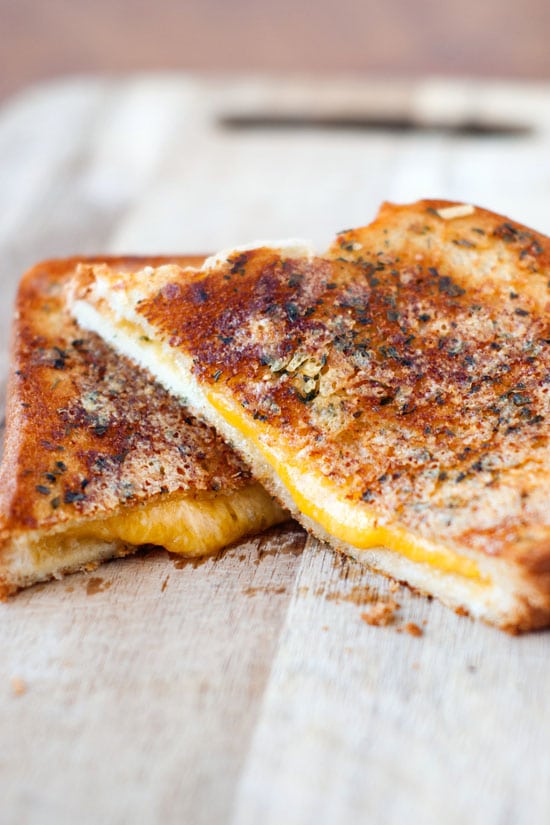 Want more easy sandwich recipes?
Tools used in making these Garlic Parmesan Grilled Cheese Sandwiches
Anolon Nouvelle Copper Non-stick Pans: These non-stick pans are metal utensil safe and last a long time. I've been using Anolon's pans exclusively for the past five years and am still in love with them!
[Simple-recipe]