These Slow Cooker Italian Beef Sandwiches are one of my family's favorite meals. The Italian Beef is put together quickly in the crockpot and makes for some amazing and hearty sandwiches.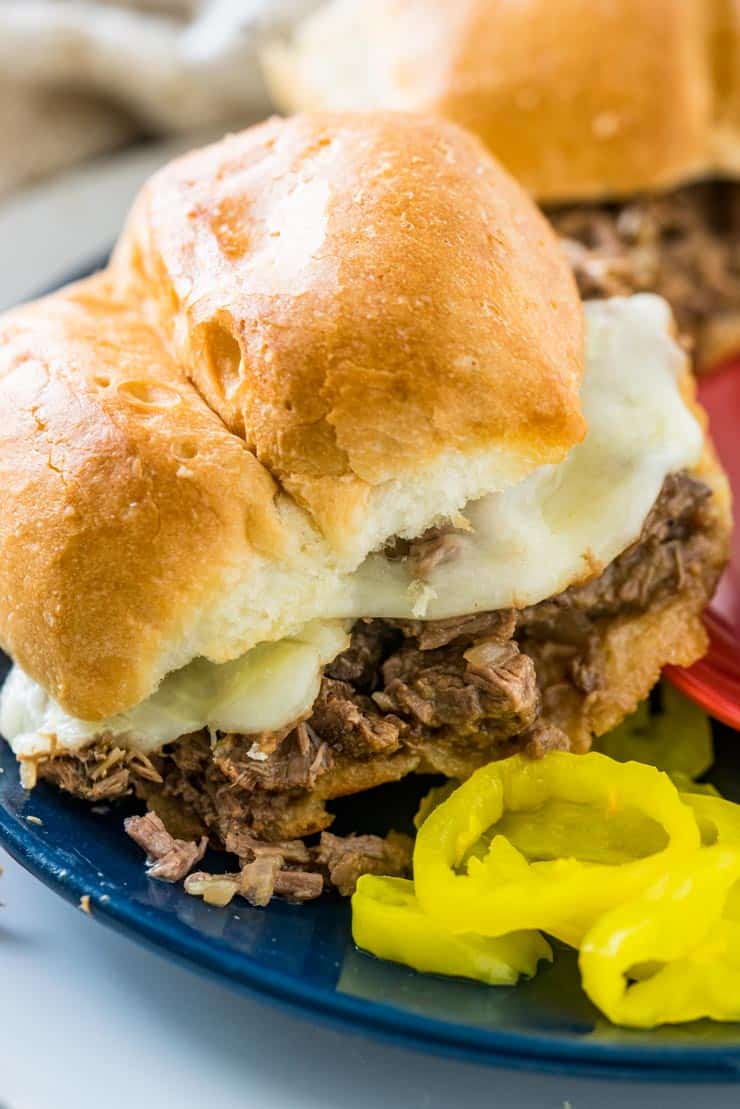 Hey friends! I figure it's due time that I get another recipe up. We've had a VERY full summer! I'll go into some detail on the happenings here at currently non-existant Chez Cheney below this post for those of you that are interested. But for the rest of you, I'm going to just jump right into these Slow Cooker Italian Beef Sandwiches!
Slow Cooker Italian Beef Sandwiches
This Italian beef recipe is one of my favorites for the fall. It's about this time every year that I break out my trusty slow cooker or crockpot and let it do the work while we're rushing around to all the kid's activities during the evening and want a good meal when we get home. I often make this Smoky Slow Cooker Pulled Pork or Fiesta Slow Cooker Chicken Tortilla Soup for easy meals, too!
These hot beef sandwiches are hearty, filling, and are best with a slice of melted provolone, some pickled hot peppers or pepperoncini, and dunked in a bit of the au jus or cooking liquid from the beef.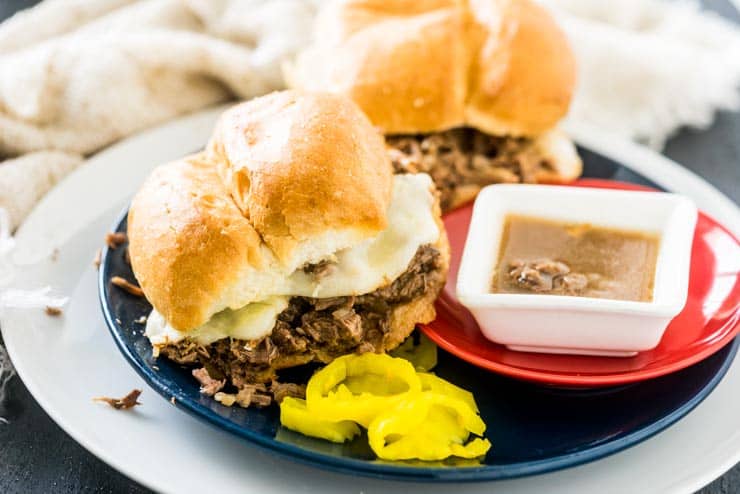 Cooking Tips for the BEST Italian Beef
Pick your cut of beef: The beauty of this recipe is that since you're slow cooking it, you can get away with using a less-expensive cut of beef! My favorite cut to use is chuck roast as it is a little fattier and yields more succulent meat, but any cut labeled as a beef roast at your butcher counter will work. Just make sure to trim any excess fat off the outside of the roast, so your au jus isn't overly fatty.
Use Beef Consomme instead of beef broth. Canned beef consomme can be found at most grocery stores in the canned soup aisle and is richer in flavor and thicker in consistency than beef broth. Using this instead of beef broth adds a depth of flavor to the finished beef and is great for dipping the sandwiches in.
Use a good, hearty bread to build your sandwich on. I like to look in the bakery section for crusty rolls or a big loaf of crusty Italian bread I can cut into pieces.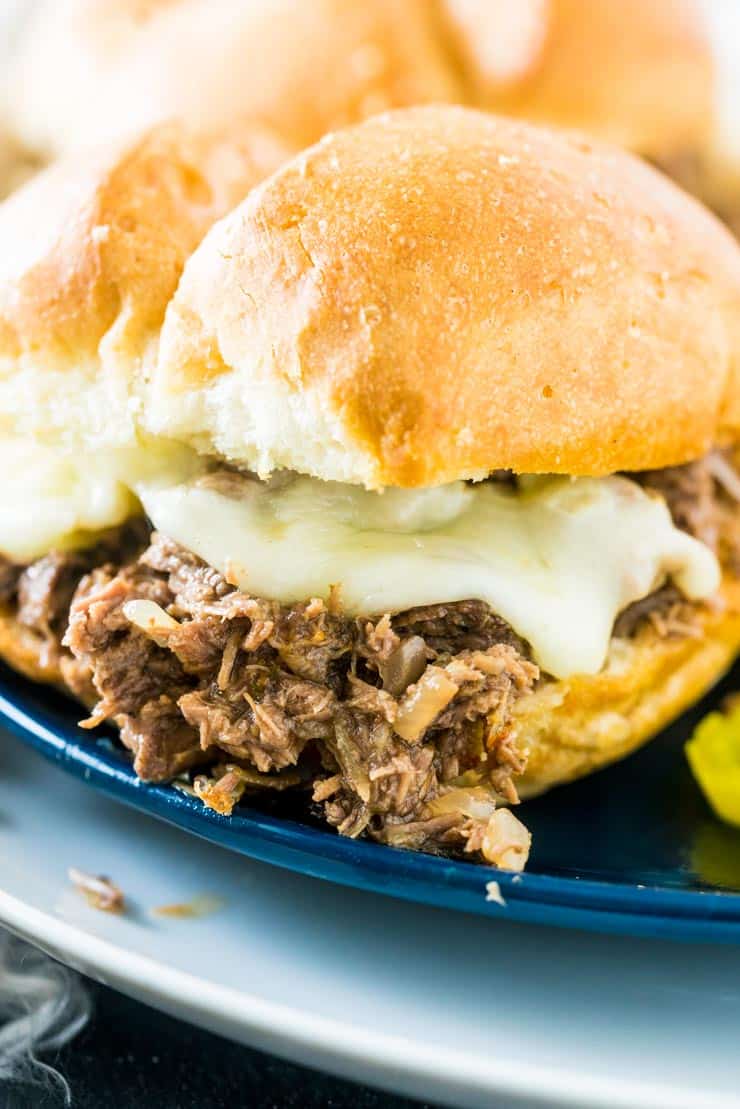 Tools Needed for Slow Cooker Italian Beef Sandwiches
A Slow Cooker! I use this Ninja 3-in-1 cooking system. I've owned this slow cooker for about six years (when they were first introduced), and I still love it. The stovetop feature allows me to sear and cook meats before allowing them to slow cook (fewer dishes) and there's a bake feature as well.
Nordic Ware Half Sheet Pans: I LOVE these sheet pans! They last a long time, are commercial-grade and bake evenly! Perfect for toasting the bread for hot beef sandwiches!
Other Sandwich Recipes You Might Like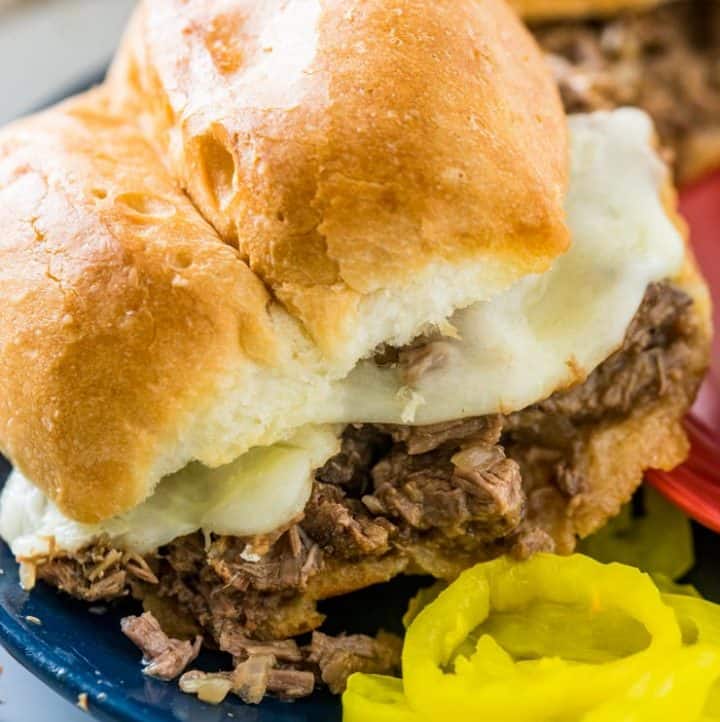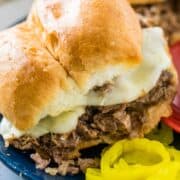 Slow Cooker Italian Beef Sandwiches
Easy and full of flavor, these hot beef sandwiches are the perfect remedy for busy weeknights!
Print
Pin
Rate
Ingredients
5

pound

Beef Roast (I use Chuck)

Trimmed of excess fat

2

.7 ounce packet

dry Italian Dressing Mix

1

tablespoon

Italian seasoning

½

teaspoon

kosher salt

more to taste

1

medium-sized

white onion

finely diced

1

cup

pepperoncini slices

2

10.5 ounce cans

Beef Consomme

10

crusty rolls or Italian bread

provolone cheese slices, pepperoncini, and hot peppers to topping the sandwiches
Instructions
Place beef roast in slow cooker and sprinkle dressing mixes, Italian seasoning, and salt over the roast.

Top roast with diced onion and pepperoncini and pour beef consomme over the top.

Cover slow cooker and cook for 8-10 hours on low or until the roast is tender and shred easily.

Remove roast from slow cooker and shred into bite-sized pieces. Place shredded beef back into cooking juices, cover and simmer for an additional 30 minutes to allow flavors to meld.

Toast rolls and top with shredded beef and a slice of provolone cheese. Top with additional pepperoncini or hot peppers if desired.
Nutrition Facts
Serving:
1
sandwich
|
Calories:
3571
kcal
|
Carbohydrates:
296
g
|
Protein:
89
g
|
Fat:
225
g
|
Saturated Fat:
120
g
|
Cholesterol:
156
mg
|
Sodium:
2423
mg
|
Potassium:
2019
mg
|
Fiber:
20
g
|
Sugar:
175
g
|
Vitamin A:
80
IU
|
Vitamin C:
10.2
mg
|
Calcium:
48
mg
|
Iron:
16.8
mg
ARE WE FRIENDS ON INSTAGRAM?
Tag me @heatherlikesfood and use #heatherlikesfood so I can see what you're making and enjoying!
The Indulgent Life
As I mentioned earlier, this summer has been very FULL for us!
During the month of July, we sold all our furniture, packed up the rest and put everything we owned into a 16' storage container. The hubs had finished his 1-year internship for graduation, and we had a plan!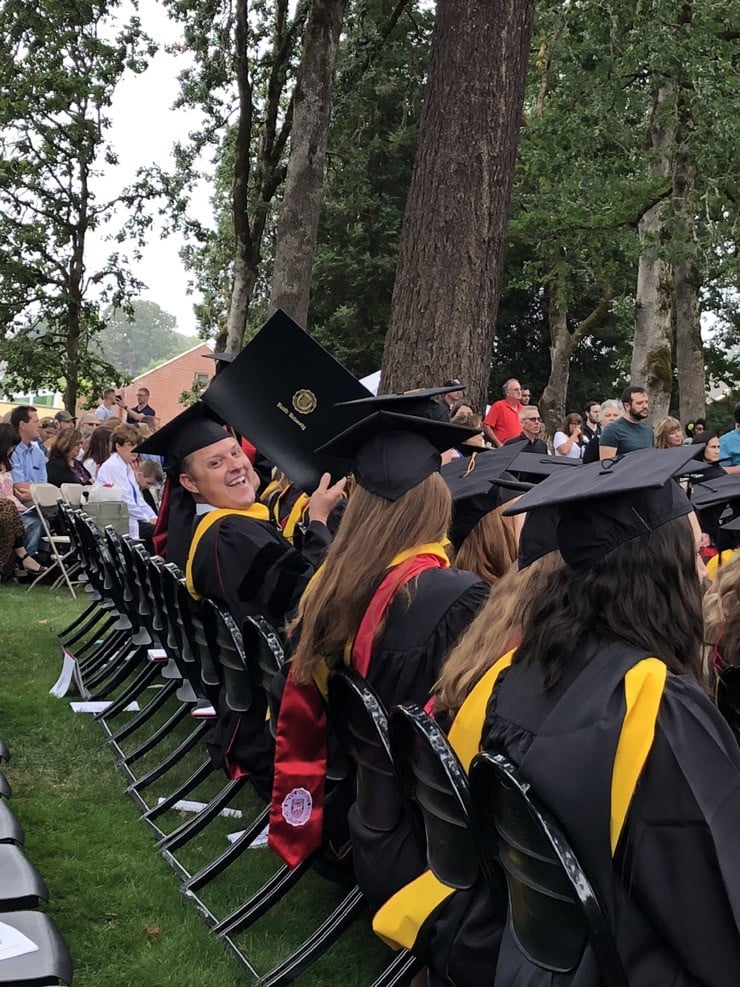 The plan was to move into our RV that we had been renovating while we searched for a job and figured out where we wanted to settle. We would hit a few national parks, do some camping and be ready to get back to real life in 4 weeks, max.
Three days before we needed to be out of our rental and moved into our RV, a head gasket blew on our 40-year-old engine making it impossible to take on our planned trip. The repair was too costly and the few shops that could even fix it had a waiting list several weeks out.
So, we parked the RV and headed out to Oregon for graduation with only a duffle bag for each of us and a cooler in the trunk of the hub's Nissan Murano.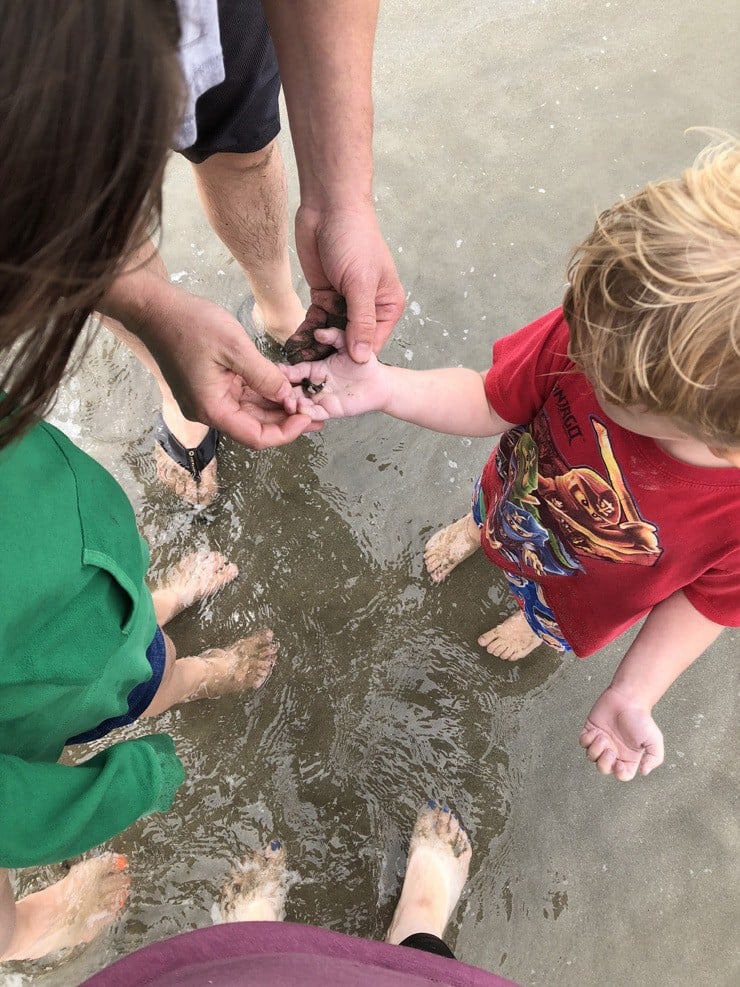 We've been "on the road" for about five weeks now, and we still don't know what the heck we are doing! We're still waiting to find out what we're doing as far as a job goes which means we won't be getting into a house and settling any time soon.
So far we've been to 9 National Parks, 9 States, and 2 Canadian Provinces and have driven almost 5000 miles. We have some tentative plans that will increase those numbers quite a bit over the next few weeks if we can muster up enough courage (and energy).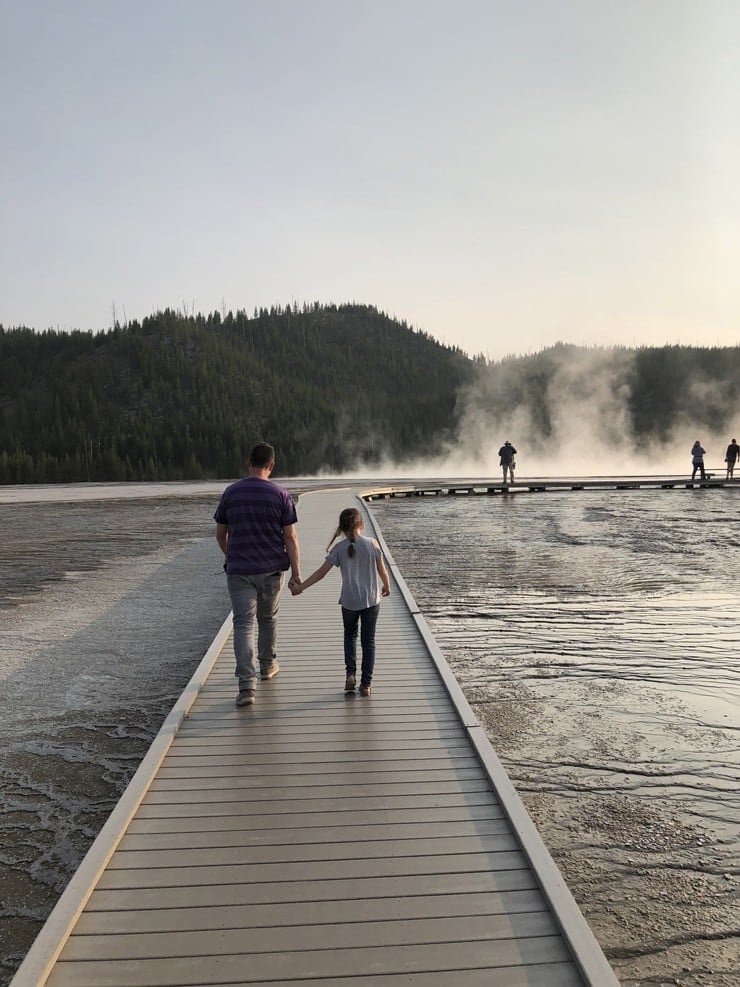 At this point, we figure that we likely won't have another opportunity to be such vagabonds, so we're embracing it and making lots of memories with the kiddos.
It's hasn't all been rosy. We've had our good days and bad. The kids get tired of being squished three across in the back seat of the car. Had we known we were going to do a road trip of such epic proportions, we probably would have gotten our minivan fixed. But, in some ways, I think it's been good bonding for them to be in such tight quarters.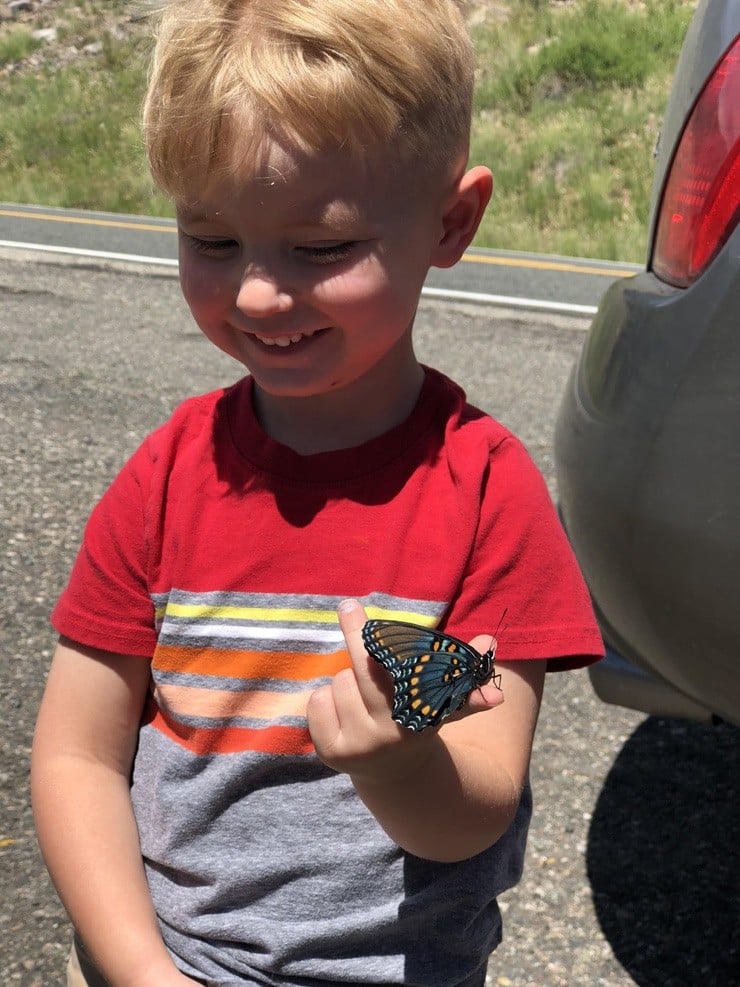 We've learned some of our kid's superpowers during this trip, too. This guy has proven to be a legit butterfly whisperer. This has happened a few times on this trip.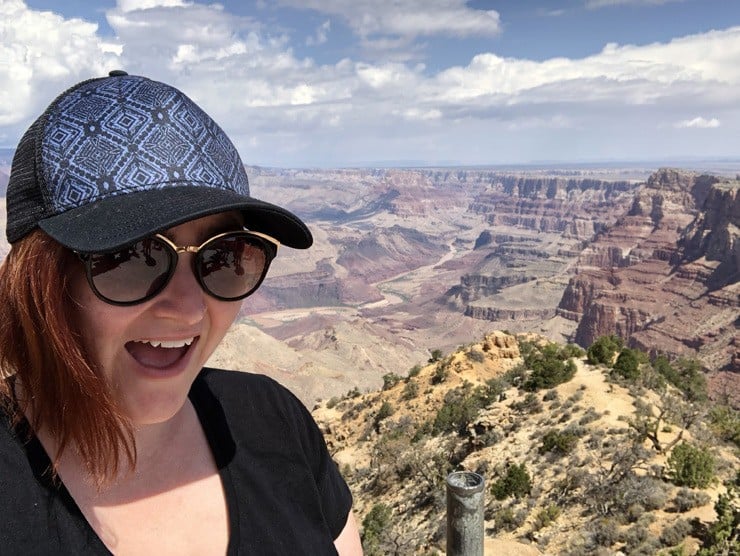 So, here's to adventure, spontaneity, cheap hotel rooms, job searches, privileged homelessness, and a whole lot of family time!