This Smoky Slow Cooked Pork is great served over rice, wrapped up in lettuce leaves or just eaten on it's own. Top it with a sweet and crunchy pineapple slaw and it's makes for a super flavorful meal that even my picky eaters gobble up!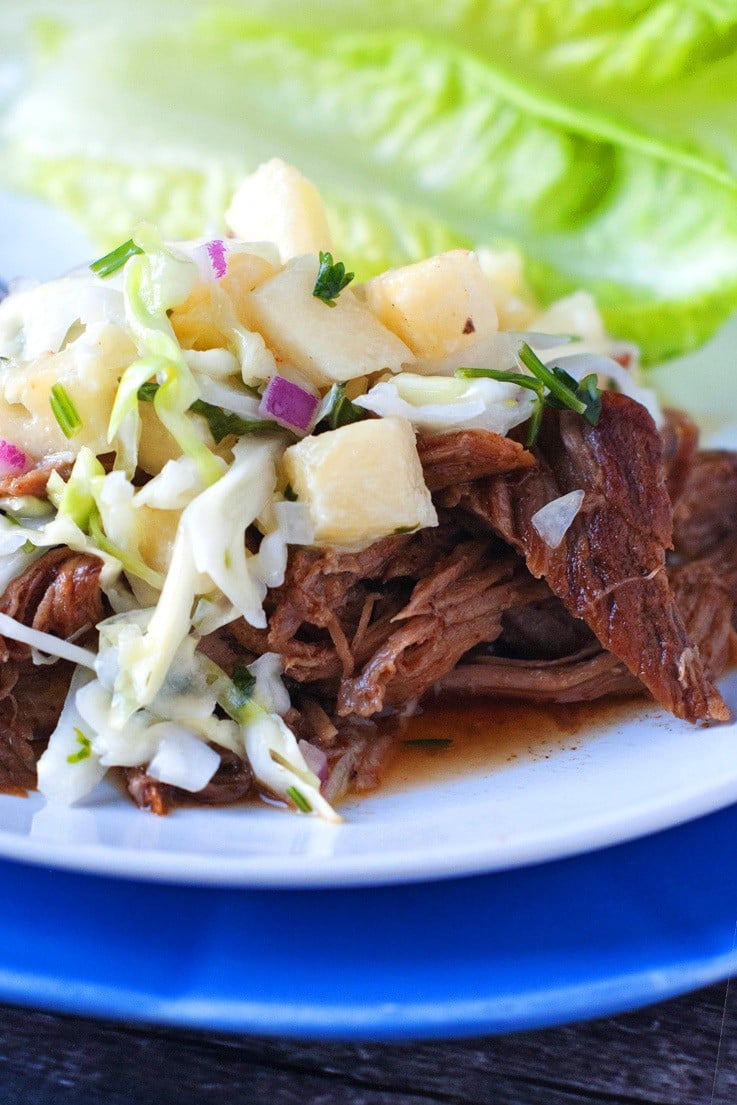 Back when we were first married and had all the time in the world (we didn't really, we just didn't have kids yet) we bought an electric smoker at a garage sale. We were SO excited to smoke this and smoke that and had super illusions of grandeur about how much we were going to use it. As the story usually goes, it didn't get used nearly as much as we had planned. I think I remember smoking ONE batch of salmon in it and using it as a BBQ the other 4 or 5 times we pulled it out.
We ended up moving and sold it to another chump that was SO excited to buy it at our garage sale. Maybe they actually used it and if they did I applaud them and secretly wish I could live next door and pretend that it was us that was filling up the air with smoky goodness instead of our good intentions.
I love smoked pork and this recipe is just smoky enough to curb the craving without having to spend hours feeding wood chips into a smoker. It's great on its own and creates a super flavorful juice that is great spooned over rice. You can also toss the meat with BBQ sauce for awesome sandwiches or you can eat it like it do and wrap it up in lettuce leaves with a pineapple slaw. The pineapple slaw is sweet, tangy and crunchy and offsets the richness of the meat quite well. Enjoy!!
Ingredients
6 lb boneless pork shoulder roast, trimmed of excess fat
1 tbsp kosher salt
1 tbsp chili powder
1/2 tsp chipotle chili powder- more if you like some heat
2 tsp garlic powder
1 tbsp olive oil
2 tsp liquid smoke
1/4 C balsamic vinegar
4 C diced pineapple-- about 1 small-med pineapple
1/4 C red onion, finely chopped
1/2 C cilantro, chopped
3-4 C shredded cabbage
1/4 tsp kosher salt
Juice of 1 lime
1/4 C mayonnaise
Directions
Combine salt, chili powders and garlic powder in a small bowl and spread over the meat. Sear the roast in a hot skillet with the olive oil until golden brown on all sides. Transfer roast to the slow cooker.
Combine liquid smoke and balsamic vinegar in small bowl and pour over the roast. Cook on low for 7-8 hours or until its tender and easily shreds with a fork.
Once cooked, remove roast from the slow cooker and shred. Pour the juices created from cooking into a fat separator or large measuring cup and either pour or spoon off the fat that rises to the top. Return the shredded meat to the slow cooker and combine with the cooking juices. Cover and let cook an additional 5 minutes.
Combine all the ingredients for the slaw and season to taste. Serve the pork topped with the slaw on top of rice or wrapped up in lettuce leaves.

Made this recipe?
I'd love to see how you rocked it! Share your photo on Instagram with the hashtag
#heatherlikesfood  --
It will totally make my day to see it!
Like what you see here? Make sure you are following Heather Likes Food for more recipes and ideas!
Facebook | Pinterest | Instagram | Twitter | Google+ | Weekly Newsletter | Feedly | Bloglovin