I've got chicken on my brain this morning and while this is a sponsored post for Foster Farms® Chicken , you won't want to miss this recipe. Promise.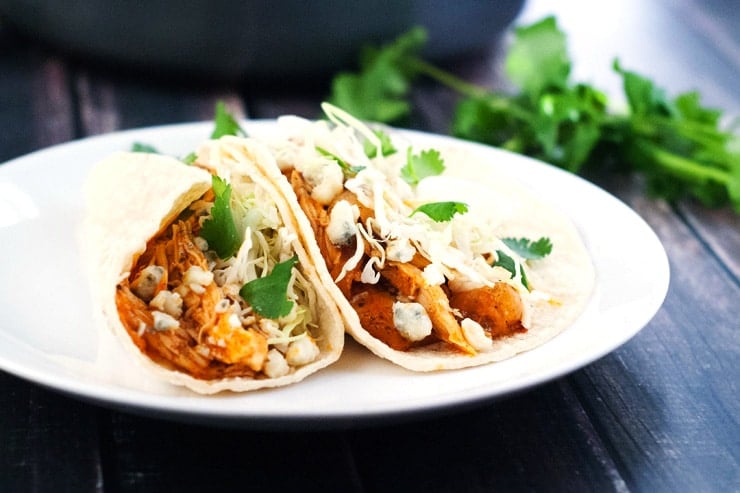 So, I like big tacos and I cannot lie.
I'm pretty sure that I could live off tacos and tacos alone for the rest of time if I had to. I mean, I know I'd miss bread, and pasta, and pizza and a pretty large hand full of other things that I'm forgetting, but really tacos are where it's at.
And these tacos, THESE tacos need to take a seat at your kitchen table soon. I've been on a buffalo chicken kick lately and when I got the idea to stuff it inside a taco, I knew it was meant to be.
For my tacos I used Foster Farms® Simply Raised Chicken Breasts. Foster farms® is the West Coast's leading poultry producer and being a west coaster myself, it's the chicken I reach for first at the super market. They revealed new branding and a trio of fresh chicken product lines: Fresh and Natural (the only Foster Farms® you've seen at the store until now), and now two antibiotic free lines – Foster Farms Simply Raised, and Foster Farms Organic. I went for the Simply Raised because I like that it is antibiotic free, 100% natural and the chicken is given only vegetarian feed. The Simply Raised line is American Humane Certified and locally grown throughout CA, WA and OR! Their SimplyRaised line can be found in most major grocery stores now and the Organic is at Costco and select grocery stores.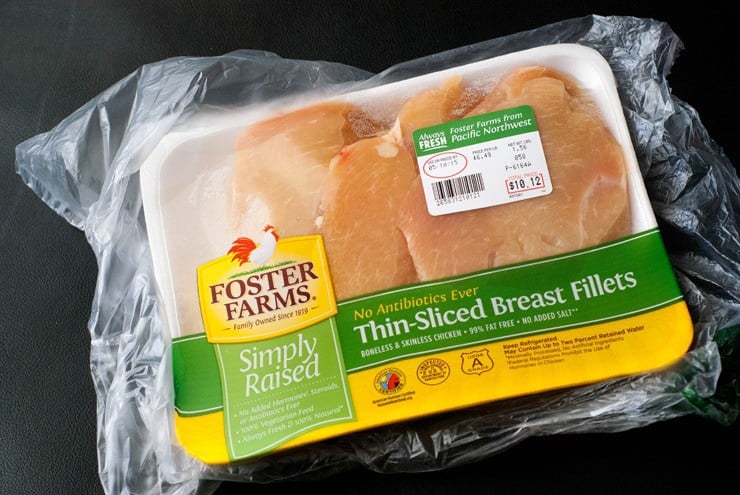 When I'm making a recipe that calls for pre-cooked chicken, I like to just throw some in the oven to bake. All you have to do is arrange your chicken breast in a single layer on a baking sheet, season with some salt and pepper, and put into a 375 degree oven for about 20 minutes or until cooked through. Cooking times will vary depending on how big your chicken breasts are but if the juices run clean when you cut into the meat, it's done.
Once you have the chicken cooked, it's time to buffalo-ize it. You'll caramelize some onions, throw the chicken into the pan with some ranch seasonings and then smother the whole shebang with hot sauce, a little bit of butter, and some plain yogurt to give it a little bit of creaminess.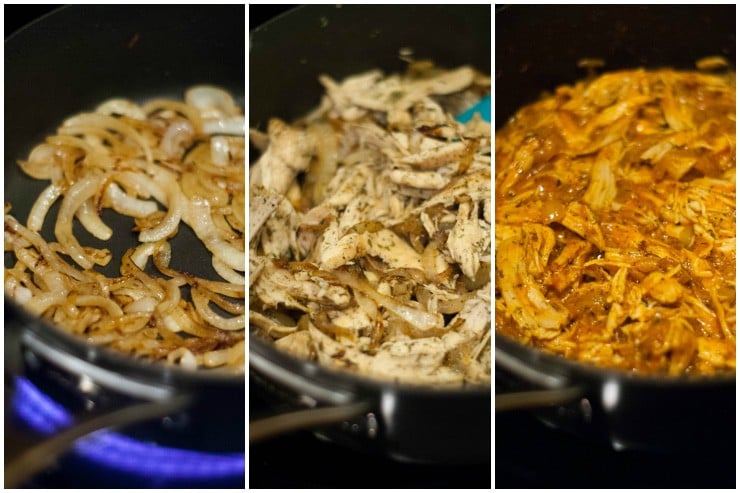 You can adjust the amount of hot sauce you use to taste. I like to use about 1/3 C of sauce to 1/4 C of yogurt.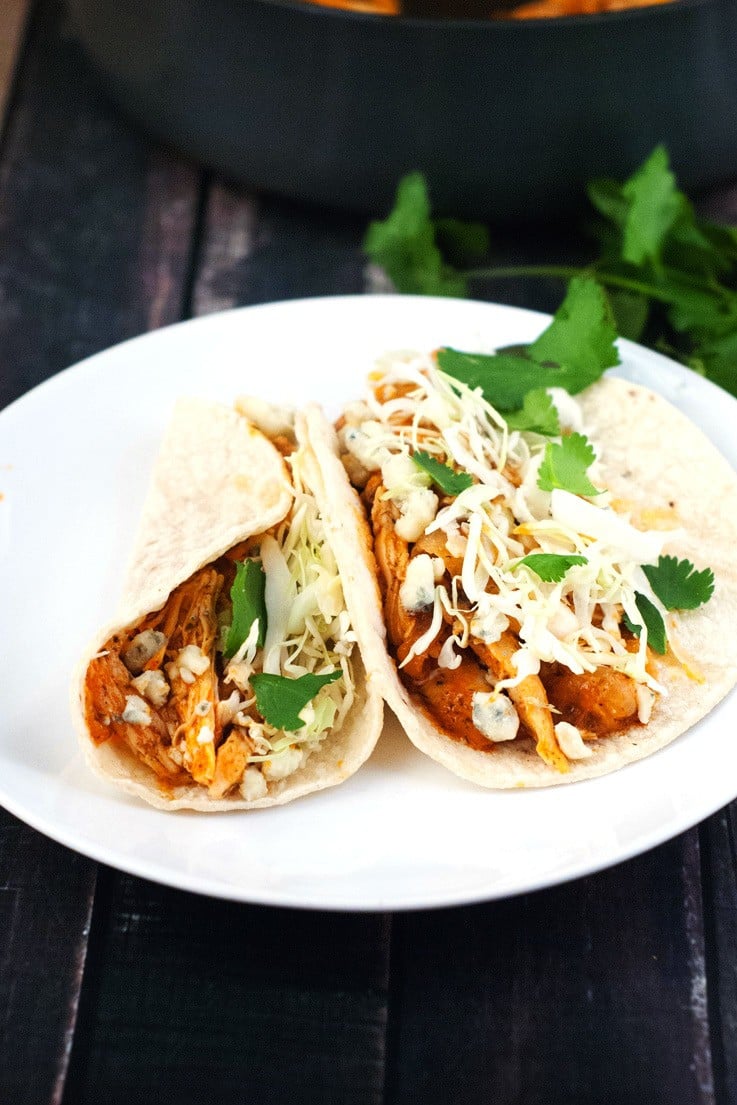 From here it's all about the toppings! We couldn't have a buffalo taco without some blue cheese, could we? And then, little shredded cabbage and fresh cilantro keep it nice and fresh tasting as well as take some of the edge off the chicken.
They are all in all a pretty fantastic take on tacos, if you ask me.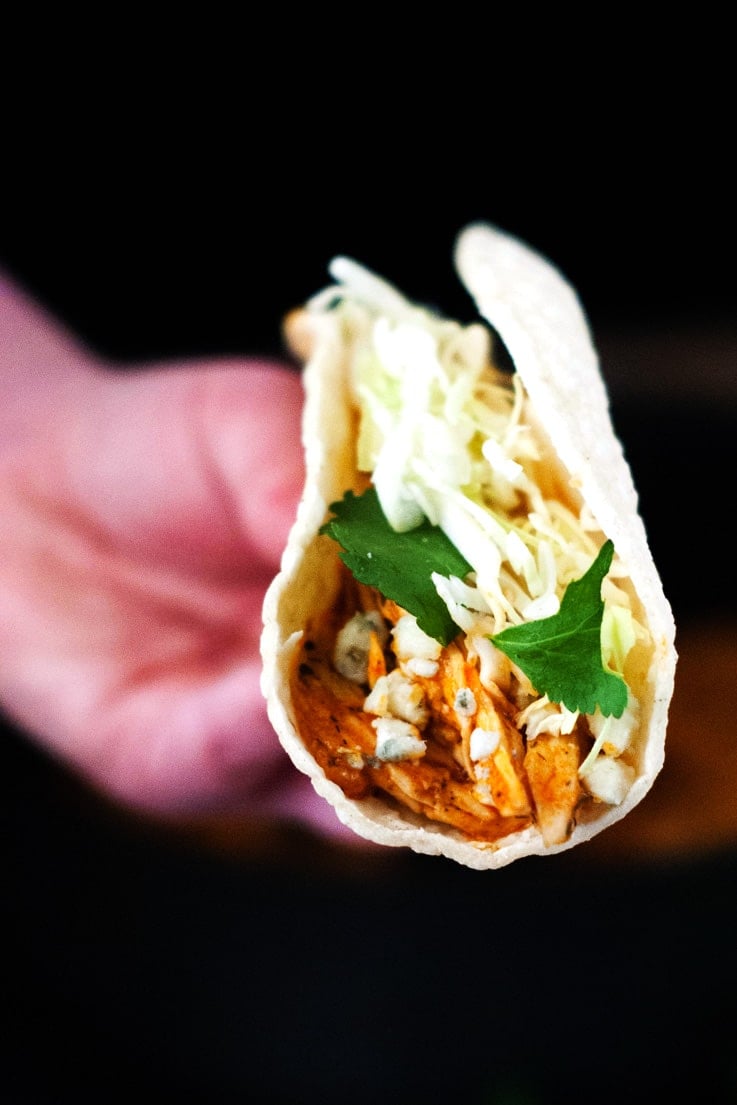 This is a sponsored post written by me on behalf of Foster Farms®.
Ingredients
1.5

lbs Foster Farm's Simply Raised Boneless Skinless chicken breasts, cooked and shredded

1

tbsp olive oil

1

medium onion, sliced

1

tbsp ranch dressing mix or 1/2 tsp each dried parsley, dill, garlic powder, onion powder, and kosher salt

1

tbsp butter

1/4-1/2

C plain, non-fat yogurt

1/4-1/2

C hot sauce

Corn Tortillas, Blue Cheese, Shredded Cabbage, Fresh Cilantro, Sour Cream, Guacamole
Instructions
Heat olive oil in a skillet over medium heat and cook onions until tender and caramelized-- about 10 minutes. Add in chicken and ranch seasoning, stir and cook for 1 minute.
Stir in hot sauce, butter and yogurt. Use more hot sauce and less yogurt if you like it spicy and the opposite if you like it milder.
Heat the chicken thoroughly and spoon into warm corn tortillas. Top with blue cheese crumbles, shredded cabbage, cilantro, and sour cream to serve.

Made this recipe?
I'd love to see how you rocked it! Share your photo on Instagram with the hashtag
#heatherlikesfood  --
It will totally make my day to see it!

http://ec2-54-244-107-86.us-west-2.compute.amazonaws.com/tracker.php?cid=00DE0000000eHXcMAM&pixel=1E000000VnwjKIAR