These hearty sandwiches come together in just minutes but deliver a big hit of flavor! Perfect for weeknights when you don't have a lot of time but want something out of the ordinary.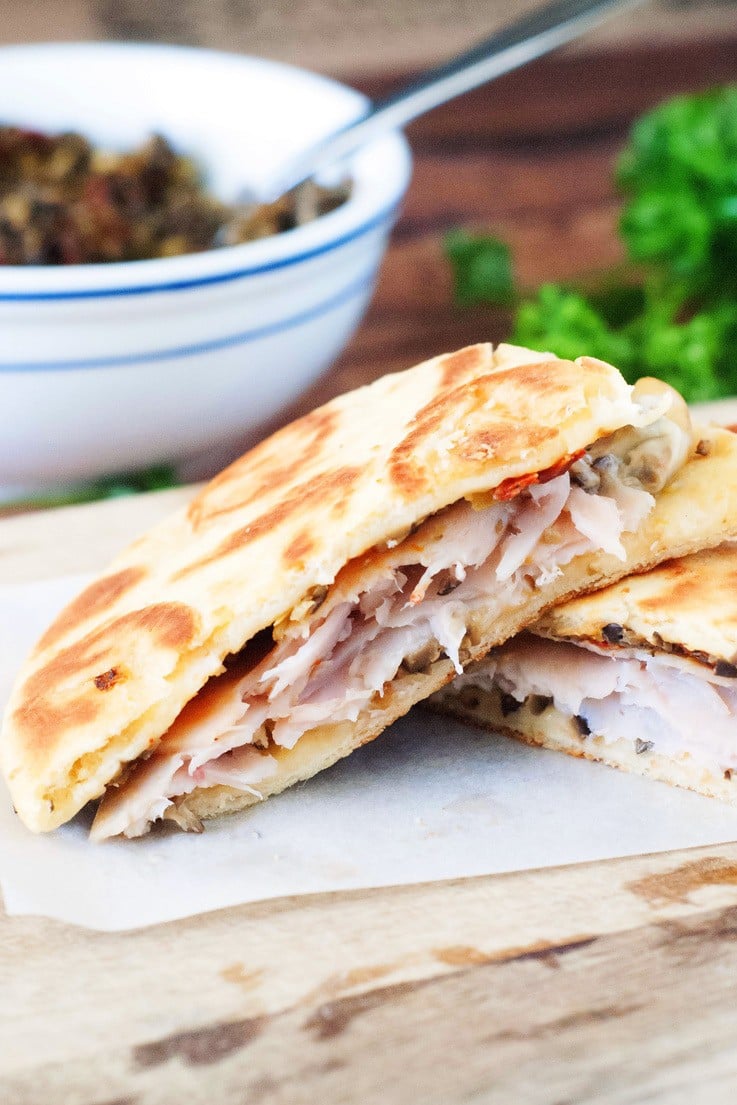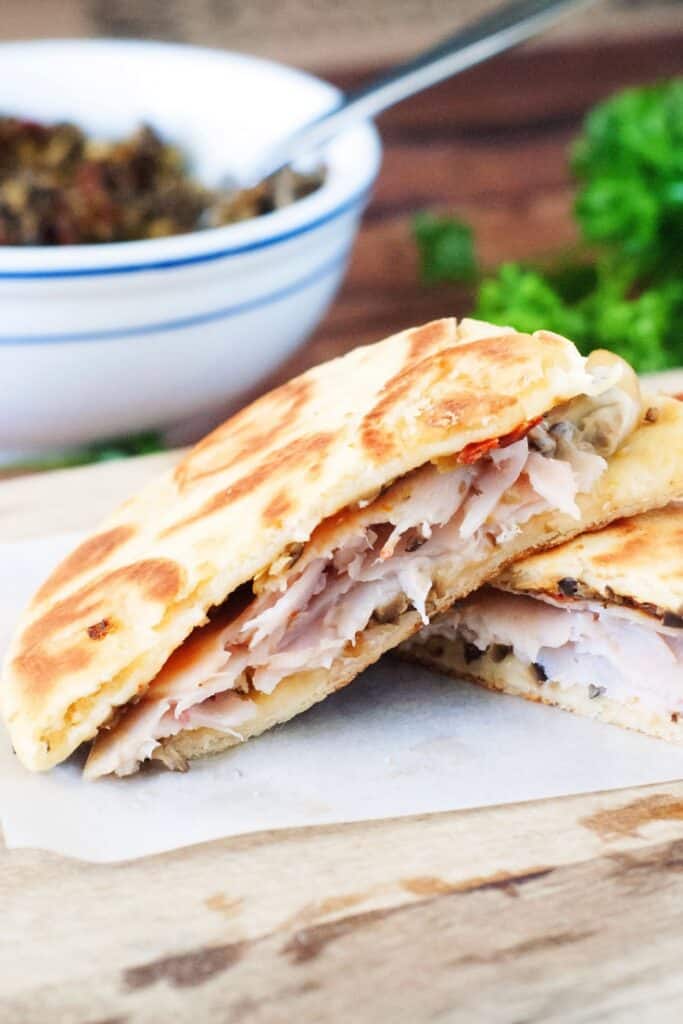 When I had my cake decorating business I did some trade out with a local B&B to use their licensed kitchens. Every afternoon they had little h'orderves trays they would set out in the lobby and it just so happened that I was usually in the kitchen when these trays would come back, half-eaten and need some well-deserved love. Who was I to deny them that love? The offerings would change from day to day but my favorite was the olive tapenade spread on little baguette slices with a bit of cheese.
I'm a sucker for olives to begin with. Have I ever told you about my NEED for jalapeno stuffed olives while pregnant? It's true. But this olive tapenade was the perfect mix of a handful of varieties of olives with garlic and some herbs. It was salty and punchy and perfect with the cheese and bread. A few days ago I decided it had been too long since I had something like that and decided I needed some ASAP.
Looking through my cupboards I scrambled to find a single can of black olives and retreated to my fridge knowing I'd find at least 2 other kinds of olives on the shelf. But somehow every last olive in my fridge was gone! I'm not really sure how that happened but I'm beginning to accept that I might have a slight olive problem.
Being the ever-ready problem solver that I am, I decided to throw in some pepperoncinis and sun-dried tomatoes and call it good.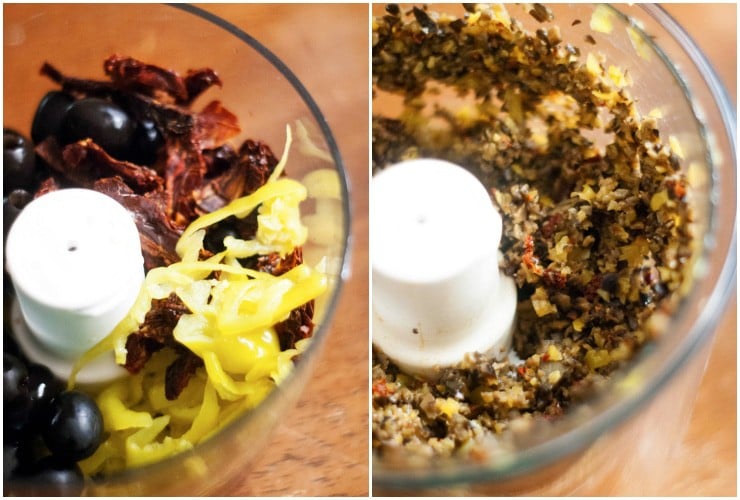 And guess what? It was!
So, so good.
I spread the tapenade on some sandwich-sized pieces of flat bread-- I used the mini naan bread found at Costco-- just after spreading a bit of mayonnaise on the bread first.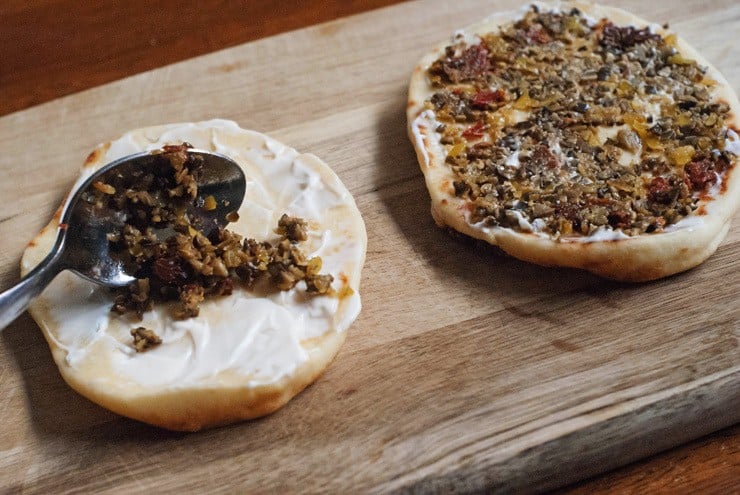 I topped one half with a few slices of smoked deli turkey and the other with a slice of smoked provolone cheese. The smoke flavor in both the meat and cheese really make this phenomenal.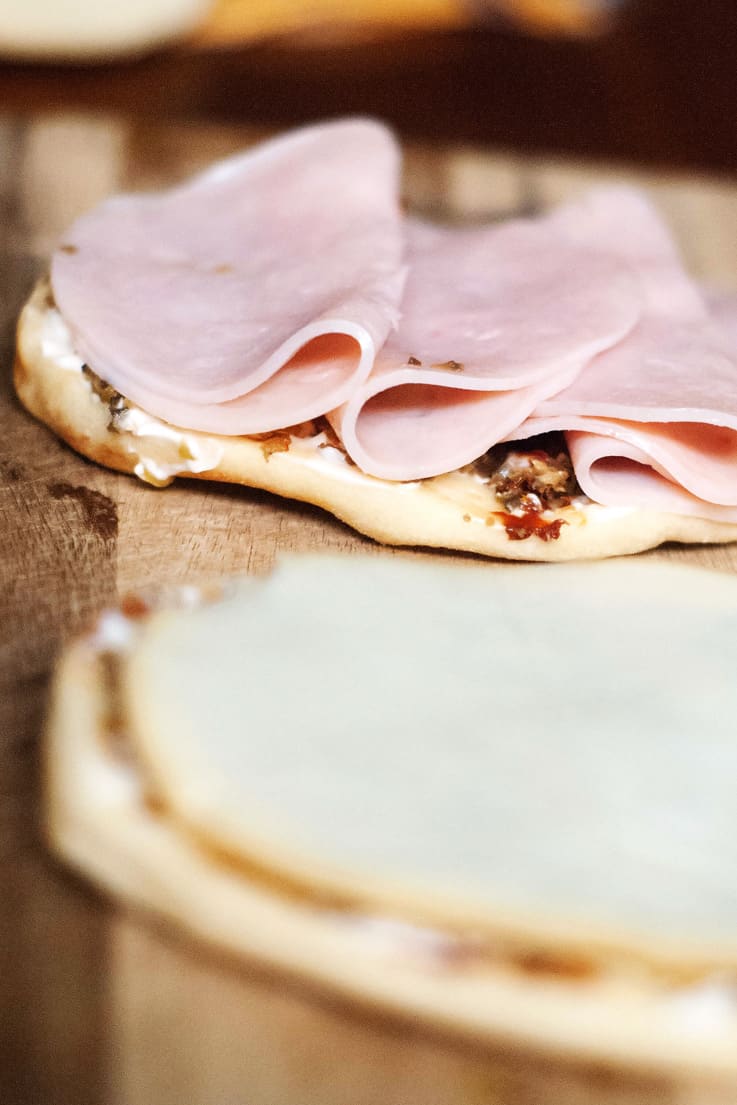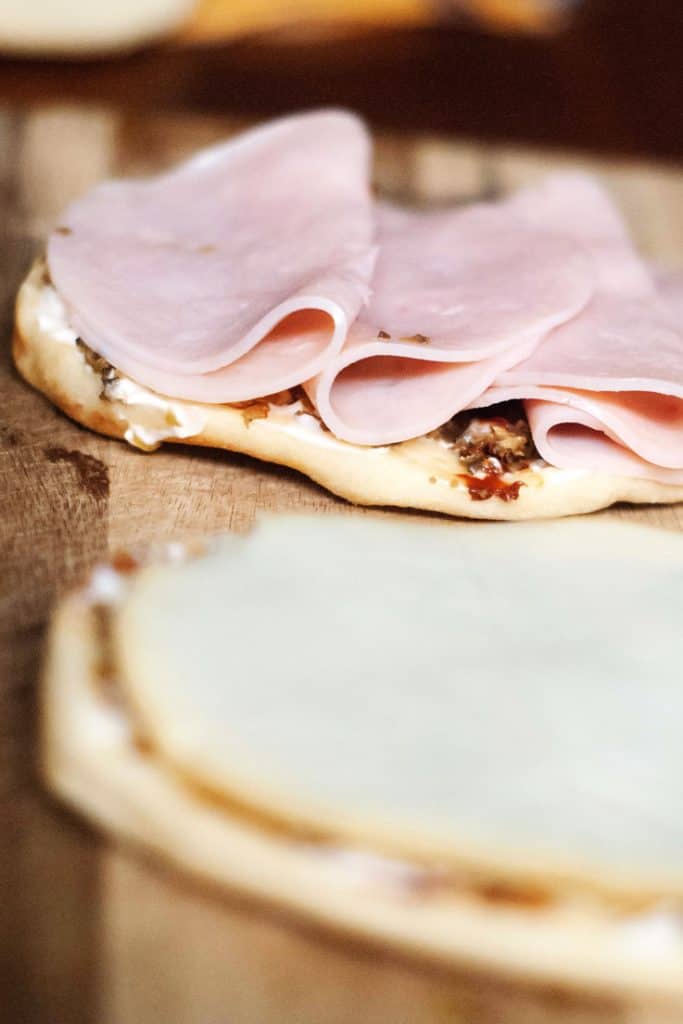 I closed it up and spread just a teaspoon of softened butter on the outside of the bread just like I was making a grilled cheese sandwich. I threw it in a hot pan and let the cheese melt with the tapenade and the bread get nice and crispy.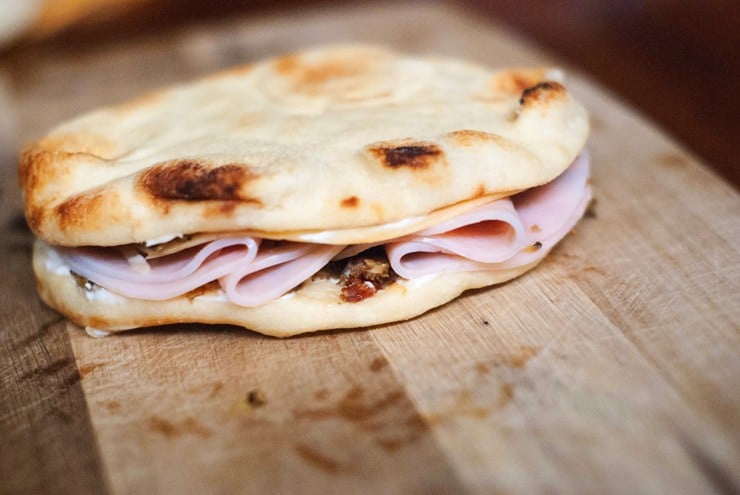 If you cook it just right, the cheese will melt down perfectly and mix with the tapenade and mayo and create an awesome "sauce" that is pretty darn perfect with the turkey. The tapenade makes it super flavorful with a little kick of heat from the pepperoncini and a little bit a sweetness from the tomato. My whole family quickly wolfed theirs down and asked when I was going to make them again. A definite winner!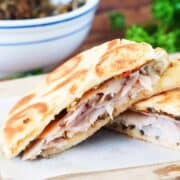 Italian Flat Bread Turkey Melts
These hearty sandwiches come together in just minutes but deliver a big hit of flavor! Perfect for weeknight when you don't have a lot of time but want something out of the ordinary.
Print
Pin
Rate
Ingredients
½

cup

black olives

¼

cup

sliced pepperoncini

2

tablespoons

sliced sun dried tomatoes

1

pound

Smoked Deli Turkey

½

pound

Smoked Provolone Cheese

sliced

3

tablespoon

Mayonnaise

4

Sandwich-sized flat bread rounds
Instructions
Combine all ingredients for the tapenade in a food processor and pulse until finely chopped

Spread mayonnaise on each side of flat bread and top each half with a tablespoon of the tapenade. Layer turkey and a slice of provolone on each half and put together.

Melt 1 teaspoon of butter in a skillet over medium heat. Place sandwich in melted butter and cook until flat bread is golden brown and cheese is melted, adding more butter to the pan to cook the other side. Cut in half and enjoy
Nutrition Facts
Serving:
1
sandwich
|
Calories:
506
kcal
|
Carbohydrates:
30
g
|
Protein:
35
g
|
Fat:
26
g
|
Saturated Fat:
11
g
|
Cholesterol:
79
mg
|
Sodium:
2407
mg
|
Potassium:
444
mg
|
Fiber:
1
g
|
Sugar:
3
g
|
Vitamin A:
585
IU
|
Vitamin C:
1
mg
|
Calcium:
487
mg
|
Iron:
2.4
mg
ARE WE FRIENDS ON INSTAGRAM?
Tag me @heatherlikesfood and use #heatherlikesfood so I can see what you're making and enjoying!