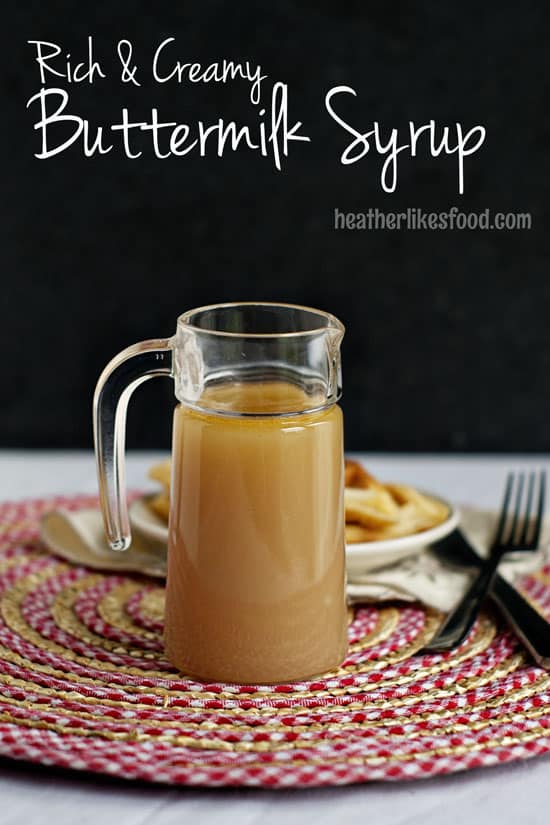 I'm ba-aack! We've moved and the deed is finally done!  My house is still studded with un-packed boxes and piles of clothing without dressers to call home, but my kitchen is all situated and ready to start cooking in! Thanks so much for your patience as I've taken time to pull my act together  over the past few weeks. It's been a whirlwind!
I'm teaching Em, my almost seven-year-old, how to cook this summer. My initial plan was to start with scrambling eggs, sandwiches, etc and then move our way up from there, thinking she'd be satisfied. But I should have known that wouldn't cut it just by the mere fact that she's my daughter. Silly me. When I asked what kind of things she wanted to learn how to make, her list started off with tamales, bbq ribs, and chicken enchiladas. Yep, she's definitely mine! Our kitchen escapades started yesterday with french toast and we sure wish we would have had some buttermilk syrup to go along with it. This syrup only takes a few minutes to make but I'm sure glad I didn't take that time yesterday. As soon as we sat down to eat I realized somebody from Craigslist was coming to buy the very table we were eating off of in 5 minutes!  I quickly shuffled the kids to the coffee table and was found wiping down the top right as the doorbell rang. Whoops.
If you've never had buttermilk syrup before you're in for a treat. I have previously posted this recipe attached to the Blueberry Muffin French Toast Souffle but it's so good I thought it deserved a post all of its own.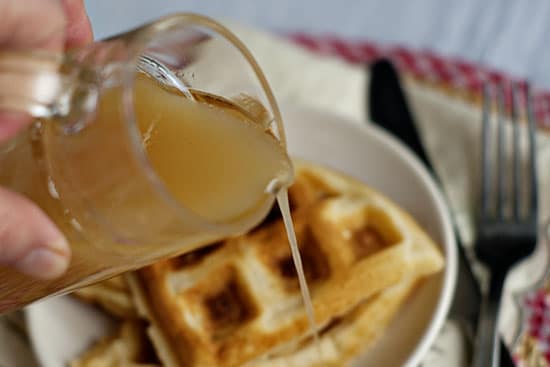 Just like its name it is creamy, buttery and just about makes anything you put it on taste like a big, sweet miracle. The best part is that it only takes about 5 minutes to make. Just make sure you use a big enough pan to make it in. The addition of baking soda at the end thickens and flavors it but it also causes your molten butter and sugar to erupt and foam like a bad science experiment gone awry if your pan is too small. Trust me, I know.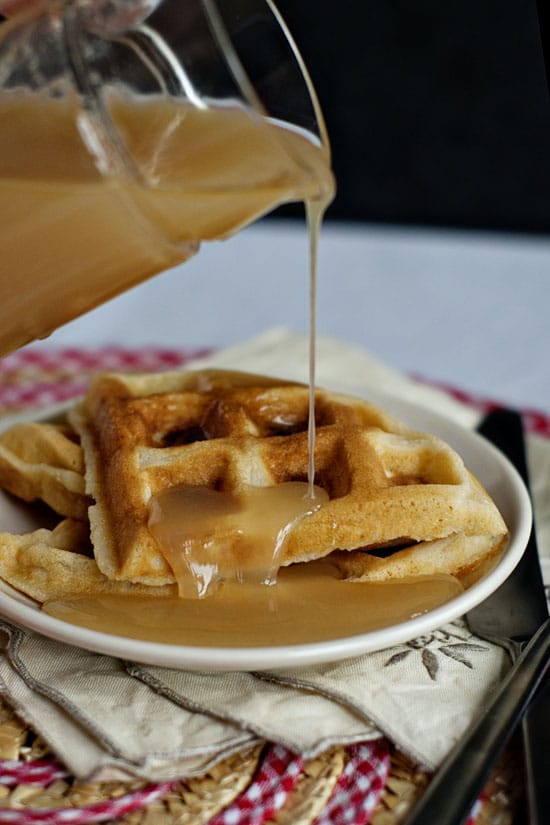 This syrup is great on all things that you would use maple syrup on (Melt In Your Mouth Waffles, Blueberry Cornmeal Pancakes, Yeasted Belgium Waffles) and I'm willing to bet it's not too shabby as an ice cream topping either. I'll just go ahead and put that on my list of things to try. Oh, and happy 4th! 🙂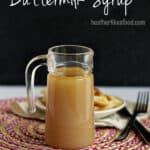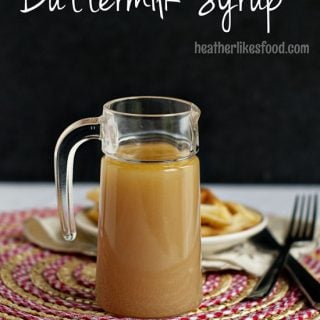 Rich and Creamy Buttermilk Syrup
Ingredients
1/2

C

butter

1

c.

buttermilk

2

c.

sugar

1

tsp

baking soda

2

tsp

vanilla
Instructions
Using a pot much bigger than what you think you'll need...

Combine buttermilk, sugar and butter and bring to a boil. Boil for 1 minute and remove from heat.

Stir in baking soda and vanilla , stirring constantly until it stops foaming up (this is where it could potentially make a mess).

Serve over pancakes, waffles, etc while still warm.