This buttermilk syrup is one of my all-time favorite breakfast recipes. It makes any ordinary waffle, pancake, or french toast something totally spectacular!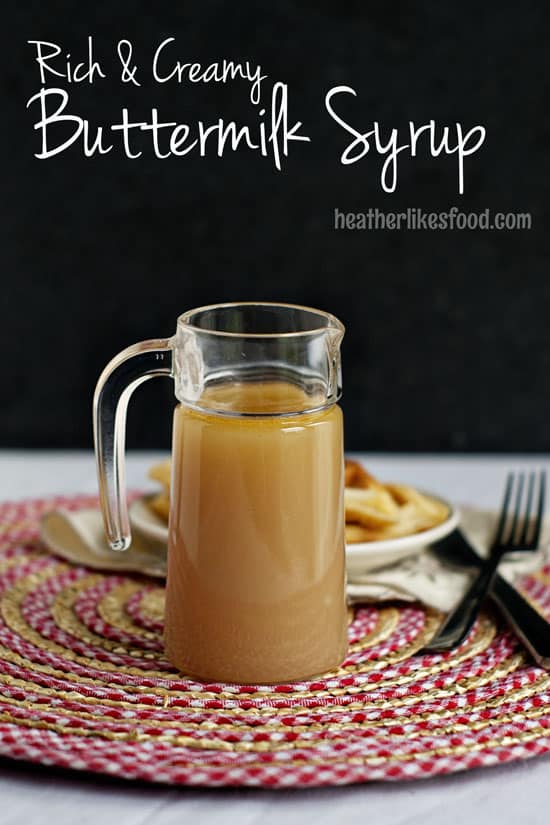 I'm teaching Em, my almost seven-year-old, how to cook this summer. My initial plan was to start with scrambling eggs, sandwiches, etc and then move our way up from there, thinking she'd be satisfied. But I should have known that wouldn't cut it just by the mere fact that she's my daughter. Silly me. When I asked what kind of things she wanted to learn how to make, her list started off with tamales, bbq ribs, and chicken enchiladas.
Oy.
Our kitchen escapades started yesterday with french toast and we sure wish we would have had some buttermilk syrup to go along with it. This syrup only takes a few minutes to make but I'm sure glad I didn't take that time yesterday. As soon as we sat down to eat I realized somebody was coming to buy the very table we were eating off of in 5 minutes!  I quickly shuffled the kids to the coffee table and was found wiping down the top right as the doorbell rang.
What is Buttermilk Syrup?
Buttermilk syrup is a breakfast syrup made from butter, sugar, buttermilk, baking soda and vanilla. It is similar to a caramel sauce but has a distinct flavor that comes from the reaction between the baking soda and buttermilk. This reaction also makes the syrup creamy and smooth. It's best served on waffles, pancakes, or french toast.
How Long Does Buttermilk Syrup Last In the Fridge?
Once made, buttermilk syrup will stay good for up to two weeks in the fridge when stored in an air-tight container.
What is Buttermilk?
Traditionally, buttermilk is the tangy liquid left behind when making butter from cream. This liquid would be fermented and would naturally turn into a thick and tangy cream. It's full of protien and low in fat making it a healthy option. But these days, buttermilk is typically made by adding bacteria to low fat milk making something very similar to the original with out all the extra work.
Can I Make Buttermilk from Regular Milk?
Yes! Faux-buttermilk can be made by combining 1 cup of milk with 1 tablespoon of acid. Lemon juice or vinegar work best for this. Mix the two together and allow to sit for a few minutes before using. The resulting mixture will look chunky and thick, but is fine and will work just like store-bought buttermilk!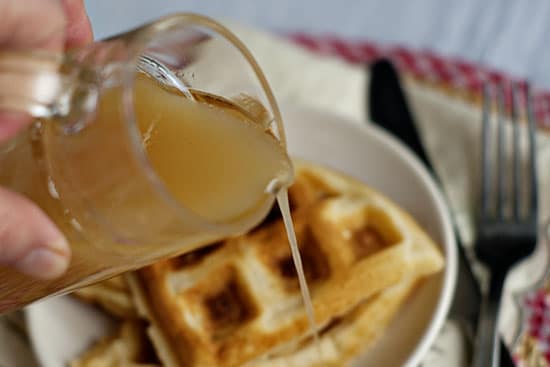 How to Make Buttermilk Syrup:
Just like its name, buttermilk syrup is creamy, buttery and just about makes anything you put it on taste like a big, sweet miracle. The best part is that it only takes about 5 minutes to make.
Combine the butter, sugar and buttermilk in a pot much bigger than you think you'll need.
Bring mixture to a boil and cook for 1 minute.
Whisk the baking soda and vinegar into the pan, stirring constantly until it stops foaming.
Be careful! The addition of baking soda at the end thickens and flavors it but it also causes your molten butter and sugar to erupt and foam like a bad science experiment gone awry if your pan is too small.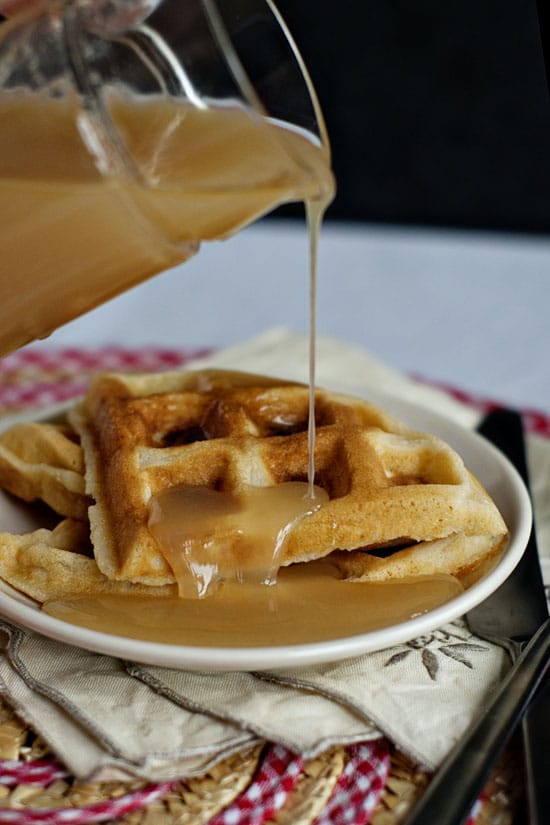 This syrup is great on all things that you would use maple syrup on. But my absolute favorite recipe to serve this with is my Blueberry Muffin French Toast Souffle. If you try it, let me know!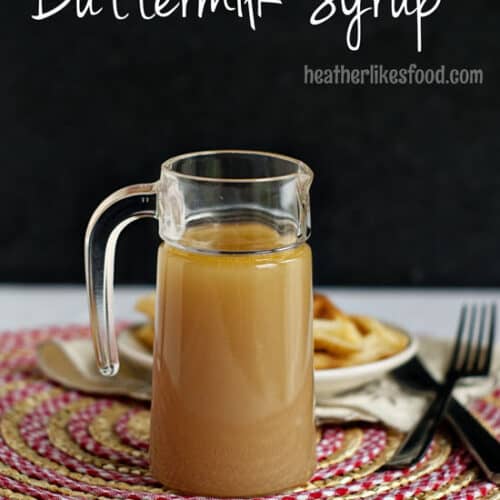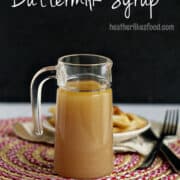 Rich and Creamy Buttermilk Syrup
This creamy buttermilk syrup is what your breakfast dreams are made of. Make it once and never go back to maple syrup again!
Print
Pin
Rate
Ingredients
½

cup

butter

1

cup

buttermilk

2

cups

sugar

1

teaspoon

baking soda

2

teaspoons

vanilla
Instructions
Using a pot much bigger than what you think you'll need...

Combine buttermilk, sugar and butter and bring to a boil. Boil for 1 minute and remove from heat.

Stir in baking soda and vanilla , stirring constantly until it stops foaming up (this is where it could potentially make a mess).

Serve over pancakes, waffles, etc while still warm. Store in an airtight container for up to 2 weeks in the fridge.
Nutrition Facts
Serving:
1
serving
|
Calories:
211
kcal
|
Carbohydrates:
34
g
|
Fat:
8
g
|
Saturated Fat:
5
g
|
Cholesterol:
22
mg
|
Sodium:
180
mg
|
Potassium:
27
mg
|
Sugar:
34
g
|
Vitamin A:
270
IU
|
Calcium:
25
mg
ARE WE FRIENDS ON INSTAGRAM?
Tag me @heatherlikesfood and use #heatherlikesfood so I can see what you're making and enjoying!