Fluffy Whole Wheat Pancakes are really a thing! You don't have to choke down dense cakes anymore… it's all in the type of flour you use!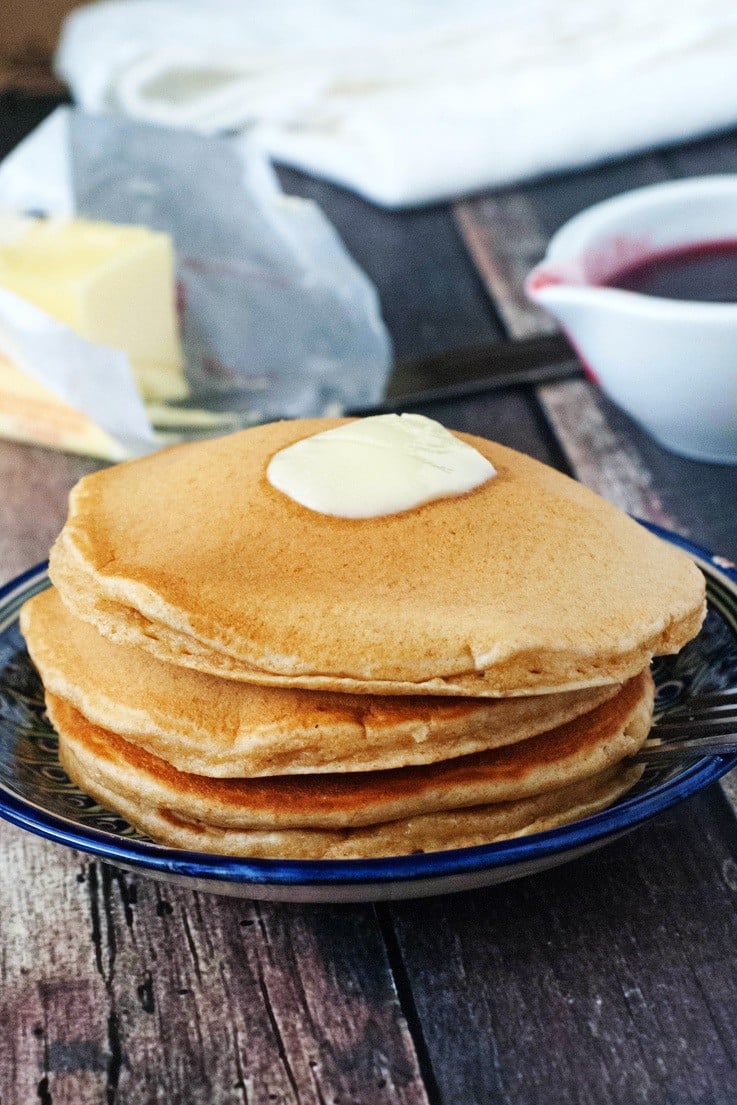 I'm all for eating healthy and such, but whole wheat baked goods just don't do it for me most days. Whole wheat bread has its place and is a pretty consistent staple in our house, especially if it's homemade. But muffins, quick breads, and cookies (oooh, don't get me started on whole wheat cookies) are typically dense and make me feel like I've eaten a brick 30 minutes later. I kinda feel like if I'm gonna eat a cookie, I'm gonna do it right. Ya know? None of this whole wheat non-sense. Oh but you guys. YOU GUYS! These pancakes have opened up a whole new world of whole wheat goodness to me. I don't think I have EVER enjoyed something made with whole wheat flour as much as I enjoy these pancakes. They are light and airy and somehow retain their tasty wheaty-ness.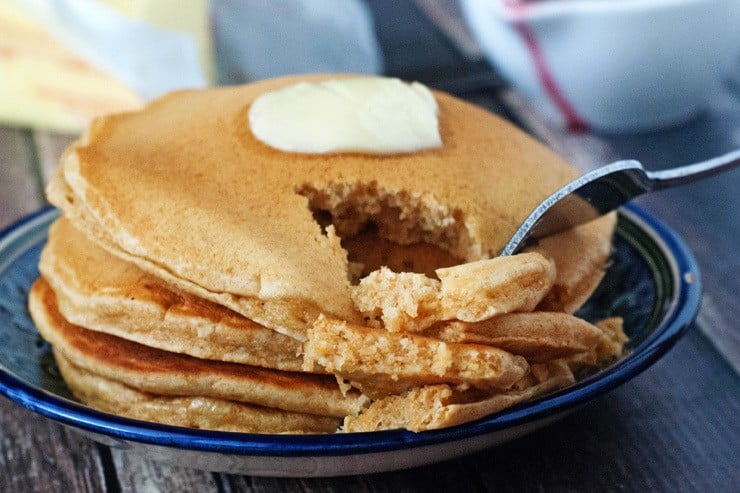 You see that crumb? You've never had whole wheat pancakes like this before. The trick is in the type of flour you use. I just bought my first bag of white whole wheat flour and it makes all the difference. I was curious if it was just a marketing ploy and if it was really whole wheat and not just white flour mixed with a little wheat to make it look healthy. But according to the Whole Grains Council, it's just as nutritious as the red wheat that's used for typical whole wheat flour. The white wheat is just milder in flavor and also a bit sweeter. Who knew?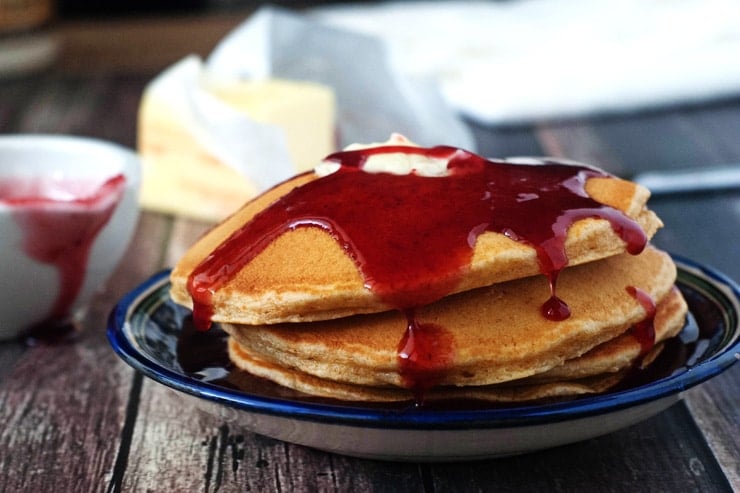 I've seriously made these 3 times in the past week and a half and I hope you run to the kitchen and whip up a batch too!
Note: The recipe calls for buttermilk but if you don't have any on hand measure out 1 1/4 cups of milk and stir in 1 tsp of lemon juice. Let it sit for a few minutes until it starts to curdle and then use it as you would the buttermilk. I get great results every time! 
Ingredients
1 1/4 C WHITE Whole Wheat Flour
1/4 C granulated sugar
1 heaping tsp baking powder
1 tsp baking soda
1/4 tsp kosher salt
1 1/4 C buttermilk
1 egg
1/4 C vegetable oil
Directions
In a medium sized bowl whisk together dry ingredients.
Whisk eggs, buttermilk and oil together in a separate bowl and then add into the dry ingredients. Whisk until mostly smooth.
Pour ¼ C portions of the batter onto a hot skillet or griddle and cook until golden on both sides. Serve with butter and syrup.

Made this recipe?
I'd love to see how you rocked it! Share your photo on Instagram with the hashtag
#heatherlikesfood  --
It will totally make my day to see it!